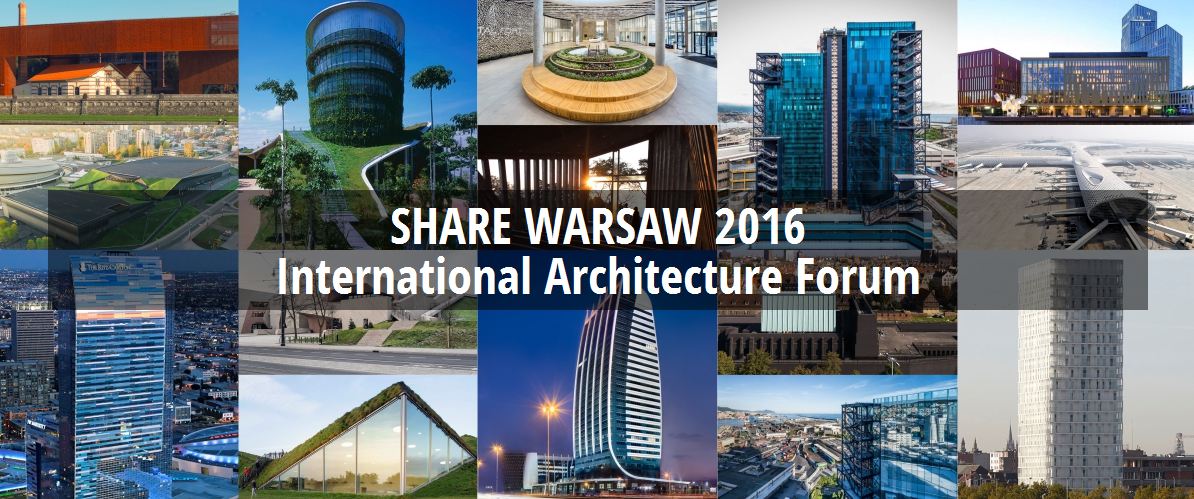 Visionary architecture at SHARE International Architecture Forum Warsaw 2016 edition
Visionary architects from 12 countries present some of the world's best buildings, innovative materials, revolutionary technologies and systems at SHARE International Architecture Forum, in Warsaw, on 11th October, at Marriott Hotel. The event is organized by the cultural association ProEvent founded by the profesional event organizer ABplus Events, under the honorary patronage of IARP-the National Chamber of Architects of the Republic of Poland, in partnership with SARP – The Association of Polish Architects, Warsaw branch, and DAFA – the Association of Flat Roofing and Facade Contractors.
SHARE International Architecture Forum Warsaw 2016 is a dynamic and vibrant event including four professional thematic conferences that present projects all over the world, inspired by glass, evolving trends in façade design and engineering, new designs of roofs, floors and insulation, together with innovative landscape works and directions for urbanization, for creating a sustainable built environment.
Awarded architects represent their countries in the forum and present good practice examples in architecture and landscaping from: Australia, Germany, UK, The Netherlands, Denmark, Turkey, Spain, Italy, Bulgaria, Belgium, Switzerland and Poland.
The future in facades, roofs, insulation and floors, discussions on the uses of glass in architecture and large scale landscape projects are among the topics of SHARE Warsaw forum that includes three professional conferences organized simultaneously: RIFF (façades, floor, roofs, insulation), INGLASS (glass architecture & engineering), LAUD (landscape architecture & urban infrastructure). The benefits of implementing BIM (Building Information Modeling) and of using cutting edge building materials will be also exemplified.
The presentations at SHARE Warsaw international architecture forum are dedicated to architects, landscape architects, urbanists, designers, engineers, contractors, investors, developers, consultants, representatives of the academia.
Explorations in architecture through masterclasses
The architects are invited to register at two masterclasses held at SHARE Warsaw International architecture forum by well known representatives of the profession:  "Adaptive Building Skins", masterclass by prof. dr. eng. Jan Knippers and  "Explorations in Glass", masterclass by arch. Gijs Rikken from world famous Rotterdam based architectural firm MVRDV and Faidra Oikonomopoulou, PhD researcher in structural glass at University of Technology – Faculty of Architecture.
Prof. dr. eng. Jan Knippers, founder of Knippers Helbig Advanced Engineering from Germany and professor at the Institute of Building Structures and Structural Design (ITKE) specialises in complex parametrical generated structures for roofs and façades, as well as the use of innovative materials such as glass-fibre reinforced polymers.
Arch. Gijs Rikken, project architect at MVRDV invites the audience to do an exploration into reimagining the possible uses of glass in construction. Registration at the two masterclasses held on 11th October at Warsaw Marriott Hotel can be made by sending an email at share@abplusevents.com
The lectures in the program of SHARE Warsaw 2016 International Architecture Forum are concentrated on innovation in architecture, engineering, construction, design & computation, with practical examples from implemented projects.
A notable presence in the forum is that of arch. Fuensanta Nieto, co-founder Nieto Sobejano Arquitectos from Spain, a key name in the new wave of Spanish architecture, awarded in 2015 with Alvar Aalto Medal and recipient of AIA Honorary Fellowship and of landscape architect Jana Crepon, Partner Inside Outside from the Netherlands, a close colaborator of OMA architectural practice lead by star architect Rem Koolhaas. Arch. Kerem and BegumYazgan from Turkey will present the project winner of 2015 World Architecture Festival- Colour Prize. From Australia will bring his perspective on innovation in architecture arch. Gerard Reinmuth, director of Terroir, with the project  Tornhuset-The United Nations affiliated World Maritime University (WMU) in Malmö. Another project in Malmö is presented by arch. Kristian Lars Ahlmark from world leading practice Schmidt Hammer Lassen in Denmark. Arch.  Lukasz Platkowski, Principal, ARB Firmwide Practice Area Leader for Tall Buildings, from Gensler office in UK will guide the audience through a journey including tall buildings and glass, in architecture projects driven by the end user.
The program of SHARE Warsaw includes lectures held by renowed Polish architects: arch. Robert Konieczny from KMK Promes, joint winner 2016 European Prize for Urban Public Space with the project Dialogue Centre "Przełomy" at Solidarność Square from Szczecin; arch. Jerzy Szczepanik-Dzikowski from JEMS Architekci. Arch. Boleslaw Czarakcziew, member of the Board and Plenipotentiary for international matters, National Chamber of Polish Architects (IARP) is the Chairman of SHARE Warsaw International Architecture Forum 2016 edition.
Presentations will be also held by arch. Mariusz Tenczynski from Db2 Architekci, arch. Maciej Kowalczyk and arch. Michał Tatjewski from 22 Architekci, arch. Mateusz Adamczyk from BudCud, arch. Jan Sukiennik from 307 Kilo Architects, landscape arch. Izabela Malachowska- Coqui from Coqui Malachowska Coqui Städtebau Landschaftsarchitektur Berlin/Warszawa. Prof. arch. Renato Rizzi from Italy will hold a presentation on the Shakespearean Theatre in Gdansk, awarded as Project of the Year at the 2015 edition of the Iconic Awards.
www.warsaw.ieriff.eu, www.warsaw.ieglass.eu, www.warsaw.ielaud.eu
Contact: share@abplusevents.com