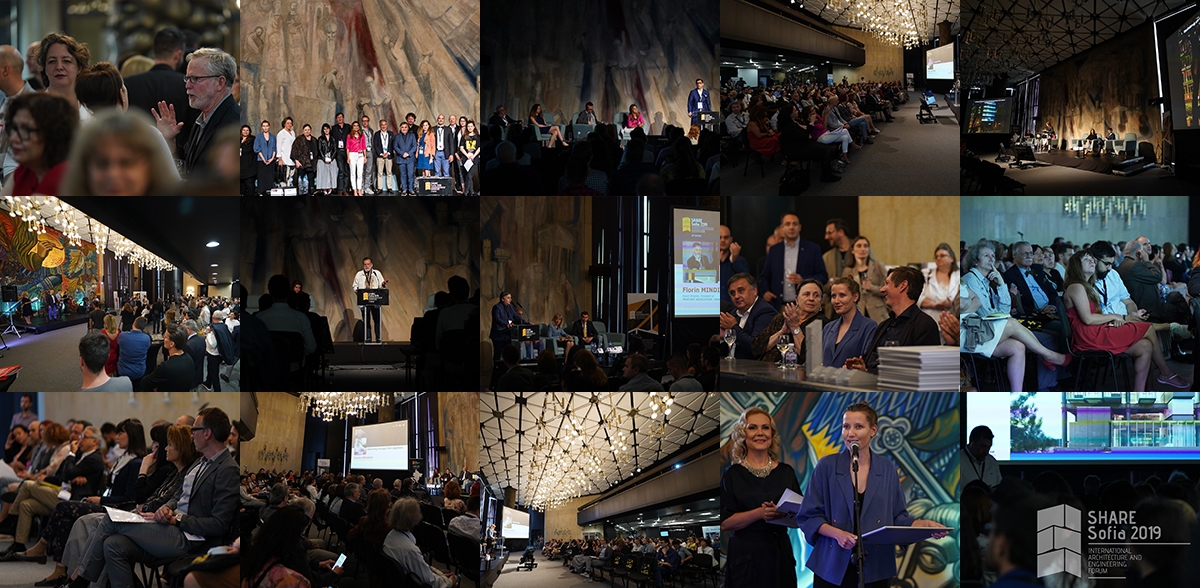 SHARE Summer Series: Remembering SHARE Sofia 2019 
Following 7 incredible events – and a well-deserved summer break at SHARE – we're getting ready for FALL season! Meet us in October and November in the following cities: 
With over 3,500 attendees and 300+ speakers spread across 10 European countries in 2018, our mission to bring excellence in architecture continues with the 3rd edition of SHARE in Sofia, and also the 7th in our sequence of 12 events planned for 2019. The event took place on May 30, at the National Palace of Culture – Congress Centre Sofia. We were delighted to welcome over 200 participants, 20+ speakers, and guests from 9 countries. 
The conference covered 3 amazing panels: Large Scale Projects, Architecture & Facades, and a Special Guest Lecture hosted by our Great Speaker, Carol Ross BARNEY (Ross Barney Architects).
Special Guest Lecture | Carol Ross BARNEY – USA
Carol Ross Barney, founder at Ross Barney Architects – USA, has been in the vanguard of civic space design since founding her architecture office in 1981. With a career that spans over 40 years, Carol has made significant contributions to the built environment, the profession, and architectural education. As an architect, urbanist, mentor, and educator, Carol has relentlessly advocated that excellent design is a right, not a privilege. Her body of work occupies a unique place within the panorama of contemporary architecture, being exclusively composed of work in the public realm. 
At SHARE Sofia 2019, Carol Ross Barney introduced us to "The New Chicago Riverwalk", one of her office's most impactful projects.
"For the people, the river has become an alternative commuting path and the polluted stretches of Chicago now offer an enriching experience for the inhabitants and visitors alike. The attitude of the people toward the river is really changing, and I think that's the biggest story". 
Special Guest Presentation | Julian WEYER – Denmark
From Denmark, we've had the honor to welcome architect Julian WEYER, partner at C.F. Møller Architects join the SHARE stage with a special guest presentation titled  "Engaging Spaces – New Nordic Architecture & The Concept Of The Social". 
The main focus of the presentation was on "The Heart"; a project centered around culture and communication. The project combines sports spaces with multi-functional and educational facilities, socio-economic work opportunities like café and shop, and counseling offices. The Heart is all about engaging spaces, nordic architecture and social impact.
Official SHARE Sofia 2019 Opening
The 3rd edition of SHARE Sofia 2019 kickstarted with a warm welcoming message from our event organizers and special guests. 
Architect Borislav IGNATOV, President, Bulgarian Chamber of Architects – Bulgaria

Event Director, Florin MINDIRIGIU President, PROEVENT ASSOCIATION – Romania

Petya AVRAMOVA, Minister of Regional Development and Public Works

Søren JACOBSEN, Ambassador, the Kingdom of Denmark in the Republic of Bulgaria

Architect Zdravko ZDRAVKOV, Chief Architect, Sofia Metropolitan Municipality – Bulgaria
Large Scale Projects 
The Official Plenary Session for SHARE Sofia 2019 was targeted at large scale projects in Sofia, and it opened with an introductory speech from one of our guest speakers, architect Matej BLENKUŠ, CEO and chief architect at Studio Abiro ltd. – SLOVENIA.
Next on the SHARE stage was honorary Guest, Petya AVRAMOVA, Minister of Regional Development and Public Works. Following two more presentations held by guest speakers Angel ZAHARIEV / A&A Architects – BULGARIA and Tihomir KAZAKOV / SGI – BULGARIA, SHARE Sofia 2019 continued with an insightful talk titled "New Technologies in Façade Design" with Şeyma ELCIN, product responsible at ŞIŞECAM FLAT GLASS. 
Keynote Speaker Kerem ERGINOGLU | "DEMIRBUKU HOUSES BODRUM"
One of the most awaited presentations at SHARE Sofia 2019 was "DEMIRBUKU HOUSES BODRUM", held by keynote speaker, architect Kerem ERGINOGLU – Turkey, who emphasized that "My design philosophy and of that of my firm revolves around concepts such as respect and harmony towards our natural resources".
"Situated on the Bodrum peninsula in Turkey, the complex needed a building that would be flexible enough to host a project information center at first, which could be built with a minimum of impact on its environment and then be used as a clubhouse and a gathering place going forward. The clubhouse is surrounded by existing trees, sunbathing terraces, playing areas for kids, small pools, changing areas, and toilets. A long sanded beach is directly connected to this green area, and is only 100m away from the building." (source text)
Official Plenary Session I 
Following a well-deserved coffee break, SHARE Sofia 2019 continued with Plenary Session I. Moderated by architect Vessela Valtcheva-McGee, President at Bulgarian Green Building Council, the session started with an introductory speech from Andrijana PAVICEVIC, Project Coordinator at The Association of Architects of Montenegro (SACG) – Montenegro. 
Plamena GEORGIEVA | "Facades and Good Architecture"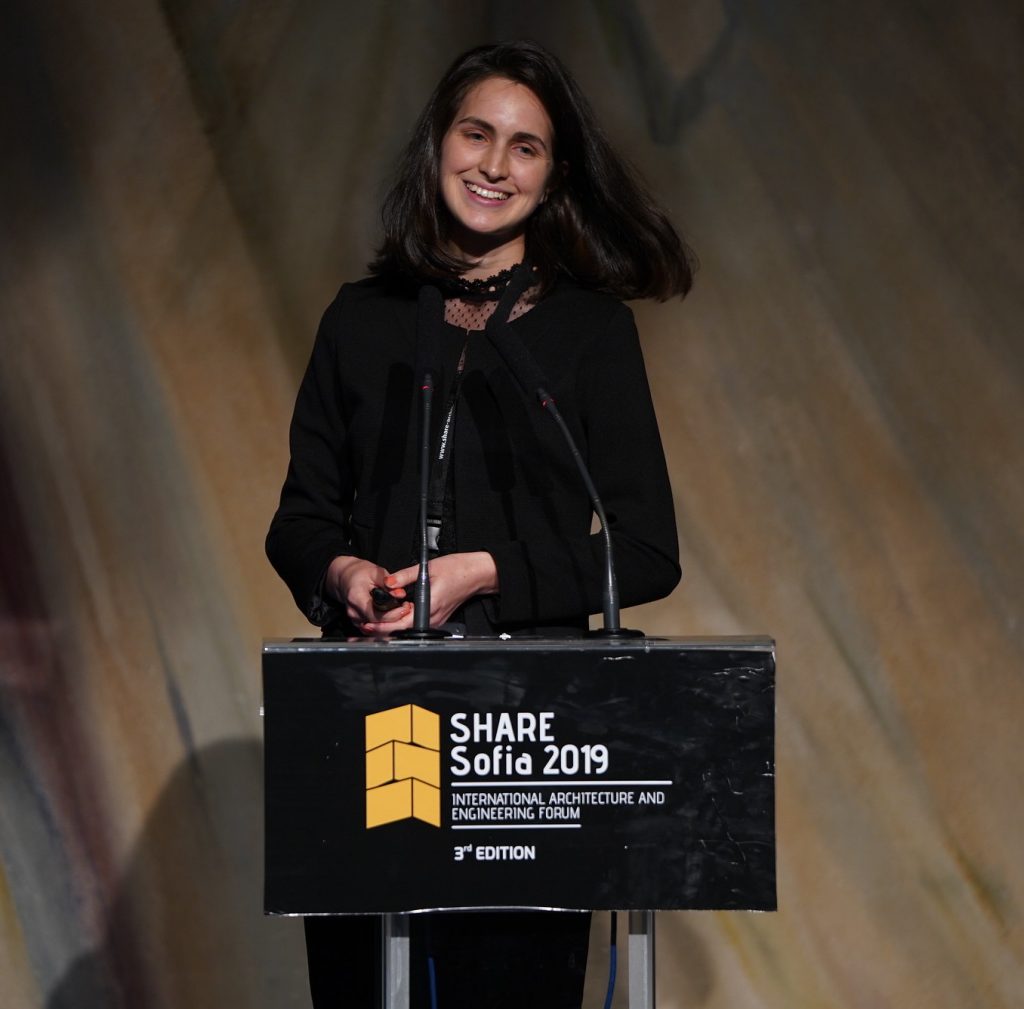 Architect at miodesign – Bulgarian architecture studio – Plamena Georgieva won several industry awards including the Innovative Power Bench for Tech Park Sofia 2015 and the Award of the Chamber of Architects in Bulgaria for her Diploma Project. Plamena's presentation – titled "Facades and Good Architecture" – centered around core principles of miodesign studio that won several important awards since inception, including: the International Architecture Award Arhitekton 2018, Zlaten Kapitel 2018, Wienerberger Brick Award 2018, Sofia Architectural Salone 2011 – architectural realization, National Contest Baumit Fasade of the year 2008, Sofia Architectural Salone 2009 – architectural project.
Dean LAH | "ENOTA – Natural systems"
Architect Dean Lah, owner at Enota – Slovenia, covered a talk focused on the studio's core principles. "Enota's team of architects focuses on the research-driven design of the environment where the study of contemporary social organizations and use of new technologies are interwoven to produce innovative and effective solutions".
Special Lighting Session | Eleftheria Deko & Denis Biškup
Our special lighting session at SHARE Sofia 2019 opened up with an introductory presentation held by  Ivan LAZAREVIC, Regional Marketing Manager SEE Zumtobel Group. Next on stage was lighting design speaker Eleftheria Deko, founder at Eleftheria Deko Lighting Design – Greece. Since 1990, she has designed the lighting of more than 450 plays, music, and dance performances, operas and art installations for which she has received great reviews and awards, including the "Woman Artist of the Year 2009" for her contribution to the arts and performances as a lighting designer in Greece. 
Official Plenary Session II 
Plenary Session II at SHARE Sofia 2019 kicked off with an insightful project presentation held by Afrim BAKALLI, Representative Member of the President & Association of Architects of Kosovo. Up next was guest speaker, architect Yuri TANOV, partners at DA architects – BULGARIA with a talk on "Architecture as a positive change". 
Yuri TANOV | Architecture as a positive change
Partner at DA Architects – Bulgaria, Yuri TANOV, focuses his work on delivering high-quality designs with a strong personality, based on the refined balance between the characteristics of the site and the environment, the functionality, the materials, and the details, in order to provide unique aesthetics and identity for each project. Yuri and the DA architects team, in general, apply this approach to all of their projects, no matter if it is product design, interior design or buildings design. 
Stanislaw DENKO | "Challenges in Architecture"
Architect  Stanislaw DENKO, director and founder at Wizja Sp. z o.o. – Poland, delighted us with a presentation titled "Challenges in architecture", which targeted Wizja Architecture Office: Office Building UBM Mogilska 53-55. 
For designing the UBM Office Building at Mogilska 53-55 Street in Krakow, one of the fundamental directions of the concept was to introduce an element of recognition and originality of form through the shape of the building, particularly visible in long-distance perspective and in close contact with the facility; looking for the semantics for the facility's function.
Dorte KRISTENSEN | Atelier Pro – Netherlands
From the Netherlands, architect Dorte KRISTENSEN, director at Atelier PRO, shared some insights into her office's unique use of Scandinavian and Danish blend styles to create austere and robust architecture.
"A building needs to enhance the atmosphere and character of the residential environment so that it can form the foundation of a caring and cultured society. The threshold area design between private and public space is of vital importance, as it is precisely in these areas that people meet each other. Architecture is all about the sharing of experiences."
Galina Milkova | Award Winner of BAA 2018
Galina Milkova, the winner of last year's edition of Bulgarian Architecture Awards (BAA) and founder/architect at Think Forward – Bulgaria, took the SHARE stage to share some insights into the fascinating world of architecture. In 2015, Galina initiated the SYNC project – a personal exploration of the syncretic unity between poetry and architecture. The interactive installation "Love Pavilion" marked the beginning of SYNC.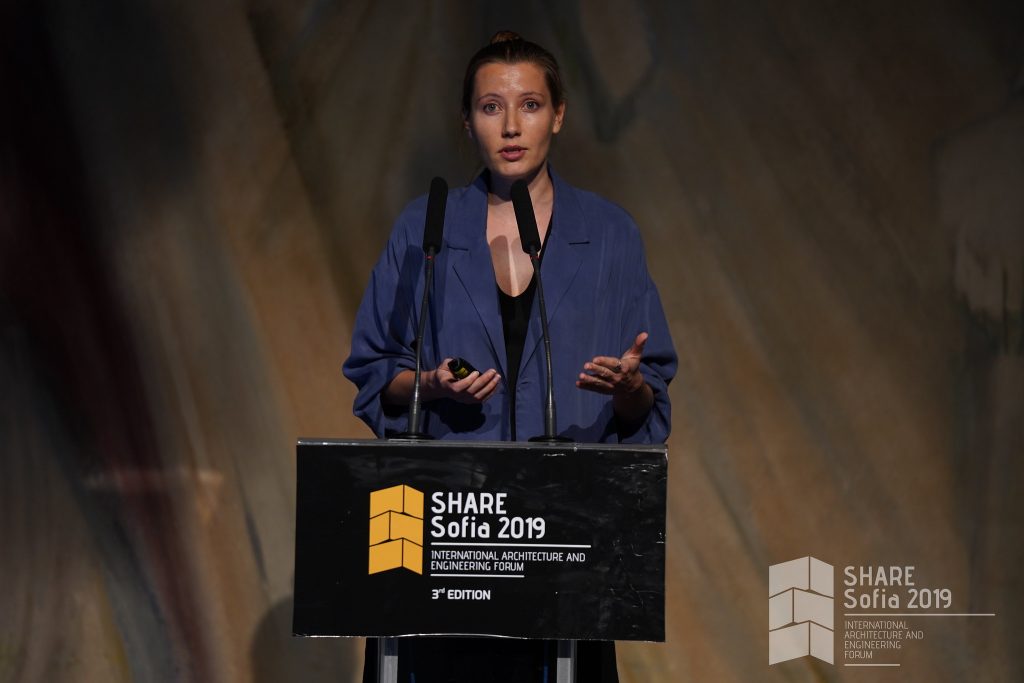 BAA 2019 – Bulgarian Architecture Awards, 2nd edition
During the 3rd edition of SHARE Sofia 2019, we were honored to host the 2nd edition of BAA – Bulgarian Architecture Awards; a high-end event that aimed to promote the most valuable architectural projects in Bulgaria and distinguish its architects and the uniqueness of their ideas, emphasizing on the quality of architecture, aesthetics, used innovations.
The workshops 
For this year's special edition of SHARE Sofia 2019, we've had three workshops:
"The Use of New technologies in Presenting Light Solutions"

by Zumtobel Group: a workshop that will teach attendees how to turn their smartphone into a virtual reality device, and explore a new level of lighting. Try and feel how lighting solutions can be presented in a modern way and how you can benefit from knowledge about tunable White technology.

"ŞIŞECAM FLAT GLASS"

with Victor KERCHEV, project lead at ŞIŞECAM FLAT GLASS

GRAPHISOFT – ArchiCAD's Virtual Building – BIM in action
Opera Omnia Distinction | Atanas PANOV & Lorita PANOVA 
This year at SHARE Sofia 2019, we were honored to award the SHARE Opera Omnia Distinction to architects Atanas Panov (design agency SOFPROEKT in the design atelier of architects Lozan Lozanov and Bogdan Tomalevski and later until 1989 – in Lozan Lozanov's Architectural Design Office at the Committee of Culture) and Lorita Panova (Regional Design Agency in the town of Pernik and Lozan Lozanov's Architectural Design Office at the Committee of Culture), partners at LP Group – Bulgaria; an office that "lives architecture", well-known for the attention to quality and detail, and for its care to clarity in business relationships through all development phases.
To conclude, we would like to thank all of our partners for helping us put together a memorable event at SHARE Belgrade 2019: Şişecam Flat Glass, main partner Zumbotel group and sponsor, Alumil. Official car: FORD. Media partners of the event: THE CITY MEDIA GROUP, STROIINFO, CITY BUILD, THE BUILDING, STOLICA, KA6TATA.