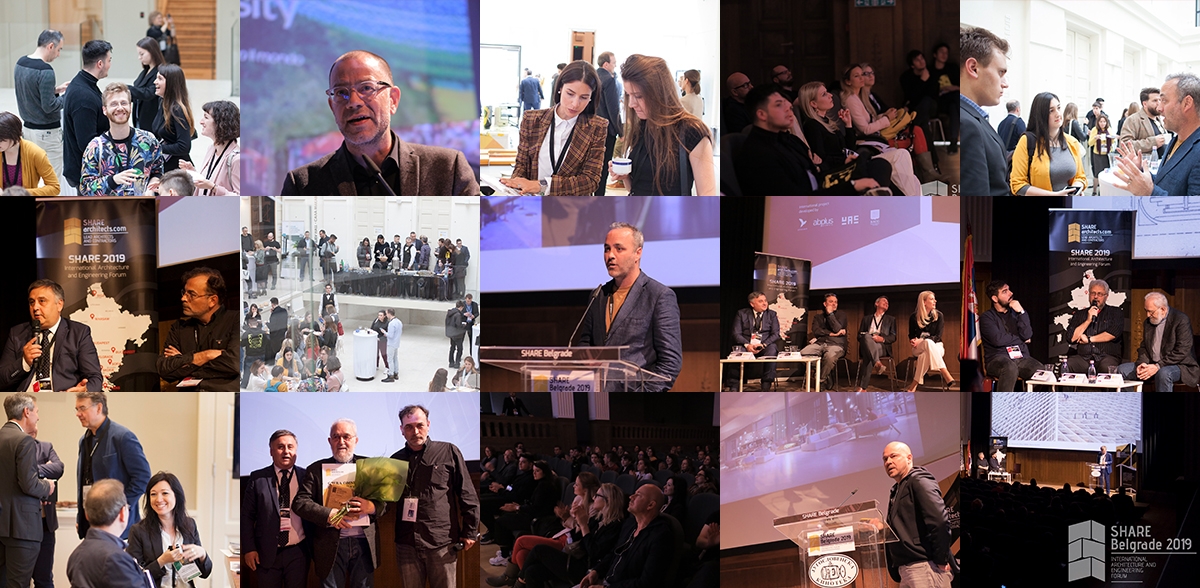 SHARE Summer Series: Remembering SHARE Belgrade 2019
Following 7 incredible events – and a well-deserved summer break at SHARE – we're getting ready for FALL season! Meet us in October and November in the following cities: 
With over 3,500 attendees and 300+ speakers spread across 10 European countries in 2018, our mission to bring excellence in architecture continues with the 2nd edition of SHARE in Belgrade, and also the 6th in our sequence of 12 events planned for 2019. The event took place on May 9, at the Yugoslav Film Archive Museum. We were delighted to welcome over 150 participants, 15+ speakers, and guests from 9 countries. 
Let us go back and remember the impressive talks, projects, and presentations that took place at this year's 2nd edition of SHARE in Belgrade. 
Special Presentation & Debate – Sven THORISSEN, Director at MVRDV
Moderated by chairman Chairman Milan DURIC, President of Union of Architects of Serbia, we've had a very special Great Speaker for this year's 2nd edition of SHARE Belgrade, namely architect Sven THORISSEN, Director at MVRDV – Netherlands; one of the most intriguing architectural practices globally with projects covering all imaginable scales, collaborating with the world's brightest people, always pushing boundaries and exploring new possibilities. 
Three incredible projects were presented on the SHARE stage: 
KoolKiel

, a 65,000-square-metre mixed-use complex that will redevelop a post-industrial site in Kiel, Germany. It includes a hotel, offices, residences, a commercial space, and an event space. KoolKiel makes use of a flexible design system rather than a fixed and unchangeable plan, allowing the design to adapt easily to the needs and desires of the community as the design development progresses.

Unterföhring Park Village,

a modern office complex with mixed public and private spaces. Every building of the complex has its own address and identity, varying in volume and facade material. The 'car-free' plaza functions as a meeting point, open to the public for nineteen different buildings. The 'Village' fills a central void in the commercial area of Unterföhring Park becoming the new center.

The Markthall project

, a sustainable combination of food, leisure, living, and parking space; a hybrid building in which all functions are fully integrated to enhance their synergistic possibilities.
Official Opening Session 
The 2nd edition of SHARE Belgrade 2019 kickstarted with a warm welcoming message from our event organizers and special guests. 
Chairman, architect Milan DJURIC, President, Union of Architects in Serbia

Event Director, Florin MINDIRIGIU President, PROEVENT ASSOCIATION – ROMANIA

Rudolf STARICKY, General Manager CEE, ZUMTOBEL Group

Hilal UÇAR, Architectural Glass Projects Responsible, SISECAM FLAT GLASS
Large Scale Projects in Serbia
The Official Plenary Session for SHARE Belgrade 2019 was targeted at large scale projects in Serbia, and it opened with an introductory speech from our chairman, Milan DJURIC, President, Union of Architects in Serbia. Next on the SHARE stage was Vladimir LOJANICA, founder at Proaspekt – SERBIA, with a talk on several of his office's most impactful projects. Titled "Bus station & NCR Buildings", the presentation was centered at architectural design, interior design, and urban planning through various methods and techniques such as conceptual design, multimedia presentations, and consulting.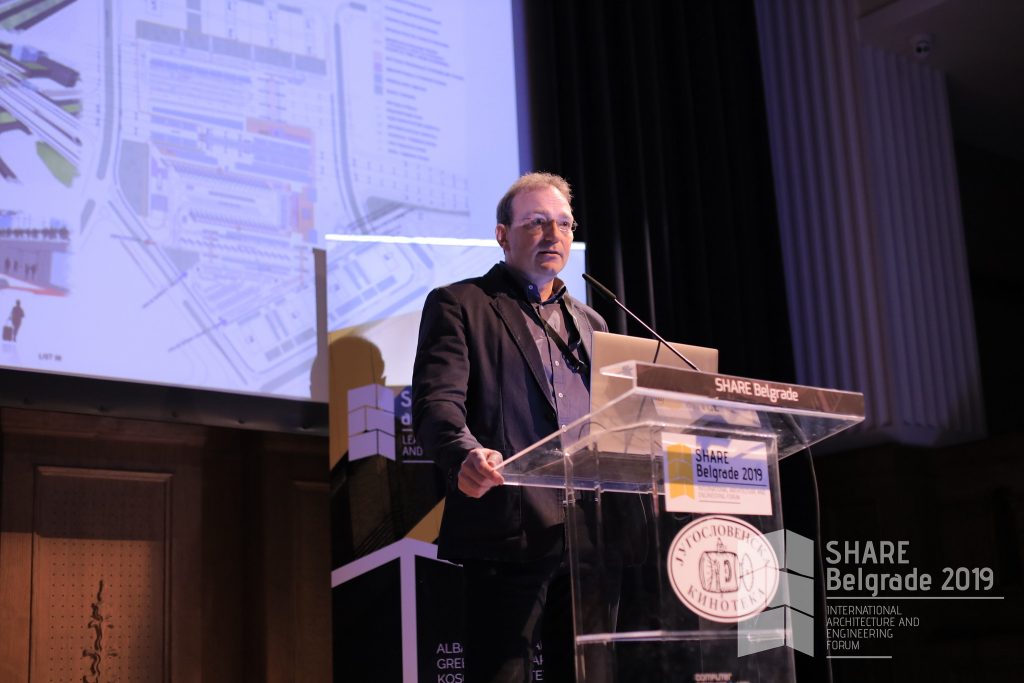 From the Department of Architecture and Urbanism, FTS, Novi Sad – SERBIA, assistant professor Dragana KONSTANTINOVIC, introduced us to Science Park in Novi Sad, a 30,000 square meters project that promises to become a one-stop spot for startups while also providing students and assistant professors with an opportunity to build upon their ideas.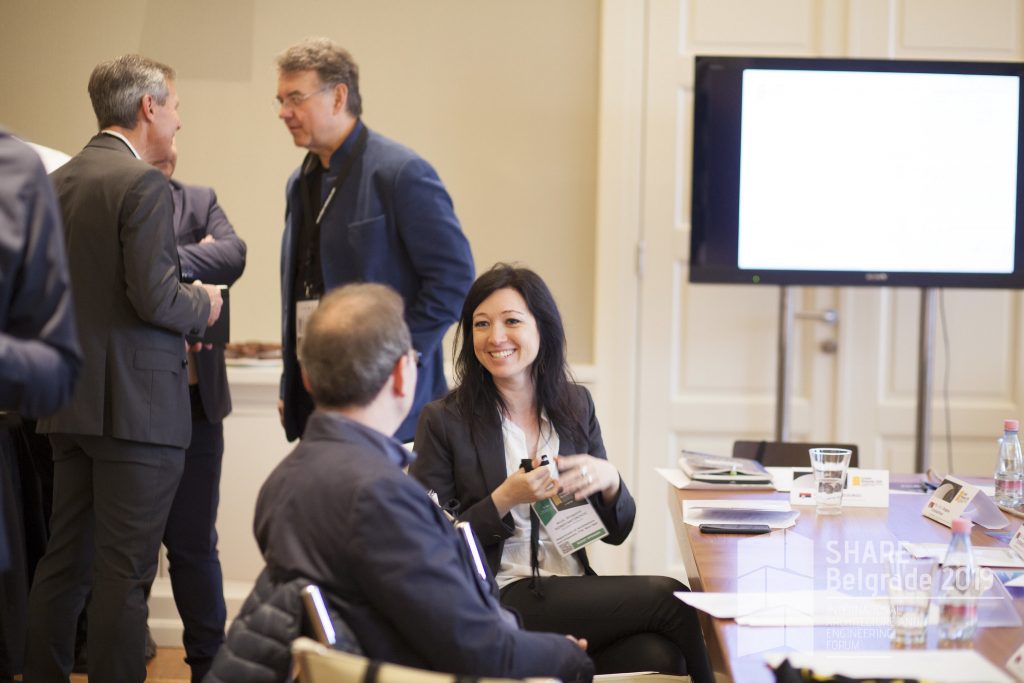 International Large Scale Projects 
In terms of international large scale projects, the first speaker on the SHARE stage was Marko LAZOVICI, Sales and marketing representative for Serbia and Montenegro & project manager for Ex – Yugoslavian countries, Sisecam Flat Glass, with a general overview on "New Technologies in Façade Design".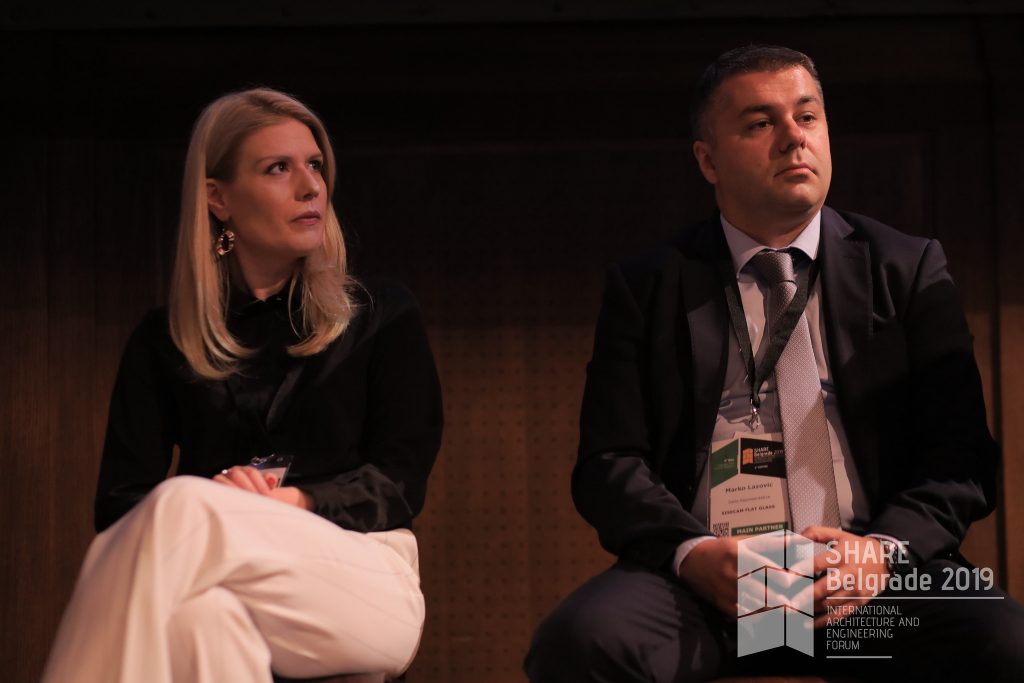 Next, we welcomed architect Arne HOFMANN, managing director at Bollinger und Grohmann ZT Gmbh – AUSTRIA, with a presentation titled "Timber in China". The main focus was on the parametric design of spatial structures, including a general perspective on two of the office's most successful projects: The Sheikh Zayed Learning Center in the United Arab Emirates and The Bauhaus Museum, Dessau, Germany. 
Lighting in Great Projects 
A special presentation on lighting design followed up. The debate started with a special lighting session by Zumtobel Group, hosted by Ivan Lazarevic, General Manager for Eastern Europe and Central Asia, ZUMTOBEL Group. A much-awaited talk followed up, "Branding with Light". Hosted by architect Michael Grubb, founder and creative director, Michael Grubb Studio Lighting Design – UK, the entire presentation centered around the idea that "Light defines the spaces we use, depicts the stories we tell and affects our well-being."
Plenary Session I
Following a well-deserved coffee break, SHARE Belgrade 2019 continued with Plenary Session I, moderated by architects Slobodan JOVIC, President of the Association of Novi Sad Architects and Ivan RASKOVIC, Partner at AGM.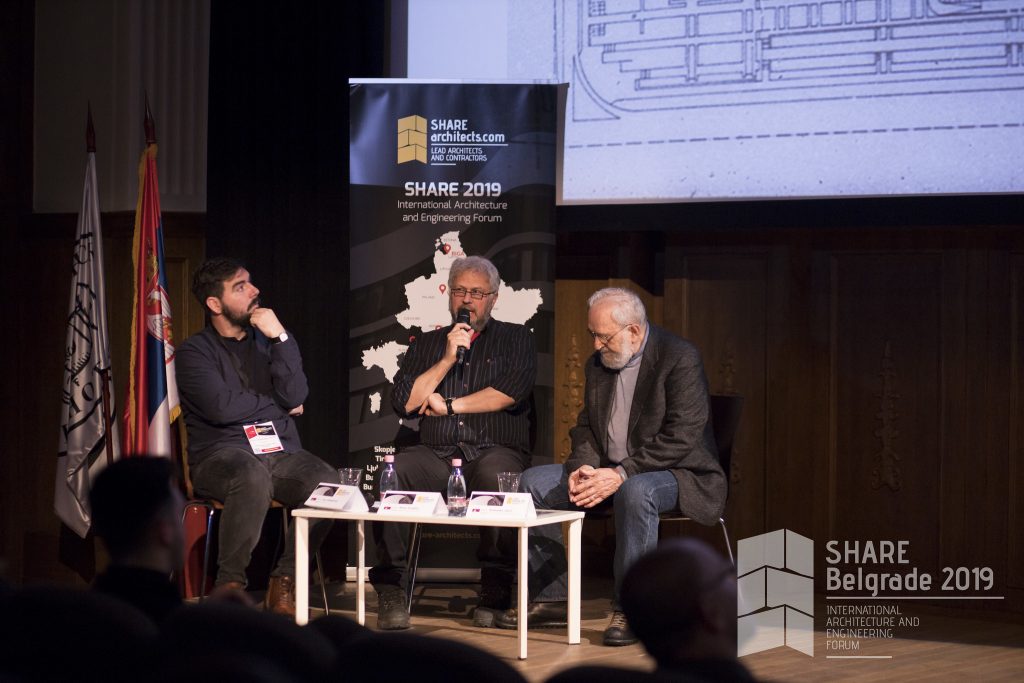 Zoran ABADIC | Judicial Facilities – Misdemeanor Court Pančevo
Architect Zoran ABADIC, Assistant Professor at the Faculty of Architecture, University of Belgrade and founder of 1×2 Studio – Serbia delighted us with a presentation on "Judicial Facilities – Misdemeanor Court Pančevo", a project that targets the relocation of Misdemeanor Court Pančevo to the periphery. The aim is to develop a democratic entity of public facility institutional modernity within a new reality which presents its principles and objectives concerning improving the delivery of justice – independence, impartial and quality, competence, responsibility, and efficiency.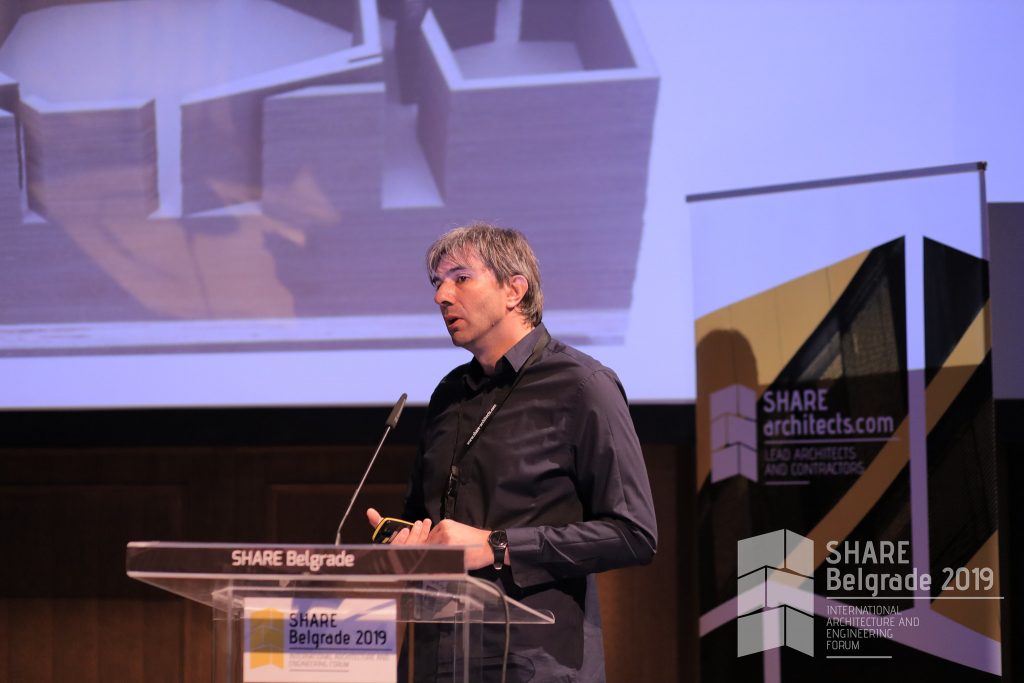 Radomir SERAFIMOV | "Polygraphia Office Center, Building A, (Phase 2)"
Architect Radomir SERAFIMOV, founder and CEO at Atelier Serafimov Architects – BULGARIA was next on the SHARE stage with a presentation titled "Poligraphia Office Center, Building A, (Phase 2)".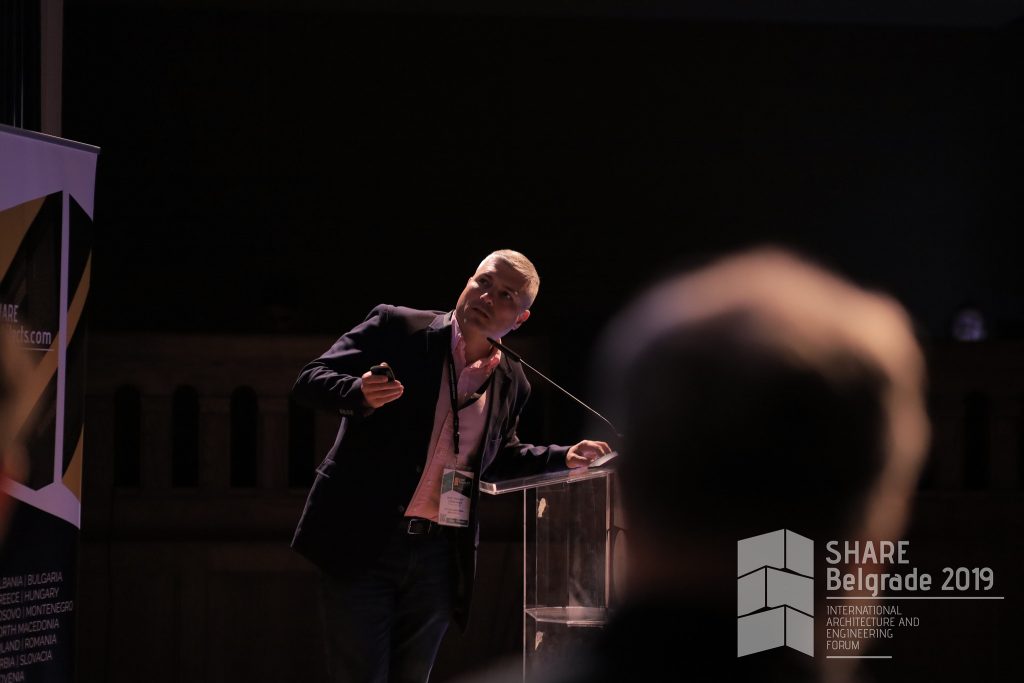 "A landmark historic building converted into a modern business complex standing out as a leading office project in downtown Sofia. Polygraphia is a top-notch working hub, an art space and an excellent business community meeting point that combines classic and modern architecture, thus refining its own unique style."
Jeroen SCHIPPER | #citymaking – The world of Jonas
Architect Jeroen SCHIPPER, partner at ORANGE Architects – THE NETHERLANDS" joined us next with a talk titled " #citymaking – The world of Jonas", which included one of the office's most successful projects, "The Cube"; an award-winning project located in Beirut. 
"The residential design concept was simple, yet extraordinarily effective. It displays volumes on each floor to offer residents unique outdoor areas and panoramic views of the capital of Lebanon. The design stacks 14 rotated floor plans on top of a lobby, generating 21 apartments with fluid spaces, large balconies, and wall-to-wall window frames. The structure is unique for utilising self-consolidating concrete, allowing loads to be directed to four areas of rotated girders on every floor, with no additional structural slabs added to the façades."
Plenary Session II
Plenary Session II at SHARE Belgrade 2019 kicked off with an insightful project presentation held by architects Vladimir MILENKOVIC & Snezana VESNIC, from Neoarhitekti – SERBIA. Titled "Villa Pavlović", one of the office's most impressive architectural projects; a residential villa located on the edge of a semi-urban settlement, atop one of Serbia's most popular mountains.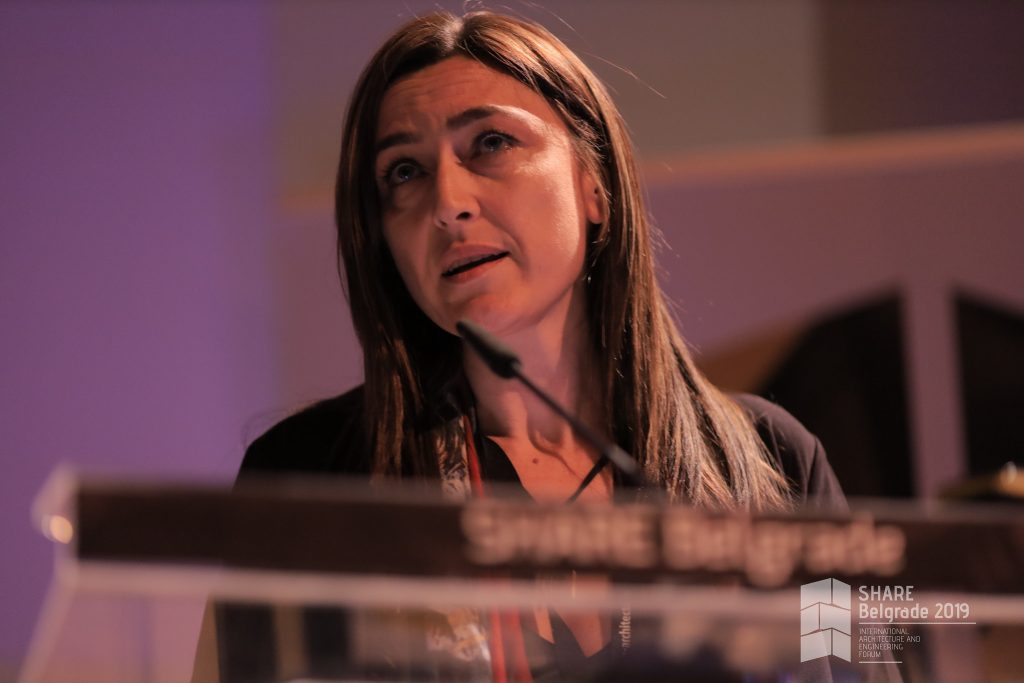 Krzysztof INGARDEN | Localized Modernity – Contemporary Design In Historical City 
One of our esteemed guest speakers at the conference, architect Krzysztof INGARDEN, founder at INGARDEN & EWY ARCHITEKCI – POLAND, covered a talk titled "Localized Modernity – Contemporary Design In Historical City – Selected Projects Of Ingarden & Ewy". The focus was to highlight the unique office's approach towards architecture underlying that "we create architecture, which is responsive to locality, while also being 'human-friendly' – its materiality plays the primary role in experiencing it by human senses."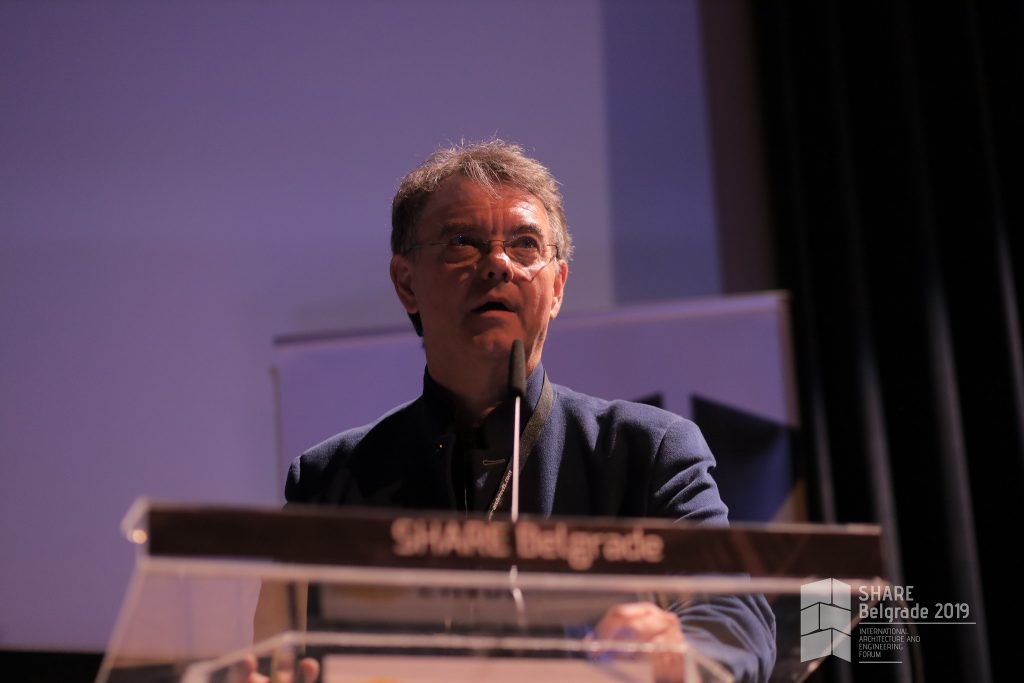 Giusseppe FARRIS | PARK TOWER
Architect Giuseppe FARRIS, Founder at  STUDIO FARRIS ARCHITECTS BVBA – ITALY, introduced us to "Park Tower" in Antwerp, Belgium; a project developed in collaboration with ELD Studio. As a milestone in the city, it plays an important role in reshaping its skyline. With a total height of 78 meters, Park Tower is one of the highest buildings in Antwerp and therefore plays an important role in reshaping its skyline. The strikingly bright white exterior turns the tower into an attention-grabbing beacon that stands out as a landmark for the entire district. Located along one of Antwerp's most important roads, the tower acts as a gateway when entering the city.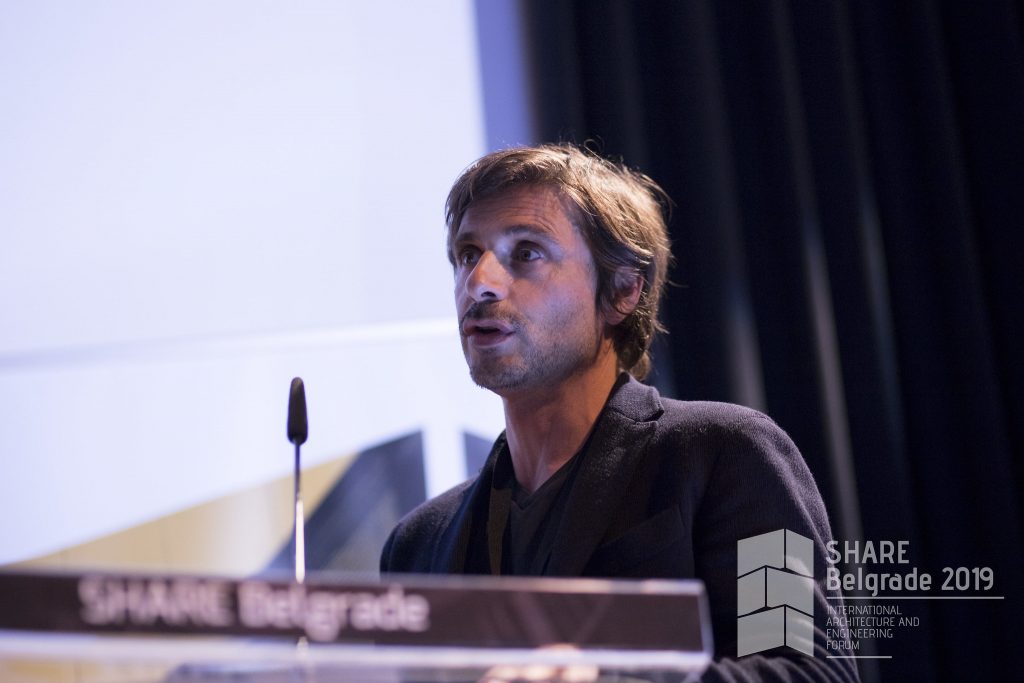 OPERA Omnia Distinction | Architect Aleksandar STJEPANOVIC 
For noteworthy accomplishments in the fields of architecture, as well as for the role played in developing significant architectural projects throughout his career, the SHARE Opera Omnia Distinction went to architect Aleksandar STJEPANOVIC, former president of the Union of Architects in Serbia.
The Workshops 
During the 2nd edition of this year's SHARE Belgrade, we've had two incredible workshops aimed at teaching attendees that there's more to architecture than meets the eye. 
Graphisoft
Introduction

– Zsolt Ivanovics – hiCAD & Gabor Udvardi – GRAPHISOFT  

Changes in AEC industry – Szabolcs Kari & Gordana Radonić – GRAPHISOFT

Industry Case Studies – Szabolcs Kari & Gordana Radonić –  GRAPHISOFT 

How GRAPHISOFT tools work?

–

Szabolcs Kari & Gordana Radonić –  GRAPHISOFT
Zumtobel Group | Use Of New Technologies In Presenting Light Solutions
Presented by Denis Biškup, Regional Marketing Manager SEE Zumtobel Group, the aim was to teach attendees how to turn their smartphone into a virtual reality device and explore new levels of lighting. 
To conclude, we would like to thank all of our partners for helping us put together a memorable event at SHARE Belgrade 2019:  Sisecam Flat Glass, zumtobel group, Alumil – aluminum systems for windows & doors, Graphisoft Archicad, Gradnja – Odgovor kuću gradi, Prostor, DaNS, Bina, The Institute of Architecture and Urban & Spatial Planning of Serbia (IAUS).