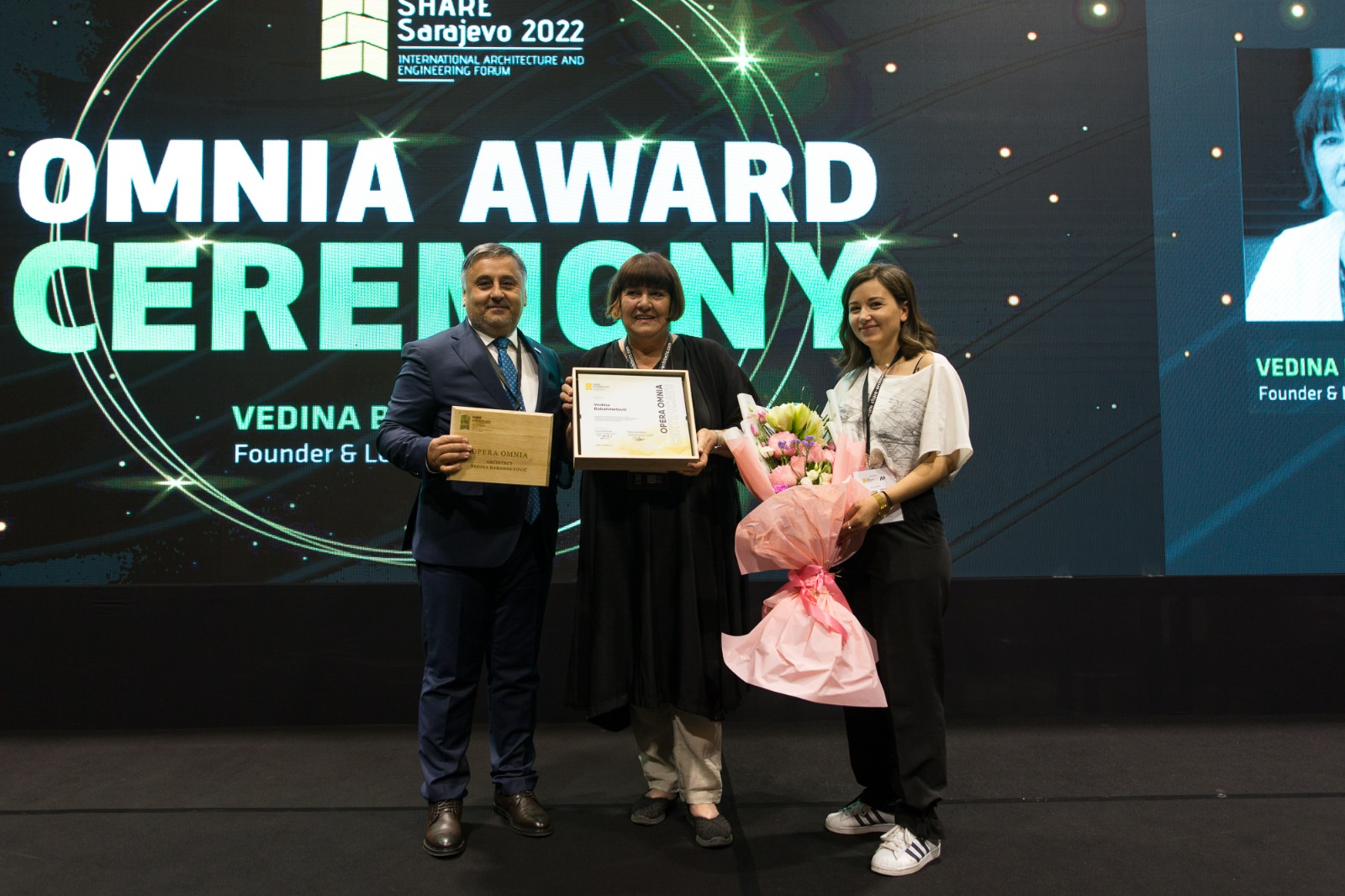 SHARE Sarajevo 2022 | Opera Omnia Award for Arch. Vedina Babahmetović  
The Association of Architects of Bosnia and Herzegovina and SHARE Architects are honoured to announce that the OPERA OMNIA award for lifetime achievement in architecture and urban planning has been awarded to architect Vedina Babahmetović, in high appreciation of her contribution to the architectural and urban development of Bosnia and Herzegovina.
Design of buildings that grow into places has been a celebrated feature of Bosnian-Herzegovinian modern architecture. In the last several decades, marked by social-economic transition, mainstream practice has often ignored local coordinates and values. It took for Vedina Babahmetović to revive the great modernist tradition of contextually and regionally informed design.
With her impressive portfolio of executed projects, pool of faithful clients and sequence of awards, Vedina has become one of the most important contemporary authors and, by far, the most accomplished women-architect (working without a male partner) in Bosnia and Herzegovina. With her friendship, openness and selfless sense for sharing knowledge and expertise she is an important fixture in Bosnian-Herzegovinian architecture culture. Both of these, mutually intertwined, roles require special recognition and praise by the local and global disciplinary public.
Vedina graduated from the architecture school of the University in Sarajevo in 1985. Overcoming the career hiatus enforced by the war years in the early 1990s, she founded her independent practice "Entasis" in 1997. Vedina's patient and hard work have resulted in a growing number of important and large commissions, such as the GMS shopping center in Vitez, the Makovi residential complex in Zenica and the Tisa administrative building in Žepče. These successful realizations truly impress by brave experimentations with materials, programs and typologies. Yet Vedina's mastery of building is at its most condensed and therefor striking in small, seemingly humble projects, such as "Small administrative building and tall pines" in Zenica and single family house "Hiža Mišljenova" in Puhovac, both of which earned her the Collegium Artisticum Grand Prix – the highest recognition for achievement in architecture awarded by the Association of Architects in Bosnia-Herzegovina (in 2018 and in 2022). By establishing multitude of material and conceptual relations with their surroundings, these small structures dramatically outgrow their physical scale and inspire appreciation and admiration. In that, they are reminiscent of their author's legacy – Vedina's impact on Bosnian-Herzegovinian architecture has been  too large and important for one career. The Omnia award is a welcome opportunity to acknowledge it.
The SHARE OMNIA Awards is the SHARE Architects Society's highest honour for outstanding achievement in architecture.
SHARE Architects is an essential networking platform for architecture professionals and an influential community for knowledge and understanding of the diversity of contemporary architecture. SHARE events are currently held in 16 countries in Central and South Eastern Europe and the SHARE Architects community has over 50,000 members worldwide.