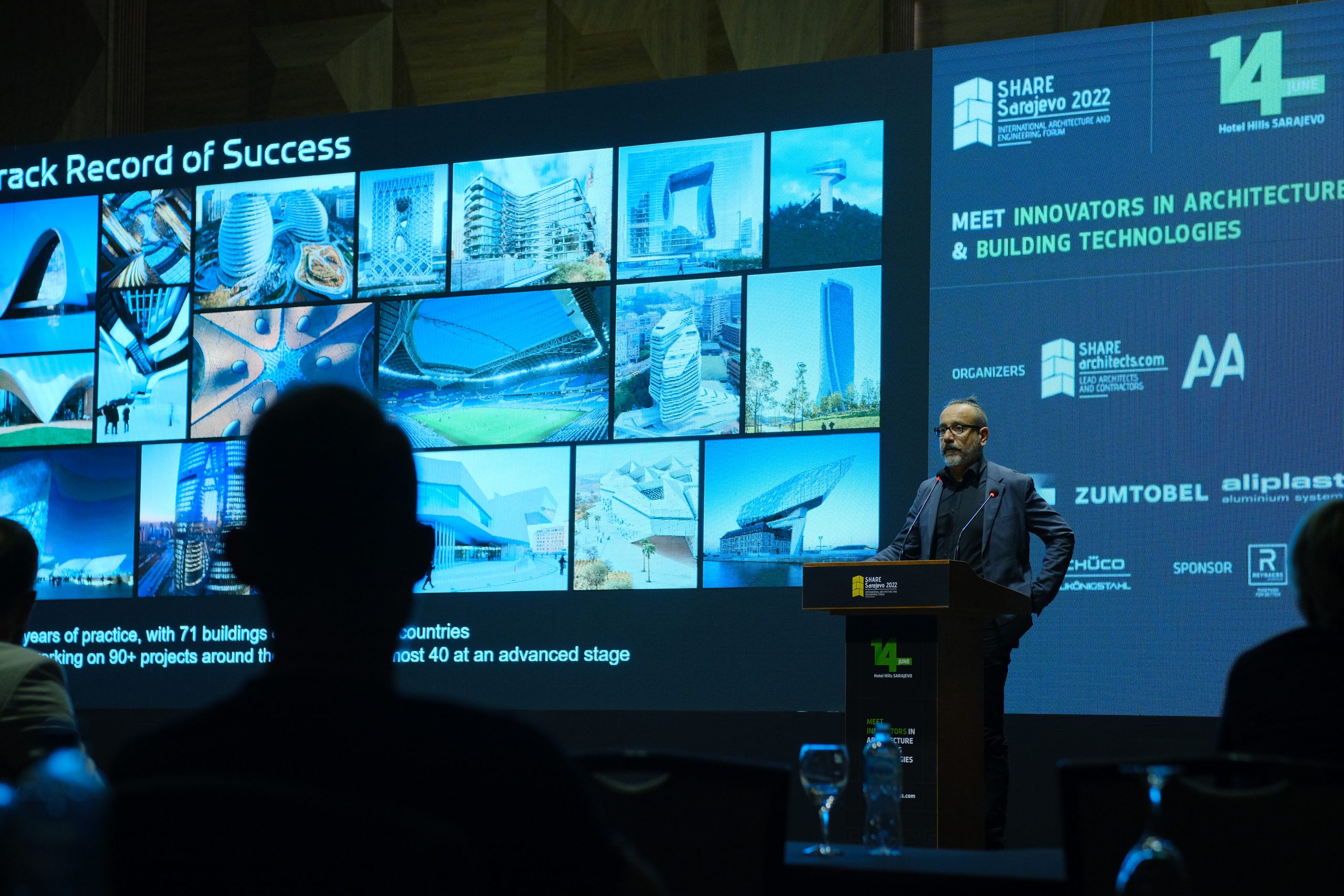 First SHARE Architects event in Bosnia and Herzegovina's architectural community
The first edition of the SHARE Sarajevo 2022 – International Forum for Architecture and Engineering took place at the Hills Hotel on 14 June, with the main theme of the future of urban life. The event was attended by over 200 participants who particularly appreciated the opportunity to know the vision and insights of great architectural projects as well as the connection and networking with Bosnian colleagues and guests from 5 other countries.
The 2022 edition of SHARE was organised by SHARE Architects and the Association of Architects of Bosnia and Herzegovina (AABiH), with the support of main partners Zumtobel and Aliplast Aluminium System, networking supporter Alukönigstahl BiH, sponsor Reynaers Aluminium and supporters: Gazzda and Flowers Factory.
The SHARE Sarajevo 2022 Forum showcased large-scale projects and addresses sustainability through design and the future of urban living. Innovative leaders in architecture and building technology took to the forum stage.
Highlights
ZAHA Hadid Architects – UK, MVRDV – The Netherlands delivered the keynote presentations
Special networking opportunities with leading architects from Bosnia and Herzegovina, the Netherlands, UK, France, Spain and Turkey.
Leading architects from Bosnia and Herzegovina took the stage at the SHARE Forum Sarajevo 2022: Nejra Durmišević, President of the Association of Architects of Bosnia and Herzegovina (AABiH); Igor Grozdanić, co-founder and partner Studio nonstop; Doc. Dr. Bradić Haris, Founder and Principal Architect Neufeld-Bradic; Dr. Dina Šamić, Co-Founder and Partner Firma; Jasmin Sirčo, Partner Sinteza; Amir Vuk-Zec, Founder and Principal Architect Studio Zec; Kenan Vatrenjak, Founder Filter Architecture; Željko Kusić, Founder Željko Kusić Architects; Muhamed Serdarević, CEO Normal Arhitektura; Dunja Krvavac, Architect I.D.E.A.;
Debates: "The future of design – Escape to the mountains" and "The future of residential housing";
The work of architect Vedina Babahmetovic, founder and principal architect of Entasis, was celebrated with the SHARE OMNIA Award ceremony for outstanding achievements in architecture.
International speakers
Martha Thorne, Dean IE School of Architecture and Design – Spain, Executive Director of the Pritzker Architecture Prize 2005 – 2021, held a special lecture "The built, natural, and digital: Can we create sustainable architecture?"
"There is a lot of talk these days about sustainability, the SDGs and the role of architecture and architects in creating equitable, livable and sustainable cities. These and other pressures are challenging a shift in our thinking about the role of architecture in the city, the practice of architecture and how to work responsibly both locally and globally."  Martha Thorne
Maurizio Meossi, Associate Director ZAHA HADID, UK, talked about "Zaha Hadid Architects: Masterplanning – Designing Cities"
Meossi has presented an overview of masterplans designed by ZHA over the past 20 years, with a focus on the recent Zuglo Varozkozpont masterplan in Budapest.
Maurizio has worked on some of ZHA's largest large-scale residential projects around the world, including in Italy, Australia, Mexico and Turkey. In Italy, he successfully led the design team for the group of residential buildings that form the new CityLife complex in Milan.
Gideon Maasland, Director of MVDRV, is responsible for large and complex buildings in the renowned architectural practice. At the SHARE Forum, he held a keynote lecture "Cities of the Future".
Is there still a future for cities? Is there a way to make cities more open, more porous, more sustainable, more social, greener? Gideon answered these questions through The Why Factory's Porocity research and MVRDV's flagship projects – Valley and Tripolis.
Kerem Yazgan, founding partner of Yazgan Design Architecture – Turkey, focused his lecture on different types of architectural interactions of buildings with smart technologies, city context and natural environment through his latest projects.
Catherine Mosbach, Principal Mosbach Paysagistes, – winner of the 2018 Landezine LILA International Landscape Design Award – presented at the SHARE Sarajevo 2022 forum a very interesting "Point on view" introspective on the vision of her projects.
About SHARE Architects
SHARE Forums have become an essential networking for architects and contractors in Central and South Eastern Europe over the last 25 years. SHARE creates an effective platform for knowledge and understanding of the diversity of the architectural phenomenon of contemporary architecture. SHARE events are currently held in 16 countries in Central and Eastern Europe and the SHARE Architects community counts more than 50,000 members worldwide. SHARE network was founded by Florin Mindirigiu.