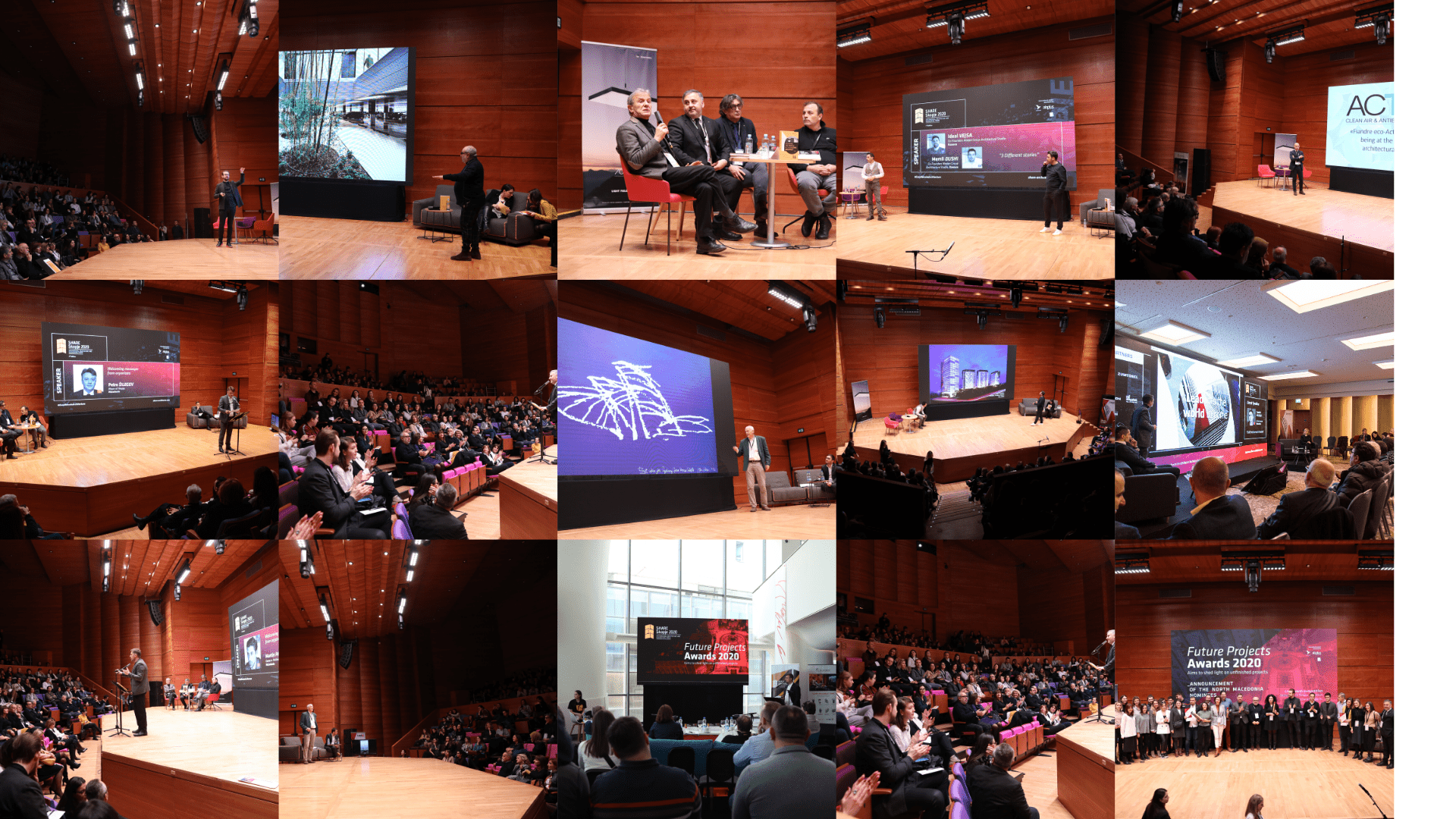 Remembering SHARE Skopje 2020 | Macedonian Philharmonic, Feb. 13
The 2nd event from our sequence of conferences for 2020 was SHARE Skopje, 3rd edition on February 13. A record-breaking number of 450 delegates joined our mission to build excellence in architecture at Macedonian Philharmonic. From the very beginning, we promised that the conference will be dynamic, interactive, and different from anything you've seen so far at SHARE Architects, and so it was. This year we've made some changes to the main program. Novelty elements included: 
2 stages: Main SHARE Stage & Innovation Stage

40+ lectures and presentations

SHARE Future Projects Awards

: a live competition dedicate to future Macedonian architectural projects

An innovative exhibition of architectural solutions, products & service

Thematics: Interior Architecture, Design&Furniture, Lighting Design, Facades, Roofs, Insulation, Landscape

International debate: "Transforming the world through architecture"
Official Opening 
The official opening at SHARE Skopje 2020 will begin with an introductory speech held by our event organizers and special guests.
Speakers: 
Florin MINDIRIGIU, (Programme Director) President, PROEVENT ASSOCIATION 

Martin PANOVSKI (Chairman) ASSOCIATION OF ARCHITECTS OF MACEDONIA
Honorary guests: 
Petre ŠILEGOV, Mayor of Skopje

Mishko RALEV (Honorary guest) Prof. PhD – Dean of the School of Architecture and Design, University American College Skopje
Great Speaker Presentations 
"Sydney Opera House", by Arch. Jan UTZON, Partner at Utzon – DENMARK
The presentation covered by Arch. Jan UTZON at SHARE Skopje 2020 covered the Sydney Opera House's original design and construction, as well as the experience of working with his father to guide the project's future. From 1976 until now, Arch. Jan Uzton has been involved in a wide variety of works with acclaimed Danish architect Jorn Utzon. Utzon Associates architects originally began with Jørn Utzon setting up his practice in the late 1940es. During the past 60 years, Utzon Associates architects have been involved in a wide range of projects of different scales at a global level. Among notable projects the architect participated in, we mention the refurbishment of the Sydney Opera House and the parliament in Kuwait.
"Cite du Vin Museum in Bordeaux", by Arch. Anouk LEGENDRE, Co-founder and partner at XTU – FRANCE 
XTU is an award-winning architecture and design firm founded in 2000 by principal architects Anouk Legendre and Nicolas Desmazieres. Located in Paris, France, XTU specializes primarily in academic and environmental research in addition to residential and cultural buildings. The portfolio of the firm displays several museum projects beginning with the Jeongkok Museum in South Korea followed by the Museum of Civilizations on Reunion Island and the Cite du Vin Museum in Bordeaux.
Keynote Speaker Presentations
"Agent-based social models in architecture", by Arch. Bogdan ZAHA, Lead architect at Zaha Hadid – UK
Arch. Bogdan Zaha joined Zaha Hadid Architects in 2014 after graduating from the Studio Zaha Hadid at the University of Applied Arts in Vienna. He is part of the office's design team and has worked on a significant number of projects: Alai Residential complex (Mexico), Beijing New Airport, Central Business District (Prague). He has worked on many project stages with a focus on parametric modeling and advanced geometrical design methodologies.
The architect's debate presentation was titled "Agent-based social models in architecture": "[ … ]The aim of agent-based parametric semiology is it to move from intuitive participation within an evolving semiosis to an explicit design agenda that understands the design of a large scale architectural complex as an opportunity to design a new, coherent system of signification, a new artificial architectural language, without relying on the familiar codes found in the existing built environments."
"The Skin I Live In", by Arch. Joan Roig DURAN, Founder Batlle i Roig Arquitectura – SPAIN
After obtaining a B.Sc. in Architecture in 1981, from the Higher Technical School of Architecture of Barcelona, ETSAB, Arch. Joan Roig Duran formed the company BATLLE I ROIG, ARQUITECTURA together with Enric Batlle i Durany. Throughout his career, he has received a great number of international awards including but not limited to: IOC/IAKS Gold Medal Award 2015, The International Architecture Award 2014, Mediterranian Landscape Award 2007, Delta FAD Prize of Design, FAD Award of Architecture.
The architect's presentation at SHARE Skopje 2020 centered at offering a glimpse through the facades of the buildings designed by BATLLE I ROIG, highlighting its interior-exterior relationship and its environmental quality.
"Case Study: Tashkent International Airport", by Arch. Pinar ILKI, Joint Managing Partner GMW MIMARLIK – TURKEY
Arch. Pinar ILKI, managing partner at GMW Mimarlık – Turkey, covered a presentation of GMW MIMARLIK, as well as presented the concept design of Tashkent International Airport in Uzbekistan. Pinar joined GMW in 1998 on Istanbul Ataturk Airport Project and involved in a variety of projects. She has been leading multidisciplinary design teams on large-scale airport developments. since then. She was promoted to director in 2008 and became a partner in 2011, jointly responsible for the management of the practice. Recent major projects include Terminal 5 in King Khaled International Airport in Riyadh KSA, Prince Mohammed bin Abdulaziz Airport in Madina KSA, new terminal Skopje Airport in Macedonia.
"Architecture as a collective process", by Arch. Paolo BRESCIA, Partner OBR Open Building Research – ITALY
In 2000, Paolo Brescia and Tommaso Principi established the collective OBR Open Building Research to investigate new ways of contemporary living, creating a design network among Milan, London, and Mumbai. After working with Renzo Piano, Paolo and Tommaso have oriented the research of OBR towards the integration artifice-nature, to create sensitive environments in perpetual change, which stimulate the interaction between man and environment. The team of OBR develops its experimental line through the participation in projects concerning public-private social programs, promoting – through architecture – the sense of community and individual identities.
Guest Speaker Presentations
Arch. Milan DJURIC, Founder DVA: Studio – SERBIA
Arch Milan DJURIC, President of the Union of Architects of Serbia, founded  DVA Studio together with Aleksandar Vuja in 2000 in Belgrade. A number of awards for project quality and implementation: Salon of Architecture Grand Prix (2014), Annual Award of the Association of Architects of Serbia (2014), Salon of Architecture Award (2008), Trimo architectural awards (2007, 2009 and 2011) and other awards and recognitions. They have participated in over 50 competitions and have received 20 awards and 10 purchases.
"Eclipse house, Sofia Boyana 49 apartment building, Sofia", by Arch. Georgi KATOV, Managing partner I/O architects – BULGARIA
Arch. Georgi Katov graduated UACEG Sofia in1999 as well as the Tokyo Institute of Technology, Tzukamoto Labin 2002. In 2004 he established I/O architects with Viara Zheliazkova. Awards of the speaker/office: 9 nomination European Union Prize for Contemporary Architecture Mies van der Rohe Award.
"3 Different stories", by Arch. Ideal VEIJSA & Memli DUSHI, Co-Founders Maden Group Architecture Studio – KOSOVO
Architects Ideal VEIJSA and Memli DUSHI, co-founders at Maden Group Architecture Studio in Kosovo, covered an insightful presentation at SHARE Skopje 2020 titled "3 Different Stories". In order to offer Kosovo's architecture a unique studio, that gives comfort, spreads friendly vibes and works with creativity, we decided to open Maden Group in 2009. We always try to integrate new elements according to the evolution of technology and materials, giving different dimensions and colors to our creations but never losing our identity.
Our main attention is the environment and the atmosphere where we work in. In pursuance of refreshing the work we do, sometimes we transform our workplace to avoid monotony and set up a creative surrounding. This has given amazing results in our work and also enhanced fondness and friendship in our team.
"Practice of Architecture and Design", by Arch. Filip Karagjozovski, Founder KL Studio, North Macedonia
Since graduating from the Faculty of Architecture Skopje, Filip together with Pero Lazarovski founded KL Studio. Today KL Studio works in the field of architecture and design and has maintained a great reputation for designing residential homes, business offices, buildings and more. KL Studio's list of existing clients ranges from private clients to international corporations.
"Concept project for the revitalization of Studencishko Blato (wetland) by establishing a sustainable economic model", by Arch. Kristijan Jordanov, General Manager Tetraktis – North Macedonia
Studenchishte Blato (wetland) represents one of the rare natural wetlands on the territory of North Macedonia, which spreads along the coast of the Ohrid Lake. Over the years this wetland has gone through gradually desiccation and degradation, which is caused by poor and inappropriate urbanization which is causing obstruction to its functioning. The Studenchishte Blato (wetland) is valorized as a natural phenomenon, preserved for millenniums as it serves as a habitat for many vegetative and animal species, insects and endemic types of plants. Due to the improper development of the town – planning as well as tourism, currently, there are about 50 hectares of wetland that are intact and which are facing destruction.
Partner, Sponsor & Supporter Presentations
"Human Centric Lighting in Office design", by Denis Biškup, Zumtobel Group Regional Marketing Manager SEE
"Armstrong your project our experience !", by Petar Timotijević, Adriatic Region Area Sales Manager
"Fiandre eco-Active ceramics: well-being at the center of the architectural challenge ", by Roberto MESINI, Export Sales Area Manager GranitiFiandre – ITALY
Aluprof – " Millions of Square Meters of Experience in Aluminium ", by Adam Kaczmarczyk, Project Manager Aluprof – POLAND
SHARE Skopje 2020: Future Projects Awards
The launch of our newly-launched competition, SHARE Future Projects Awards, was a genuine success. We've had 11 shortlisted projects pitch live on the SHARE stage in front of our international jury:
Pinar Ilki, Director at GMW MIMARLIK, Turkey
Paolo Brescia, co-founder, OBR OpenBuilding research, Italy
Milan Djuric, President, Union of Architects of Serbia
Georgi Katov, Managing Partner, I/Oarchitects, Bulgaria
Joan Roig, Founder, BATTLE I ROIG ARQUITECTURA, Spain
Ivan Raskovic, Associate Professor/ partner, ARHITEKTONSKI FAKULTET U BEOGRADU / AGMTEAM
SHARE Opera Omnia Distinction
This year's SHARE OPERA OMNIA at SHARE Skopje 2020 went to Arch. Trajko DIMITROV. Born on August 8, in 1930, Skopje (F.R. of Macedonia), Arch. Trajko DIMITROV graduated from the Technical Faculty in Skopje – Architectural department in 1956. In 1957, after his graduation, he started working in the Institute for Housing Construction (today Macedonia project, Skopje) and remained working there until his retirement in 1990. In 1960, he wrote a manual for construction and equipment about buildings and terrains for sports education published by the Republic Institute for sports education of F. R. of Macedonia. Read more about the architect and his work HERE.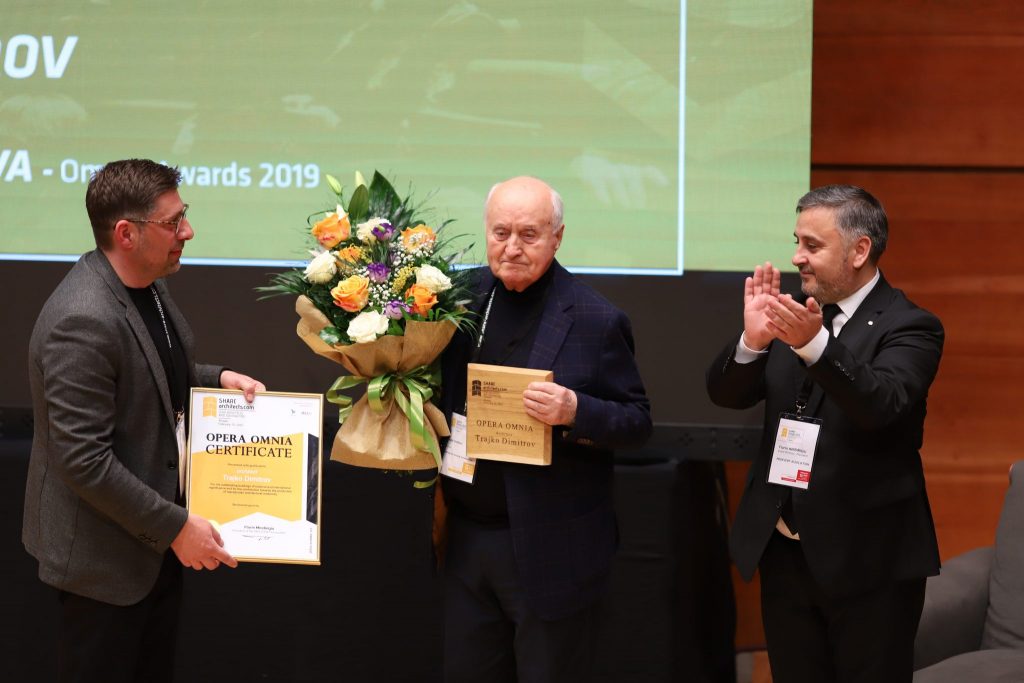 Significant achievements and recognitions:
1965: winner of "Plaque of architecture" about the Port Building for the airport in Skopje
1973: winner of "Golden jubilee plaque" for the Universal sports hall in Prilep
Winner of the Gran – Prix award on the 1st Biennial of Macedonian Architecture for the Universal sports hall in Kumanovo
Winner of the "City council charter" in Skopje, about the contribution for restoration and reconstruction of Skopje.
Conclusion
Last but not least, we couldn't have done it so beautifully without the presence of our conference moderators for SHARE Skopje 2020. A big round of applause to:
Marta ILIEVSKA, Architect Formika Plus – NORTH MACEDONIA
Martin Delovski Architect, Assistant Professor AMERICAN COLLEGE, SKOPJE
Mishko Ralev, Prof. PhD – Dean of the School of Architecture and Design University American College Skopje,
Iskra JANKOVSKA-MIHAILOVSKA, Owner Veda – NORTH MACEDONIA.
The 3rd edition of SHARE Skopje 2020 was truly memorable. Once again, we would like to express our gratitude to all of our speakers and attendees for helping us fulfill our mission at SHARE – to connect people and build excellence through architecture. It was a long day filled with amazing presentations, debates, workshops, and memorable speeches.