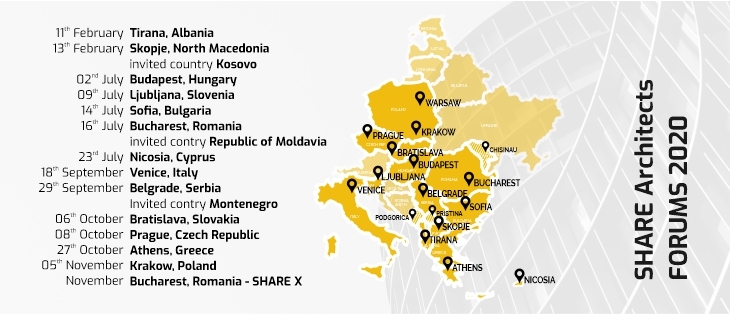 Official Announcement: Changes to conference dates at SHARE Architects
March 3, 2020 – SHARE Architects announces today several changes happening in the SHARE sequence of conferences scheduled for 2020. 
In light of recent events related to the expanding concerns of the coronavirus (Covid-19), the official calendar for the SHARE conferences has been updated. Following two events completed successfully in Tirana, Albania (on Feb. 11, 2020) and Skopje, North Macedonia (on Feb. 13, 2020), we would like to take the opportunity to announce the updated calendar: 
SHARE Ljubljana: rescheduled from March 12 to

April 21

SHARE Bucharest rescheduled from April 7 to

May 5

SHARE Sofia: rescheduled from March 24 to

May 28

SHARE Prague: rescheduled from May 28 to

June 11

SHARE Nicosia: rescheduled from June 11 to

June 17

SHARE Venice – September 18

SHARE Belgrade – September 29

SHARE Athens –  October 27

SHARE  Bratislava – October 6

 SHARE Krakow – November 5

SHARE SHARE X Bucharest (date to be announced)
To all our delegates who were looking forward to joining us at SHARE – especially this March (Sofia) and April (Belgrade) – this decision was taken due to expanding concerns related to the coronavirus (Covid-19). Our priority is the wellbeing of everyone attending the SHARE Forums. As a consequence, we've postponed several SHARE events as a precautionary measure which is, therefore, in everyone's interest. (Florin MINDIRIGIU, President at PROEVENT ASSOCIATION – ROMANIA).
We would also like to point out that purchased tickets are valid for the new dates established in our updated SHARE calendar for 2020. Leaving aside the minor changes mentioned above, the sequence of events at SHARE will continue as planned. 
About SHARE Architects 
SHARE Forum is one of the essential networking platforms for the construction-related fields in Central and Eastern Europe. We bring together principal and senior architects from leading practices to discuss their recently awarded projects from the greatest architectural competitions worldwide. Organized by Pro Event Cultural Association the mission of SHARE is to bring together delegated architects, municipality officials, engineers, urbanists and other professionals related to the architecture field.