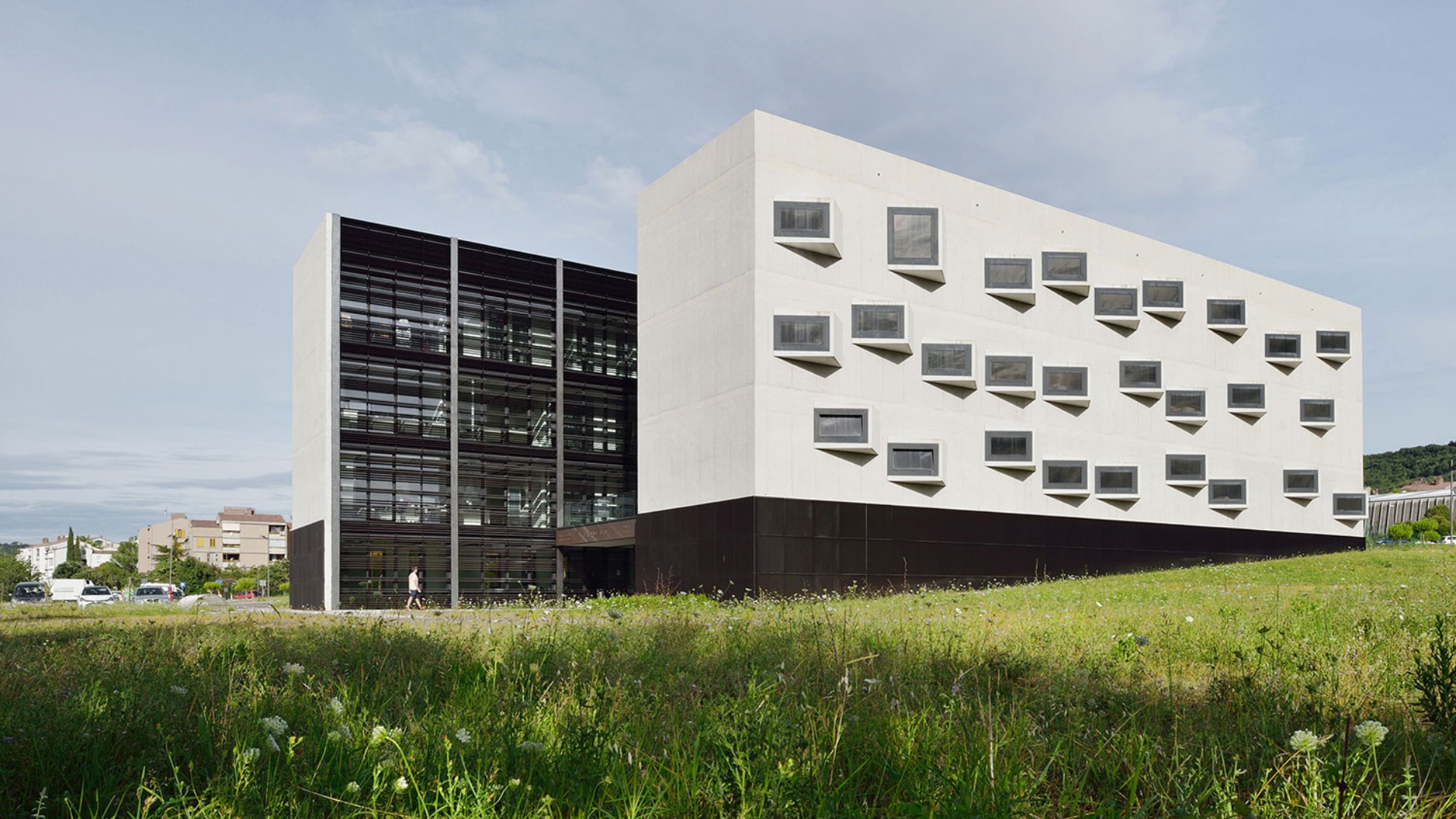 MEET THE GUEST | Aljoša Dekleva, co-founder Dekleva Gregorič Architects, Slovenia
The third edition of the SHARE Forum in Slovenia will take place on 25th of April 2023, at the Intercontinental Ljubljana Hotel. "Sustainable facades: Design and technology," and "Large-scale development projects" are the main themes that will be explored during the program of the International Architecture and Technology Innovation Forum.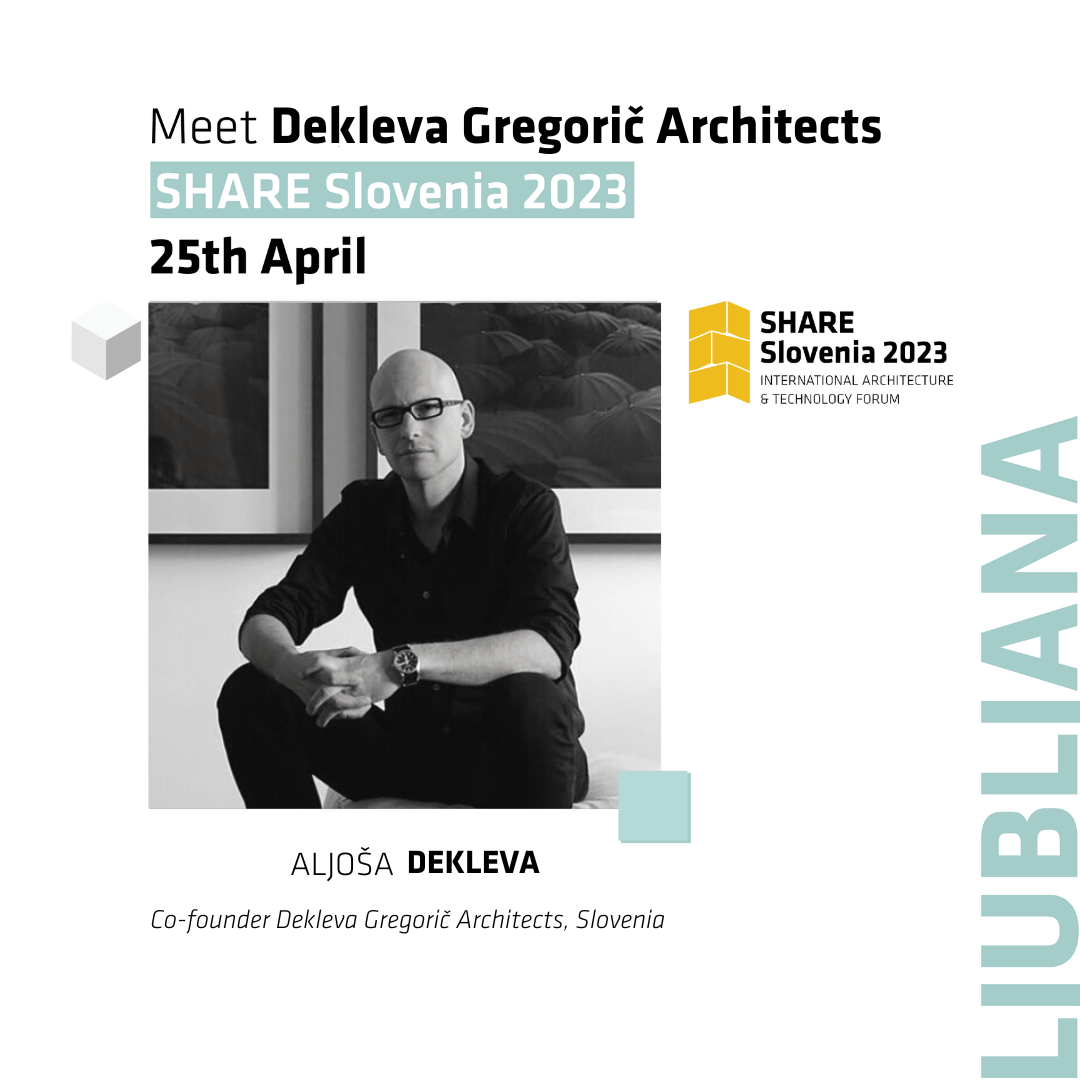 SHARE Slovenia 2023 will provide attendees with access to knowledge and new opportunities for collaboration. National and international renowned speakers, innovators in architecture and building technologies will provide the audience with insightful technical details of large-scale projects as well as inspirational visions.

MEET THE GUEST | Aljoša Dekleva, co-founder Dekleva Gregorič Architects, Slovenia
With Tina Gregoric, Aljoša Dekleva directs Dekleva Gregoric architects, an architectural practice based in Ljubljana, who pursue the concept of research by design and design by research. Their aim is to challenge the obvious. In 2014 they were both leading the research and design group "nanotourism" within the Biennial of Design BIO50 in Ljubljana, where they received the highest award "The Best Collaboration". Since 2014 he runs an experimental teaching and research programme AA nanotourism, part of Visiting School at Architectural Association. In 2016 Aljosa and Tina were curators of Slovenian national pavilion at Venice Architectural Biennale. As a guest professor, he was teaching at Universite de Montreal and at ENSA Paris Val de Seine.
The work of Dekleva Gregoric Architects received several international and national awards: Silver Plate of the Luigi Cosenza European Architecture Award for XXS House; Nomination for Mies van den Rohe Award for KSEVT Cultural Centre of EU Space Technologies; Plecnik's medal for Metal Recycling Plant; WAN House of the Year 2015 Award and commended in prestigious AR House Award 2015 by Architectural Review for Compact Karst House. In 2005 they received WALLPAPER* award, Best breakthrough designers. In 2012 they were Highly Commended for "21 for 21 WAN AWARDS", listing the 21 architects for the 21st century. In 2016 Museum of Architecture and Design in Ljubljana has published a book on their work titled "Home by Dekleva Gregoric architects".
WORK |  Projects of Aljoša Dekleva
University Campus Livade
The University Campus Livade was set to operate as an open network, continuously growing spatial system that allows for the integration of any potential needs of the University of Primorska, located in the Mediterranean coastal town of Izola.
An autonomous urban fabric with its own rules defines the specific identity of the new campus, which extends and complements the existing town centre. Its location on a hilly slope allows for the campus to be as permeable as possible, both in physical as well as visual terms, so that the green outskirts are closely intertwined with the dense historical town centre.
Livade 1.0 is planned as the first in the network of five interconnected faculty buildings, each organised as H-shaped narrow concrete volumes with a central covered atrium. A double system of linear stairs enhances social interaction and illuminates the connecting corridors. The programs are distributed vertically from more to less public: lecture halls – research labs – offices. A system of protruded windows shifts the views towards the sea.
The Cultural Centre of European Space Technologies (KSEVT)
The Cultural Centre of European Space Technologies (KSEVT) was jointly designed by four Slovenian architectural firms: Bevk Perović Arhitekti, Dekleva Gregorič Arhitekti, OFIS Arhitekti, and Sadar + Vuga Arhitekti. The building's design takes inspiration from the first geostationary space station, or more specifically, the habitation wheel space station envisaged by rocket engineer Herman Potočnik Noordung in 1929.

slovenia.share-architects.com-speaker-aljosa-dekleva-8
Photo © Dekleva Gregorič Architects


slovenia.share-architects.com-speaker-aljosa-dekleva-9
Photo © Dekleva Gregorič Architects

With its program, KSEVT will encourage local cultural and social activities, which formerly took place in the village's Community Centre, and supplement them with additional cultural events (exhibitions) and scientific activities (research, conferences), revitalizing the cultural space in the region. The building features a series of interlocking rings that lie on top of each other to create a continuous ramped structure. The upper part of the building houses a research area, while the lower parts will house exhibition spaces, a multi-purpose hall and the local library.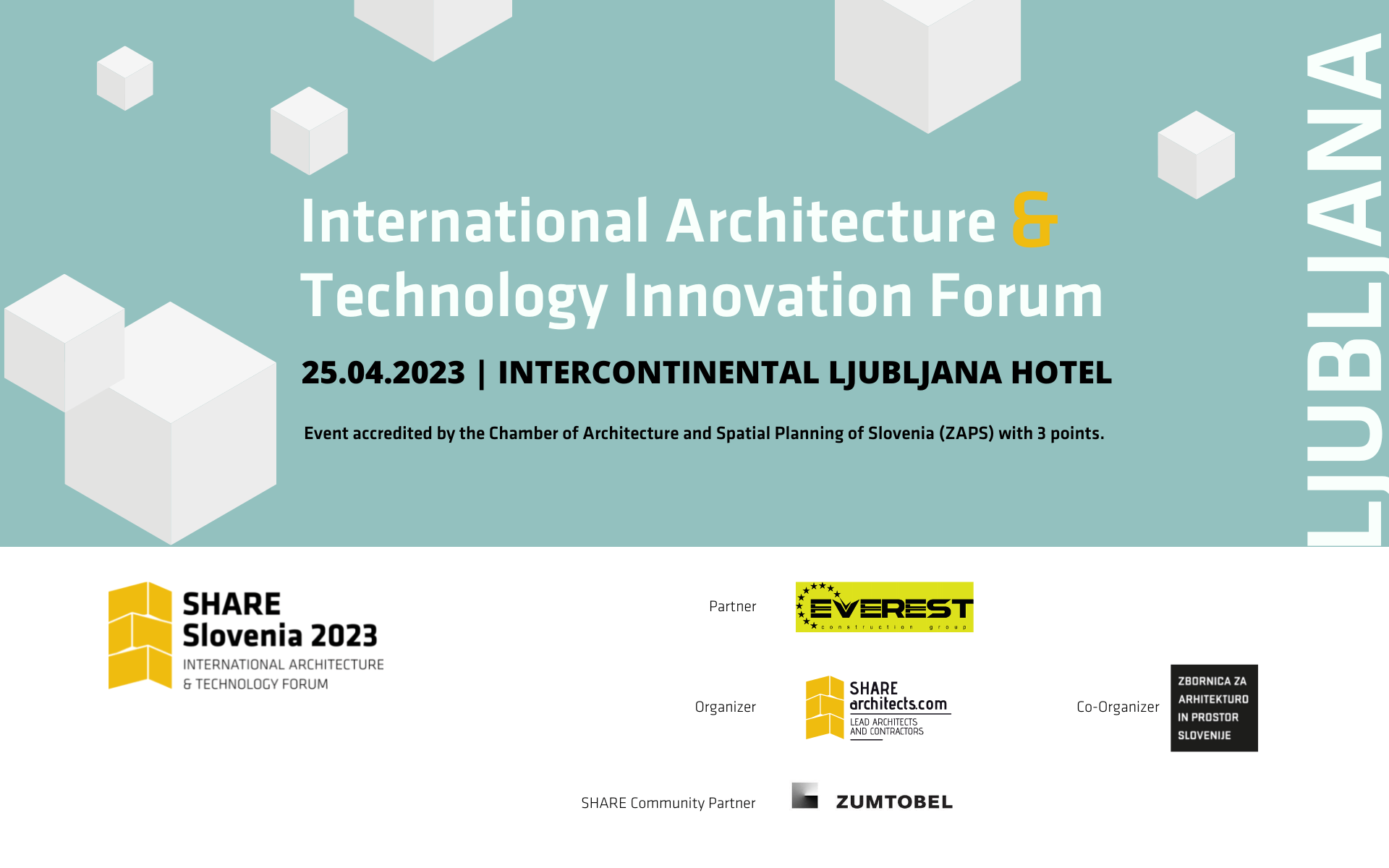 SHARE Slovenia 2023 has as guests internationally recognized personalities in the field of architecture:
The event is organized by SHARE Architects, one of the most active events network in the region, in partnership with the Chamber of Architecture and Spatial Planning of Slovenia, with the support of Everest, the partner of the event and Zumtobel, proud partner of SHARE  Community.

SHARE Architects in Slovenia
Great Slovenian architects have joined the SHARE Architects network adding value to previous editions in Ljubljiana or promoting Slovenian architecture in Europe. 15 Slovenian personalities in architecture are members of the SHARE Architects Society, an exclusive group within the SHARE Architects network, among the being Matej Blenkuš, Dean Lah, Spela Videcnik, Mojca Gregorski, Nande Korpnik, Tomaž Krištof. SHARE Architects Society has awarded the SHARE OPERA OMNIA AWARDS to Špela Videčnik, Co-founder OFIS arhitekti, for her life's work and notable achievements in the field of architecture.
SHARE Architects Network – Connecting architects and contractors in Central and South Eastern Europe
Over the past 25 years, SHARE Architects forums have become a key networking platform for architects and constructors in Central and South Eastern Europe. SHARE provides a useful framework for knowledge and understanding of the diversity of modern architectural phenomena. Currently, SHARE Architects events are held in 16 countries and have developed a community of over 50,000 professionals around them.