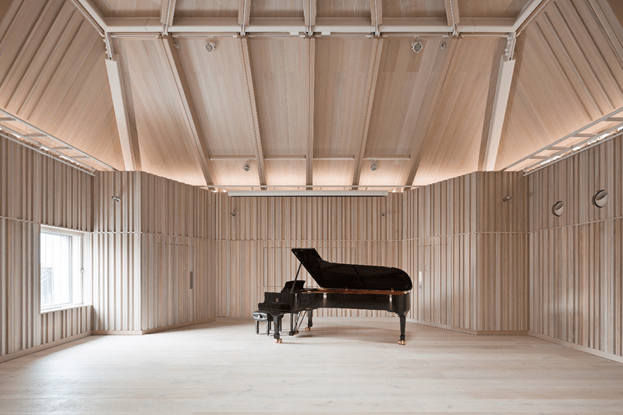 A NEW PROJECT BY IAN RITCHIE ARCHITECTS AT THE ROYAL ACADEMY OF MUSIC IN LONDON
The Royal Academy of Music in London just opened its door to its new performance spaces for opera and musical theatre by Ian Ritchie Architects on the 9th of January this year. The initial setting is one historic site surrounded by listed buildings in Regent's Park conservation area. However, the project succeeds in installing within the concrete existent walls a theatre with 40% more seating space than previously and a new Recital Hall that lays above, completely isolated acoustically, which provides with an additional 230sqm of rehearsal space.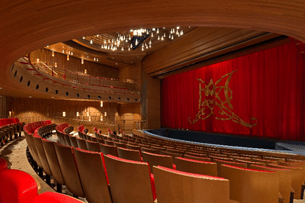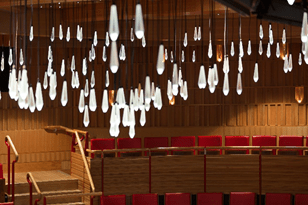 The proposal was unanimously granted planning permission and listed building consent at the first submission by Westminster City Council in February 2012, receiving full support from all involved decisional actors.
The spaces are stunningly beautiful and inspiring. They will raise the bar and challenge the students and staff in every possible form of music to reach higher and search further.
Jonathan Freeman-Attwood, Principal, Royal Academy of Music
The program is organized in such a way that a new life of the two adjacent buildings takes shape – bricked-up windows have been reopened in the new glazed lobby of the Recital Hall which incorporated the existent 1911 stairway and a contemporary addition of a fully glazed lift making visible the listed rear façade of the old building. The possibility of separate access of each of the new addition is made available so that the Royal Academy staff and students can profit both for public performances and education, making up for activities that are more open towards the city life.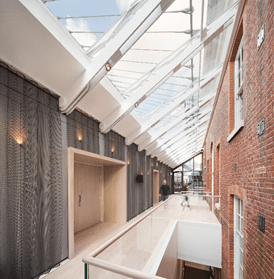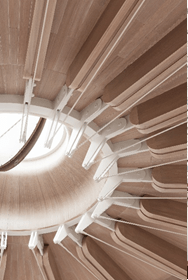 In addition to that, an audio-visual control room and a series of 14 new refurbished practice and dressing rooms complete the intervention and will be followed by five new percussion studios and a new jazz teaching room.
The requirements for this particular project were very strict given its surroundings and the quest to integrate such a program in a fixed predetermined heritage perimeter. Special attention was given to the acoustic isolation challenges, starting from the idea of total isolation between the Theatre and Recital Hall – we are talking about acoustic "adjacencies" that pose both design and structural problems bringing up the solution of detaching the two new halls from the existing building structure letting them float on their own concrete platform on rubber bearings.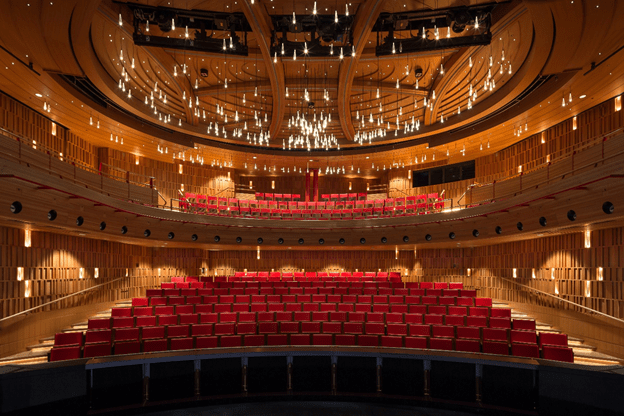 The Royal Academy of Music's adaptable new Theatre and Recital Hall provides state-of-the-art stage and recording facilities suitable for opera and musical theatre productions. We started with the theatre interior itself, and then explored the potential of the existing and of a new structural roof. We even considered a complete rebuild of the theatre – rotating its plan 90 degrees to facilitate public and stage access. However, this was not deemed economically viable. We concluded the study which demonstrated that a redesigned theatre for opera and musicals could have a 40% increased capacity, larger orchestra pit, and for the first time a stage wing and fly tower, as well as a new recital hall on the top of the theatre roof. -via Ian Ritchie Architects LTD
The project already received international acclaim by being a Finalist at the 2017 WAF Awards and at the 2018 RICS London Awards, and by receiving a Commendation at the 2017 AR Awards as well.
Ian Ritchie is a British architect, poet, artist, who founded iRAL in 1981. His projects include the RIBA Award-winning Terrasson Greenhouse and London Regatta Centre, and American Institute of Architects Award-winning Royal Shakespeare Company Courtyard Theatre. Ian Ritchie is Special Visiting Professor at Liverpool University and advises The Ove Arup Foundation, Backstage Trust and is a Governor of the RSC. Ian Ritchie Architects is renowned for research and for its innovations, having more than 30 World Firsts in architectural geometry, engineering and material techniques. Ian Ritchie and his practice have received more than 70 major national and international awards. We are honored to welcome him as our special guest at the first edition of SHARE Forum in Belgrade on 24th April 2018.
The Architects members of Union of Architects of Serbia (UAS) have free registration until 15.03.2018 (click)
For registration and other details about the event (click)
The SHARE FORUM brings together each year hundreds of practicing architects and contractors from Europe, Asia and the United States of America, becoming one of the most important networking platforms for the construction-related fields in Central and Eastern Europe. Its annual editions are a constant relevant presence in Warsaw and Krakow (Poland), Budapest (Hungary), Bucharest (Romania), Sofia (Bulgaria), and this year we join our community in Belgrade (Serbia), Athens (Greece) and Skopje (Macedonia). ABplus Events, as Professional Trade Events and Congress Organizer, is the creator of the concept of national network of construction trade shows. Our experience in the Central and Eastern European market positions our events as one of the most effective international forums in the region, a source of constantly updated information, supporting the continuous training of specialists and the promotion of young talents. For 20 years we have been in pursuit of excellence in the fields of architecture and construction, through these international events organized for architects and contractors, in cooperation with our partners – the national chambers of architects, architecture and construction institutions and associations.
For Customer service, Bookings and Sponsorship opportunities please contact:
For more details about SHARE Belgrade 2018 and our events follow us on:  
Facebook:  https://www.facebook.com/abplus/
Twitter: https://twitter.com/ArchTradeEvents
LinkedIn: https://www.linkedin.com/company/abplus-events/
Or visit our website: http://share-architects.com/
All photo courtesy of Adam Scott