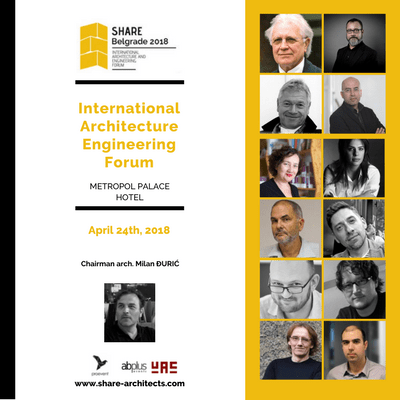 The most appreciated Forum of Architecture and Engineering in Central and Eastern Europe will take place for the first time in Belgrade on 24th of April
The most appreciated Forum of Architecture and Engineering in Central and Eastern Europe will take place for the first time in Belgrade on 24th of April and it bring together specialists from 11 countries
SHARE Belgrade 2018 will bring together architects from 11 countries to discuss and gain inspiration from each other: Serbia, Germany, UK, Iran, Romania, Macedonia, Turkey, Poland, Ukraine, France, Bulgaria.
After the success in Bucharest, Sofia, Warsaw, Skopje, Krakow and Budapest, SHARE Forum  will take place for the first time in the Serbian Capital on April 24th at the Metropol Palace Sheraton Hotel .
SHARE Belgrade 2018 International Architecture and Engineering FORUM is organized by ProEvent Cultural Association and ABplus events in partnership with The Union of Architects of Serbia (UAS).
The Chairman of SHARE Belgrade 2018 will be the President of the Union of Architects of Serbia Mr. arch. Milan ĐURIĆ.
The SHARE Belgrade 2018 – International Architecture and Engineering Forum will offer to the participants the opportunity to meet one of the most awarded architects, arch. Ian Ritchie – Founder of Ian Ritchie Architects / UK. He will present his project: "The Sainsbury Welcome Centre for Neural Circuits and Behavior 2018. Ian Ritchie is a British architect, poet, and artist who founded Ian Ritchie Architects in 1981. His projects include the RIBA Award-winning Terrasson Greenhouse and London Regatta Centre, and American Institute of Architects Award-winning Royal Shakespeare Company Courtyard Theatre.  He has chaired international juries including the Sterling Prize, and he was also the first foreign architect to receive the French Academie d'Architecture Grand Silver Medal for Innovation.
ZAHA HADID ARCHITECTS will be represented at SHARE Belgrade 2018 by the Senior Associate arch. Maurizio Meossi as Great Speaker. During his presentation the arch. Maurizio Meossi will talk about the concepts behind "Zaha Hadid Architects – Residential Projects".
This edition's Keynote Speakers will be: the arch. Kerem YAZGAN who is the Managing Partner of Yazgan Design Architecture in Turkey, and he will present his project: "YDA Business Center" 2017. In his practice, he is continuously searching and developing flexible, free, systematic and lucid relationships between architectural design approaches that clearly define the conceptual, production, and construction phases. He received awards in various architectural design competitions: 2017: YDA Center – European Property Awards 2017 – Winner; 2017: YDA Center – Premium Project in Best Office Building; Premium Project in Best Architectural Design; World Architecture Community Awards 23th Cycle Selected Project for WAA; 2017: Mustafa Vehbi Koç Sports Hall – World Architecture Community Awards; 2017: Hamamyolu Urban Deck – LEAF Awards 2017 – Urban Design Project of the Year' Award.
Keynote Speaker will be also the landscape arch. prof. Rainer SCHMIDT, Founder of Rainer Schmidt Landschaftsarchitekten in Germany and will present the project: "Zukunftspark Killesberg – Stuttgard". His international work specializes in large scale projects in landscape architecture, environmental planning and urban design.  His most important awards are: 2015: WAN Landscape Awards, 1st Place and 2013: DGNB Gold Certification; 2009 BDLA Prize.
The arch. Anouk LEGENDRE will be also Keynote Speaker for SHARE Belgrade 2018.  She is Partner at X-TU Architects studio in France, and will present her project: "La Cité du Vin". Some of her most important awards are: 2016: Mies van der Rohe Award, Nomination; 2015: Architecture and Landscape Gold Medal, Milano; 2014: Paris Shop & Design Award and 2013: Academy Korean Architects Prize.
Other great presences at SHARE Belgrade 2018 will be: the lighting designer arch. Colin BALL, he is the Lighting   Director of BDP – Building Design Partnership Ltd. in UK.
The arch. Oskar GRABCZEWSKI the Owner of OVO Grabczewscy Architekci in Poland and he will present his project: "Museum of Fire in Zory".
The arch. Dean LAH is Managing Partner at Enota in Slovenia and will speak about his project: "Ptuj Performance Centre".
The arch. Angel ZAHARIEV is the Founder of A&A Architects in Bulgaria, and his presentation will be about the project "Capital Fort".
The arch. Habibeh MADJDABADI is the Owner & Principal Architect of Habibeh Madjdabadi Architecture Office in Iran and she will present the project: "Humanizing Architecture: The Value of Human Approximation along the Process of Design and Construction"; and the arch. Vlad GAIVORONSCHI who is the Founder of Andreescu & Gaivoronschi in Romania, and his presentation will be about the project "Regenerating Brownfield Lands".
SHARE BELGRADE 2018 will act as an effective platform for networking, business, inspiration and exchange of ideas and transfer of know-how.
 Free registration for the architects members of Union of Architects of Serbia (UAS) until 15.03.2018.
 For registration and other details about the event (click)
The SHARE FORUM brings together each year hundreds of practicing architects and contractors from Europe, Asia and the United States of America, becoming one of the most important networking platforms for the construction-related fields in Central and Eastern Europe. Its annual editions are a constant relevant presence in Warsaw and Krakow (Poland), Budapest (Hungary), Bucharest (Romania), Sofia (Bulgaria), Belgrade (Serbia), Athens (Greece) and Skopje (Macedonia). ABplus Events, as Professional Trade Events and Congress Organizer, is the creator of the concept of the national network of construction trade shows. Our experience in the Central and Eastern European market positions our events as one of the most effective international forums in the region, a source of constantly updated information, supporting the continuous training of specialists and the promotion of young talents. For 20 years we have been in pursuit of excellence in the fields of architecture and construction, through these international events organized for architects and contractors, in cooperation with our partners, the national chambers of architects, architecture and construction institutions and associations.
Sponsorship opportunities contact:
For more details about SHARE Belgrade 2018 and our events follow us on:  
Facebook:  https://www.facebook.com/abplus/
Twitter: https://twitter.com/ArchTradeEvents
Or visit our website: http://share-architects.com/