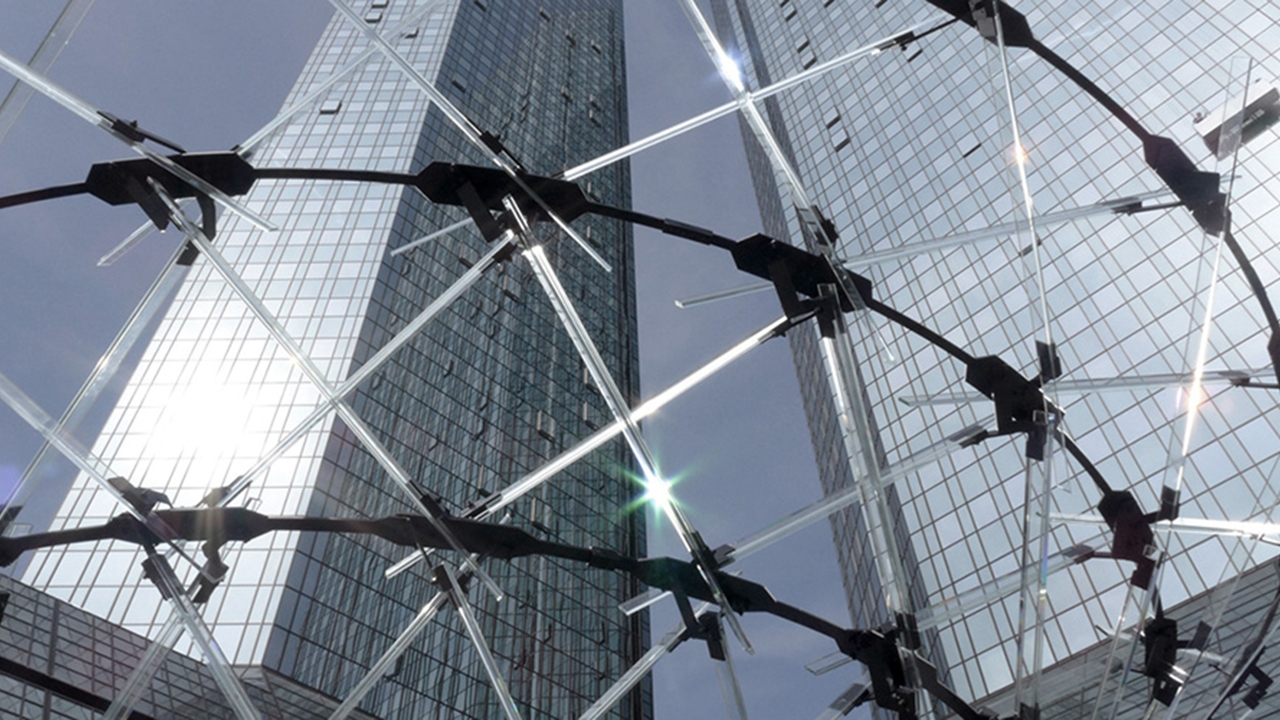 Twinkle Twinkle, transparency and communication installation
As guest speaker of this year's INGLASS Budapest, Lars Nixdorff, founder and director of NE-AR in Germany, will talk about the Twinkle Twinkle project, an installation in Frankfurt.
About the speaker
Born and raised in Frankfurt am Main, Germany, Lars Nixdorff received in 2003 his Diploma degree in Architecture from University of Applied Sciences, Frankfurt with Honors and in 2005 his Diploma in Advanced Architectural Design with Honors from SAC -Städelschule Architecture Class – at the Städelschule Staatliche Hochschule für Bildende Künste, Frankfurt am Main, Germany under the tutorship of Prof. Ben van Berkel, Prof. Johan Bettum and Prof. Mark Wigley.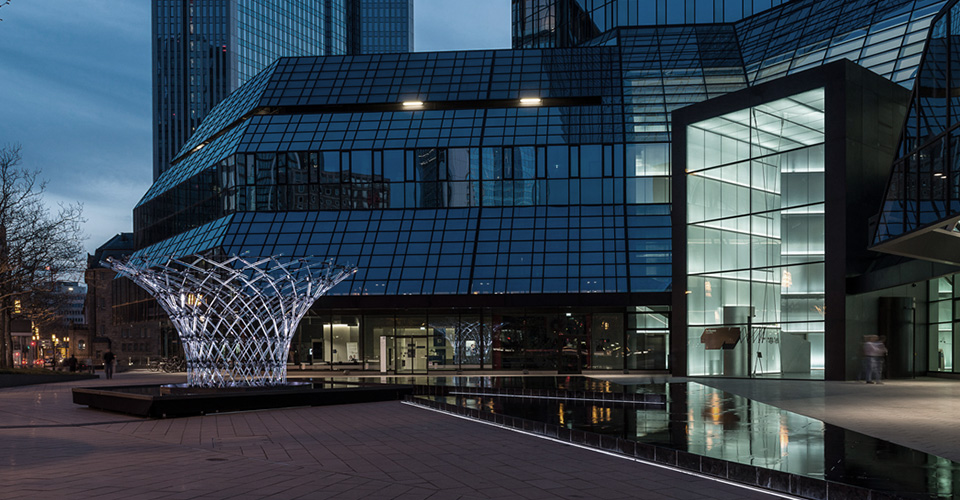 From 2006 until 2008, Lars has been Architect forUNStudio Amsterdam, being responsible Design Leader for several realized and winning projects. Among others he successfully contributed to Finance and Tax office IBG, Groningen, The Netherlands, The Museum of Middle East Modern Art MOMEMA, Dubai, United Arabian Emirates, The Theater of Spijknisse, Spijkenisse, The Netherlands. Returning to Frankfurt in 2008 Lars has been working as an independent architect on several project developments, among them residential developments in Hamburg and Berlin, as well as contributed to several competition entries and project collaborative studies.
Between 2010 and 2013, Lars has been collaborating with Franken Architekten based in Frankfurt am Main, fulfilling the role of Design Director and working on several national and international projects and competitions. Among other projects he has been project leader for the completion of the BMW showcase pavilion of the Olympic Games 2012.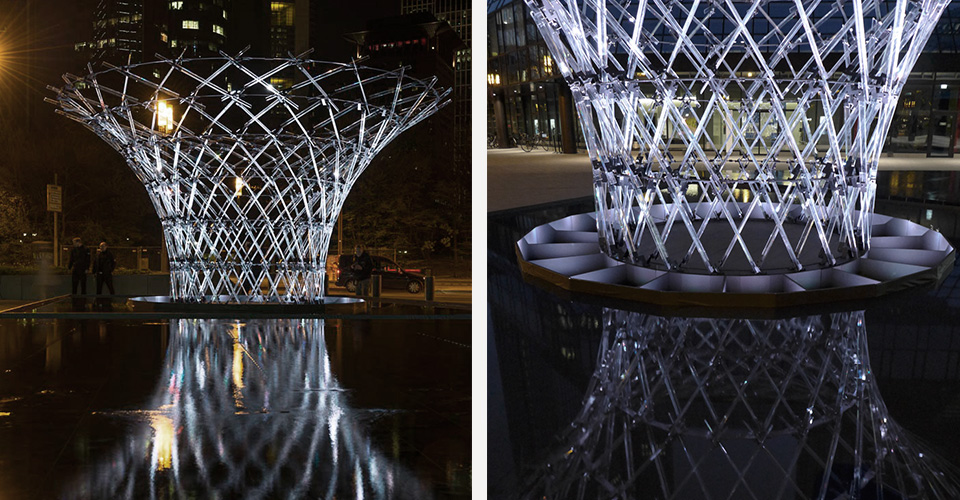 From 2008 till 2010, he has been appointed as Guest Professor at the SAC/ Städelschule Architecture Classfor Architectural Design in Frankfurt/Main. Since 2012 Lars is member of the board of directors of the Foundation Stiftung Städelschule für Baukunst.
About the project
'Twinkle Twinkle' is an installation that stands for transparency and communication. Glass and light – as traditional transmitter of information – are its core matters. The structure was designed for the 'Luminale' light-festival 2014 in Frankfurt, Germany.
The aggregation of hundreds of single glass members creates an installation that shapes a totality in form. Singular glass elements, radially arranged on a dynamic spatial system, transporting and transforming light. Each element behaves both as structural and information mediums of communication. The resulting sensorial effects are materialised through the interaction of the glass bars, natural and artificial light sources and sound.
The hyperboloid form of Twinkle vertically divides into six sections. The load-bearing components of the triangulated structure are float laminated glass rods. The horizontally extending flat sheets of the vertical sections shortcut the ring forces and form the detail connection between the triangulated extending truss rods of glass. The connection between glass and steel members as the load-bearing detail ensures adhesive connection with a hinged mounting bolt.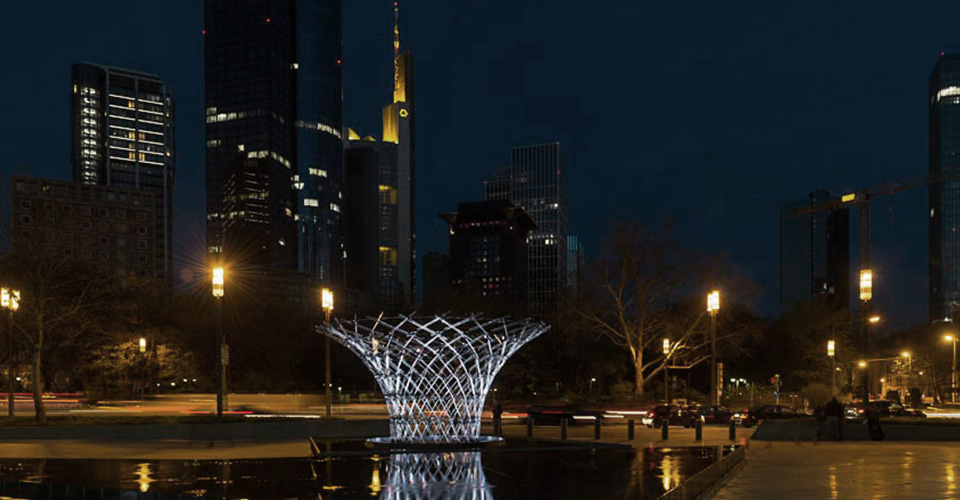 'Twinkle Twinkle' is designed for day – and nighttime experiences. During daylight, it appears fragile, transparent, with decent colorful light effects from spectral light dispersion, the refraction and reflection of its surrounding. Due to its set-up, it plays with the notion of scale, thus creating a changing close-far experience to the observer, dissolving from a total shape to discrete elements while approaching the installation.
Depending on the visitor`s attentiveness, carefulness of observation and point of view, the installation and its effects appear in endless variations. At nighttime, the predefined, but random appearing light impulses achieve a changing, non-consistent image that does not have a clear narration. The randomized succession of short visible and audible sequences, appearing in varying intervals, creates an unexpected interaction experience to the observer, who falls into the dependence of waiting and expectancy.
The multimedia experience is underlined by sound that is synchronized to artificial light effect. It is the unexpected overlapping effect of aggregate members and layers of perception that create a unique and deep experience.
About the studio
NE—AR stands for Nixdorff Etchegorry — Architecture Research, an international brand specialized in the fields of architecture and design. NE—AR is based in Frankfurt, Germany and led by Lars Nixdorff and Luis Etchegorry.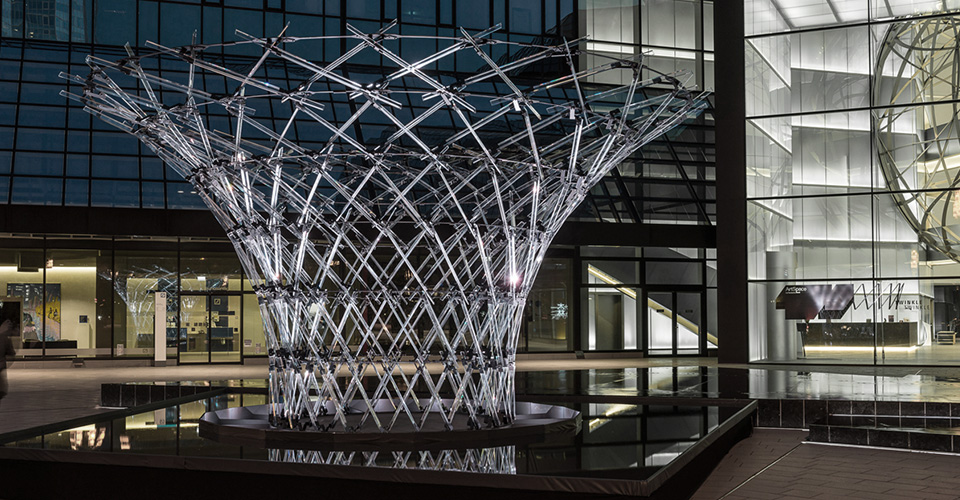 NE—AR is an office interested in architectural possibilities. Setup as a platform for exchange within a local and global context, our approach mixes keen analysis and formal experimentation into uniquely responsive designs. Thus we perform as an integrated design environment forming clusters of architects, designers, thinkers, consultants, project partners and clients. NE—AR envisions an optimistic yet critical view towards the world by researching its trends and behaviors. This enables our firm to understand research as a generator of new concepts and ideas.
NE—AR offers cutting-edge design and a methodological approach to all our products. Our design strategy focuses on an integrated approach, which results into an added value to the recipient. The resulting design is materialized conceptualization that is able to dialogue with contemporary life and society. This is possible due to a process set-up that hosts and facilitates a platform for the integration of client´s ideas, consultants and project partners form the first instance and throughout every project.
Awards
• 2014 WAN GLASS IN ARCHITECTURE AWARD-shortlisted