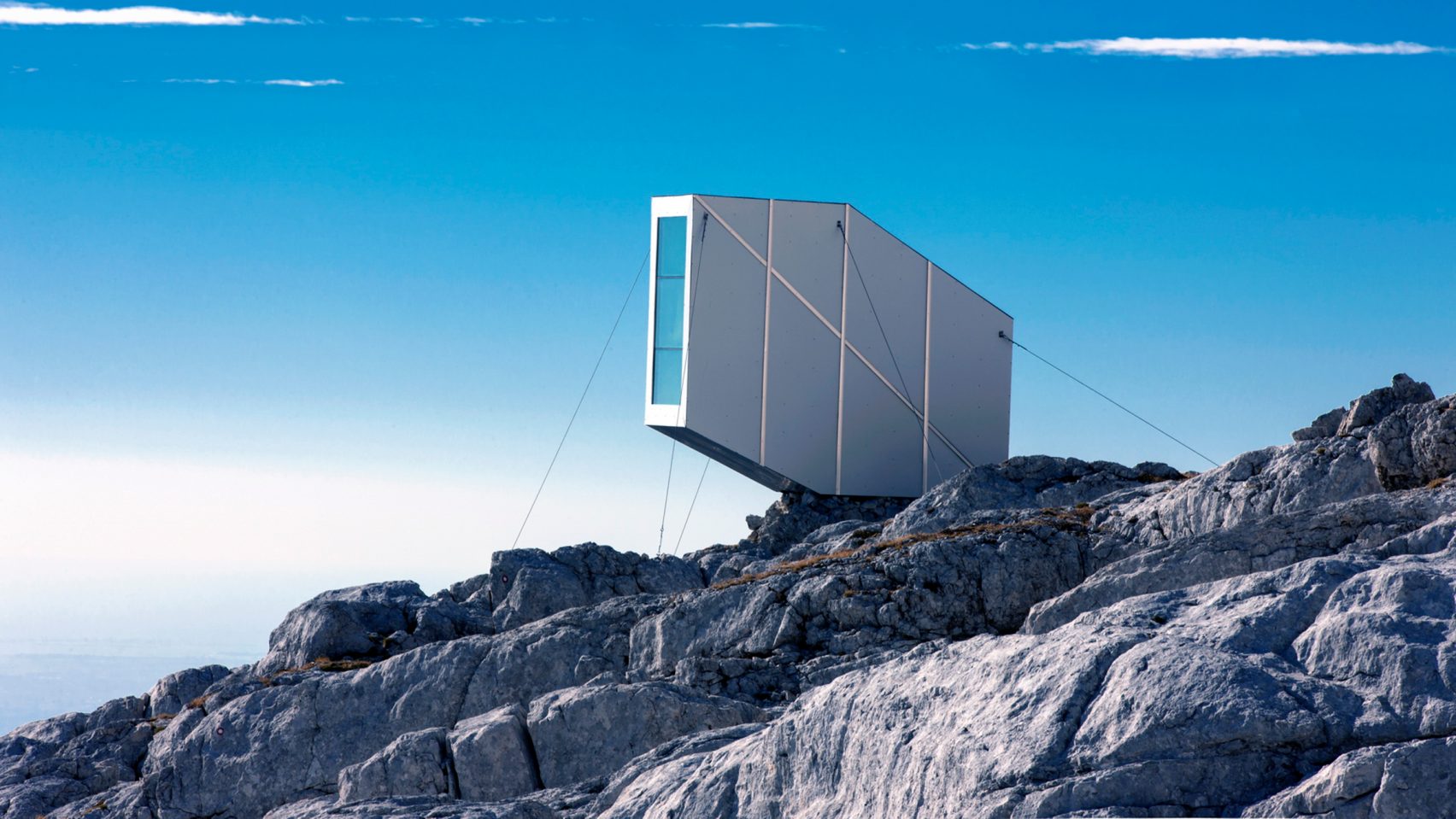 Take Shelter- Mountain Huts in Alps by OFIS Arhitekti
A promising start
Špela Videčnik and Rok Oman graduated from the Ljubljana School of Architecture and London's Architectural Association and established OFIS Arhitekti in 1998. Their ambitious projects and architectural attitudes made Zaha Hadid to nominate them among the top 10 exceptional emerging architects for Phaidon 10×10, while the Guardian designated their office as one of five young architectural offices 'to look out for' in 2001.
Since then, they have undertaken a diverse range of projects, from renovation to new-build and research prototypes, from small to large scale projects for many types of facilities. Their flexibility is the key to an architecture that responds to the ever-changing conditions in modern times. Most of their work is the result of winning competitions, including the student residence on Route des Petits Ponts in Paris and the Football Stadium Bate Arena in Belarus.
Over the years, the two have realized numerous buildings in their home country of Slovenia, as well as in Germany, the UK, France and Spain and they are deeply involved in advocating the European and local Slovenian identity into a contemporary approach of architecture.
Take shelter- mountain huts in Alps
On the Slovenian-Italian border, OFIS Arhitekti has proposed a mountain cabin that is designed to resist extreme weather conditions on its exposed site on Mount Kanin. Kanin Winter Cabin forms a compact wooden volume organized with three floor resting platforms. These platforms are hanging towards the valley and a large glazed panoramic window offers breathtaking views. "The site is accessible only by climbing or helicopter – the modules and loads are prepared according to the maximum weight and equilibrium limits. Its position within the wilderness requires respect of natural resources ensuring the shelter stability while having a minimal impact on the ground."
Another mountain refuge – Alpine Shelter Skuta– was designed by Harvard University students during an architectural workshop hosted by Rok Oman and Špela Videčnik. The harsh conditions of wind, snow, terrain, and weather require a response of specific architectural forms and conceptual designs. Inspired by the vernacular Alpine architecture, the concrete-clad cabin comprises three timber-lined sections that decrease in scale towards the edge of the mountain, creating a stepped roofline and offering outstanding views.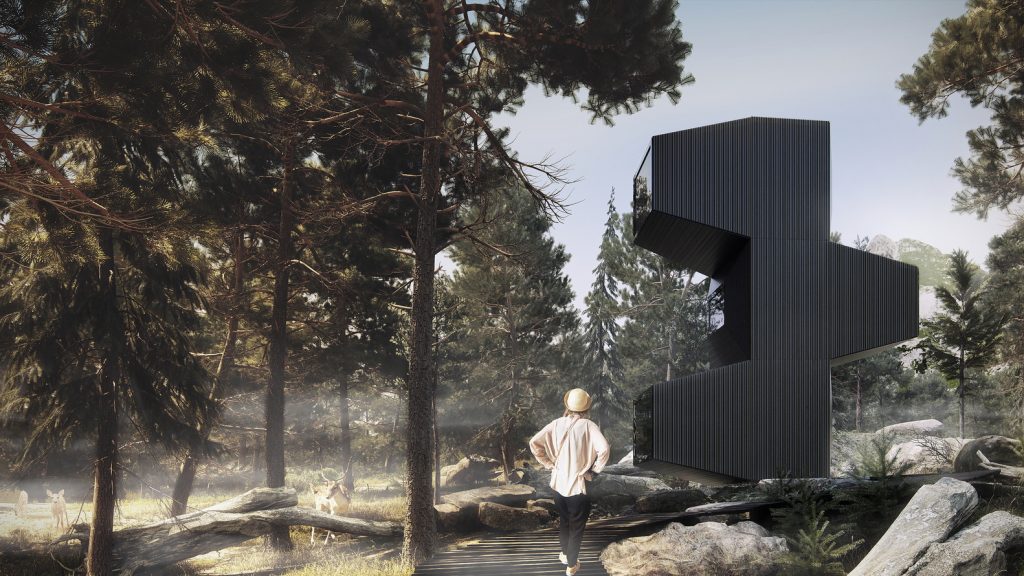 The bivouac is an object that represents a basic human necessity, a shelter. It is a symbol of refuge.
One of the main focuses of their work is on the use of traditional building materials and careful interaction with the environment. OFIS architects has also developed "Living Unit", a flexible, modular relocatable cabin concept that has been showcased at various shows, including, in 2018, at the Salone del Mobile in Milan. The units can be used as holiday cabins, hide away, tree houses or short-time habitations for research, tourism or shelter; their small size allows easy and different transport possibilities.
The basic unit can contain habitation for 2 people. If needed 2 or more cabins can be combined together creating a larger habitation that could inhabit 4-6 people. They can be combined vertically or horizontally. The material promotes use of wood – natural, ecological and human friendly material. The façade and interior treatment can be changeable and flexible, so the unit in its material and finishing can be used in various site contexts.
Beside the mountain shelters and flexible units, OFIS Arhitekti has proved a remarkable concern for national heritage by making refurbishments that respect not only the environment, but also the local spirit and values. Without making a harsh intervention upon the exterior of an old barn, the office has managed to transform the old building into an apartment suitable for modern times.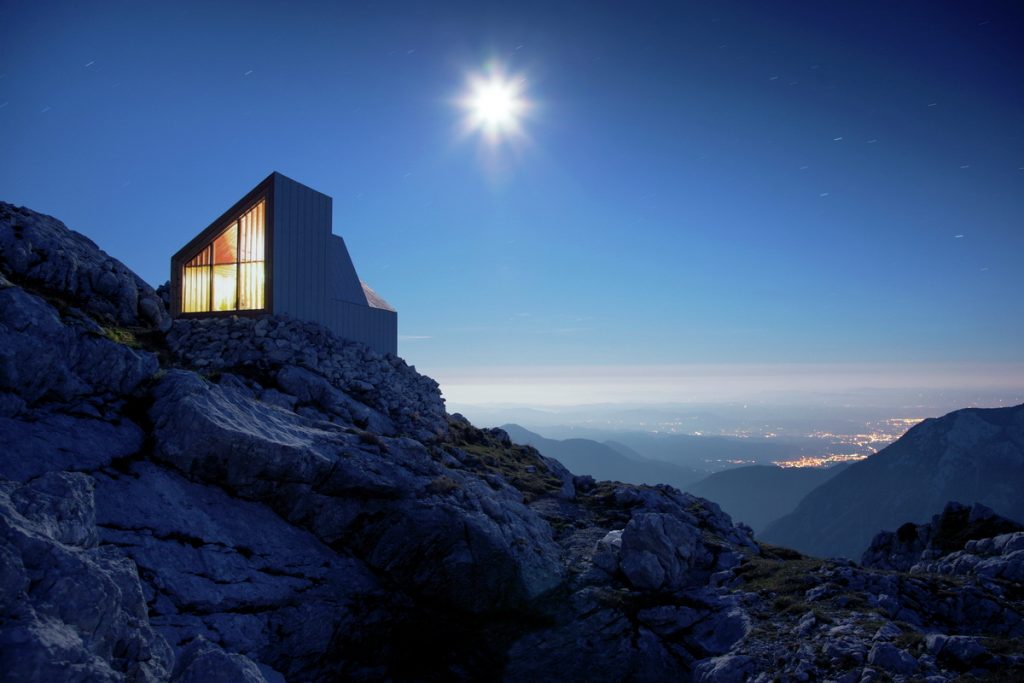 Traditional landmarks creating a Slovenian countryside also include different types of farmhouses, hayracks and barns. Unfortunately many of these no longer serve its purpose, therefore are mostly in poor condition, non-maintained and often simply destroyed and replaced with generic housing. The concept converts old barn into a loft apartment by leaving the original exterior appearance intact in contrast with creating a new internal wooden shell.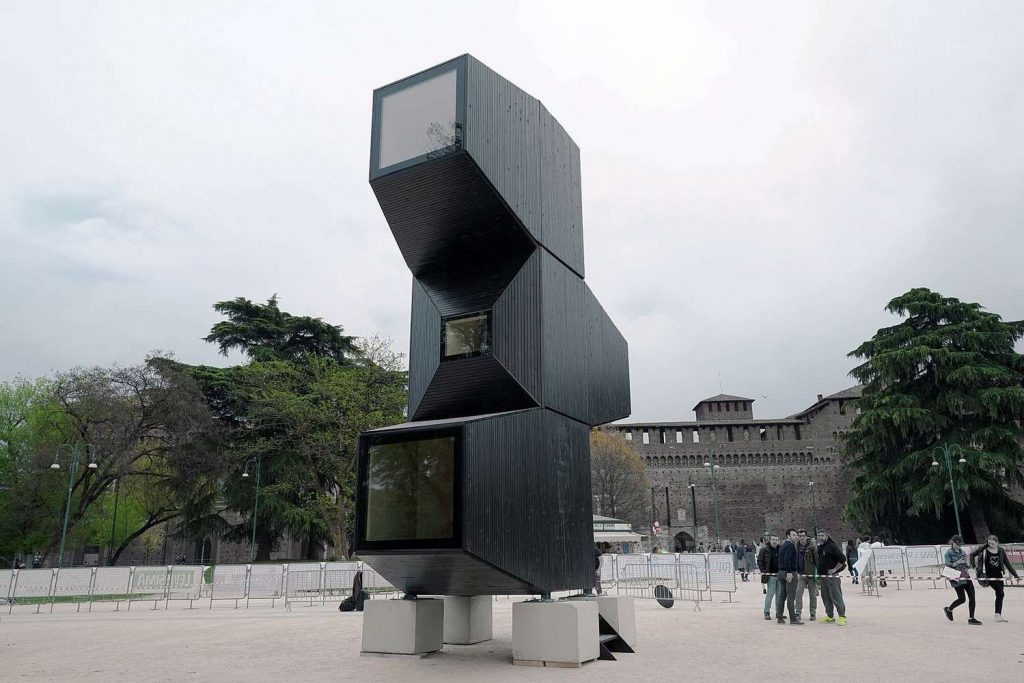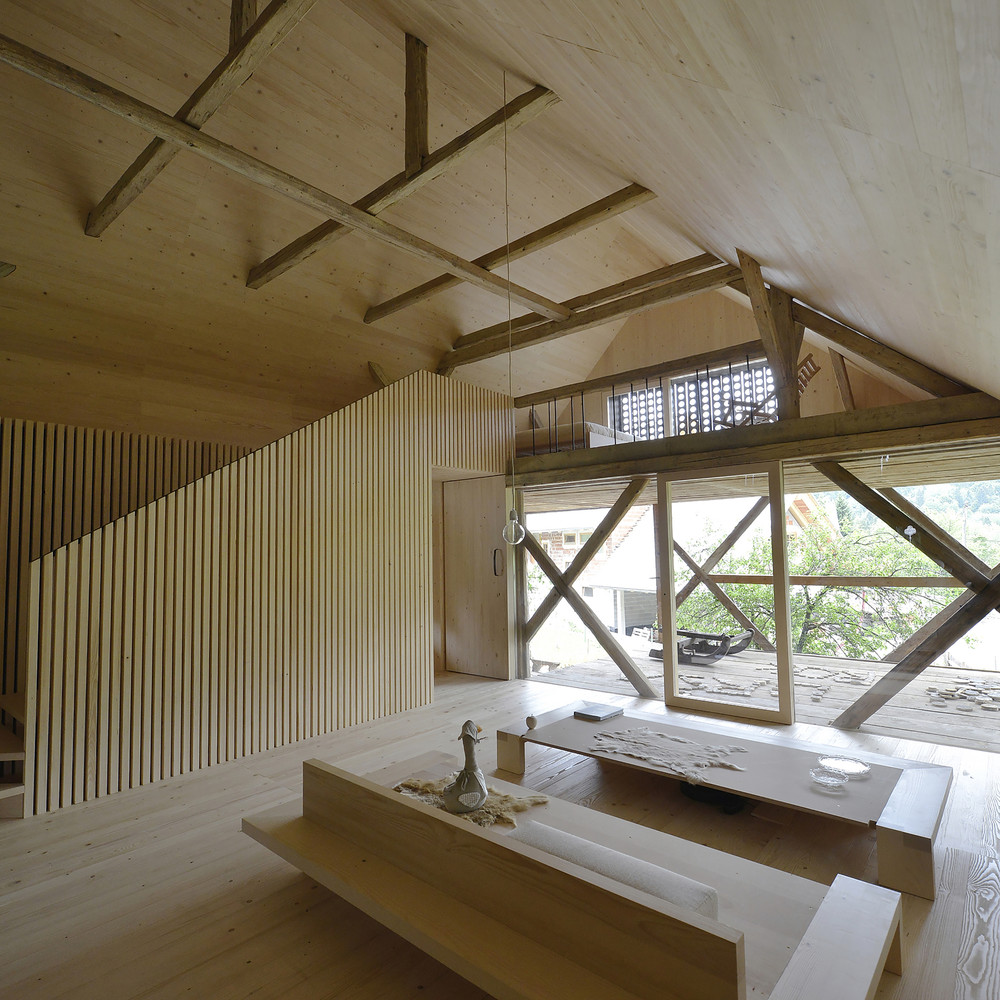 About OFIS Arhitekti
OFIS Arhitekti has participated in several Venice Architecture Biennials, in the Beijing Architecture Biennial 2004, and in the London Architecture Biennial in 2006. The company has presented its works at lectures in Ljubljana as well as in Croatia, the UK, Germany, Switzerland, the Netherlands, Belgium, Spain, China, and the USA. Their work has been presented at several international exhibitions.
OFIS has partner firm agreements in London, Paris and Moscow. Their academic career involves teaching at Harvard GSD, Boston, USA. Their work has been covered by media outlets such as the New York Times, The Guardian, The Independent, El País, Der Spiegel, Die Welt, Bild and most architectural magazines, as well as got featured in various books.
Among the numerous awards are included: the Architectural Record Award, NY (2001); the RIBA Architectural Review and Design Awards, London; the High Commendation for the City Museum Ljubljana (2004); the Miami Biennial Honors for Villa Under-Extension in Bled (2005); the European Grand Prix at the Innovation Awards, Monaco (2006); and the Mies van den Rohe Awards (Commendation for Housing on the Coast, 2007; Football stadium Maribor, 2008; Shopping roof apartments, 2008; Farewell Chapel, 2010); the IOC/IAKS award, silver medal for Football Stadium Maribor (2009); ArchDaily Building of the year for the Religious, Farewell Chapel (2009); and the shared Plečnik Award for KSEVT in 2013.
Architect Špela Videčnik will be guest speaker at SHARE Ljubliana 2019 – on the 14th of March, amongst international speakers from countries like Slovenia, Romania, Italy, France, Croatia, Turkey, The Netherlands and Finland.