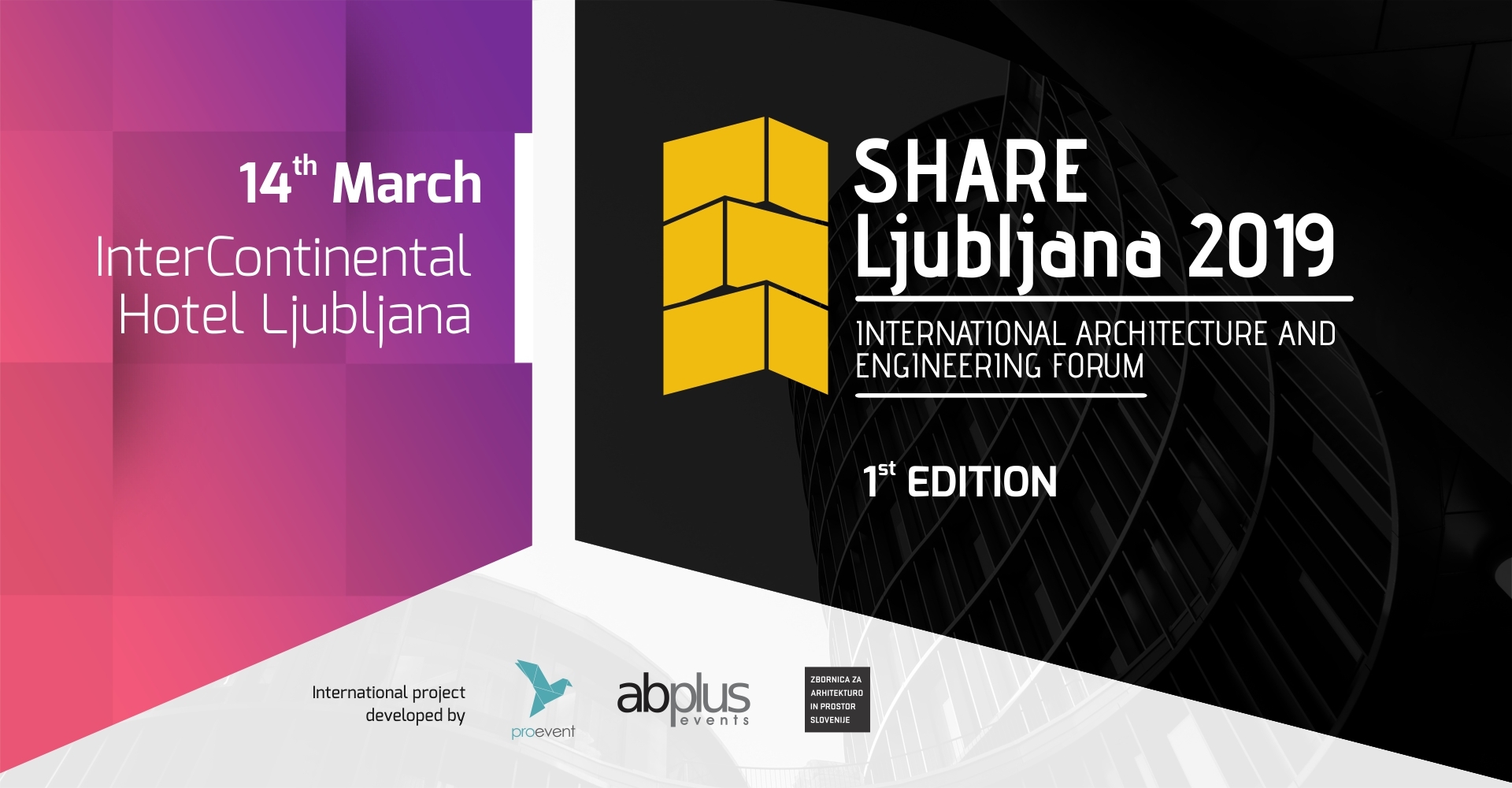 WELCOME to the FIRST Edition of SHARE Ljubljana 2019
SHARE Forum is one of the essential networking platforms for the construction-related fields in Central and Eastern Europe. We bring together principal and senior architects from leading practices to discuss about their recently awarded projects from the greatest architectural competitions worldwide.
ABplus events, PROEVENT Chamber of Architecture and Spatial Planning of Slovenia are organizing on 14th March the first edition of SHARE Ljubljana International Architecture and Engineering Forum.
Architect Tomaž Krištof the President of Chamber of Architecture and Spatial Planning of Slovenia and Mr. Florin Mindrigiu, Event Director and Founder of Pro Event Association will open this year's edition.

Location: InterContinental Hotel Ljubljana (Slovenska cesta 59, 1000 Ljubljana, Slovenia)
Date & Time: 14th March at 9:00 – 18:00
Audience: Everyone from the architectural field is welcome to attend our event. Tickets are already available on our website (see the link on the right).
About:
International speakers from countries like Slovenia, Romania, Italy, France, Croatia, Turkey, The Netherlands and Finland confirmed their presence to SHARE Ljubljana 2019.
We expect a big number of architects, landscape architects, designers, lighting designers, engineers, urbanists, real estate developers and from public institutions, architecture, and design students, companies with innovative solutions in the construction field, other professionals related to architecture field.
This edition of SHARE Ljubljana 2019 will have 3 panels: Ljubljana Tomorrow – Large Scale Projects, Facades, and Special Guest Presentation. Special Guest Rainer MAHLAMÄKI, Co-founder of Lahdelma & Mahlamäki will hold a special presentation and debate.
We invite you to meet our speakers and register for SHARE Ljubljana 2019!


Special Guest Architect – Rainer Mahlamaki (Finland) – Founder at Lahdelma & Mahlamäki Architects
Long-term architectural partners Ilmari Lahdelma and Rainer Mahlamäki founded LM in 1997. Their work is a continuum of Finnish design, with a focus on sustainability, high-quality materials and attention to detail—qualities that come together with cutting-edge technologies and techniques. Both Lahdelma and Mahlamäki are internationally recognized and lauded architects, professors and lecturers.

Arch. Rene van Zuuk (The Netherlands) – Founder at René van Zuuk Architekten bv, René van Zuuk Architekten bv is an agency that has been working on very different assignments since 1992. René van Zuuk Architekten bv stands for the realization of cost-conscious designs with a high architectural quality. Every project has its own visual language and its own character. In order to be able to guarantee this, the agency is involved in the entire construction process; from the first design sketch up to and including the delivery.

Arch. Burak Pekoğlu (Turkey) – Founder BINAA. BINAA is a design and research studio, that was founded by Burak Pekoglu in 2012. The main objective of the studio is to generate conversations along the themes of Building, Innovation, Arts and Architecture with an exceptional cross-disciplinary collaborative model, characterized by the strong interaction among Research, Design and Execution.

Arch. Serban Tiganas (Romania) – Founder of "Dico & Tiganas", one of the most well-known names from Romania. in the field of architecture. He is currently the Secretary General of the International Union of Architects, past president of the Order of Architects in Romania and the President of SHARE Society.

Arch. Iljana Eggert (England) – Senior Associte at Carpenter | Lowings . Iljana joined Carpenter | Lowings in 2005 and became Senior Associate in 2012. The studio is internationally known and has been influential in the development of the use of glass, both as a structural material and in relation to the effects of daylight in public space. The work synthesises the fields of Art, Architecture and Engineering. From bridge design to domestic interior artworks, from large public façade projects to small scale temporary structures, it has been consistent in its emphasis on the pleasure of the fleeting experiences of daylight.
Why SHARE Ljubljana 2019?
Because it has:
• A leading conference programme with outstanding architects who present their recent international awarded projects;
• An exclusive audience of active architects and contractors;
• Debates focus on local architectural issues;
• An exhibition of innovative architectural solutions, products, and services;
• A networking app that facilitates the communication and interaction with the attendees;
The SHARE Forum is expanded online through the communication platform between participants for 6 months.
SHARE Ljubljana 2019 International Architecture and Engineering Forum is an event organized by ProEvent Association in collaboration with Chamber of Architecture and Spatial Planning of Slovenia.