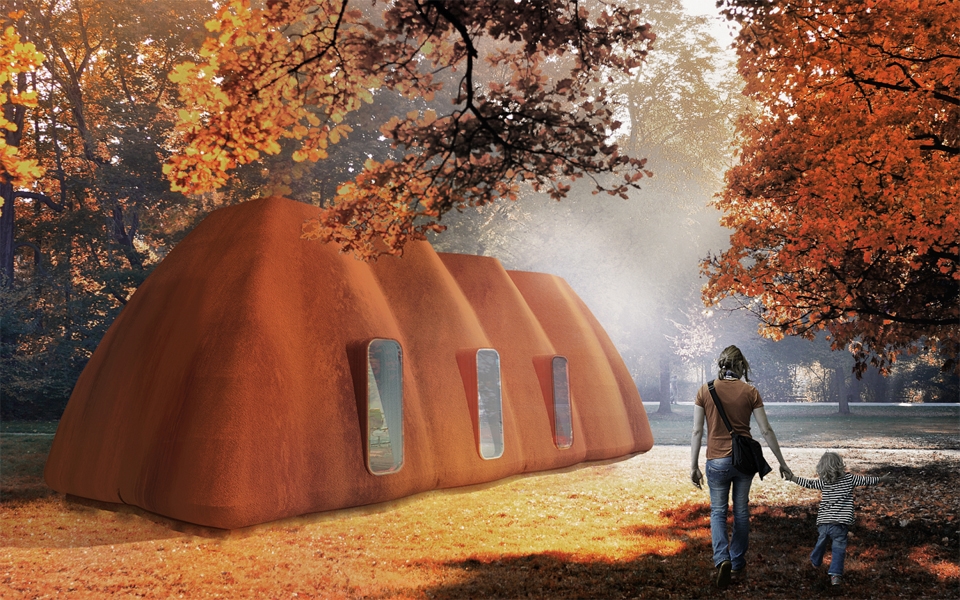 René van Zuuk and the architecture that challenges conventions
The Story of the Project called 'A Home away from Home'
René van Zuuk, founder of René van Zuuk Architects, has developed over the years numerous projects for a wide variety of architectural programs, starting from houses, utility buildings, museums, sports, infrastructure, to some less conventional ones such as foam constructions and pavilions. The article aims at a description of the non- conventional Foam Construction Technique as a solution to provide better shelter for emigrants, using a self-developed, not waste-generating technique.
Architect René van Zuuk will be guest speaker at SHARE Ljubliana 2019 – on the 14th of March,  amongst international speakers from countries like Slovenia, Romania, Italy, France, Croatia, Turkey, The Netherlands and Finland.
About the Architect
René van Zuuk founded his own office in 1992. Despite the diversity in the designs of René van Zuuk Architects, there are a few constant themes that run throughout. Above all – the desire of both clients and architect alike to create "something special". Early projects, such as Arcam and Psyche, attracted a lot of attention in the international architectural scene. The office strives to create architecture that challenges conventions. René van Zuuk's knowledge of building production technology often ignites a concept behind a project. Every project derives its brilliance from an idea, an invention that initiates and boosts the design process. A closer analysis of these triggers reveals that they can be clustered in three main themes: structure, production technology, and construction functionality.
A Home away from Home
During an exhibition at the Dutch Design Week in Eindhoven, architect René van Zuuk exhibited a special design: the Re-Settle Studio, for a project which is called 'A Home away from Home'. The project was the response to a contest aiming to provide smart solutions for housing applicants.
The starting point of the exhibit is to create a village environment with minimal resources, in which refugees live both safely and individually. The units consist of detached, semi-detached and units in a row that can be combined as needed. The units are similar to hotel rooms, that feature a mezzanine with a bed, a wardrobe, a table with chairs, a toilet, sink, and shower. Fifty-nine units together form a cluster which is identified by its own wall prints. Each cluster has a communal hall where residents can eat together and enjoy recreation activities. The units and the living room are linked to a narrow, slightly elevated walkway provided with necessary utilities such as water and electricity.
In a YouTube video presentation of the project, the architect states that "Millions of refugees end up in refugee camps in tents made of a metal frame and water-tight tissue. During the day, in the sun, these tents are unbearably hot, at night, in winter, these tents are unbearably cold."
The proposed solution aims to adopt a minimal waste philosophy and environmentally – friendly materials, two elements which are at the core of the design process. EPS (styrofoam) is produced with minimal use of resources and is composed of only 4% of monostyrene (made from petroleum) and 96% air. Because it is a single material, it is 100% recyclable and part of the national sustainable building packet. EPS is also extremely cheap, dimensionally stable, non-toxic and fireproof. It is impervious to moisture and mold and has unique properties in terms of insulation.
"Our solution doesn't solve the problem of people fleeing their country, but we can help refugees by giving them a cheap comfortable way to live."
The innovative part of the project, whatsoever, relies on the use of a special technology of cutting free forms out of rectangular blocks of EPS, with minimal waste, using a CNC machine with filament rings. The angle of the cut is chosen in such a way that all the rings are nested into each other (like of the beach buckets that fit together).
The fast cutting method, well-transportable components and low-cost construction method in combination with the unique properties of the material seek to find a new solution to the housing problem.
SHARE FORUM for the first time in Ljubliana in 2019
This first edition of SHARE Ljubljana 2019 will have 3 panels: Tirana Tomorrow – Large Scale Projects, Facades, and Urban planning.
SHARE Ljubljana 2019 will gather international and national speakers to celebrate architectural excellence through their most recent internationally acclaimed work. Until now, speakers from countries like Finland, Turkey, Romania, The Netherlands, Slovenia, Croatia, Israel confirmed their presence to SHARE in Ljubljana.
Though the outstanding lectures that are concentrated on present and future, innovation in architecture and engineering, on explorations of new materials and technologies for designing a smart and sustainably-built environment, SHARE Ljubljana will gather over 250 attendees.
Follow us on:
Instagram: https://www.instagram.com/sharearchitects/
Facebook: https://www.facebook.com/abplus/
Twitter: https://twitter.com/ArchTradeEvents
Or visit our website: http://share-architects.com/