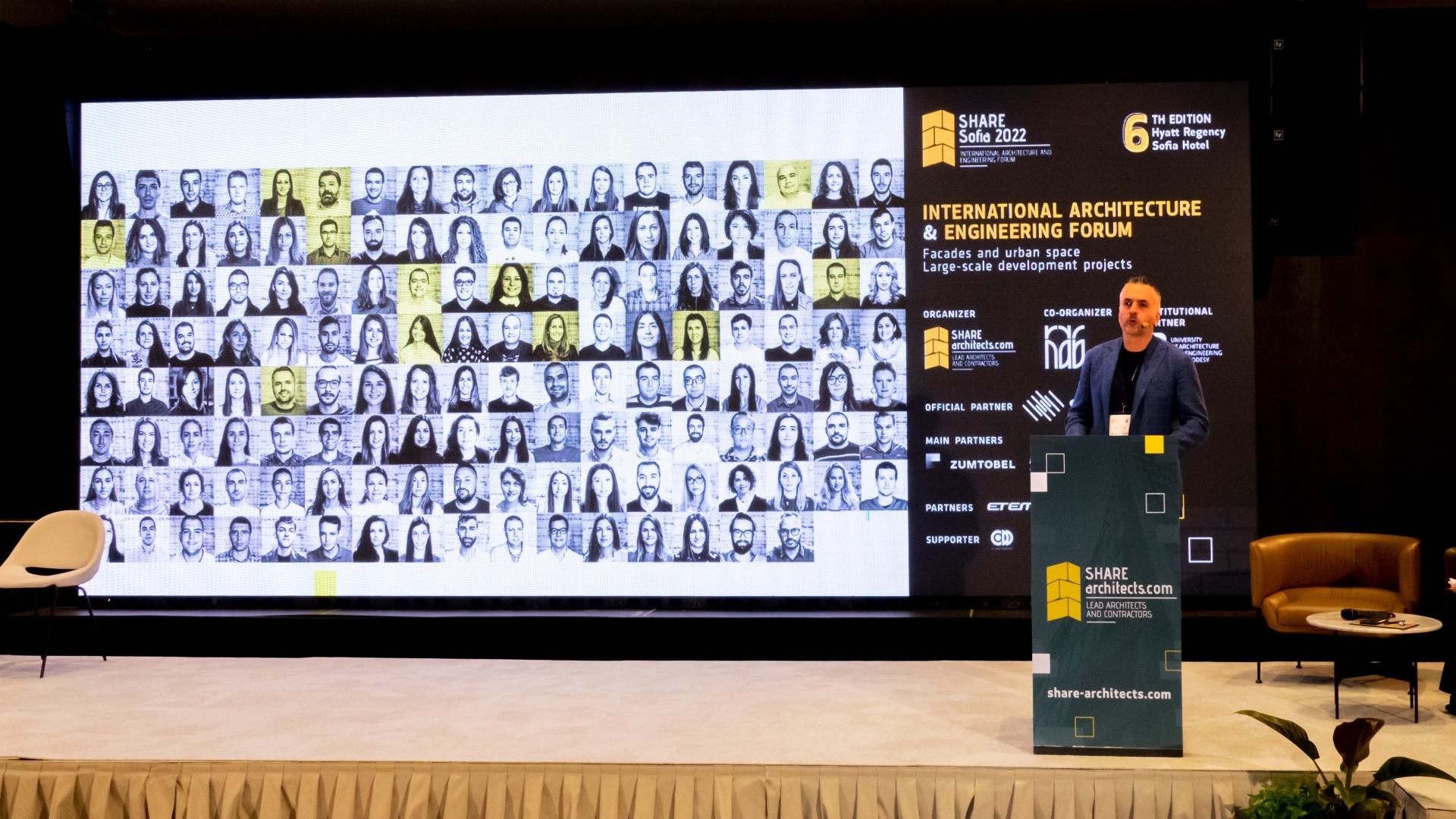 Sustainable Construction Leaders to Join SHARE Bulgaria 2023 Forum
Architects and construction professionals eagerly await the upcoming SHARE Bulgaria 2023 Forum on 28 September—a highly anticipated event where they can delve into the transformative aspects of sustainable facades, large-scale projects, and good living architecture
Case Studies on Large-Scale Architectural Projects
The forum dedicates significant attention to large scale projects, recognizing their immense impact on communities and the environment. Esteemed speakers like Els Verbakel, founding partner of Derman Verbakel Architecture of Israel, and Stefano Capranico, Associate UNStudio Netherlands will present their experiences and expertise in handling large, complex developments that align with sustainability principles. Participants will gain invaluable knowledge on how to create impressive architectural achievements while minimising the ecological footprint and promoting social well-being.
Els Verbakel is founding partner of Derman Verbakel Architecture and the Director of the Graduate Program in Urban Design at Bezalel Academy of Arts and Design Jerusalem. Director of UNESCO Chair in Urban Design and Conservation Studies, she is a founding member of the Israel Urban Forum.
Stefano Capranico, Associate at UNStudio, has played a significant role in grand and distinguished construction endeavours, including FOUR Frankfurt. This project comprises a complex of four monumental skyscrapers and represents a major luxury mixed-use development in Frankfurt.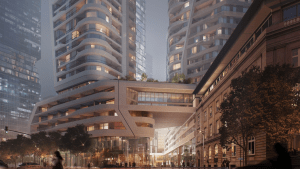 "FOUR Frankfurt" by HPP Architects & UNStudio. © UNStudio
Mariana Turcu, Managing Director of X Architecture and Engineering, will share her Romanian experience in creating concepts for large projects developed by One United Properties in Bucharest. As a leading green investor and developer, One United Properties specialises in residential, mixed-use, commercial, and especially, office real estate in the Romanian capital.
Manifesto for Good Living Architecture
One of the core themes of SHARE Bulgaria 2023 Forum is good living architecture, emphasising a human-centric approach to design. Architects play a pivotal role in shaping spaces where people can thrive, and speakers will share their insights on designing spaces that prioritise human well-being, health, and happiness. Participants will be inspired to create environments that foster a sense of community, connection, and harmony with nature. This topic will be touched upon by:
François Valentiny, founder of VALENTINY hvp architects, Luxembourg Valentiny represents bold, almost futuristic models with a special character. For him, architecture is a wonderful way to say goodbye to your own problems and to deal with other people's problems. He teaches architecture from Trier through Vienna to Shanghai and was named one of the world's top one hundred architects from Korea in 2016 by his colleagues. He is the editor of the first architecture magazine in Luxembourg, Adato, and is part of architectural advisory boards. Valentiny was appointed President of the Fondation de l'Architecture et de l'Ingénierie of Luxembourg for the year 2006/2007, and in 2006 he received the Gold Medal of Honor for Services /Republic of Austria. In 2008 he was honored for his general architectural work in the Grand Duchy and abroad, and in 2007 he was awarded Luxembourg Architecture Prize. In 2009 he became a member of the Academia Scientiarum et Artium Europaea in Salzburg, Austria. In 2018 he was awarded the Great Decoration of Merit by to the Land of Salzburg.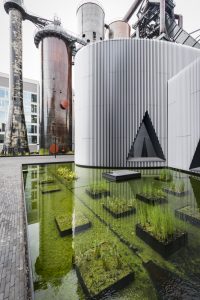 "Luxembourg Learning Center" by Valentiny Hvp Architects. © Michel Zavagno
Constantinos Constanti, Founder of Constanti Architects ENA PROS EKATO LLC., Cyprus. The office has managed to become one of the most renowned architecture firms in Cyprus, widely recognised for its quality design and elegant aesthetics with over 400 projects completed by our team over the last 10 years.
Atanakas Nikolov, Co-Founder WE:R Architecture and Design Studio, Bulgaria. An emergent architecture offices with a focus on sustainability and international projects in Europe.
Armand Vokshi, Founder of Avatelier, Albania. His academic and professional path is linked to the introduction of research on architecture and urban planning within the Albanian territory. He is the author of several publications and monographs in the field of architecture, as well as of professional and academic exhibitions and conferences.
Sustainable Building Skins
Whether it's the facade of buildings or the finishing of interior spaces, surface design can turn good design into something fantastic. The projects presented in this section will open new possibilities to think about the surfaces of buildings and interiors.
Managing Partner SGI Architects & Masterplanners in Bulgaria, Tihomir Kazakov, gained a continuity over his lifetime passion for architecture and design, progressing his commitment to great designs meant to provide not only functionality, but to uplift and motivate the individuals which experience his creations.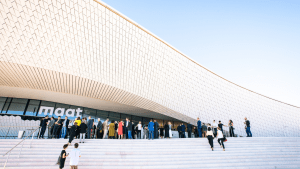 "MAAT" by AL_A. © Paulo Coelho
David Nikuradze, Founder SPECTRUM, Georgia. He made a significant contribution to the design industry. His passion for design and his commitment to excellence have earned him a well-deserved reputation as a leader in his field with a track record of managing a diverse range of projects with the highest specifications and complexity levels, ranging from US $ 10 Million to $ 1.5 Billion.
Maximiliano Arrocet is director of Amanda Levete Architects (AL_A), UK, a practice with a long history of research into the application of new materials and techniques in architecture and design. Their projects invite us to reflect on the dialogue between public space and materiality. They also speak to the contextual, historical and evocative power of ceramics.
Engaging Panel Discussions and Networking Opportunities
In addition to the captivating lineup of speakers, the SHARE Bulgaria Forum provides engaging panel discussions and networking opportunities specifically centered around sustainable facades, large-scale projects, and good living architecture. These interactive sessions will delve into best practices, case studies, and challenges faced by architects and professionals in these areas. Moreover, the forum will offer ample opportunities for attendees to connect with like-minded peers, exchange ideas, and form collaborations that can drive positive change in the architectural landscape.
SHARE Bulgaria 2023 Forum is poised to be an unparalleled event that puts a spotlight on sustainable facades design, large-scale projects, and good living architecture. With a distinguished lineup of speakers and interactive sessions, the forum will empower architects and construction professionals to embrace environmentally conscious practices, envision and execute transformative large-scale developments, and prioritise human well-being in their designs. By fostering an atmosphere of knowledge-sharing and collaboration, the forum will undoubtedly inspire attendees to shape a more sustainable, inclusive, and fulfilling future through their architectural endeavours.
Save Big, Register Early: SHARE Bulgaria 2023 Forum
KAB members
benefit a 20€ discount on the participation fee until August 24
available to architects who are members of the Chamber of Architects in Bulgaria
Standard Ticket for Professionals
Price: €55.00 (Early bird price until 24th September)
Valid for architects and engineers working in architecture and engineering offices
Standard ticket for Youth
Price: €29.00
Only for architects and engineers under the age of 25
Corporate Ticket
Price: €175.00
Exclusive for representatives of companies supplying construction materials and technologies
Tickets are available for online purchase here. Architectural firms interested in registering a delegation of three or more architects can request tailored offers. Please direct your inquiries to share@share-architects.com
SHARE Architects – main figures in Bulgaria
Present in Bulgaria since 2017, SHARE Architects has welcomed 2200 attendees and 190 speakers in the six editions of the forum in Sofia. 30 Bulgarian architectural personalities are members of the SHARE Architects Society, an exclusive group within SHARE Architects network that brings together 900 international architectural leaders from 42 countries. More than 1956 professionals from Bulgaria are registered in the SHARE Architects community.
SHARE Architects Network – Connecting architects and contractors in Central and South Eastern Europe
SHARE Architects Forums have become, over the past 25 years, an essential networking platform for architects and contractors in Central and South Eastern Europe. SHARE creates an effective platform for knowledge and understanding of the diversity of the architectural phenomenon of contemporary architecture. Currently, SHARE Architects events take place in 16 countries in Central and Eastern Europe, and the SHARE Architects community counts more than 50,000 members from all over the world.
Contact Organizers
Oana, phone +40 740 117 599
email: oana.luchian@abplus.ro
Eusebia, phone +40 744 621 300
email: eusebia.mindirigiu@abplus.ro