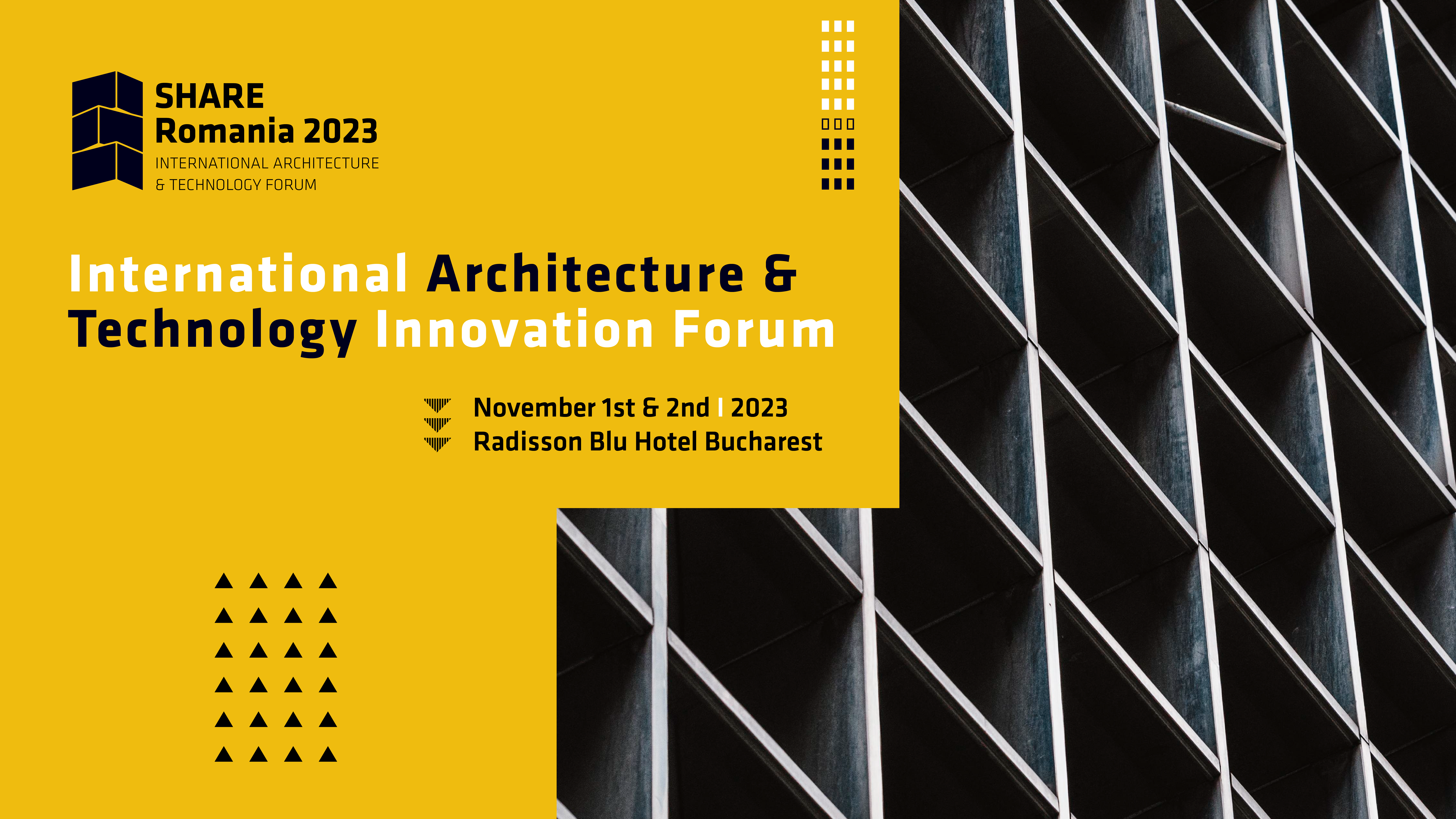 SHARE Romania 2023: A Landmark Event in Architecture, Engineering, and Construction
In the Architecture, Engineering and Construction (AEC) landscape, SHARE Romania is emerging as a beacon of knowledge, innovation and professional networking.An annual event, it involves more than 500 renowned architects, facades engineers, technical experts, project verifiers, and key representatives from the General Inspectorate for Emergency Situations, the Ministry of Development, Public Works and Administration, local administrations, and investors.
In 2023, SHARE Romania presents a two-day event, designed to educate, inspire, and connect industry leaders and enthusiasts, focusing on key topics such as façade design and large-scale projects.It offers a diverse program, incorporating Tech-Arch Day on the 1st of November and Inspire & Design Day on the 2nd of November. This dynamic combination guarantees that attendees will leave with a broader understanding of current trends and a renewed sense of inspiration for future projects.
A Snapshot of SHARE Romania 2023
SHARE Romania 2023 is more than just a conference. It is a comprehensive program of events that involve a blend of expert discussions, networking opportunities, exhibitions, and architecture conferences with invited international speakers. Each event serves as a catalyst for new ideas, connections, and collaborations.
The SHARE Experts Meeting on Sustainable Façade Design and Fire Safety & Façade Design, SHARE networking evening, the architecture exhibition "Blueprints of Innovation: Showcasing Architecture's Leading Firms," and guest lectures constitute the core of the conference's agenda.
Our program proudly hosts eminent guests including Odile Decq, Founder of Studio Odile Decq, France; Emre Arolat, Co-Founder of EAA-EMRE AROLAT ARCHITECTURE, Turkey; and Thomas Coldefy, Founding Partner at Coldefy & Associés Architectes Urbanistes, France.
Tech-Arch Day: A Confluence of Technology and Architecture
SHARE Experts Meeting: Sustainable Façade Design
In light of climate change, it's crucial that sustainable façade design becomes a top priority in shaping the built environment. The SHARE Experts Meeting aims to shed light on emerging trends, materials and technologies that support sustainable building construction. The conference will offer case studies that demonstrate real-world applications and their transformative potential. Additionally, the conference will discuss how new advances in sustainable materials and technologies can be integrated into façade design while considering the environmental impact of these solutions.
High Thermal Performance Glass
One of the topics to be covered in the conference is high thermal performance glass, which minimizes energy loss. High-performance glass is an excellent solution for façade design, as it significantly reduces the energy costs of building owners and maintains comfortable indoor temperatures throughout the year. Furthermore, thermal insulating composite materials that improve building efficiency will be discussed. These composites provide an excellent solution for cladding system, façade systems and external insulation, contributing to reduced energy consumption in buildings.
Integrated Solar Panels for Energy Efficiency
Integrated solar panels also form part of the conference's agenda. Integrating solar panels into façade systems can help reduce energy consumption, which is a critical element of sustainable building design. This is a growing trend embraced by both designers and architects. This design concept is more than the typical solar panels one might imagine. Developers can now purchase transparenfilms to coat the building walls to reduce glare, and to generate power.
Enhancing Indoor Air Quality with Natural Ventilation
Another focus area at the conference will be on natural ventilation materials that improve indoor air quality while reducing energy demand. This can be accomplished through the use of organic-based façade materials such as living walls, which use plant life as the exterior decoration of a building. The plant life can work to clean the air and reduce noise pollution, which not only contributes to a more productive environment but also one that is cost-efficient in the long run..
SHARE Experts Meeting: Fire Safety & Façade Design
Organized on the 1st of November, this conference will host 150 to 200 participants. The aim of this event is to bridge the gap between safety regulations, sustainable design, and architectural aesthetics, advancing a more holistic and informed architectural practice. Experts in this field from architects and façade engineers to building material manufacturers and emergency response representatives will share their experiences and knowledge, so as to ensure that everyone works together to enhance standards of fire safety in buildings and facades.
Spotlight on Fire-Resistant Materials and Technologies
The conference will spotlight the latest fire-resistant materials and technologies and explore their integration into the façade design. Experts will explain the value that these materials bring to the design and function of buildings as it relates to fire protection.
Case Studies and Practical Applications
Case studies from real-life situations will be highlighted to illustrate the practicality of these innovations. Therefore, all participants will gain a better understanding of how to meet sustainable design goals while keeping fire safety in mind.
One of the primary aims of the conference is the integration of various stakeholders in the design process. This will lead to a more informed and functional design process, where all aspects of building regulations are adhered to, there is no compromise on design quality, and all stakeholders are on the same page. The result will be functional, aesthetically pleasing buildings that also provide protection from fire outbreaks..
Blueprints of Innovation: A Journey Through Romanian Architecture
Blueprints of Innovation: Showcasing Architecture's Leading Firms provides a unique opportunity for visitors to explore and appreciate the creative works of four renowned architectural firms from Romania. This exceptional exhibition will highlight the esteemed architectural achievements of ADNBA, ADG, Andreescu and Gaivoronschi Associated Architects, and Dico&Țigănaș Architecture and Engineering.
International Guests Featured in the Exhibition
Enhancing the global appeal of the event, the esteemed EAA Emre Arolat Architecture will be present, contributing significantly to the exhibition. Additionally, the event will serve as a stage for collective exhibitions, featuring innovative works from the dynamic architectural spheres of Cyprus and Slovenia.
Design&Dine: A SHARE Networking Evening
The unveiling of the "Blueprints of Innovation" exhibition during the Design&Dine event pledges an evening brimming with opportunities for networking. Serving as intellectual nourishment, keynote lectures by Gabriela Etchegaray, Co-Founder of Ambrosi Etchegaray from Mexico, and Luca Molinari, Founder of Luca Molinari Studio – Architecture Consulting & Curatorship, Italy, will stimulate thoughtful discussions while fostering meaningful connections among industry peers.
Inspire & Design Day: A Melting Pot of Creativity and Innovation
The Inspire & Design Day on the 2nd of November will kick off with a special guest appearance by Odile Decq, Founder of Studio Odile Decq, France. This will be followed by keynote speeches by Emre Arolat, Co-Founder EAA-EMRE AROLAT ARCHITECTURE, Turkey, and Thomas Coldefy, Founding Partner at Coldefy & Associés Architectes Urbanistes, France.
The day will include lectures from an array of distinguished guests, such as Jens Richter, Partner at Estudio Herreros, Spain; Stuart Grahn, Associate Principal at Grimshaw, UK; Tomaž Krištof, Founder of Studio Kristof, Slovenia; Radomir Serafimov, Founder at Atelier Serafimov Architects (Asa) Ltd, Bulgaria; Alkis Dikaios, Founding partner at David + Dikaios Associates (DDA), Cyprus and Romanian architects Nicolae Țaric, Founder ADA; Constantin Gorcea, Co-Founder AGD; Andrei Șerbescu, Co-founder ADNBA; Serban Tiganas, Co-Founder Dico & Tiganas; Vlad Gaivoronschi, Co-Founder Andreescu and Gaivoronski, associated architects.
Material Passport: Innovative Surface Finishes & Materials Exhibition
SHARE Romania 2023 will host a material exhibition, "Material Passport: Innovative Surface Finishes & Materials Exhibition". This exhibition will showcase a vast range of façade materials, with a distinct emphasis on innovative, next-generation materials and their functionalities. It offers attendees a unique chance to explore and understand the evolving landscape of building materials.
Join SHARE Romania 2023
SHARE Romania 2023 is the must-attend event for everyone involved in the Romanian architecture, engineering, and construction industry. Whether you are an industry veteran, a budding professional, or an architecture enthusiast, this two-day event guarantees a comprehensive insight into the latest trends, an opportunity to learn from the industry's best, and a platform to connect with peers, partners, and potential collaborators. Mark your calendars for the 1st and 2nd of November and plan your visit to SHARE Romania 2023.
Registration
Choose the ticket that suits you best and take advantage of the early bird ticket season.
https://share-architects.com/buy-your-tickets/
Exhibition and Sponsorship Opportunities
Ensure visibility and exposure to a specialised audience and showcase your business in the building envelope market with our speaking slots, sponsorship packages and exhibition space. It's the perfect way to network with professionals from all over Romania.
For more information please visit our Sponsors & Exhibitors page.
SHARE Architects Network – Bridging Architects and Contractors across Central and South Eastern Europe
For a quarter of a century, SHARE Architects forums have emerged as a pivotal platform facilitating connections between architects and contractors in Central and South Eastern Europe. SHARE offers a structured setting to gain insights and appreciate the multifaceted nature of contemporary architectural trends. With a reach extending across 16 nations, SHARE Architects events have successfully nurtured a community of over 50,000 professionals.