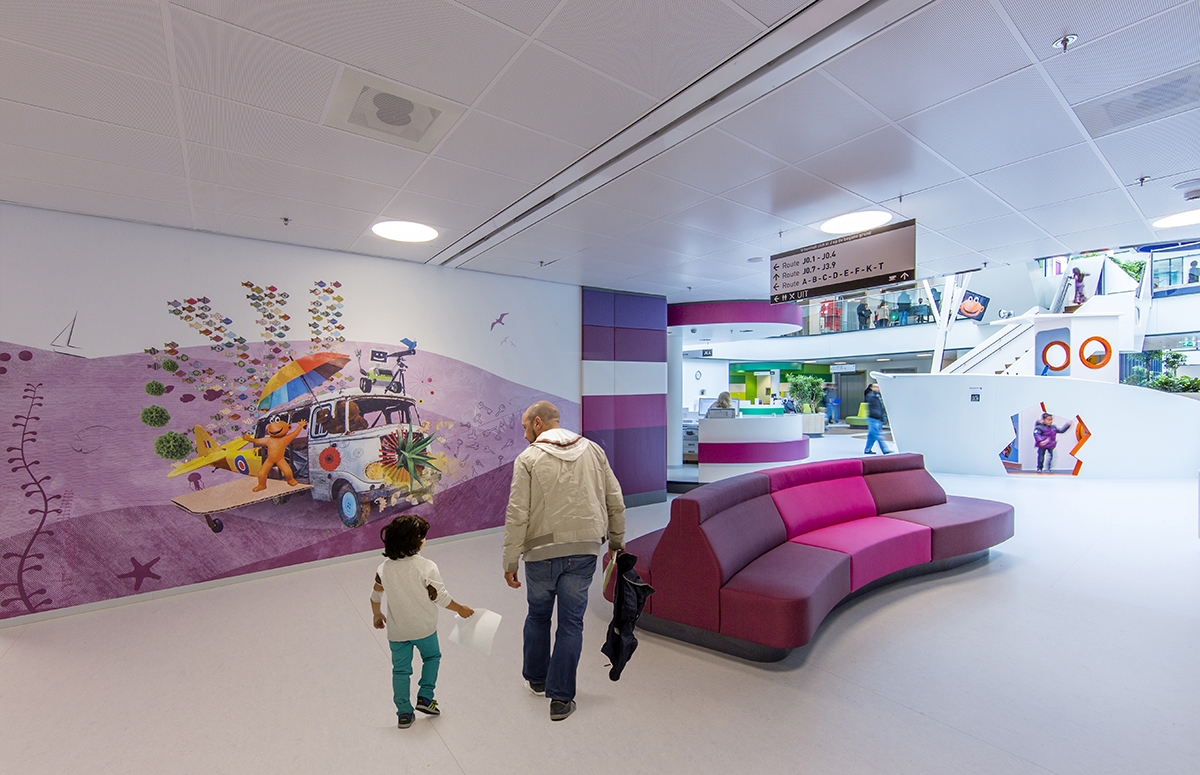 How to design a children's hospital as a soothing experience for young patients
At GIS Bucharest 2016 (March 22 – 23), Stan Boshouwers, founder and partner of Tinker Imagineers architecture office, will give a presentation on Juliana Children's Hospital (The Hague, The Netherlands) during the Healthcare Plenary Session of the event.
About the project
Visiting a hospital is quite an experience. To comfort the young patients – and their families – visiting the new Juliana Children's hospital in The Hague, five little characters accompany them on their journey through the hospital and appear everywhere. Research shows that a child-friendly, distracting environment reduces stress and the perception of pain in sick children, which helps them to recover sooner.
Over 4000 m2 of unique graphic design cover the walls of the corridors, waiting areas and treatment rooms in a magical world of sun, sea and sand. In the most nerve-racking situations, such as the OR-zone, treatment rooms and the elevators, these characters come to life in moving projections and interactive animations. Such an interactive visual installation that reacts to the passers-by has never before been applied in an OR passageway.
Awarded by the Society of British Design with the Overall Winner Award 2015 specifically on its groundbreaking ability to interact with the end user and the fact that is changes the expectations of how interior design is received within this sector of design. Winner of the Spark Experience Awards 2015 (silver, category Experience; gold, category Health).
About the speaker
Stan Boshouwers is responsible for concept and strategy at Tinker. He loves to spin those connecting threads and has a special interest in "large-scale makeovers with reckless leaders".
Stan Boshouwers studied Cognitive Psychology and Computer Science and co-founded Tinker imagineers in 1991 with Erik Bär. In their hands, Tinker imagineers grew to be the leading experience design agency in the Netherlands with a growing number of international assignments. His 2015 Experience Design for the Juliana Children's Hospital received the Overall Winner Award of the Society of British International Design and two Spark Awards (USA).
Awards of the office
Experience Juliana Children's Hospital, The Hague, The Netherlands
• Overall Winner SBID International Design Excellence Awards 2015
• Winner Gold, Spark Health Awards 2015
• Winner Silver, Spark Experience Awards 2015
DOMunder, Utrecht, The Netherlands
• Winner Gold, Spark Experience Awards 2015
• Winner Heritage in Motion Best Achievement Awards 2015
• Winner Museums and Heritage Awards 2015
• German Design Awards 2016, special mention
World of Silver, Dutch Silver Museum Schoonhoven, The Netherlands
• Winner Silver IDCA Awards 2015
• Winner FX International Interior Design Awards 2014
Anatomical Theater, Museum Boerhaave, The Netherlands
• Winner Design Week Awards 2015
• Winner Spark!, Spark Experience Awards 2015