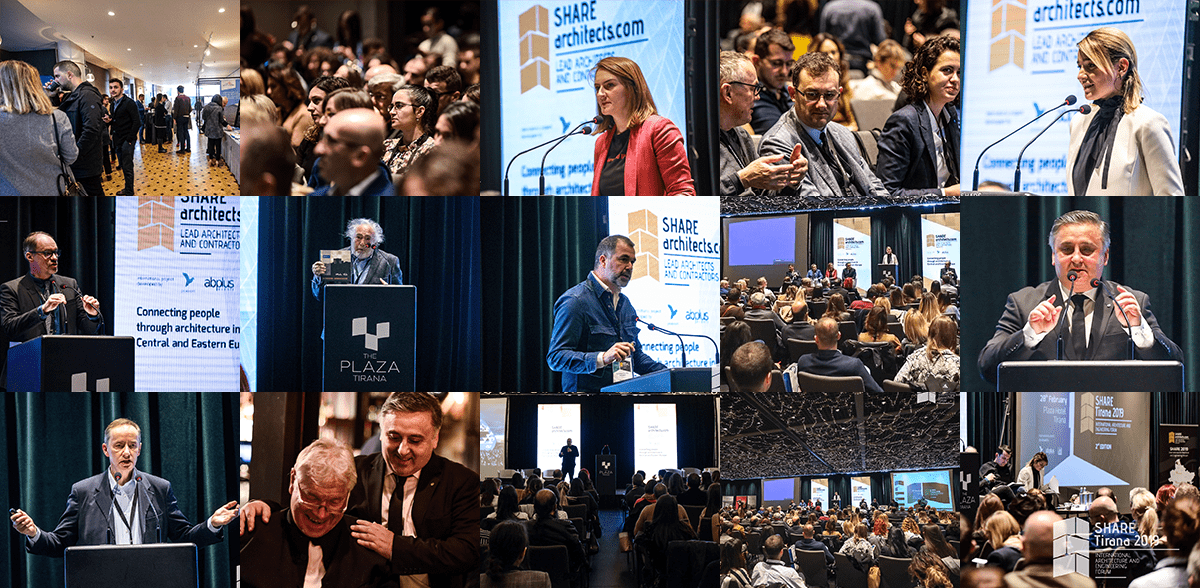 Remembering SHARE Tirana 2019!
Following our first conference of 2019 in Skopje, we continued our mission to connect people through architecture with Tirana, a city that breathes architecture inside out. The event took place at the Plaza Hotel Tirana, on February 28. Over +350 participants and +32 speakers helped us make the second edition of the event a memorable one. Incredible speeches and insightful projects and presentations made this day a truly special one. Let us take a look back at all the amazing things that happened at SHARE Tirana 2019. 
This year's 2nd edition of SHARE Tirana brought together principal and senior architects, constructors, urban planners, designers, and international speakers from countries like: Italy, Albania, Kosovo, Slovenia, Greece,The Netherlands, Turkey, United Kingdom, Germany, North Macedonia and Romania.
Special Guest – Massimiliano FUKSAS
One of the most awaited presentations of the evening was held my architect Massimiliano Fuksas, founder at Studio Fuksas – ITALY. At SHARE Tirana 2019, he discussed the main issues of our days: the mutability of contemporary architecture and sustainability. "Human beings no longer live in the countryside, but mostly in urban areas. Urban planning should be based on the study of the present, reflecting the past and carefully thinking of the consequences that our actions will have in the future. The architect has a huge responsibility toward civil society toward human being and environment."
Architecture must propose environmentally friendly solutions by making use of the most advanced technology to affect the less possible the planet creating buildings with the lowest possible energy consumption and the best possible indoor climate. But besides this we need to remember that architecture must give emotions to the people. When we build, we think about the following principles: recreating parts of nature, incorporating water and maximizing energy storage. We firmly believe that we can improve the sustainability of our cities with acts, design and planning that integrate environmental, politic, social, intellectual and economic aspects. The aim is to create a built geography that combines landscape, economy and humanity. Our latest projects are conceived, from initial stages, with systems that intend to reach the highest energetic efficiency levels by using geothermal science and cogeneration. There's no future without innovations. (Source text)
Official Opening Session 
The day kicked off with a welcoming message from our organizers and guests: 
Florin MINDIRIGIU, President of PROEVENT Association – Romania

Berta VULA RIZVANOLLI, Executive Director at the Association of Architects (AAK)

Serban TIGANAS, SHARE Society President & Secretary General for The International Union of Architects – ROMANIA

Florian NEPRAVISHTA from the Faculty of Architecture and Urbanism (UPT) 

Armand VOKSHI, SHARE Tirana 2019 Chairman & President for the Albanian Architects' Association (AAA)
Following an introductory speech from our event chairman and event organizer, architect Eva MARGARITI, Minister at the Ministry of Culture – ALBANIA, took the stage to share some thoughts on various topics related to architecture. In the introductory sub-session, we were honoured to have Erion VELIAJ on the SHARE stage, the Mayor of Tirana City Hall – ALBANIA as well. 
Tirana Tomorrow – Large Scale Projects
Moderated by the Secretary General of Albanian Architects' Association, Ani TOLA – ALBANIA, the Official Plenary Session of SHARE Tirana 2019 began with "Tirana Tomorrow – Large Scale Projects". Architects Ardit BEKTASHI, Vice CEO at Kontakt – ALBANIA and Ardita GUSHO, Architect at Kontakt – ALBANIA introduced us to Mangalem21. 
Mangalem21
Realized by OMA Architecture studio in Rotterdam, Mangalem21 is a future development project that aims to become a jewel in the city of Tirana, which will create continuity with the existing part of the city. Architects Ditjon BABOÇI, General Director, Urban Planning Department at Municipality of Tirana – ALBANIA, and Xaveer De GEYTER from XDGA – BELGIUM also took part in the discussion of Mangalem21, "a  project covers a plot of land in the middle of the city, bordered by mountains and former communist quarters to the north, and informal settlements from the 1990s to the south."
Special Lighting Session by Zumtobel
Following a Q&A session with our guests, the conference continued with a  Special Lighting Session by Zumtobel Group. Denis BIŠKUP, Regional Marketing Manager at Zumtobel Group took the stage to share more insights into Zumtobel, a leading provider of lighting and related services. The session continued with a speech from one of our guest speakers, Lighting Designer Architect Mark SUTTON VANE, Director at Sutton Vane Associates – UK.  The presentation covered a very interesting topic on importance of light in revealing the beauties of architectures. 
International Large Scale Projects – AHK KNDU Villas
Presented by Managing Partner at Global Architectural Development (GAD), Mustafa Kemal KAYIŞ – TURKEY, AHK KNDU Villas is an impressive residential development in Antalya that includes four large, twenty-two medium, and twelve small residential units. The project combines sustainable design and building principles by sourcing only locally available materials, low waste, low pollution, and offers communal green spaces for circulation and recreation. 
Plenary Session I – Architecture and Facades 
Moderated by Loreta Çapeli, Vice-President for the Association of Albanian Architects – ALBANIA, Plenary Session I of SHARE Tirana 2019 introduced several projects and presentations on all things architecture-related. 
Architect Maria SZENTESI, Technical & Product Development Manager in Rigips in Hungary and Sustainability Ambassadors for Saint-Gobain Construction Products opened the session with an introduction on "Innovation for Comfort"; a presentation of Saint-Gobain.
At Saint-Gobain, we've developed a new way of designing living spaces using an approach called Multi Comfort, which helps to maximize our sense of wellbeing inside the buildings where we live, work and play. Our ultimate goal: designing buildings for a more comfortable life.
Deutschcolor project
Following Maria's speech, architect Agim MARKU, Founder at Markingplan – ALBANIA, talked about one of his office's most successful projects, "Deutschcolor project":
Inspired by the miraculous molecular structure of chemicals which make possible the vibrant color's existence, the hexagonal shade is designed for an important purpose, to keep the direct sunlight away from the gazed facade, while it remains totally transparent. A great eye comfort reached by using symbolic aesthetic elements. The shade structure also defines a twenty meters high external atrium, which is an adequate space for advertisement and multidimensional activity.
Several other presentations followed up:
"Alumil, Think Green & Innovation", presented by architect Enval XHOXHI, Head of Technical Support (Customer Consultant Manager), ALUMIL – ALBANIA

"Private versus Public: A Duel. – Residence in Megara and Cyprus Museum", presented by architect Tilemachos ANDRIANOPOULOS, Founder at TENSE architecture network – GREECE

"Armstrong – grid and acoustic ceilings", presented by Edvard PLUT, Senior Specification Representative Slovenia, Albania, Kosovo from Armstrong World Industries 
Landscape ARCHITECTURE – Creating a Location
We were honored to have architect Rainer SCHMIDT, founder at Rainer Schmidt Landscape Architects & Urban Planners – GERMANY join us as Keynote Speaker for SHARE Tirana 2019. The eras of modernity and of post-modernity have passed their expiry date since around 10 years. Since then, a new search for values in urban space, – its structure, texture and materiality -, has globally emerged, looking for the specifics of location and local conditions of its making.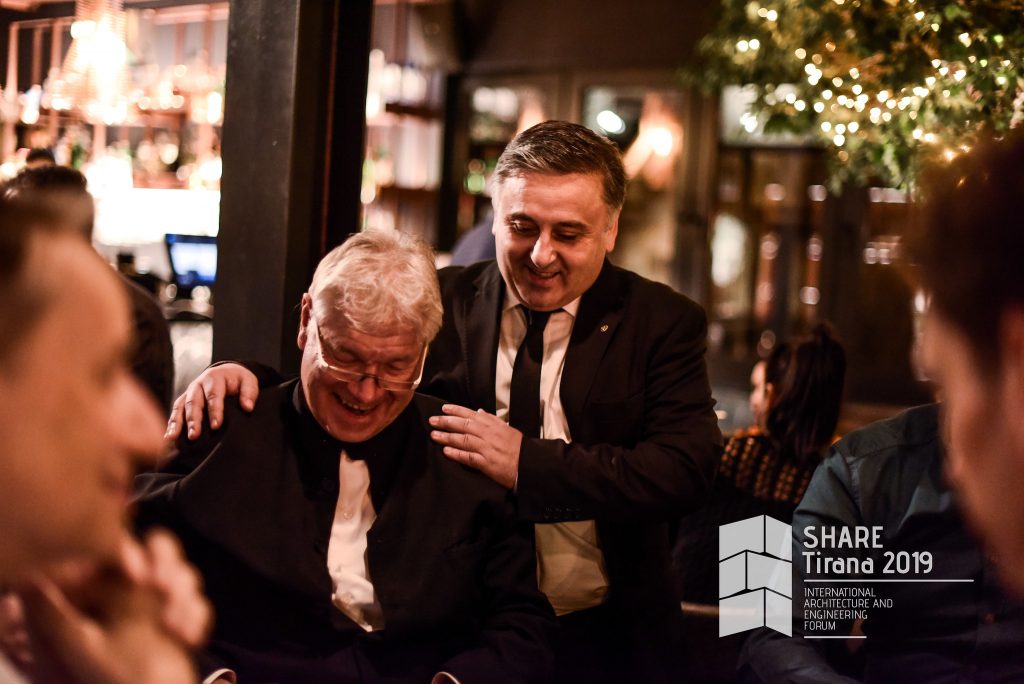 The title "Landscape Architecture – Creating a Location" tackles these issues from the point of view of a contemporary and innovative Landscape Urbanism which – as a philosophy – has broken with the obsolete values of functionalism throughout both the phases of modernity and of post-modernity. Instead, meaning of space – as a perspective for people – is requested in locally specific conditions, bringing together solutions for maintaining and renewing cultural landscapes under the image of "socio-psychological health". Such solutions are worked on by holistic concepts, always starting from premises about topography, geography, nature in place, i.e. climate, soil, air and water … – in the outcomes of implemented projects – to be finally perceived and appreciated as "healthy living and working environments for people". (Source text)
Plenary Session II – Architecture & Facades
Moderated by Matilda PANDO, Administrator at ARCHISTUDIO SH.P.K., Plenary Session II at SHARE Tirana 2019, kicked off with a special presentation titled "Saint Gobain Glass – Shaping tomorrow's projects", by Arben ISUFAJ, Marketing & Project Representative for Saint-Gobain Glass. Next, Architect Ardita Byci Jakupi from Urban Plus Studio – ALBANIA entertained the audience with a speech on "The Reflection of the Essence". From AGROB BUCHTAL, representative Teri POJANI – ALBANIA talked us about "HT Coating – Clean air ceramics and Agrob Buchtal references in Albania".
St. Janex Bosko Church in Maribor
Architect Mihael DESMAN, Founding Partner at DANS STUDIO – SLOVENIA, introduced us to "St. Janez Bosko Church in Maribor".
 The Don Bosco Church is part of a new parish centre, located in a residential quarter of Maribor, under the Pohorje Massif. The Religious Complex belonging to the Salesian community is designed as a closed building island. The building itself is a clearly articulated rectangular architectural mass with the nave and the bell tower rising above it. Upon entering the ovale courtyard adorned by an old linden tree the church suddenly becomes visible across the portico. At a glance one can feel the extent of the nave from the ground over the roof of the lower part of the complex all the way to the cornice that represents a crown. Its uniform brick facade is embellished with ornaments representing seven crosses made of glazed bricks. (Source text)
Two more presentations caught our attention: "La Casa del Desierto", held by Erion SICO, Territorial and Architectural Marketing Manager at Guardian Glass SA  and "JONAS project: Amsterdam", held by Patrick MEIJERS, architect partner at Orange Architects – NETHERLANDS. 
"Orange Architects has won the tender for Plot 42A, located in the heart of the harbour on IJburg in Amsterdam. With this winning scheme, called 'Jonas', the city has chosen a highly innovative residential building with a spectacular interior that has achieved the highest possible sustainability label (Breeam Outstanding). The design for the 29,000-m2 mixed-use programme was commissioned by Amvest and developed in collaboration with Site urban development, ABT, Felixx landscape architects and Floor Ziegler." (Source text)
Special Presentation & Debate 
Following an introductory speech from out event chairman, Armand VOKSHI, President of Albanian Architects' Association – ALBANIA, and our honorary guest, Șerban ȚIGĂNAȘ, UIA Secretary General & SHARE Society President – ROMANIA, the most awaited presentation of the evening followed: a special guest presentation held by the legendary architect Massimiliano FUKSAS Founder, Studio Fuksas – ITALY. 
Opera Omnia Distinction | Architect Maks Velo 
For noteworthy results in architecture throughout his career, we had the honor to award the Opera Omnia Distinction to Maks VELO, architect, paiter, sculptor and writer, on behalf of the Consultative Council of Architects in Central and Eastern Europe (CCA-CEE). The award was handed by the president of SHARE Society, Serban Tiganas. 
Max Velo is the author of a series of publications such as "Kokëthethja", "The jailbottle", "The jail of the prison", "Parallels for architecture", "Antichrist time", "My life in the picture", "Concretization of democracy" "Parallel Life" (105 State Security Documents), "Drawings on Albanian Popular Architecture", "Graphic of Socialist Realism in Albania", "Sculpture of Socialist Realism in Albania and Sculpture in Europe", "Mother Teresa" (Drawings) , "Paris 1" and "Paris 2" (Drawings and Poetry), "Red Carpet" (Poetry).
Wrapping up SHARE Tirana 2019!
The 2nd edition of SHARE Tirana 2019 was truly a day to remember. Once again, we would like to express our gratitude to all of our speakers and attendees for helping us fulfill our mission at SHARE – to connect people and build excellence through architecture. It was a long day filled with amazing presentations, debates, workshops, and memorable speeches. 
To conclude, we would like to thank our partners for helping us put together a memorable event in Tirana: The Albanian Association of Architects, The Architects' Association of Kosovo, Şişecam Flat Glass, Zumtobel, Armstrong, Agrob Buchtal, Alumil, Saint Gobain, archiEDU, Embassy of Romania in the Republic of Albania, Ndertimi Media, Follow Business Albania, Faculty of Architecture and Urbanism – Polytechnic University of Tirana.
Stay tuned as FALL season at SHARE Architects kickstarts this October! We're preparing 4 more events and we cannot wait to meet you in Prague (October 3), Venice (October 3), Krakow (October 22), Bucharest – SHAREX (November 14), and Athens (November 24).