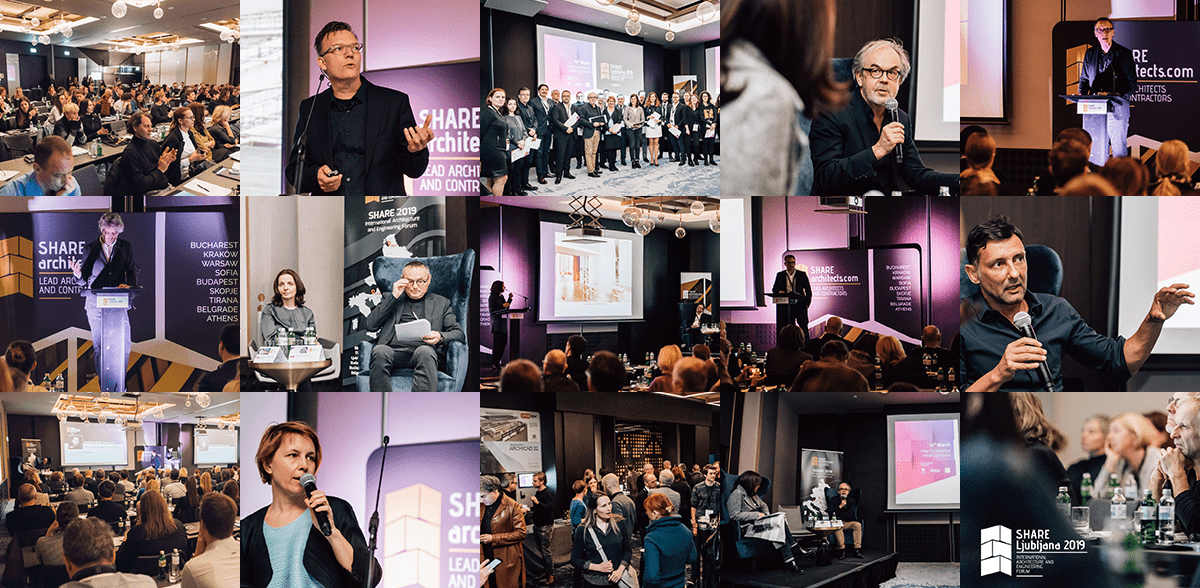 SHARE Summer Series: Remembering SHARE Ljubljana 2019!
Following two amazing conferences in Skopje – North Macedonia and Tirana – Albania, we continued our mission to connect people through architecture with Ljubljana – Slovenia. The event took place at InterContinental Hotel Ljubljana, on March 14. We were delighted to welcome over 200 participants, 21+ speakers, and guests from 9 countries that helped us make an impact. Incredible speeches and insightful projects and presentations made this day a truly special one. Let us take a look back at all the amazing things that happened at SHARE Ljubljana 2019. 
Special guest presentation | architect Rainer MAHLAMÄKI
Our special guest presentation held by architect  Rainer MAHLAMÄKI, co-founder at Lahdelma & Mahlamäki – FINLAND was titled "Spaces of stillness" and it centered on the mission and vision of the office, Finish architecture as a whole, as well as on some of his most successful projects: Museum of the History of Polish Jews and Kastelli School and Community Centre. "Finnish architecture has always been an exemplary display of a narrative architecture that mediates the story between natural environment and human needs. The Nordic modesty has managed to define in architecture a sense of humanism worldwide acknowledged. There is an unrivalled commitment to material honesty, exemplified through tactile exploration and refining finishes". For architect Rainer MAHLAMÄKI, "the most important thing is to know why you're designing, who you're designing for and where they come from; to forget preconceptions and approach each commission with a fresh pair of eyes, ready to learn."
Official Opening Session 
The conference started with a welcoming message from our organizers and guests: 
Architect Tomaž KRIŠTOF (Chairman) President, Chamber of Architecture and Spatial Planning of Slovenia – SLOVENIA

Florin MINDIRIGIU, President, PROEVENT ASSOCIATION – ROMANIA

Matej BLENKUŠ, Dean, Assoc. Professor, University of Ljubljana, Faculty of Architecture
Large Scale Projects in Slovenia 
Moderated by architect Mihael Desman, founding partner at DANS STUDIO – SLOVENIA, Large Scale Projects in Slovenia targeted two incredible projects presented below: 
Ljubljana River Banks Renovation
Realized by Atelje Vesna & Matej Vozlič – Slovenia and presented on the SHARE Ljubljana stage by architect Matej VOZLIČ, founder of the architecture office, Ljubljana River Banks Renovation extended from Tromostovje to Zoisova street. With deep respect for the original architecture of the river banks, crafted by architect Jože Plečnik, the architects at Vesna & Matej Vozlič intervened with modern restoration techniques meant while also preserving the tradition.  
TEM Čatež Factory Expansion 
Realized by Jereb Budja Arhitekti and presented on the SHARE Ljubljana stage by architect Blaž Budja – Slovenia, the aim of the project is to: "bring the massive structure of the factory to a scale an individual can still perceive as tolerable in relation to the environment, both built and natural. The new factory extension is fully sunk into the terrain, with the publicly-accessible plaza in front of the showroom linking the existing and the new entrance, thereby creating a field of transition, where the existing structure is submerged into the new (source text)". 
At the end of the official opening session of SHARE Ljubljana 2019, architect and psychologist Karel SMEJKAL, researcher at Czech Technical University in Prague, vice-president of the Society of Czech Architects – Czech Republic, held the most alluring speech on "The Psychology of Architecture – a challenge for the new generation of architects". 
Special Lighting Session by Zumtobel
Following a Q&A session with our guests, the conference continued with a Special Lighting Session by Zumtobel Group. Alan DORNIK, General manager SEE at Zumtobel Group took the stage to share more insights into Zumtobel, a leading provider of lighting and related services. The session continued with a speech from one of our guest speakers, Jean-Yves SOETINCK, owner at L'acte Lumiere – FRANCE, who talked about "New Lights and Shadows for a Gothic Masterpiece". 
Official Plenary Session I – Facades
Moderated by the same Mihael Desman from Dans Studio – Slovenia, the first on stage were Mojca GREGORSKI, owner and lead architect at Kontra arhitekti – Slovenia and Idis TURATO, founder at Idis TURATO – Croatia who talked about Croatian art and architecture, as well as about one of his office's most successful projects, "The Pavilion – a structure based on an existing barge with approximate dimensions of 10 x 20 x 3 meters and is towed by a tugboat. The team presented a spectacular structure of 30 tons of welded Q385 wire mesh in more than 40 layers of varying contours. It was the idea of a "mirage" – an optical phenomenon in which light rays are bent to produce a displaced image of distant objects or the sky, in this case, on the water."
To brighten our day and make architecture even more intricate and puzzling for our attendees, Şeyma ELÇIN, Product Responsible at Şişecam Flat Glass, covered a speech on "New Technologies in Façade Design"; the presentation introduced some of the company's innovative approaches of using glass in designing different architectural projects. 
Burak PEKOGLU, founder at BINAA Studio – TURKEY, joined us on stage to present "Crossways Anatolia – a project that concentrates on the infrastructure's impact in the Hinterland of Turkey by taking the city of Eskisehir as a regional model in between the two polar cities – Istanbul and Ankara (text source)."
Official Plenary Session II – Facades
Moderated by Maja IVANIČ, president of the Union of Architects Associations of Slovenia, the Official Plenary Session II kicked off with a presentation titled "SOAG, New Building for the Study of Social Work, Ghent, Belgium", held by architect Boštjan VUGA, co-founder at SADAR + VUGA – Slovenia. 
"With a total area spanning 14.967 m2, SOAG building is a free standing volume, set back off the Voskenslaan, creating an open space as a transition between residential homes along the street and the large green axis of the future master plan development. Its monolithic massing communicates with its immediate surroundings with a permeable shading membrane, horizontal lamellas which evenly wrap the building's englazed volume. The wrap opens up at the north-west side of the building in front of the plaza as a big entrance arch, unveiling the interior of the building on the ground floor. The big entrance arch act as inviting element which directs people form the plaza/lawn to the interior of the building. (source text)". 
Next on stage were architects Pako RADOVANOVIC, CEO at Rado Engineering – Macedonia with a talk about "Living small or living large" and René VAN ZUUK, founder at Rene van Zuuk Architekten – The Netherlands, who shared with us how "Architecture is defined by Building Production Technology". 
After the Q&A session, coffee break & exhibition visit, SHARE Ljubljana 2019 continued with a  special presentation on "Inspiring limitations" held by our keynote speaker Špela VIDEČNIK co-founder at OFIS arhitekti – Slovenia who covered a story about Kanin Winter Cabin – a mountain cabin designed to resist extreme weather conditions on its exposed site on Mount Kanin and Alpine Shelter Skuta – a project designed by Harvard University students during an architectural workshop hosted by the founders of OFIS Arhitekti. 
For noteworthy results in architecture throughout her career, we've had the honor to award the Opera Omnia Distinction to architect Špela VIDEČNIK, on behalf of the Consultative Council of Architects in Central and Eastern Europe (CCA-CEE). Špela Videčnik graduated from Ljubljana School of Architecture and London's Architectural Association and established OFIS Arhitekti in 1998 along with her colleague Rok Oman. Their ambitious projects and architectural attitudes made Zaha Hadid to nominate them among the top 10 exceptional emerging architects for Phaidon 10×10, while the Guardian designated their office as one of five young architectural offices 'to look out for' in 2001. 
Following Špela's speech, we had the honor to welcome on stage architect Rainer MAHLAMÄKI, co-founder at Lahdelma & Mahlamäki – FINLAND. 
Wrapping up SHARE Ljubljana 2019!
The 1st edition of SHARE Ljubljana 2019 was truly memorable. Once again, we would like to express our gratitude to all of our speakers and attendees for helping us fulfil our mission at SHARE – to connect people and build excellence through architecture. It was a long day filled with amazing presentations, debates, workshops, and memorable speeches. 
To conclude, we would like to thank our partners for helping us put together a memorable event in Ljubljana: The Chamber of Architecture and Spatial Planning of Slovenia, Şişecam Flat Glass, Zumtobel, Archicad, University of Ljubljana, Outsider. 
Stay tuned as FALL season at SHARE Architects kickstarts this October! We're preparing 4 more events and we cannot wait to meet you in Prague (October 3), Venice (October 3), Krakow (October 22), Bucharest – SHAREX (November 14), and Athens (November 24).