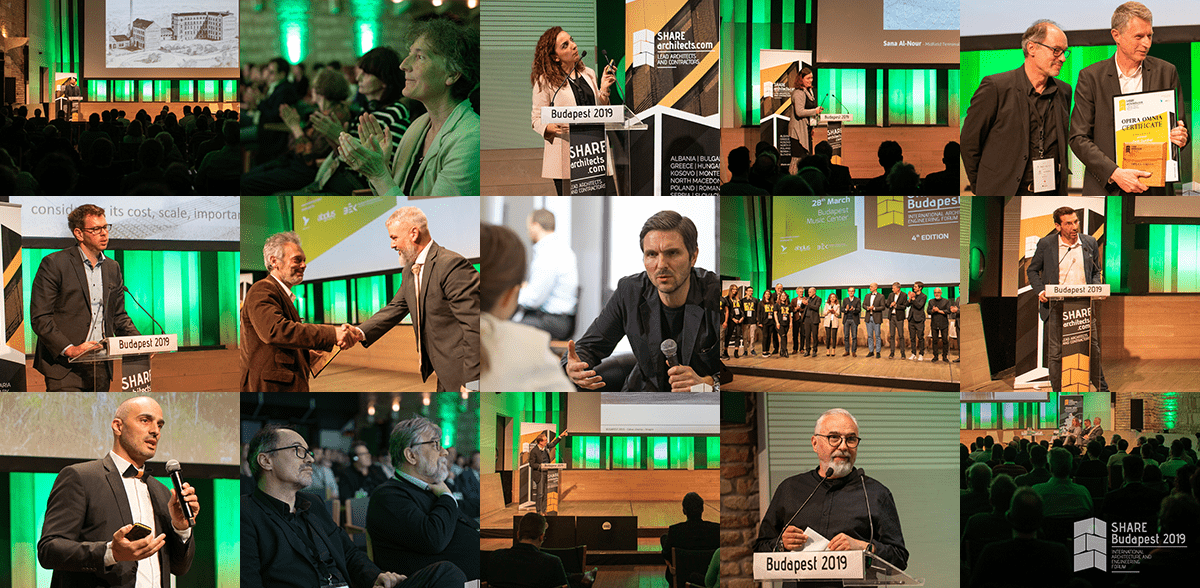 Remembering SHARE Budapest 2019
With over 3,500 attendees and 300+ speakers spread across 10 European countries in 2018 our mission to bring excellence in architecture continued a 4th edition of SHARE in Budapest, and also the 4th in our sequence of 11 events planned for 2019. The event took place on March 28, at the Budapest Music Center. We were delighted to welcome over 200 participants, 21+ speakers, and guests from 9 countries helped us build momentum in architecture with incredible speeches and insightful projects and presentations. Let us take a look back at all the amazing things that happened at SHARE Budapest 2019. 
Official Opening Session 
The conference started with a welcoming message from our organizers and guests: 
Florin MINDIRIGIU, Event Director & President of PROEVENT ASSOCIATION, Romania

Csapo BALÁZS, Chairman & President of Budapest Architect Chamber, Director Palatium Studio – Hungary

Dr. Habil György ALFÖLDI, Dean of Faculty of Architecture, Budapest University of Technology and Economics

Șerban ȚIGĂNAȘ, UIA Secretary General &  SHARE Society President – Romania

Borislav IGNATOV, President of Bulgarian Chamber of Architects (KAB) – Bulgaria
Official Plenary Session I
Following the official opening session, the conference kicked off with a presentation titled "The largest recent European zoo development – Pannonia Park", held by Prof. Dr. Miklos PERSANYI, Director of the Zoo – Hungary in collaboration with architect Dr. Gergely PAULINYI, President and CEO for Paulinyi-Reith & Partners Zrt., architect for BIODOME – Hungary. 
Pannonia Park | Prof. Dr. Miklos PERSANYI – Hungary
Our flagship project, Pannonia Park results in the following products: the creation of a new landmark community area of national importance, value oriented family leisure and educational opportunities, improved animal welfare, husbandry and exhibitions. Our goal is to develop the country's no. 1. cultural-touristic attraction in Central and Eastern Europe.
"The zoo design for the Pannonia Park adheres to the principles of British naturalist and zookeeper Gerald Durrell: buildings must put the needs and interests of their animals occupants first. The animal stuff should be a driving force in the design of the animal facilities, in the closest collaboration with architects. Furthermore, buildings must deliver a stunning visitor experience." 
Value preservation and value creation | Sándor FINTA – Hungary
Following Mr. Persanyi's presentation, Sándor FINTA, Operating & Development Director at Várkapitányság Nonprofit Zrt.- Hungary joined us on stage with a presentation on "Value preservation and value creation – The renovation of Buda Castle and the surrounding area".
The redesign of the buildings in the Castle District that were destroyed after 1945 will soon take place, along with the renovation of the Buda Castle itself and that of the promenades and roads, baileys, parks, and gardens. […] The Buda Castle has become rather a decor element serving the purpose of tourism than an integral, actual part of the city in these past sixty years. The program led by Várkapitányság Zrt. aims to restore the castle to its former glory, to give it back to the people of Hungary. (source text).
Special Lighting Session by Zumtobel
Following Dr. Persanyi's presentation, the conference continued with a Special Lighting Session by Zumtobel held by Tamás Halászy, BC Specification & Trade Manager at ZG Lighting Hungary Kft. Up next was Architect Iljana EGGERT, Senior Associate for Carpenter | Lowings – UK, an architecture and design studio internationally known for using glass in the fields of art, architecture and engineering. As one of our guest speakers for SHARE Budapest 2019, Iljana had a special Lighting Session titled "SHARE Lighting by ZUMTOBEL".
"Simulation.Stimulation" | Juergen MAYER – Germany  
One of the most awaited presentations of the day was "Simulation.Stimulation" held by architect Juergen MAYER, Founding Partner, J. MAYER H. und Partner, Architekten mbB. Best known for his innovative work approach that lies at the intersection of art, sculpture, architecture, communication and new technologies, the architect covered incredible insights into one of his most discussed projects: "Metropol Parasol"- the Redevelopment of the Plaza de la Encarnacíon in Seville. 
The main guideline for the design was to be able to offer shade; considering the weather in Seville is hot and shade is one of the greatest gifts that one can get outside. Therefore, we created different shapes of roofs that had to be concentrated on very specific points within the foundation, without destroying the underlying archeology of the site.
Plenary Session II – Architecture & Facades
Following a well-deserved coffee break, networking and exhibition visit, we continued the conference with Plenary Session II. Architect Martin KNUIJT, Director and Founding Partner at Okra Landscape Architects – Netherlands, took the stage to hold a presentation titled "A green future for cities – climate adaptive public space in European cities". 
Reconstruction, modernization, extension | Levente SZABO – Hungary
Next in line was Levente SZABO, CEO at Hetedik Műterem – Hungary who covered a talk titled  "Reconstruction, modernization, extension. The reconstruction of the old town hall of Buda": a detailed approach of the permit and construction plans for the complete historic reconstruction, courtyard covering and loft conversion project of Buda's former Town Hall building. 
The renewal of the building with unique historical value had a dual purpose: to reconstruct the basically Baroque building, which includes significant medieval parts and has gone through several construction periods, by preserving the exciting material, structural and spatial imprints, and at the same time to carry out a revitalization that meets today's demands.
Le Chai – Youth Hostel | Antonio VIRGA – France
Architect Antonio VIRGA, founder at Antonio Virga Architecte – France joined us on stage to discuss some of his office's most impactful projects including, Le Chai – Youth Hostel.
 "Overlooking the Valentré Bridge and the Lot River, the CHAI building is a "beacon," the new civic heart of a green and recreational zone extending along the banks of the river. It offers a broad, unobstructed view over this fortified bridge dating from the 14th century, and listed in the UNESCO registry of World Heritage Sites and a link on the historic Cahors discovery walking tour. The many medieval sites scattered around this ancient town are a major reason for its international reputation. The CHAI was designed in relation with and in answer to the town's history, heritage and the intersection of the region's main axes of circulation (source text)". 
The New Museum of Transport | David VITEZY – Hungary
Next on stage was David VITEZY, General Director at Hungarian Museum of Science, Technology and Transport – Hungary, with a presentation centered at the complete restoration of The Hungarian Museum of Transport titled:  "The New Museum of Transport, an example of brownfield renewal". 
According to Mr. VITEZY, there's a deep connection between the past and the present in transport architecture, highlighting during his speech that: "Our cities are shaped by the presence and the architecture quality of the transportation infrastructure since the first industrial revolution." 
Plenary Session III – Architecture & Facades
Plenary Session III kicked off with an introductory speech held by our Honorary Guest at SHARE Budapest 2019, architect Borislav IGNATOV, President of the Bulgarian Chamber of Architects – Bulgaria. Several presentations followed next. Adrian CRISTESCU, president and principal architect at West Group Architecture – Romania talked about a future project in Romania titled Glass House Snagov, shortlisted for the World Architectural Festival in 2018. 
Entrance Building | Péter SUGÁR – Hungary
Architect Péter SUGÁR, lead designer for radius b + s – Hungary covered a presentation titled "Entrance Building", centering on the design of GRAPHISOFT PARK, which will be given a symbolic role due to its new position. 
The position predestines to be a significant building, really becoming the gate of the park. Due to the intersection of the 3 urban axes (Záhony Street – Danube bank axis; Gas factory street; 1st street with tar towers) it will be at the visual reference point of the area. The green area next to the entrance to the park will become the foreground of the building.
Lambeth Civic Quarter | James PICKARD – UK
Last but not least, Plenary Session III ended with a presentation of the ""Lambeth Civic Quarter – Mixed-use urban renewal in Brixton, London" held by architect James PICKARD, director at Cartwright Pickard Architects – UK. 
Our plans for this new civic quarter for Lambeth Council and development partner Muse centre around the refurbishment and expansion of the 1908 Grade II listed Lambeth Town Hall, designed by Septimus Warwick and H Austen Hall and the construction of a 11,000 sqm BREEAM Excellent Civic Centre, a 200-space cycle hub and 194 new homes, 40% of which are affordable housing (source text).
Opera Omnia Distinction | 3h architecture – Hungary
On behalf of the Consultative Council of Architects in Central and Eastern Europe, this year at SHARE Budapest we had the honor to award the "Opera Omnia" SHARE Distinction to the founding partners of Hungarian architecture office 3h architecture, Zsolt Gunther and Katalin Csillag. 
With a deep emphasis on office design, residential, public and the restoration of historic buildings, 3h architecture takes pride in both its flair for imaginative concepts, as well as its skills in finding cutting-edge technical solutions. According to the founding partners of the office: "Our architecture focuses primarily not on the design of objects and buildings, but rather on the spatial solution of complex problems. In order to give good answers, we need to ask good questions."
Special presentation | Martin GRAN – Snøhetta Design, NORWAY 
Martin Gran is a partner at Snøhetta and Managing Director at Snøhetta's Design company. With degrees in management, psychology, sociology and 20 years of experience within brand-driven communication and design environments and projects, Martin is a versatile and professional advisor. His deep interest of the human mind combined with commercial understanding and ability, make him a strategic asset to Snøhetta's design projects. At SHARE Budapest 2019, Martin Gran held a presentation titled "People, Processes, Projects". He talked about the Snohetta mission, vision, and design approach. 
We believe concept is an ocean of a higher level thinking in order to make complex projects easier to understand. We don't want to simplify, we want to make concepts more understandable  – which is exactly what we did designing the Oslo Opera House. Many believe it's an abstraction of a floating iceberg in the Norwegian fjord, which is wrong. We tried to convey the idea of "what happens when you go from one state to another?" , emphasizing on the concept of threshold in order to try to use architecture to convey some kind of meaning.
One of the office's latest projects – "Under" in Lindesnes, Norway was heavily discussed at SHARE Budapest 2019, too. The imposing architectural wonder is the world's first and largest underwater restaurants, particularly conceived from a rough concrete shell to blend perfectly with the marine environment.
Under has gotten a lot of attention since launch, and we think it happened because it combines three things: architecture and design with gastronomy and biological science. It's a scientific project in itself, a restaurant, and architectural design.
Wrapping up SHARE Budapest 2019! 
The 4th edition of SHARE Budapest 2019 was truly memorable. Once again, we would like to express our gratitude to all of our speakers and attendees for helping us fulfil our mission at SHARE – to connect people and build excellence through architecture. It was a long day filled with amazing presentations, debates, workshops, and memorable speeches. 
To conclude, we would like to thank our partners for helping us put together a memorable event in Budapest: The Chamber of Budapest Architects, Şişecam Flat Glass, Zumtobel, Equitone, epiteszforum.hu. 
Stay tuned as FALL season at SHARE Architects kickstarts this October! We're preparing 4 more events and we cannot wait to meet you in Prague (October 3), Venice (October 3), Krakow (October 22), Bucharest – SHAREX (November 14), and Athens (November 24).