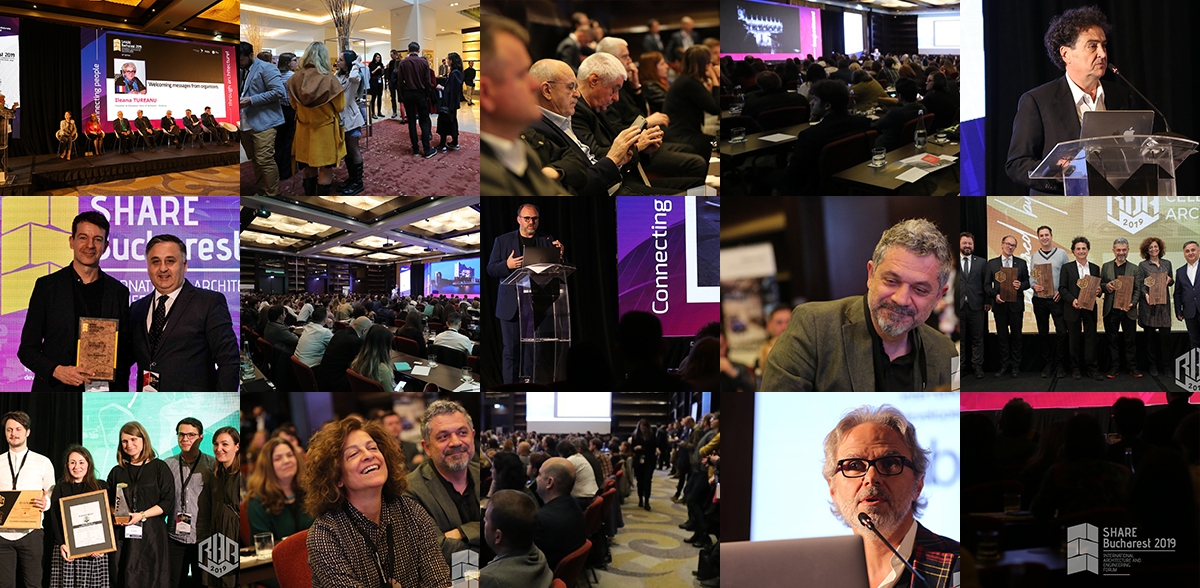 SHARE Summer Series: Remembering SHARE Bucharest 2019
Following 7 incredible events – and a well-deserved summer break at SHARE – we're getting ready for FALL season! Meet us in October and November in the following cities: 
With over 3,500 attendees and 300+ speakers spread across 10 European countries in 2018, our mission to bring excellence in architecture continues with the 20th edition of SHARE in Bucharest, and also the 5th in our sequence of 12 events planned for 2019. The event took place on April 18, at Radisson Blu Hotel. We were delighted to welcome over 500 participants, 30+ speakers, and guests from 9 countries. 
This year's celebratory edition was filled with impressive talks and project presentations, instructive workshops, and debates that managed to answer some of our burning questions related to the field of architecture. Let us look at some of the best moments that made SHARE Bucharest 2019 a conference to remember. 
Official Opening Session 
The 20th edition of SHARE Bucharest 2019 kickstarted with a warm welcoming message from our event organizers and special guests. 
Chairman Alexandru Găvozdea / President Romanian Order of Architects / Romania

Florin MINDIRIGIU – Event Director / President of PROEVENT ASSOCIATION / Romania

Marian MOICEANU / Rector "Ion Mincu" University of Architecture and Urbanism in Bucharest / Romania

Architect Șerban ȚIGĂNAȘ / UIA Secretary-General / SHARE Society President/ Romania

Architect Oleg HAMAN/ President of the Society of Czech Architects – Czech Republic

Vassilis SGOUTAS/ UIA Past President – Greece

Ileana TUREANU/ President at Romanian Union of Architects – Romania
Special presentations at SHARE Bucharest 2019 
"Halls and Auditoria" | Vassilis SCOUGAS
Our series of special presentations at SHARE Bucharest 2019 continued with architect Vassilis SGOUTAS, Founder at Sgoutas Architects & UIA Past President – Greece, who held a presentation titled "Halls and Auditoria". Furthermore, he introduced the audience to his recently published book, "A Journey with the Architects of the World", a book that documents, in a special way, moments in the evolution of the profession and his architectural encounters over the last twenty years. 
"Smart Cities: Defining Smart" | Christos PASSAS 
One of our great speakers at SHARE Bucharest 2019, Christos PASSAS, Associate Director at Zaha Hadid – UK, introduced us to a special presentation titled "Smart Cities: Defining Smart". 
Architecture is more than a living space. It is a practice that concerns itself with the exploration of spatial concepts, experimenting with systems, geometries, and proportions. In many ways, architecture is a wonderful exploration of the human mind, a medium through which civilization propagates itself through time.
Official Plenary Session 
Special presentation | Fernando Menis
The Official Plenary Session opened with an introductory speech from our chairman, Alexandru Găvozdea / President Romanian Order of Architects – Romania. Next on stage was our keynote speaker for SHARE Bucharest, Fernando MENIS – founder at Menis Arquitectos, with a special presentation on one of his office's most successful projects: "CKK Jordanki: Backstage". 
Beyond concept and formal decisions, concrete here, as in most of other Menis' buildings, is a sustainability choice: its isotropic nature enables energy efficiency optimized by the thermal inertia of the thick heavy walls. Moreover, the building has got good acoustics thanks to a combination of the concrete with the local volcanic stones (picón), which was manually broken afterwards. The mix, also used at the Magma Arte & Congresos (Tenerife, 2005) was further developed for the Cultural and Congress Centre Jordanki in Poland. 
CKK Jordanki is located within a green ring around the historic city centre, overlooking the Vistula River. Therefore, special care was taken in designing the orientation and height of the volumes so that the presence of the new building establishes a harmonious relationship with the natural and built environment. Thus the building occupies half of the plot, the other half being dedicated to park and the height is kept as low as possible, to avoid blocking the view over the river. The visual effect achieved is that of a natural object, a rock embedded in a gently sloping meadow. (source text)
Special Lighting Design Session | Zumtobel Group 
Lighting design speaker Cinzia FERRARA, founder at Ferrara Palladino Lightscape – Italy, joined us next on stage with a talk on some of her office's most successful lighting projects. "The problem is that people think of LIGHT as something that is given – they take it for granted. You can only understand the power of something when you don't have it – light: it very much resembles freedom." The session continued with a speech held by Daniel MUSAT, Country Manager at Zumtobel Group – Romania. 
Special presentation | Jan KNIKKER
We were delighted to have Great Speaker Jan KNIKKER, partner at MVRDV – Netherlands on stage at SHARE Bucharest 2019. His special presentation, titled "High-rise: green, social and human-scale" tackled the notion of sustainability lying at the core of the design process. Two of MVRDV's most successful projects were presented, namely:
Valley, Amsterdam, Netherlands – A project with an emphasis on sustainability created with multi-functionality in mind. Featuring a mixed programme of offices, residences, and amenities – covering a total floor area between 50,000m2 and 75,000m2 – Valley is part of the city's ambition to transform the Zuidas area into a more liveable and complete urban quarter. The abundance of outdoor spaces and communal green areas promote health and well-being whilst contributing to the building's green ambitions.

Vanke 3D City, Shenzhen, China – Introducing the next generation of skyscrapers! A revolutionary master project designed by MVRDV to strike a balance between architectural diversity and cohesiveness. Vanke 3D City is a mixture of 8 blocks, each corresponding to a keyword inspired by the core values of Vanke: 'health', 'energy', 'open', 'team', 'green', 'nature', 'future', and 'creative'.
Plenary Session I – Architecture & Facades 
Moderated by Mihai DRIȘCU / Dean at the Faculty of Architecture "G.M.Cantacuzino" & President OAR Iași / Romania and Beatrice JÖGER, Dean at the Faculty of Interior Architecture (UAUIM)/ Romania, several insightful presentations caught our attention. Mihael IONESCU/ Key account manager at "SISECAM FLAT GLASS"- Romania, talked about "New technologies in façade design".  Technical advisor at Aluprof – Romania, Daniela LEONTE, spoke about "Unlimited aluminum architectural solutions for Green Buildings in Smart Cities". 
The Making of the World's Tallest TV Tower | Mark HEMEL
From the Netherlands, we've had the honor to welcome architect Mark HEMEL, co-founder at IBA, who covered an exciting presentation on "The Making of the World's Tallest TV Tower". 
Architecture cannot fully be photographed, not fully be described in text, and not fully be captured in an image". The approach towards information-based architecture is best described in the design of Canton Tower, the world's tallest TV tower, developed in collaboration with engineering firm ARUP. Spatially, the tower appears as a series of mini buildings hung within the superstructure. The roofs of the buildings are used as sky gardens where visitors can feel weather variations at different heights. After sunset, the tower appears as a luminous icon on Guangzhou's skyline.
Plenary Session II – Architecture & Facades 
Moderated by Prof. Dr. Arch. Mihai DRIȘCU, Dean at the Faculty of Architecture "G.M.Cantacuzino" Iasi – Romania, Plenary Session II at SHARE Bucharest 2019 started with a presentation titled "Houses in Dialogue", held by architect Bogdan Andrei FEZI, General Director at Arcvision Arhitectura – Romania.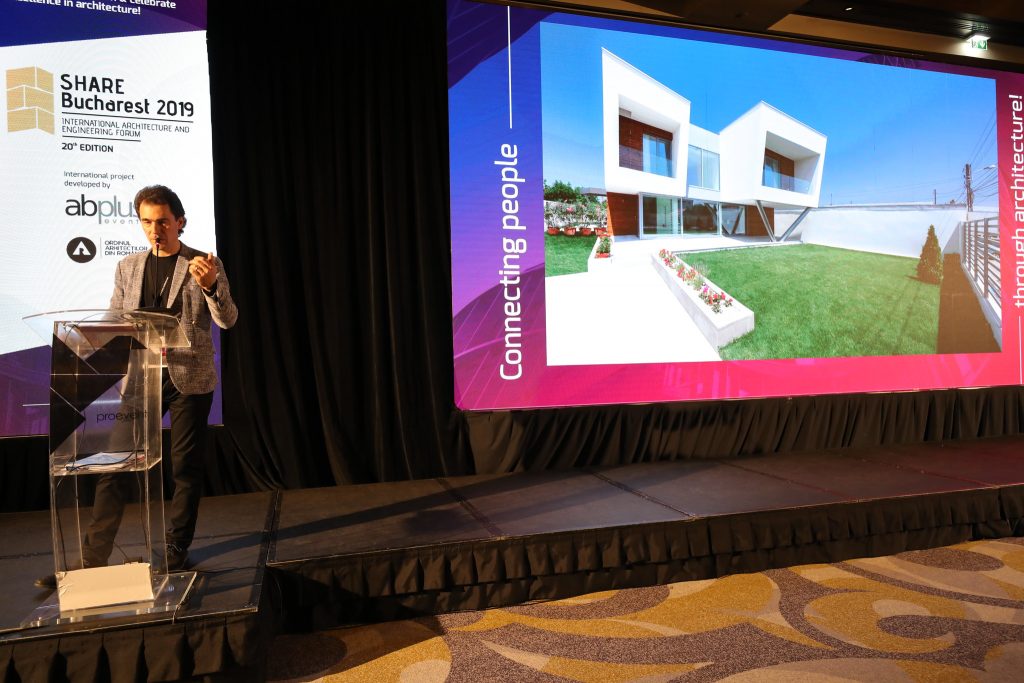 Plenary session II continued with the talks of architect Alfonso FEMIA and Andreas VARDAS. 
BNL-BNP Paribas headquarters: the sky of Rome | Alfonso FEMIA 
Architect Alfonso FEMIA, founder at Atelier Alfonso Femia – Italy, joined us at SHARE Bucharest 2019 as a guest speaker. His presentation covered one of his office's most recent projects: the New BNL-BNP Paribas headquarters in Rome, part of the masterplan "Roma Tiburtina". 
Placed in a unique context – a layering of infrastructures that are separated by two important urban areas of Rome, the design of the new BNL headquarters was developed as a synthesis with the high-speed station of Tiburtina – characterized by size and horizontality.
Glass Houses under the Sun | Andreas VARDAS
Architect Andreas VARDAS, founder at Vardas Studio – Cyprus, followed next on the SHARE stage with a presentation titled "Glasshouses under the sun"; a project done in collaboration with architect Birute Varda. 
AB house is the residence that the architect couple designed for themselves. After working together for years, Birute and Andreas decided to live on the site, favoring it for its location and morphology. Throughout the design process, they were determined to capture the essence of their architectural principles and make the most out of the creative freedom that comes with designing for themselves. The concept was born out of the combination of two materials often found near this location: concrete tube pipe sections and metal sheets. 
The materials are interpreted here in the residence's two separate envelopes: a metal structure clad in metal and glass, and the two walls of stacked concrete pipe sections running along the north and south facades of the residence. The layout of spaces is linear along the east-west axis. The open plan living area is to the east, providing a dining area, kitchen, and sitting area. Three bedrooms and a study are placed along a corridor-gallery that runs along the length of the house. Huge glass doors slide open to the decked veranda that runs outside to the south. The veranda is dispersed with garden pockets, containing small trees and fragrant plants."
Plenary Session II continued at SHARE Bucharest 2019 with two more presentations. Panagiotis KLISIARIS, mechanical design engineer at Exalco – Romania introduced us to "Exalco's corporate and products presentation" and Viorel MARES, product manager at "AUSTROTHERM"- Romania held a speech on  "Austrotherm special products". 
SHARE Bucharest 2019 – The Workshops 
Several important events made the 20th edition of SHARE in Bucharest a day to remember. We've had three amazing workshops, all of them meant aimed at teaching attendees that there's more to architecture than meets the eye. 
"GRAPHISOFT"/ "OpenBIM cu ARCHICAD in Romania",

held by Dan PANA, architect at Graphisoft – Romania, who tackle interesting topics such as virtual reality, and new standards in BIM, efficient work procedures and automatization. 

ZUMTOBEL – Use of New Technologies in Presenting Light Solutions"

, held by Denis BIŠKUP, regional marketing manager SEE at Zumtobel Group. 

"REHAU"/ "REHAU@Home: Design, safety, comfort, energetic efficiency and smart solutions"

, held by Dan DROSU, Head of Sales Romania & Bulgaria at REHAU,

Cristi CATARGIU/ Sales manager at "REHAU"- Romania, and Gabriel Cernat Sales Manager, REHAU. 
OPERA OMNIA Distinction | Alexandru BELDIMAN 
For noteworthy accomplishments in the fields of architecture, as well as for the role played in developing significant architectural projects throughout his career, this year at SHARE Bucharest 2019 we had the honour to award the "Opera Omnia" SHARE Certificate – on behalf of the Consultative Council of Architects in Central and Eastern Europe – to architect Alexandru BELDIMAN, Founder and Associate Architect at BBM Group. The distinction was handed by  Florin MINDIRIGIU, President of Pro Event Association, Vassilis SGOUDAS, Past President UIA, and Serban TIGANAS, General Secretary UIA.
Romanian Building Awards 2019, 3rd edition 
One of the most awaited events at SHARE Bucharest 2019 was the 3rd edition of RBA (Romanian Building Awards) Gala; a high-end event that awarded future architectural projects in Romania. Following an in-depth analysis of all 60 architectural projects signed up in the competition, RBA board members – made up of presidents of the Constitutive Council of Architects in Central Europe (CCA-CEE) – selected 12 finalists that presented their projects publicly at the 20th edition of SHARE Bucharest 2019 in front of an international jury. Out of the 12 finalists, the jury awarded two projects from two different niches: landscape architecture and industrial buildings. 
WINNER: Architecture office PRACTICA, Cluj-Napoca – Project Someș River 

WINNER: Architecture office APLUSNOIMA, Iasi – Project Center of Electronic Industry 

SPECIAL JURY MENTION: Architecture office DSBA, Bucharest – Project International Center Brâncuși

SPECIAL JURY MENTION: Architecture office ADNBA, Bucharest – Project AVALON 
We would like to take the opportunity to express our gratitude to our official partner at RBA 2019, Saint Gobain and to our media partners Igloo and spatiulconstruit.ro. 
To conclude, we would like to thank all of our partners for helping us put together a memorable event at SHARE Bucharest 2019: Saint-Gobain, Sisecam Flat Glass, zumtobel group, REHAU Unlimited Polymer Solutions, Exalco Aluminium Systems, Aluprof Aluminium Systems, Guardian Glass, Skylux, Austrotherm Termoizolatii.