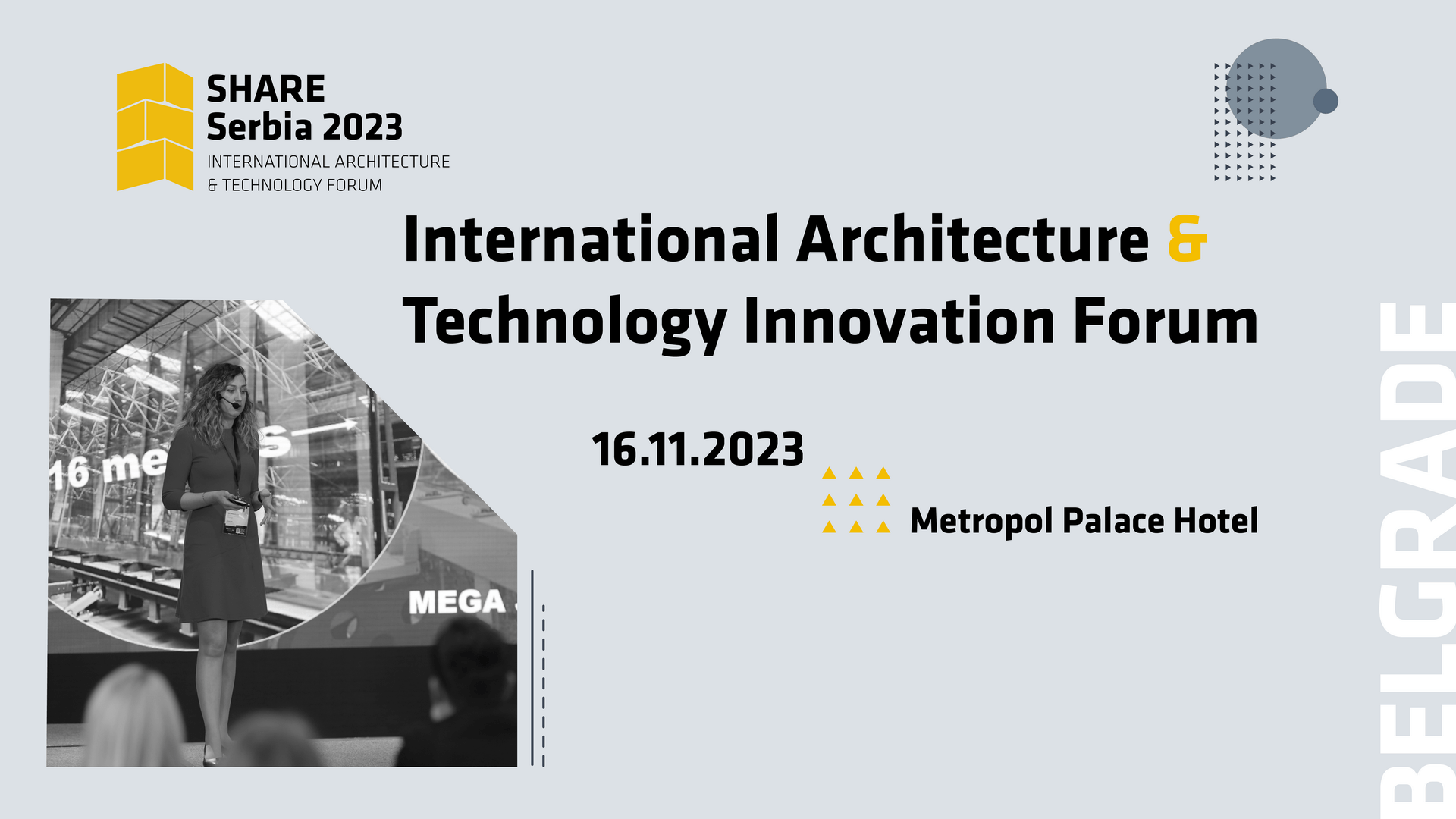 SHARE Serbia 2023 International Architecture Forum on 16 November
UNStudio, ZAHA Hadid Architects, Stefano Boeri Architetti, 3LHD, and more will participate in the 5th SHARE Forum in Belgrade. The event will take place on 16 November at the Metropol Palace Hotel and announces the most complex programme so far.
The SHARE Forum has gained international recognition and has become an essential gathering for those in the AEC industry due to its international reach and unwavering dedication to cutting-edge building technologies and innovative design.
SHARE Serbia Forum is the go-to platform for architects and construction professionals seeking to stay ahead in industry trends. With its focus on education, inspiration, and networking, the forum attracts over 300 participants from all corners of Serbia, as well as esteemed guests from leading architectural firms across Europe and beyond.
A Distinguished Lineup of Speakers
Without a doubt, a highly anticipated highlight of the SHARE Serbia Forum is the remarkable lineup of international guest speakers. Among them are FRANS VAN VUURE, Director UNStudio, The Netherlands; MANUELA GATTO, Director ZAHA HADID Architects, UK; PAOLO RUSSO, Design Team Leader Stefano Boeri Architetti, Italy;  PETER BORDAS, CEO, Head of Design at BORD Architectural Studio, Hungary; MILENA KORDIĆ, Co-Founder, SOBA, Serbia; MARIANA CÂRSTOIU, Design Coordinator K-BOX Construction & Design, Romania; TAREK HEGAZY, Principal & Creative Director Living Design, Sweden; MARKO DABROVIĆ, Founder of Studio 3LHD, Croatia; MARC JAY, Founding Partner WE Architecture, Denmark.
Two Conferences and a Unique Exhibition
The first conference will focus on "Designing Facades". Participants will have the opportunity to explore the innovative techniques, materials and approaches that are shaping the facades of today, and gain invaluable insights into large-scale development projects.
The second conference, 'Good living architecture', will explore how design influences our living and working spaces, promoting well-being and enhancing quality of life.
The Forum will conclude with a plenary session dedicated to large-scale projects.
SHARE Serbia 2023 Forum will host the exhibition "Material Passport: Innovative Surface Finishes and Materials." It features a diverse array of materials, exploring how innovative surfaces can enhance aesthetics and promote environmental sustainability. This exhibition underscores architecture's role in advancing sustainability through material selection.
Tickets are now on sale
Tickets are on sale on the event's official website.
Until 1 October all tickets benefit from preferential early bird rates.
BUY TICKETS HERE
SHARE Architects – main figures in Serbia
Present in Serbia since 2018, SHARE Architects has welcomed 900 attendees and 84 speakers in the four editions of the forum in Belgrade. 17 architectural personalities are members of the SHARE Architects Society, an exclusive group within SHARE Architects network that brings together 900 international architectural leaders from 42 countries.
In previous editions, we have had the pleasure of welcoming guest speakers from prestigious international and Serbian architectural practices such as Zaha Hadid Architects, Sanjay Puri Architects, UNStudio, Yazgan Design Architecture, BMA Studio, REMORKER Architects, Studio Kristof, E-arch Studio, OKRA Landscape Architects, Studio MAPA, NEOARHITEKTI Studio, Null Design, Studio M+, Zabriskie Studio, MVRDV, Bollinger und Grohmann ZT GmbH, proASPEKT Architectural Studio, Ingarden & Ewy Architekci, 2Portzamparc.
SHARE Architects Network – Connecting architects and contractors in Central and South Eastern Europe
Over the past 25 years, the SHARE Architects Forums have become an essential networking platform for architects and contractors in Central and South-Eastern Europe. SHARE creates an effective platform for knowledge and understanding of the diversity of the architectural phenomenon of contemporary architecture. Currently, SHARE Architects events take place in 16 countries in Central and Eastern Europe and the SHARE Architects community counts more than 50,000 members from all over the world.
Contact the Organizers
share@share-architects.com