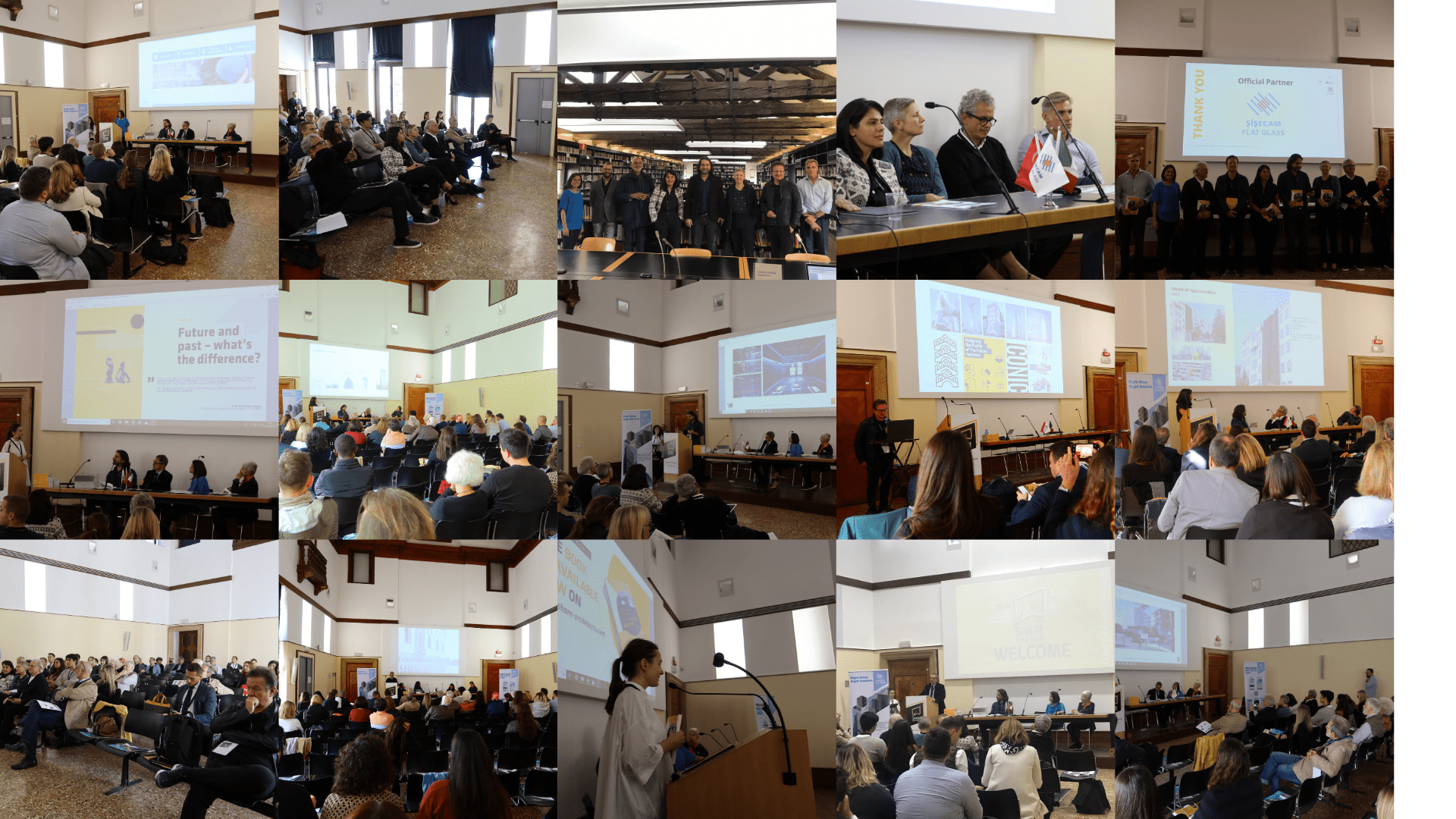 SHARE Fall Series: Remembering SHARE Talks Venice 2019
On October 3, we've had the honor to organize a different type of SHARE conference in Venice, at Università Iuav di Venezia, Palazzo Badoer, Aula Tafuri. SHARE Talks Venice 2019 was themed "the future of architecture" and it brought on stage an elite panel of 5 speakers from 5 countries who covered talks and debates on the latest innovations shaping the future of architecture.
Our vision for SHARE Talks Venice 2019 was to put together a closeup where our delegates had the opportunity to participate in debates and listen to insightful project presentations of our speakers. The event also opened our book launch tour for SHARE's much-awaited editorial project: the launch of our book, "Designing the Profile of the Future Architect". 
A Message from Organizers & Supporters 
Moderated by Arch. Perparim RAMA, CEO & founding director at 4M Group – UK, SHARE Talks Venice 2019 kickstarted with an introductory speech held by our event organizers and supporters: 
Florin MINDIRIGIU, President & Event Director at PRO Event Association – ROMANIA

Arch. Esra Aydınoğlu, Product Manager for Architectural Glass, Şişecam Flat Glass

Prof. Arch. Enrico FONTANARI, Delegate for International Relations & Mobility Programs at Università Iuav di Venezia – ITALY

Arch. Anna BUZZACCHI, President of Ordine Architetti, Pianificatori, Paesaggisti e Conservatori di Venezia – ITALY
SHARE Talks Venice: Session I 
"When Men used to Talks with the Stones" – Arch. Alberto TORSELLO – ITALY
Arch. Alberto TORSELLO, director at TA Architterura – ITALY, introduced us to a presentation titled "When Men used to Talk with the Stones", emphasizing on the core promotion of architectural and cultural heritage since 1994. 
The professional task of TA Architterura is the production of a well-articulated design project, starting from a perfect understanding of the monument in question such that all the problems of recovery and restoration of the architectural organism, from conservation, through adaptations of plant (e.g. plumbing, wiring) and structure, to internal features and the design of particular items of furniture, so that a project can become fully coherent. The uniqueness of a project or of a place becomes the starting-point for an analytical journey of project development in the studio, a workshop closely tied into the context, in which architectural complexity is progressively resolved and a synthesis developed which integrates idea, function, material, and beauty.
"Multiplicity & Unity" – Arch. Habibeh MADJABDI – IRAN
Upcoming next on stage was Arch. Habibeh MADJADBI, owner & principal architect at  Habibeh Madjadbi Architecture Studio – IRAN, who covered a presentation titled "Multiplicity & Unity". As one of the most outstanding architects of the younger generation, with almost 15 years of experience in the field, her work has been recognized and awarded internationally. 
In recent years, Habibeh has received several awards and recognitions, which include the "Worldwide Brick Award 2014" for an apartment building in Tehran called the "House of 40 Knots", realized in bricks, the "Chicago Award 2014" for MELLAT Bank's cooper façade, and 3rd place in the "Memar Award 2014" for the "House of 40 Knots". Madjdabadi's artistic exploration goes beyond architecture as she is also making her mark in installation art and design.
"Hybridity – A timeserver, sneaky danger or a matchless opportunity?" – Arch. Emre AROLAT – TURKEY
Arch. Emre AROLAT, co-founder at Emre Arolat Architects – TURKEY, delighted our audience with a presentation titled "Hybridity – A timeserver, sneaky danger or a matchless opportunity?". Today, EAA is not only one of the largest architectural offices of Turkey but also has a recognized presence in the global scene along with its offices in New York and London in addition to Istanbul. 
Since its establishment, the studio has built an impressively wide range of works from urban masterplans, airports to residential, cultural buildings and workplaces. The practice has received international attention very early with the Minicity Theme Park in 2014 which was recognized as Selected Work by the Mies van der Rohe Awards for European Architecture. A great number of international awards followed including Aga Khan Award for Architecture in 2010 with the Ipekyol Textile Factory Building. The latest breakthrough project Sancaklar Mosque, a building that blends perfectly with the landscape, is again honored by the selection of Mies van der Rohe Award in 2015, among many others. 
Book Launch: "Designing the Profile of the Future Architect"
Upcoming next was a presentation on our recently launched book, "Designing the Profile of the Future Architect". Presented by one of our book editors, Arch. Andreea ROBU-MOVILĂ, the book is the first editorial project of SHARE Society, a collection of thoughts, architectural manifestoes, and interviews to which 100 architects from 27 countries have contributed; all of them former speakers at the SHARE conferences during 2018 – 2019. 
SHARE Talks Venice: Session II 
"Architecture as a Creative Process" – Paolo BRESCIA – ITALY
Arch. Paolo BRESCIA, Partner at OBR – Open Building Research – ITALY, introduced us to "Architecture as a Creative Process". In 2000 Paolo Brescia and Tommaso Principi established the collective OBR to investigate new ways of contemporary living, creating a design network among Milan, London, and New York. The team of OBR develops its design activity through public-private social programs, promoting – through architecture – the sense of community and individual identities. 
Among the best-known works by OBR are the Pythagoras Museum, the New Galleria Sabauda in Turin, the Milanofiori Residential Complex, the Children Hospital in Parma, the Galliera Hospital in Genoa, the Lido of Genoa, the Ex Cinema Roma, the Triennale di Milano Terrace. The under-construction projects by OBR include the Lehariya Cluster in Jaipur, the Jafza Traders Market in Dubai and the Multiuse Complex Ahmad Qasir in Teheran. OBR's projects have been featured in Venice Biennale of Architecture, Royal Institute of British Architects in London, Bienal de Arquitetura of Brasilia, MAXXI in Rome and Triennale di Milano. 
What architecture can do" – Arch. Fokke Moerel, MVRDV – Netherlands
Arch. Fokke Moerel, Partner MVRDV – The Netherlands, joined the SHARE stage at SHARE Talks Venice to cover a topic on "What architecture can do", emphasizing on some of MVRDV's most impactful projects completed so far. She leads projects with a focus on public and cultural works, transformations and interior design all around the globe. 
Fokke has completed award-winning designs such as the Baltyk office tower in Poznan, Poland, the Book Mountain Library in Spijkenisse and the Lloyd Hotel & Cultural Embassy in Amsterdam. Within her studio she also leads the interior design team at MVRDV and she is overseeing the construction of Depot Boijmans Van Beuningen, the first publicly accessible art depot in the world, which will open its doors in 2021 in Rotterdam.
"Light, Shadow & Non-Linear Beauty" – Arch. Ian RITCHIE – Ian Ritchie Architects, UK
Arch Ian RICHIE, founder at Ian Ritchie Architects, UK, concluded SHARE Talks Venice 2019 with a special presentation dedicated to light. His talk, "Light, Shadow & Non-Linear Beauty" – "Like an object, moving through water, light cuts through shadows only to leave shadows in its wake. Light and shadow belong together." (Ian Ritchie, 2001)
Ian Ritchie Architects' ethos is that they serve society, and it is central to the way they design and practice their art of architecture. For nearly 40 years Ian Richie Architects have collaborated with like-minded fellow professionals and others across the arts and sciences to deliver socially beneficial and ecologically sustainable public and private projects in a responsible and ethical manner.
About SHARE Architects 
SHARE Architects, a project developed and organized by ABplus Events and Pro Event Association, seeks to connect people through architecture on an international level via a series of interactive conferences spread across different cities in Central Eastern Europe.
The aim of SHARE is to bring excellence in architecture by promoting best practices, transferring know-how, exchanging ideas, ultimately bringing architects, urban planners, designers & constructors together under the same roof, for one day. The spirit of SHARE circles around the idea of sharing concepts and initiatives, while bringing architectural matters closer to a more socially sensitive level.
A big "thank you" to all of our official partners at SHARE Talks Venice: ŞIŞECAM FLAT GLASS.