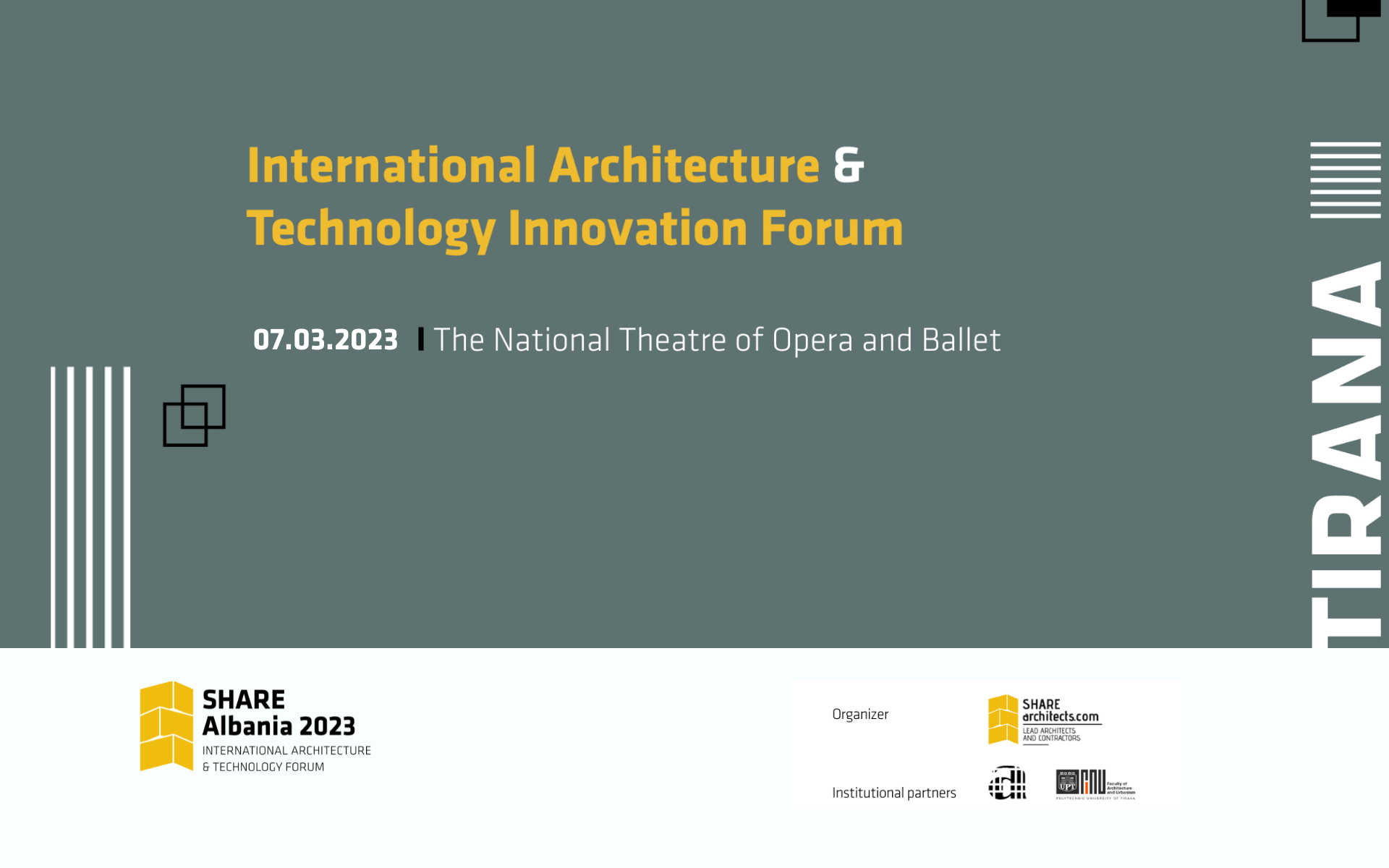 SHARE Albania 2023: International Architecture and Technology Innovation Forum
The fifth edition of the SHARE Forum in Albania will take place in Tirana on the 7th of March at The National Theatre of Opera and Ballet.
SHARE Albania 2023 will bring together national and international renowned architects, innovators in architecture and building technologies, great personalities in architecture and will offer access to information and new opportunities of cooperation.
The main themes of the event are "Sustainable Facades: Design and Technology", "Living and Working Architecture", "Large Scale Development Projects".
The first international speakers announced are:
Bernard Storch, Partner PLP/Architecture, UK
Bernard Storch is one of the key members of PLP Architecture, which has extensive experience and expertise, completing numerous projects in UK, Europe, India, and the Middle East. At SHARE Albania 2023, he will present two of the PLP's recent projects: 22 Bishopsgate, the tallest tower in London's financial district shaped in twenty-three-sided faceted with glass and World Trade Center in Amsterdam, with the innovative shaped curved glass roof.
Andrea D'Antrassi, Associate Partner MAD architects
Andrea D'Antrassi is an Associate Partner at MAD Architects, responsible for the European projects of the Chinese firm, with professional experience from the US, Italy, France, Australia, and China.  He has 14 years experience in developments such as High Rise buildings, Hotels, Resorts, Office and Residential buildings, Shopping Malls, Concert Hall/Auditoriums, Master plan.MAD is committed to developing futuristic, organic, technologically advanced designs that embody a contemporary interpretation of the Eastern affinity for nature. With a vision for the city of the future based in the spiritual and emotional needs of residents, MAD endeavors to create a balance between humanity, the city, and the environment.
 Dean Lah, Principal  Enota, Slovenia
Dean Lah is a multi-award winning architect.His work has been presented on numerous exhibitions and published in professional and broad interest publications all over the world. Dean lectures at architectural schools, conferences and symposiums in Slovenia and abroad. Since 2016 he is teaching at Architectural Department of University of Maribor. With intention to promote the importance of architectural quality, he has been active as the member of several architectural award and architectural competitions juries, member of executive board of Chamber of Architecture and Spatial Planning of Slovenia, member of European Forum for Architectural policies, member of executive board of Architects Association of Ljubljana and some other formal and informal networks and events on architecture.
Emre Arolat, Founder & Design Partner of Emre Arolat Architecture, Turkey
The founding partner and Lead Designer, Emre Arolat has held a professorship at the International Academy of Architecture and is frequently invited to serve on high-profile juries, and to visiting professorships at various prominent universities and academic institutions worldwide such as the Center for Architecture, the Architecture League of New York, Pratt Institute, Cooper Union, RIBA London. Recently, he was the Norman R. Foster Visiting Professor at the Yale School of Architecture in 2017 Fall Semester.
Emre received international recognition early on in his career, with the Mies Van der Rohe Award for European Architecture for the Minicity Theme Park in Antalya, Turkey (2004), and the Aga Khan Award for Architecture with the design for the Ipekyol Textile Factory in Edirne, Turkey (2006). More recently, In 2018, his Sancaklar Mosque is awarded with RIBA International Prize.
Ilias Papageorgiou, Principal  PILA, Greece 
Ilias Papageorgiou has considerable expertise from both Europe and the United States, having led the design and execution of well-known commercial, residential, and cultural buildings all over the world. Ilias worked with clients like MINI/BMW, Versace, Google, AirBnB, Frieze Art Fair, Manetti Shrem Museum at UC Davis, the Guggenheim Museum, and the New Museum in New York .
Architect and Professor of Architectural Composition. In 2001 he founded the Degree Course in Interior Architecture and Furniture at the University of Rome 'La Sapienza' and directed it until 2006. Visiting professor and guest lecturer at American and European universities. His theoretical and applied research activity is carried out through publications of essays and critical readings, participation in national and international architecture competitions, and the design and realisation of public works. His work is published in books and journals.
Marco Petreschi was a key architect in the renovation process of the Central Bank of Albania in Tirana.
SHARE Albania 2023 is organized by SHARE Architects, one of the most active events network in the region, in partnership with the Albanian Architects Association and Polytechnic University of Tirana, Faculty of Architecture and Urbanism.
Among the key guests speakers of the last editions of SHARE Albania Forum are Filippo Innocenti, Director ZAHA HADID, UK; Konstantinos Chrysos Senior Architect and Associate Unstudio, The Netherlands; Massimiliano Fuksas, Founder at Studio Fuksas, Italy; Mark Sutton Vane, Principal at Sutton Vane Associates, UK; Carlos Castanheira, Founder Carlos Castanheira Architects, Portugalia;  Frederic Druot, Founder of Frédéric Druot Architecture; Gonca Paşolar, Co-founder EAA-Emre Arolat Architecture, Turkey, Davide Macullo, Founder of  Davide Macullo, Switzerland; Marco Casamonti – Founder of Archea Associati, Italy.
Registration started and are available on the official page of the event.
Sponsorship opportunities are open
Businesses interested in sponsorship and exhibition may get in touch with the organizers by planning a short online meeting with one of SHARE Architects' sales representatives HERE or directly at +40740 117 599 (available on WhasApp too) or at share@share-architects.com
SHARE Architects Network – Connecting architects and contractors in Central and South Eastern Europe
Over the past 25 years, SHARE Architects forums have become a key networking platform for architects and constructors in Central and South Eastern Europe. SHARE provides a useful framework for knowledge and understanding of the diversity of modern architectural phenomena. Currently, SHARE Architects events are held in 16 countries and have developed a community of over 50,000 professionals around them.