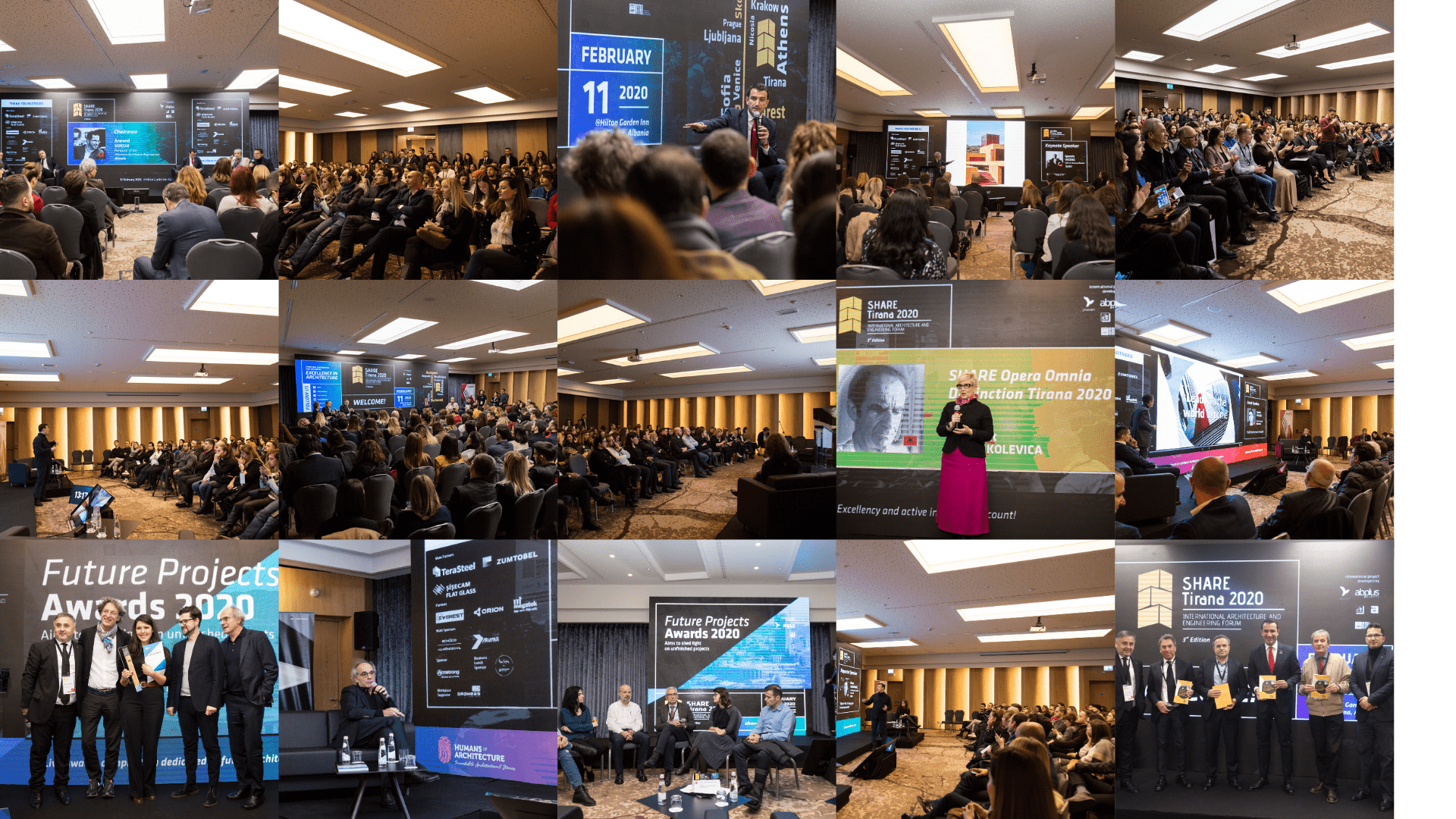 Remembering SHARE Tirana 2020 | Hilton Garden Inn Tirana, February 11
February 11 marked the launch of the SHARE Forum sequence of events scheduled for 2020. The first event on the list was SHARE Tirana, 3rd edition. Over 400 delegates joined our mission to build excellence in architecture at The Hilton Garden Inn in Tirana. From the very beginning, we promised that the conference will be dynamic, interactive, and different from anything you've seen so far at SHARE Architects, and so it was. This year we've made some changes to the main program. Novelty elements included: 
2 stages: Main SHARE Sage & Innovation Stage

40+ lectures and presentations

SHARE Future Projects Awards

: a live competition dedicate to future Albanian architectural projects

An innovative exhibition of architectural solutions, products & service

Thematics: Interior Architecture, Design&Furniture, Lighting Design, Facades, Roofs, Insulation, Landscape

International debate: "Transforming the world through architecture"
The Official Opening 
The official opening session began with an introductory speech held by our event organizers and special guests: 
Speakers:
Chairman – Armand VOKSHI, President Albanian Architects' Association (AAA) – ALBANIA 

Florin MINDIRIGIU, President at PROEVENT ASSOCIATION, Event Director 

Florian NEPRAVISHTA, Dean, Faculty of Architecture and Urbanism, UPT – ALBANIA
Honorary guests: 
Erion VELIAJ, Mayor of Tirana – ALBANIA

Paolo MAFFIOLA, President of the Ordine degli Architetti P.P.C. della Provincia di Bari – ITALY

Masar DUSHI, President of the Architects' Association of Kosovo
Great Speakers Presentations 
"MATERIALITY", by Arch. Ignacio VICENS, Principal Architect at Vicens & Ramos Architect, SPAIN
The architecture of Vicens and Ramos holds a privileged position within the Spanish architecture of the last few years. Each project has posed a creative challenge for them that has resulted in unique works, with great pedagogical value for other architects. 
"Our architecture wants to pay attention to materials; we like to use very physical materials. We try to explore the expressive possibilities of different materials. Anyway, this is a purely methodical decision. I am without a doubt interested in the complexity of architectural projects. This presentation based on materials is really just an argumentative excuse, and in no way does it want to take for granted the complexity of Architecture ."
"What and Who is already there?", by Arch. Frédéric DRUOT – Winner of the 2019  Mies van der Rohe Award
Arch. Frédéric Druot, founder at Frédéric Druot Architecture – FRANCE introduced us to the principles of his architectural credo "What and Who is Already There?"
Cities are original, complex, intelligent and evolutive organizations. Cities are born from the union of geography and the enthusiastic and spiritual will of men avid to stop there, guided by tropism, to settle there in the hope to enjoy some of its powers, some pleasure, and some opportunities. They are the mobile organizations of intuitions, cases, beings, of situations, actualized through temporary names […] 
Cities exist, let us accept them as they are. Let us accept the mystery of their anthropization getting thicker every day, let us accept their heterogeneous density, cells and subjective combination. Let us observe them attentively to understand them better and modernize them, focusing first on what they have to offer that is both good and capable, before we start thinking about what is not working anymore. Let us respect the organization that has allowed for years, to generations, to express their singularity. 
Keynote Speakers Presentations 
"Architecture: the link between DNA of a place and future", by Arch. Davide MACULLO, Founder at Davide Macullo Architects – SWITZERLAND
Buildings will outlive us, so we build for generations to come. Our journey is a time best used to contribute to allowing "a civilized people to live in the midst of their own art" (Bruno Munari). The territory is the first essential element that building needs. The territory, our landscape, represents the two prime conditions: the physical and the social, necessary for the transformation of a cultural to a natural condition. The place is never neutral and presents itself with unique and distinct values. Our task is to draw from the context until the architecture becomes the link between the DNA of a place and its future.
"OPERE PER IL PAESAGGIO CONTEMPORANEO", by Arch. Marco CASAMONTI, co-founder at Archea Associati – ITALY
Marco Casamonti, architect, designer, and full professor at the Genoa Faculty of Architecture has been Editor in Chief of Area international Architecture and Design Arts magazine since 1997. In 1988, he joined forces with Laura Andreini and Giovanni Polazzi to found Archea Associati. His presentation at SHARE Tirana offered insights into some of the office's most recent projects, namely 4 Evergreen Commercial and Residential Tower and the National Football Stadium (both in Tirana, Albania).
"Scent of the Trace", by Arch. Gonca PASOLAR, co-founder at Emre Arolat Architecture – TURKEY
Gonca Pasolar is co-founding partner of EAA-Emre Arolat Architecture, Pasolar commenced her college studies at the Middle East Technical University in Ankara-Turkey, receiving also her graduate degree in the field of Architecture. In 2004, along with Emre Arolat they formed their own practice in Istanbul as EAA-Emre Arolat Architecture. Ever since, her contribution to EAA's presence has been shown in exhibitions and lectures worldwide in addition to her jury duties in various national and international competitions. 
Pasolar won many prestigious awards throughout her career and went on to be the Managing Partner of EAA, the position that she currently holds for the practice's New York, London and Istanbul offices. In 2017, Pasolar and Arolat were the Norman R.Foster Visiting Professors at the Yale School of Architecture.
"Transforming Urban Waterfronts", by Arch. Martin KOENIG, associate director at Martha Schwartz Partners – UK
With over 40 years of experience in designing and implementing installations, civic plazas, institutional landscapes, corporate headquarters, and urban regeneration projects, leading international design practice Martha Schwartz Partners (MSP) – UK advocates for the inclusion of the public landscape as a means to achieve environmental, economic and social sustainability. MSP's work demonstrates a deep commitment to the urban landscape as it performs as the platform for sustainable cities that are healthy across all aspects, sectors, and domains of urban life.
Guest Speakers Presentations 
"Architecture as an artwork", by Arch. Maxim CALUJAC, founder at Kaluzhak – REPUBLIC OF MOLDOVA
Winner of ArchDaily & Strelka Award 2019 – First Prize, Arch. Maxim CALUJAC detailed how architecture provokes emotions, forming feelings in the same way as art. "Architecture has to provoke emotions; it must form the human feelings in the same way as art. The building has to have a "personality", it has to be an "author's sounding". For me, architecture is art, and art is feeling, that's why when the architect is dealing with the functional tasks, he must keep in mind that he is creating artworks. A vivid example of it is Creative Center in Chisinau – Artcor", recently nominated for the Archdaily's Building of the Year 2020″.
"How to create a successful restaurant – design perspective", by Victor GROSU, design leader & owner at Grosu Art Studio – ROMANIA
Winner in the Best Leisure Interior Europe category at the European Property Awards 2017 for his "Dancing Lobster" restaurant project, Arch. Victor GROSU, design leader & owner at Grosu Art Studio – joined the Innovation Stage at SHARE Tirana to cover an insightful presentation titled "How to create a successful restaurant – design perspective". 
"The question of what makes a good restaurant – whether it is a neighborhood favorite or a global chain – is more complicated. Hospitality is an elusive quality. "
"Redevelopment of the coastal landscape", by Arch. Paolo MAFIOLLA, President of Bari Architect's Order – ITALY
The Municipal Administration of Giovinazzo after having completed important interventions for the redevelopment of the areas overlooking the two promenades (one east and the other west of the town), has placed its attention on the identity of the spaces, on restoring their social role through urban regeneration interventions. Specifically, the relationship between city and water has been identified as a guide in formulating the project proposal, for several decades now at the center of the discussions of urban planners. The problem of the interface between the cities and the sea, that is, the coast "must be confronted with complex situations. 
SHARE Tirana 2020: Workshops 
Workshop by Zumtobel – "From basicDIM Wireless up to Virtual Reality"
Presented by Denis BIŠKUP, Regional Marketing Manager SEE / ZUMTOBEL – AUSTRIA, the workshop focused on BasicDIM Wireless technology that offers a stunning variety of functions. "In combination of bacisDIM Wireless connectivity and innovative – first on the market – ONE Technology, thanks to silicone 5D lenses, it is possible to change the beam angle of luminaire(s) without mechanically moving parts. If you want to be among the first ones in the world to see how it works and how can you benefit of it – joint our workshop, seats are limited.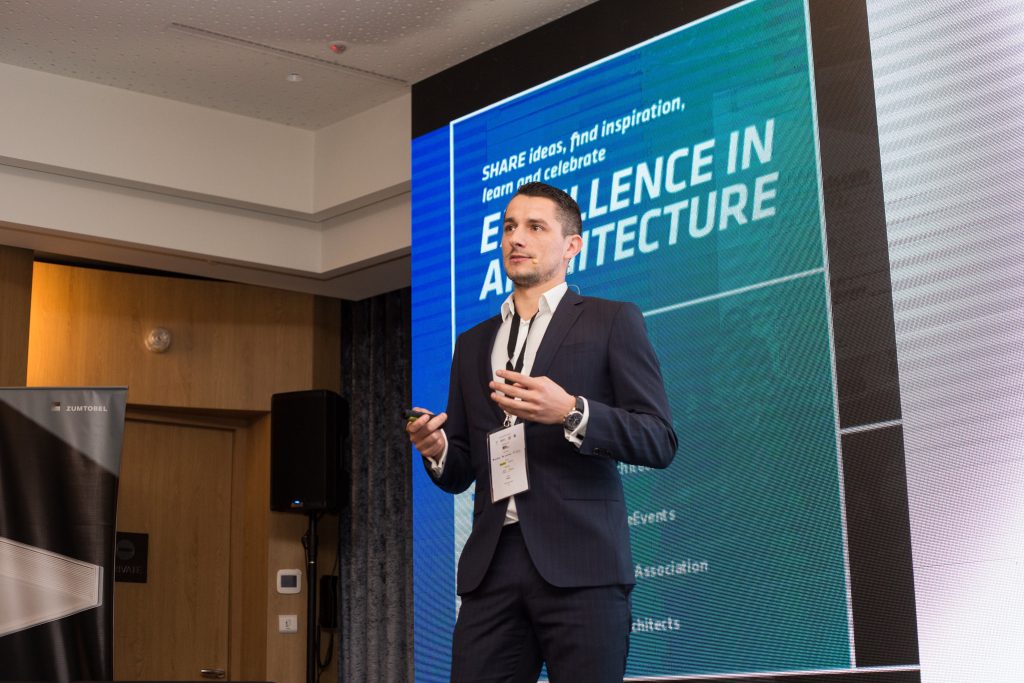 Workshop LEAD by TeraSteel – "Innovation & Technology"
Cosmin Pătroiu is the CEO of TeraSteel – one of the most important manufacturers of thermal insulation panels and zinc-coated structures in Central and Eastern Europe, with production units in Romania and Serbia. In his more than 15 years of activity in the field of construction materials, he held the positions of general manager, export manager and sales manager. 
His expertise covers the areas of development and strategy of business, management, sales, training, customer portfolio development, and product portfolio both locally and internationally. Under his coordination, TeraSteel inaugurated, in 2017, TeraSteel Serbia – the first privately – owned production unit to be opened abroad by a Romanian company after 1990.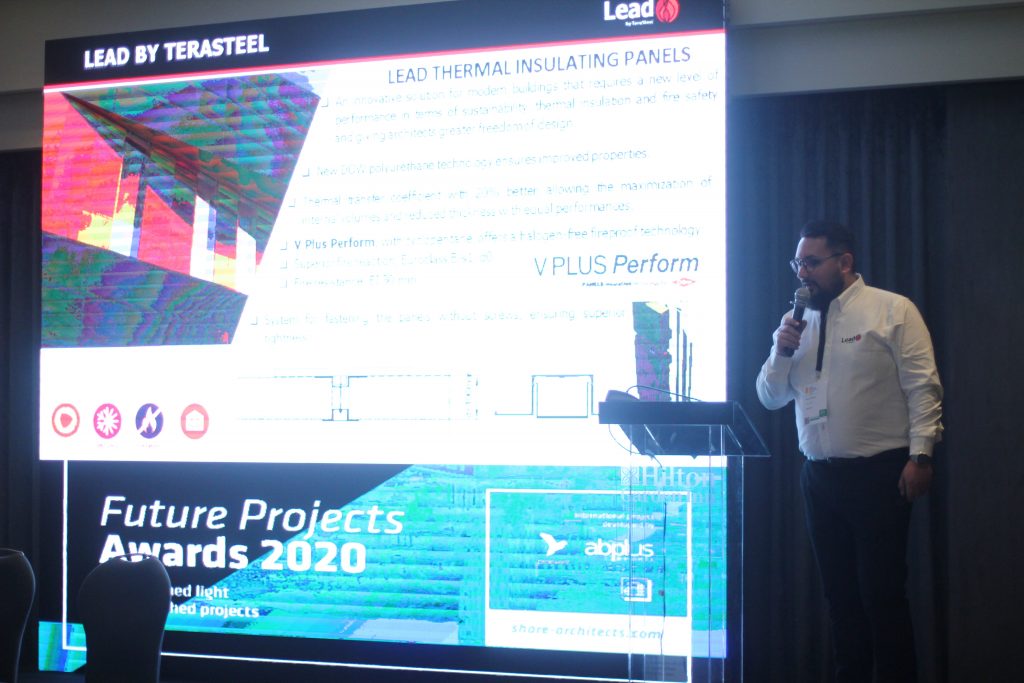 SHARE Tirana 2020: Partner, Sponsor & Supporter Presentations 
A glimpse into our main partner & sponsor presentations.
"LEAD into the world to come", by Cosmin PĂTROIU, CEO TERASTEEL – ROMANIA

"Human Centric Lighting in Office design", by Denis BIŠKUP, Regional Marketing Manager SEE / ZUMTOBEL – AUSTRIA

"Urbanistica" by Ana SHPUZA, Design Manager at Grimshaw Architects – UK

"AluKönigStahl – The Company" by Arbi HASANI, Sales Representative at SCHÜCO AluKönigStahl – ALBANIA

"Dreams come true" by Şeyma ELCIN, Architectural Glass Project Chief at Şişecam Flat Glass

"Armstrong your project our experience !" by Edvard PLUT, Senior Specification Representative at Armstrong – SLOVENIA

"Improving your comfort with smart Solutions!" by Francisko GOLEMI, Creative Director at EVEREST GROUP – ALBANIA

"Responding to the constraints of investment needs with quality architecture" by Edlira BASHA,  Architect at ORION – ALBANIA

"Alumil Journey " by Enval XHOXHI, Head of Technical Support at ALUMIL – ALBANIA

"We add value to the building industry" by Luca Simonetti, Ivas Sales Director at WallCovering  – ALBANIA
SHARE Tirana 2020: Innovation Stage Highlights 
DEBATE:  "Today Architecture Challenges in the National and International Market"
Guest architects: 
Alba Caja

Sead Lika

Blerina Tabaku

Pirro Vaso

Arben Bicoku

Ermal Bleta
National Debate Panel: "Transforming the world through architecture"
Ditjon BABOÇI (Speaker), General Director of Planning and Urban Development, MUNICIPALITY OF TIRANA

Anisa MANCE (Speaker), Director of Territorial Planning, MUNICIPALITY OF TIRANA

Maksim MITROJORGJI, (Speaker) Architect, ALBANIA

Devis AGARAJ (Speaker), Head of Planning Directorate Sector, Municipality of Tirana – ALBANIA

Andreas FAORO, (Speaker) Principal Architect, UNLAB – ALBANIA

Armand VOKSHI, (Speaker) President, Albanian Architects' Association (AAA) – ALBANIA
Future Projects Awards 
The launch of our newly-launched competition, SHARE Future Projects Awards, was a genuine success. We've had over 9 shortlisted projects pitch live on the SHARE stage in front of our international jury: 
Ignatio VICENS, Principal at VICENS+RAMOS, Spain

Martin KOENIG, Associate Director, MARTHA SCHWARTZ PARTNERS, UK

Maxim CALUJAC, Founder CALUJAC ARCHITECTURE, Republic of Moldova

FRÉDÉRIC Druot, Founder FREDERIC DRUOT ARCHITECTURE, France

VICTOR Grosu, Design leader GROSU ART STUDIO, Romania

DAVIDE Macullo, Founder DAVIDE MACULLO ARCHITECTS, Switzerland
Read more about the projects HERE.
SHARE Opera Omnia Distinction 
The SHARE OPERA OMNIA went to Arch. Petraq KOLEVICA. Born in Korça on January 11, 1934, Arch Arch. Petraq KOLEVICA studied in civil engineering at the Polytechnic University of Tirana. Kolevica has played an important role in establishing the modern architecture in Albania, recognized by his appointment as the first Chairperson of the Albanian Association of Architects. Some of Kolevica's projects that have left traces in the modern Albanian architecture and urban planning of the capital and other cities are:
Residential Building behind the National Bank of Albania in Tirana

the Office and Residential Building near the Ministry of Justice

Residential Building near the former 'Bllok' in Tirana

Residential Building in the so-known Embassy Road

'Skenderbej Street'

7 floors residential Building in Korca (the first in the country at that time)
Conclusion
Last but not least, we couldn't have done it so beautifully without the presence of our conference moderators for SHARE Tirana 2020. A big round of applause to: 
Loreta Çapeli

, Vice-President Association of Albanian Architects

Matilda PANDO,

Lead Architect of ArchiStudio Board Member of AAA Association

Denada VEIZAJ

, Head of Department of Architecture Faculty of Architecture and Urbanism, Polytechnic University of Tirana

Nesila HAJDINI,

Co-founder, CEO Pik Ark – ALBANIA

Gledis DISTAFA

, Co-founder ARCHINOV STUDIO

Ani TASHI,

specialist in the National Agency of Territorial Planning of Albania in Tirana.
The 3rd edition of SHARE Tirana 2020 was truly memorable. Once again, we would like to express our gratitude to all of our speakers and attendees for helping us fulfill our mission at SHARE – to connect people and build excellence through architecture. It was a long day filled with amazing presentations, debates, workshops, and memorable speeches.