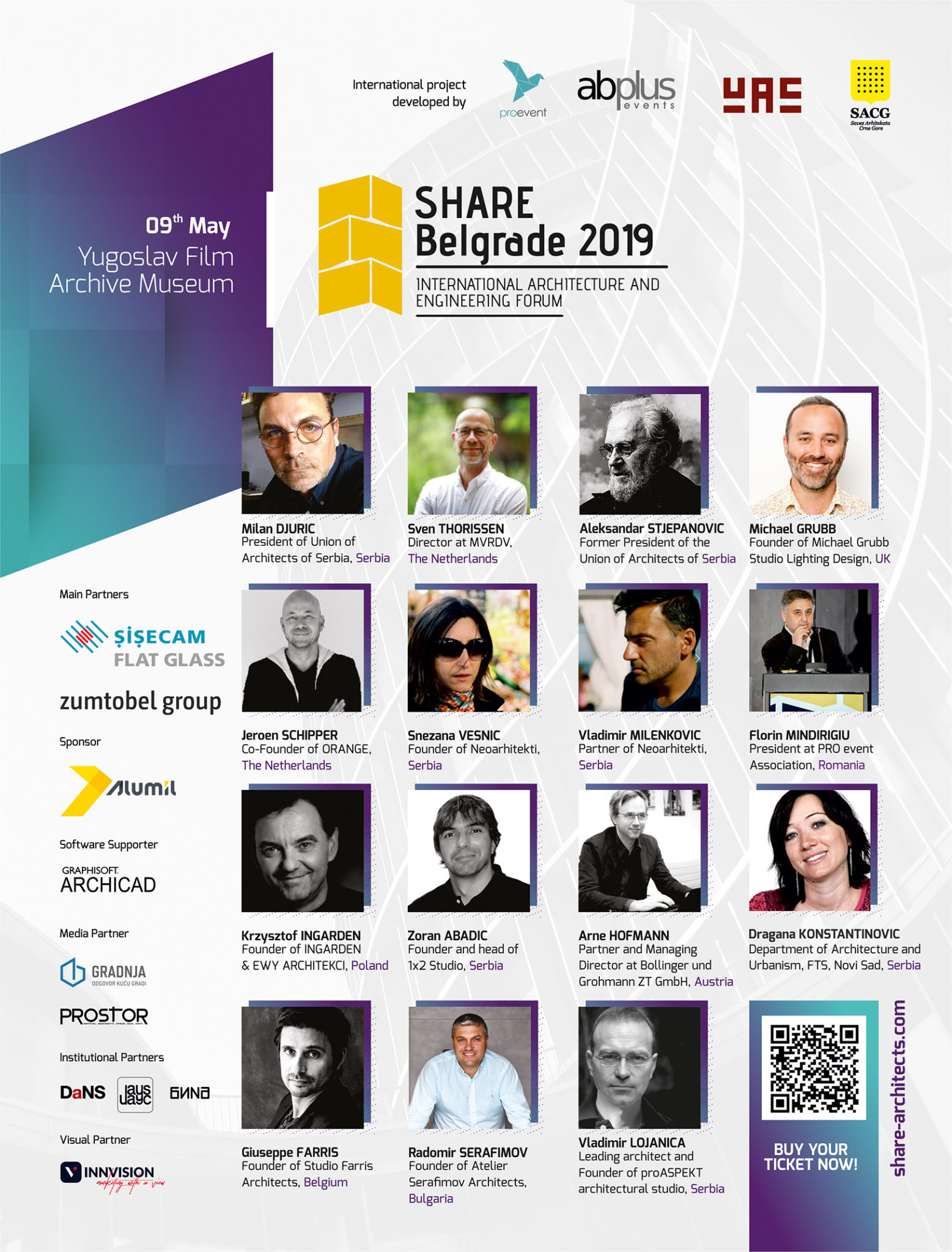 Reasons to attend SHARE Belgrade 2019 | Only a few days left to join us
The 2nd edition of SHARE Belgrade kickstarts on May 9, 2019. Meet us at the Yugoslav Film Archive Museum for an exciting day of award-winning project presentations, debates, and workshops on all things architecture-related and beyond.
International speakers from countries such as Austria, Serbia, Netherlands, Romania, Poland, Belgium, Bulgaria and the UK have already confirmed their presence at the conference. We've prepared 3 amazing panels this year, including Large Scale Projects Serbia, Architecture & Facades, and a Special Guest Lecture hosted by our Great Speaker, Sven THORISSEN Director at MVRDV.
There's still time to get your TICKET!
We're pretty excited about this year's 2nd edition of SHARE Belgrade, going live on May 9. We anticipate a memorable edition filled with incredible architectural projects that will take your breath away. If you haven't had a chance to get a ticket yet, we would like to introduce you to our special packages. For complete information on availability and extra perks, visit our official ticket page for SHARE Belgrade 2019.
Standard

– 49€ ( 29€ for UAS members). Members of The Union of Architects in Serbia (UAS) benefit from a discount upon registration, based on the discount code received from the association. The discounted price is only for the standard ticket.

Young

– 15€. Only for young people under 30 years old. The package contains all perks from Standard Ticket.

Special Young (2+1)

– 30€. Students who purchase 2 tickets will get the 3rd one for FREE.

Business

– 499€. Includes access to SHARE Belgrade 2019 lectures for 2 participants, plus several exclusive perks.
EXCLUSIVE OFFER for architects
Accredited architects benefit from a discount of 100% upon registration for SHARE Belgrade 2019.

The registration with free discount is based on the code received from The Serbian Chamber of Engineers (INKOMORA). Discount CODE: xgr4 
Members of The Union of Architects in Serbia (UAS) benefit from a discount of 100% upon registration for SHARE Belgrade 2019. Discount CODE: VpMk19
IMPORTANT NOTE:  To all attendees, we would like to inform you that all presentations will be held in both Serbian and English, together with a joint translation to guarantee excellent communication for everyone at the conference.
In the lines below, we'll share some of the essential details on the speakers joining the SHARE stage in Belgrade.
Meet the international speakers at SHARE Belgrade 2019
Sven THORISSEN | MVRDV – NETHERLANDS
MVRDV is one of the most intriguing architectural practices globally: projects covering all imaginable scales, collaborating with the world's brightest people, always pushing boundaries and exploring new possibilities. This year at SHARE Belgrade 2019, architect Sven THORISSEN will introduce us into some of  MVRDV's most breathtaking projects, including:
KoolKiel

, a 65,000-square-metre mixed-use complex that will redevelop a post-industrial site in Kiel, Germany. It includes a hotel, offices, residences, a commercial space, and an event space. KoolKiel makes use of a flexible design system rather than a fixed and unchangeable plan, allowing the design to adapt easily to the needs and desires of the community as the design development progresses.

Unterföhring Park Village,

a modern office complex with mixed public and private spaces. Every building of the complex has its own address and identity, varying in volume and facade material. The 'car free' plaza functions as a meeting point, open to the public for nineteen different buildings. The 'Village' fills a central void in the commercial area of Unterföhring Park becoming the new centre.

The Markthall project

, a sustainable combination of food, leisure, living, and parking space; a hybrid building in which all functions are fully integrated to enhance their synergistic possibilities.
Jeroen SCHIPPER | Orange Architects – NETHERLANDS
Founded in 2010, multidisciplinary design firm Orange Architects operates internationally in the fields of architecture, interior design and urban planning, developing appealing, conceptually sophisticated responses to complex spatial challenges. "Our rational approach is tempered by our sensitivity to local character, the setting and the users. Jeroen Schipper, partner at Orange Architects" will introduce some of the firm's most successful projects, including:
"The Cube"

, an award-winning project located in Beirut. The residential design concept was simple, yet extraordinarily effective. It displays volumes on each floor to offer residents unique outdoor areas and panoramic views of the capital of Lebanon. The design stacks 14 rotated floor plans on top of a lobby, generating 21 apartments with fluid spaces, large balconies, and wall-to-wall window frames. The structure is unique for utilising self-consolidating concrete, allowing loads to be directed to four areas of rotated girders on every floor, with no additional structural slabs added to the façades.
Radomir SERAFIMOV | Atelier Serafimov Architects – BULGARIA
Founded in 1999, Atelier Serafimov Architects is an architectural, engineering, urban planning and design company that has always been focused on achieving a creative, intelligent and realistic result with every completed project. "By creating a multitude of designs for new buildings and reconstructions, feasibility studies and master planning studies, we have achieved professional standing and recognition on the local market. At SHARE Belgrade 2019, Radomir Serafimov, Founder & CEO Atelier Serafimov Architects, will introduce us to:
Polygraphia Office Center

, a landmark historical building converted into a modern business complex standing out as a leading office project in downtown Sofia. Polygraphia is a top-notch working hub, an art space and an excellent business community meeting point that combines classic and modern architecture, thus refining its own unique style.
Michael GRUBB | Michael Grubb Studio – UK
Michael GRUBB – founder and creative director at Michael Grubb Studio, abides by a philosophy where "Light defines the spaces we use, depicts the stories we tell and affects our well-being." The studio has been involved in numerous award-winning lighting projects throughout the years, including Queen Elizabeth Olympic Park & Dalston Roof Park – UK, Lavazza Museum – ITALY, Guinness Storehouse – IRELAND, and a lot more.
Dialogue is an essential element in the creative process. You might be lighting a commercial building or a public space or developing the lighting strategy for a whole city but every project has its own story to tell and they all start with a conversation.
At SHARE Belgrade 2019, Michael Grubb will be our international lighting speaker for our special Lighting Session by Zumtobel Group. His presentation is titled "Branding with Light".
Arne HOFMANN
 |
Bollinger + Grohmann – AUSTRIA
Founded in 1983, engineering practice Bollinger + Grohmann Ingenieure centers its mission on developing tailored from concept to execution in the fields of architecture and design; constantly striving to keep an open mind in the relation with all stakeholders. With sustainability in mind, the work of the office is performed in tandem with technological and social progress.  
With an academic background in architecture, Arne Hofmann focused his career on the parametric design of spatial structures. As a managing director for engineering practice Bollinger + Grohmann, he will be joining us at SHARE Belgrade 2019 to reveal more about insights into the office's most successful projects, including The Sheikh Zayed Learning Center and The Bauhaus Museum Dessau.
Krzysztof INGARDEN | INGARDEN & EWY ARCHITEKCI – POLAND
Architecture is most intriguing when it is open towards technology and achievements in art & science without neglecting local building traditions and when it creates a space that is both accepted by local communities, as well as understood by an individual human being.
Krzysztof Ingarden, founder at INGARDEN & EWY ARCHITEKCI, will hold a special presentation titled Localized Modernity, which will highlight the unique office's approach towards architecture underlying that "we create architecture, which is responsive to locality, while also being 'human friendly' – its materiality plays the primary role in experiencing it by human senses."
Giusseppe FARRIS | Farris Studio – ITALY
Founded in 2008, Italian architecture office Studio Farris abides by one goal: to discover the intrinsic potential in every project, questioning the obvious, exploring the surroundings and cultural heritage. As a Guest Speaker, the founder, architect Giusseppe Farris will introduce:
"Park Tower"

in Antwerp, Belgium. A project developed in collaboration with ELD Studio. As a milestone of the city, it plays an important role in reshaping its skyline. With a total height of 78 meters, Park Tower is now one of the highest buildings in Antwerp and therefore plays an important role in reshaping its skyline. The strikingly bright white exterior turns the tower into an attention-grabbing beacon that stands out as a landmark for the entire district. Located along one of Antwerp's most important roads, the tower acts as a gateway when entering the city.
Meet the Serbian speakers at SHARE Belgrade 2019
Vladimir LOJANICA | Proaspekt – SERBIA
Founded in 2000, Serbian architecture studio Proaspekt centers its activity on architectural design, interior design and urban planning through various methods and techniques such as conceptual design, multimedia presentations, and consulting. Architect Vladimir Lojanica, the founder of the office, will be joining us at SHARE Belgrade 2019 to hold a special presentation titled "Bus station & NCR Buildings", which will focus on acclaimed projects completed over the years.
Zoran АBADIĆ | 1X2 Studio – SERBIA
Founded in 2005, Serbian architectural office 1X2STUDIO is dedicated to designing and constructing public & residential buildings particularly Judicial facilities, Courts and infrastructures, Social Housing and Housing for refugees and displaced persons. Several of the office's most recent awards and mentions:  Big See Architecture Award, Ljubljana 2019, National Nomination for Mies van der Rohe Award 2019, and Special Recognition of 21st Salon of Architecture.
Founder of the studio, architect Zoran АBADIĆ, will have a special presentation at SHARE Belgrade 2019 on the topic "FACILITY Judicial Authority Building – Misdemeanor Court Pančevo" – a project that targets the relocation of Misdemeanor Court Pančevo to the periphery. The aim is to develop a democratic entity of public facility institutional modernity within new reality which presents, its principles and objectives concerning improving the delivery of justice – independence, impartial and quality, competence, responsibility and efficiency.
Snežana VESNIĆ & Vladimir Milenković | Studio Neoarhitekti – SERBIA
Architect, Assistant Lecturer at the Faculty of Architecture of the University of Belgrade, and c0-founder of  Neoarhitekti, Snežana Vesnić, PhD, is an award-winning author, twice nominated for the Mies van der Rohe Award (Textil Commercial Building, 2009, Villa Pavlovic, 2019). Her theoretical work and architectural practice are focused on the research and production of "architectural concepts".
Architect, associate professor at the Department of Architecture UBFA, and published author, Vladimir Milenković, PhD co-founded Serbian architecture office Neoarhitekti, together with fellow partner Snežana Vesnić. His field of interest includes theory of form, methodology of design and designing practice. Vladimir is also the author of two books: "Architectural form and multi-function" (Belgrade 2004) and "Form follows theme" (Belgrade 2015).
Both Snežana Vesnić and Vladimir Milenković from Neoarhitekti will be joining SHARE Belgrade 2019 to held a special presentation on Villa Pavlović – one of the office's most impressive architectural projects; a residential villa located on the edge of a semi-urban settlement, atop one of Serbia's most popular mountains.
Dragana KONSTANTINOVIĆ | University of Novi Sad – SERBIA
Dragana Konstantinović, PhD, works as an assistant professor for the Department of Architecture and Urbanism, Faculty of Technical Sciences, University of Novi Sad. She is a practicing architect and active researcher in the fields of architecture and urbanism. Lately, her architectural practice is affiliated to  the Department of Architecture and Urbanism, which was responsible for the development of large scale projects within the University Campus Novi Sad, including: Central University Building and Science and Technology Park UNS, phase 2.
OPERA OMNIA Distinction | Architect Aleksandar STJEPANOVIC
For noteworthy accomplishments in the fields of architecture, as well as for the role played in developing significant architectural projects throughout his career, this year at SHARE Belgrade 2019 the "Opera Omnia" SHARE Certificate will be handed to architect Aleksandar STJEPANOVIC, former president of the Union of Architects in Serbia.
After graduating from the Faculty of Architecture in Belgrade in 1957, Aleksandar Stjepanovic was employed in the Town Planning Institute. In 1963, around the time of important achievements in architectural competitions in Belgrade and Zagreb, he became an assistant at the home university. Throughout his career, he was president of the Association of Belgrade Architects (since 1995) and the Union of Architects of Serbia; a member of the editorial board of the magazine "Architecture-Urbanism".
The extensive work of Aleksandar Stjepanovic includes over 80 projects, of which more than a third were realized. On the proposal of fellow previous winners of the highest honors the Union of Architects of Serbia, he won the Grand Prize for Architecture in 1992.
Workshops you can't miss out at SHARE Belgrade 2019
"ZUMTOBEL"/ "USE OF NEW TECHNOLOGIES IN PRESENTING LIGHT SOLUTIONS"
Turn your smartphone into a virtual reality device and explore a new level of lighting. Try and feel how lighting solutions can be presented in a modern way and how you can benefit from knowledge about tunable white technology.
Presented by: Denis Biškup, Regional Marketing Manager SEE Zumtobel Group.  
SHARE Architects is a leading conference programme that brings together some of the finest architects, urban designers, and planners in Central Eastern Europe. Each of the 10 conferences organized by SHARE this 2019 will be an all-in-one, 1-day event, and it will include presentations and talks on all-things architecture-related and beyond.