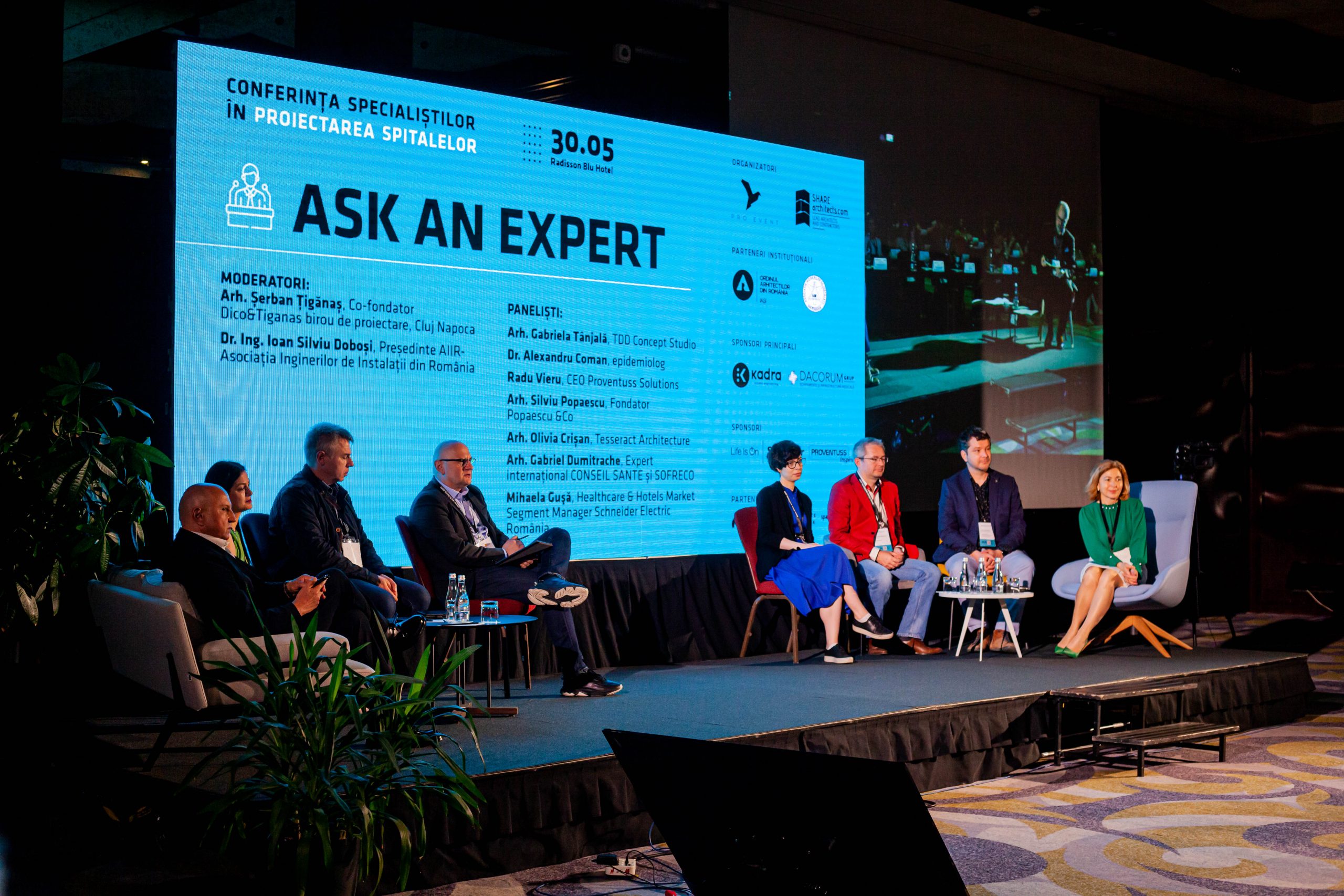 Practices and recommendations of health infrastructure experts during the conference in Bucharest
The conference for specialists in healthcare architecture and design, initiated by SHARE Architects, brought together in Bucharest earlier this week more than 150 specialists in the field of medical infrastructure design from Romania, France, Turkey, Cyprus and Italy. As one of the most important events in the Romanian and international healthcare sector, the conference was attended by architects, plant engineers, structural engineers, medical and medical technology consultants, as well as MEP consultants and hospital directors, with the aim of debating topics of current interest in the healthcare sector and offering concrete solutions by presenting case studies of hospitals in Romania, but also in Europe. The conference took place in 2022 on the 30th of May.
The event in Bucharest addressed major national and international medical projects, with case studies presented by mixed teams of architects, engineers and medical consultants. The invited professionals focused on the projects of the Regional Emergency Hospital in Cluj and Iași, the new Focșani County Emergency Hospital and Călărași County Hospital, the Mother and Child Hospital of Constanța County Hospital, the Regional Institute of Cardiovascular Medicine of Iași, the Integrated Transplant Centre in Cluj, the expansion of the Urology Department of Mureș County Clinical Hospital.
The specialized audience was given general presentations of these investment objectives in the country, but also about the existing situation of each project in terms of implementation, and technical data or specific elements of the project were presented. On the basis of these indicators, discussions were held in order to identify possible problems that could underlie the implementation of the projects in question, and at the same time some related solutions were proposed. On an international level, two hospitals in Paris were presented by Architecture Studio France; two hospitals were presented by Altieri Italy, in Salorno and Istanbul. At the same time, the hospital with the largest insulated base structure in the world, 1 million square meters and with more than 2,000 seismic isolators, namely Bașakșehir Pine and Sakura City Hospital, was presented in a mixed team: architecture – structure – installations by Yazgan Design Architecture, Rönesans Holding and Okutan Engineering.
The pandemic context as well as the war in Ukraine generated a series of dedicated debates in this year's edition, topics such as "Emergency architecture in Romania: the first modular hospitals. What have we learned after the pandemic and the conflict in Ukraine?"; "Building new hospitals after the Covid-19 pandemic" and "Challenges and changes brought by environmental developments, including the Covid-19 pandemic, in hospital design". Discussions were also held on the basis of the Standard for the Design and Verification of Hospital Construction and Related Facilities (NP015 – 1997).
France was represented at the highest level
One of the special guests of the conference was Prof. Didier Houssin, President of AP-HP International, the largest university hospital centre in Europe. Other participants were: Arch. Giorgia Gunnella, Senior partner & technical director 3TI PROGETTI, Italy, Gabriel Georges Dumitrache – International expert in the field of hospital architecture with the French companies Conseil Sante and Sofrenco and the Romanian company Innova-Integration SRL, Arh. Olivia Crișan -Tesseract Architecture, Bucharest, Arh. Silviu Popăescu, Founder Popaescu & Co, Bucharest, Cristian Nicolae, Director of Studio CN, Arh. Șerban Țigănaș – co-founder Dico&Tigănaș, Cluj – Napoca, Arh. Gabriela Tânjală – TDD Concept Studio, Iasi, Dr. Alexandru Coman, Epidemiologist Heart Institute "Niculae Stăncoiu" Cluj-Napoca, Arh. Dragoș Bocan – Atelier CAAD SRL Timișoara, Ing. Ioan Silviu Doboși – General Manager Dosetimpex, Timișoara, Ing. Marco Smiderle – Project Manager Studio Altieri, Italy, Arh. Mariano Efron – partner Architecture-Studio, France, Arh. Angela Kovacs, President of OAR Mures, Eng. Zsolt Gogolak, Director SC Multinvest SRL, Arh. Raluca Soaita, founderTesseract Architecture, Bucharest, Arh. Christos Christodoulou. SIMPRAXIS Architects, Cyprus, Eng. Mehmet Okutan – Owner of Okutan Engineering, arh. Kerem Yazgan – Yazgan Design Architecture, eng. Serdar Binzet – engineering group president Rönesans Holding, dr.arh.Ionut Anton, eng. Mihnea Sandu.
University Professor of Surgery and former Head of the Department of Digestive Surgery at Cochin Hospital at AP-HP International (1998-2003), Director General of the French Transplant Institution (1994-2003), Director of the Medical Policy Department at AP-HP (2003-2005), Director General of Health at the Ministry of Health (2005-2011), Prof. Didier Houssin is one of the guests who spoke at length in Bucharest about the importance of a new approach to hospital building after the coronavirus pandemic put unprecedented pressure on hospitals worldwide. He presented the theme "Creating new hospitals after the Covid-19 pandemic".
Prof. Houssin has been a health security advisor at the WHO since 2011 and in this capacity chaired the committee for the evaluation of the role of the International Health Regulations in the Ebola virus epidemic in West Africa in 2014 and the emergency committee on the coronavirus epidemic in 2020. It should be noted that the AP-HP is known worldwide, with a total built-up area of 3,700,000 m². Recognised as the largest hospital system in Europe and one of the largest in the world precisely because of its impressive size, its 39 hospitals receive more than 8 million patients a year.
In the light of his experience, Professor Houssin presented to the Hospital Design Experts Conference some main directions when considering a major construction project, such as building a hospital. Starting from conception and design, medical equipment and instruments, health professionals, organization, and governance to hospital safety and humanity, the AP-HP International President presented a comprehensive framework for optimal hospital design and its operation.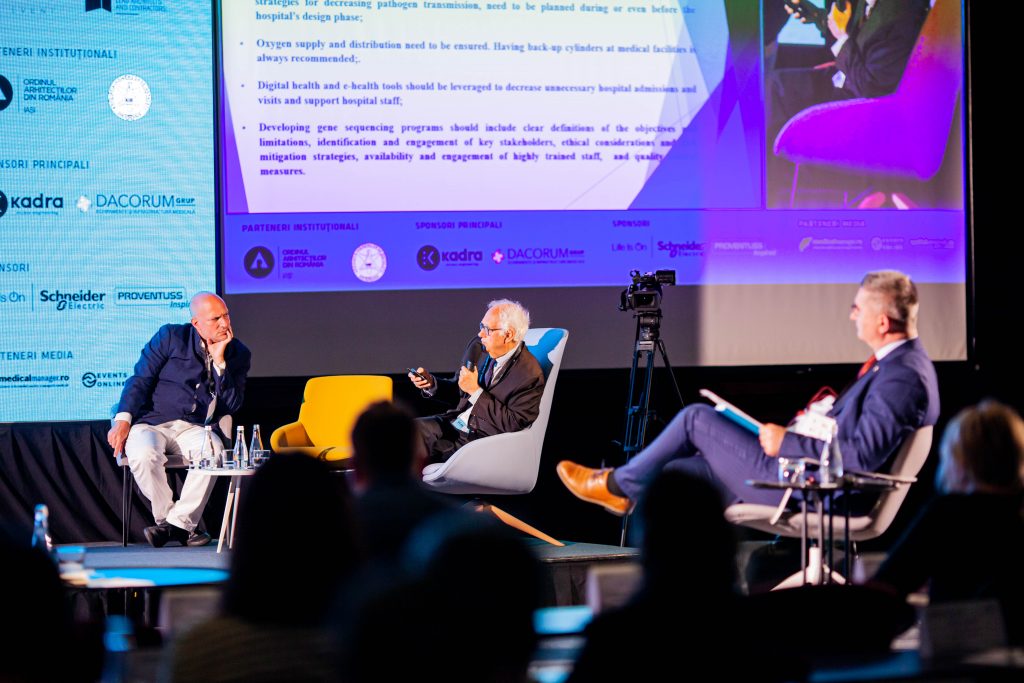 From Prof. Houssin's perspective, the main lessons for conception and design are:

Preliminary research and risk assessment (including pathogen transmission and evaluation of the benefits of developing a flexible structure), involving stakeholders, are essential before developing hospital design;
Flexibility (including infrastructure, equipment and use) is key to deal with future pandemics and crises;
Transparency with the technical limitations of a designed space;
Compartmentalization of the emergency room (ER) could be useful in separating infected patients from others, but should not lead to the isolation of the ER;
Design of a hospital has an effect on the personnel's and patients' mental health (bright structures and green places are crucial additions);
Unidirectional flows can be prioritized, when it comes to strategies for decreasing pathogen transmission, during or even before the hospital's design phase.
Main lessons for medical equipment and tools:

Personal protective equipment (PPE) acquisitions, stockpiling, placement and distribution, as well as strategies for decreasing pathogen transmission, need to be planned during or even before the hospital's design phase;
Oxygen supply and distribution need to be ensured. Having back-up cylinders at medical facilities is always recommended;.
Digital health and e-health tools should be leveraged to decrease unnecessary hospital admissions and visits and support hospital staff;
Developing gene sequencing programs should include clear definitions of the objectives and limitations, identification and engagement of key stakeholders, ethical considerations and risk mitigation strategies, availability and engagement of highly trained staff,  and quality control measures.
Main lessons regarding health professionals, organization and governance :

Adapting task allocations based on skill sets and needs ;
Providing mental health support to healthcare staff, to avoid burn outs and ensure provision of efficient and adequate healthcare;
Contingency plans are useful for mobilizing resources into the departments that experience pressure and require support in a crisis;
When capacities cannot be optimized and resources cannot be redistributed, transferring patients to other healthcare institutions requires predeveloped transfer protocols;
Public-private partnerships can be crucial for the efficient functioning of healthcare institutions. The State can play an important role in encouraging and regulating these partnerships;
Hospitals play an essential role in collecting epidemy-related data, to monitor its evolution and evaluate the efficiency of policies.
Main lessons for hospital safety and humanity :

Patient safety should be prioritized. This is done through the adoption of contingency plans, separation of flows, implementation of adaptability approaches, as well as ensuring that resources are available and distributed based on needs, and that healthcare staff are mentally and physically protected;
Patient's mental well-being should also be addressed through family support;
When its physical presence is not possible, strategies facilitating contact with the families should be developed;
In cases of death, the bodies should be treated with dignity and respect, allowing families to practice their beliefs, see their loved one, and perform rituals if they desire, if needed by adapting the hospital's body management strategies to the crisis.
The Conference on Healthcare Architecture and Design is part of the SHARE Talks – Experts'meetings series, initiated by SHARE Architects in partnership with the Romanian Order of Architects and the Romanian Association of Installations Engineers.
Each panel presentation is followed at these conferences by a large "Ask an Expert" session, part of SHARE Talk – Expert's Meeting, for dialogue between experts in the room and on stage. Conference registration is available on the digital platform https://learn.share-architects.com/.