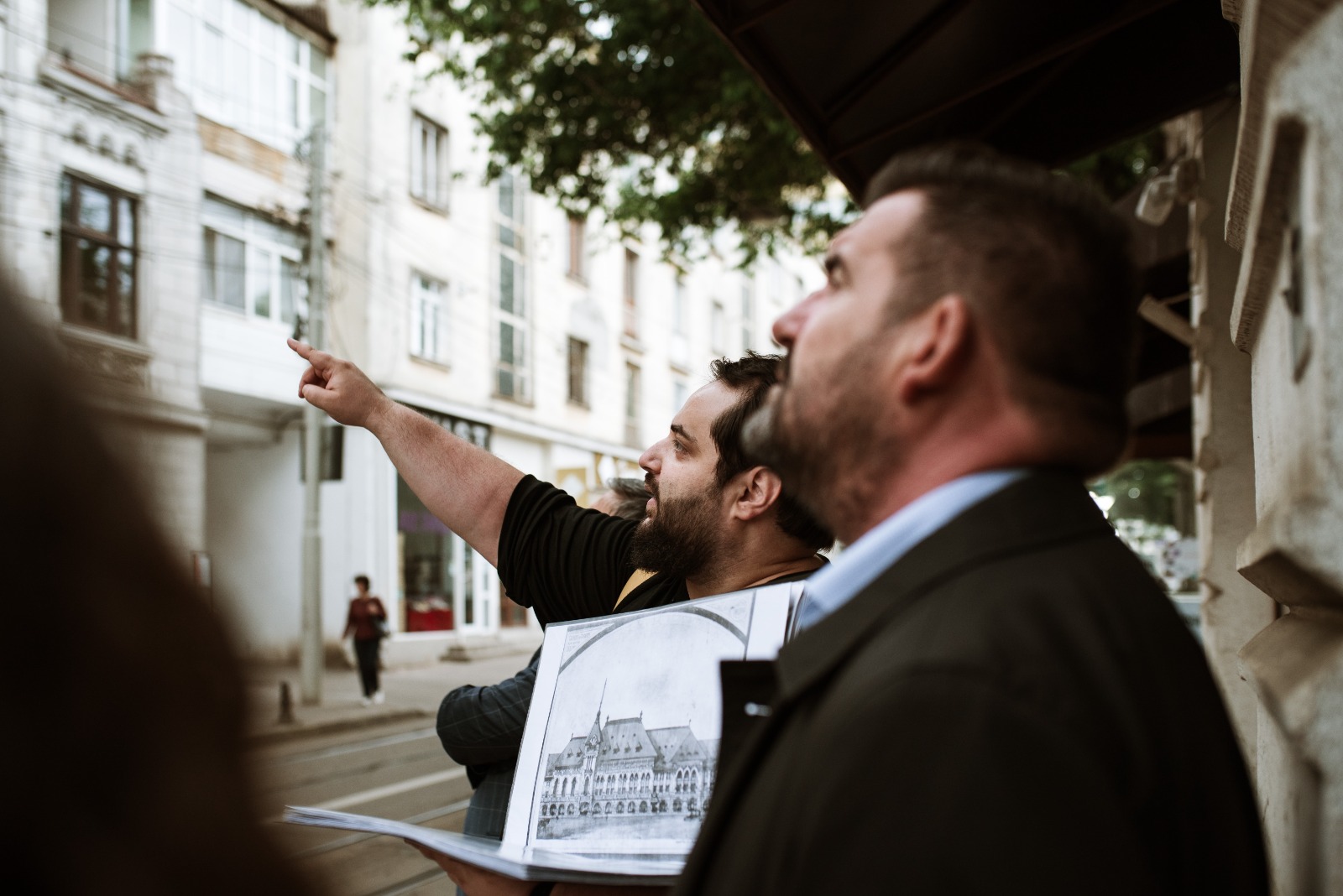 New Iasi Architecture (NIA) brought together dozens of professionals in the field of built environment, from architects from Romania, Poland, Lithuania to urban planners and engineers, who debated in front of a large audience topics aimed at increasing the quality level in city architecture. This year's focus was on two central themes: "Insertion of new buildings or building extensions in protected built-up areas" and "Protection and safety in heritage buildings".
NIA is organized annually in Iasi by SHARE Architects in partnership with the Romanian Order of Architects (OAR) Iasi branch, the event facilitates the exchange of current and useful information in the field between all parties involved, providing access to the city's architectural projects. In 2022,  NIA took place from 23 to 25 May. On the first day, guests took a guided tour of architecture and urbanism in the central area of Iași, followed by visits to construction sites in the city. There were also two cultural evenings "SHARE Friends Evening: Architecture" at the Museum "Vasile Pogor" Iasi – Casa Junimii, dedicted to the theme "The role and importance of cultural spaces in the life of the city. Innovation in Public Buildings and Performance Design" At the same time, a new edition of the International Conference on Architecture and Urbanism 'NIA' was held, this year the theme was 'Heritage'.
"The spirit of SHARE Architects, a network with European recognition for Iasi, lies in the idea of connecting people through architecture, exchanging concepts and initiatives to bring architecture to a level of social representation. Young people and decision-makers alike participated, there is an appetite for information and quality architecture, an aspect that leads us to schedule more meetings within New Iasi Architecture", said Florin Mindirigiu, founder of SHARE Architects.
However, how close or far is Iasi to the commendable architectural features promoted by specialists in the field? Foreign architects with important international projects have expressed their enthusiasm for the architecture and history of Iasi, as well as for the people here. Architect Krzysztof Ingarden, founder of Ingarden & Ewý Architekci and Dean of the Faculty of Architecture Andrzej Frycz Modrzewski Krakow University (AFMKU) in Poland: "It is a fantastic city, it is my first visit to Iași, it has a great architecture. I was impressed by the urban structure, the main axis of the city with access to many well-preserved historical monuments, churches, the Palace of Culture, everything is beautiful. (…) I was really impressed by Iași", said Krzysztof Ingarden for "Ziarul de Iași".
Architect Gilma Teodora Gylytė, co-founder of DO Architects, Lithuania: "This is my first visit to Romania and, implicitly, to Iasi. Iasi's architecture is intellectual, sophisticated, but very local and warm. I liked the main streets of Iasi, which are warm and full of history. (…) But I also like the neighbourhoods here, they have a rural atmosphere, they are quiet and the people are very welcoming. It's really great to see a town like this," said Gilma Teodora Gylytė.
NIA 2022 was also attended as guests by arch. Orsolya Mária KÖVÉR, Advisor to the Minister of Public Works, Development and Administration; arch. Alexandra Stoica – Head of Design Workshop at the National Heritage Institute, certified specialist in the field of historical monuments; Irina Iamandescu, Deputy Director of Historical Monuments at the National Heritage Institute; Arch. Ștefan Balici, Ion Mincu University of Architecture and Urbanism Bucharest; arch. Iulia Stanciu – Founder Starh Office, Bucharest – 112 Patrimony; arch. Eugen Pănescu – Planwerk Cluj Napoca; eng. Dragoș Marcu – Partner Popp & Asociații, Bucharest; arh. Pușcaș Cristian – Founder Studio Pușcaș, Oradea; arh. Köllő Miklós – Founder Larix Studio, Miercurea Ciuc.
Also during  NIA, the international architecture competition organized by IULIUS was launched with the aim of building a representative complex in Iasi, in the area of St. Andrei – Palace of Culture Square, designed with respect for the architectural values of the city and with a contemporary approach. Four of the world's leading architectural offices will respond to this challenge with solutions: Foster+Partners, MVRDV, UNStudio and Zaha Hadid Architects. The Apple headquarters – Apple Park California, the mixed-use building – Markthal Rotterdam, the Four Frankfurt mixed-use complex and the National Museum of XXI Century Arts in Rome are among the most outstanding architectural projects of the four architectural offices. SHARE Architects was the architectural services consultant for the international architecture competition IULIUS.
NIA Club for debate and information in architecture was launched in Iasi last June by PRO Event Cultural Association, OAR Iasi and Ziarul de Iasi. It aims to increase the architectural quality of the city and to develop the attractiveness of Iasi as a place to live, work and visit.New Iasi Architecture.