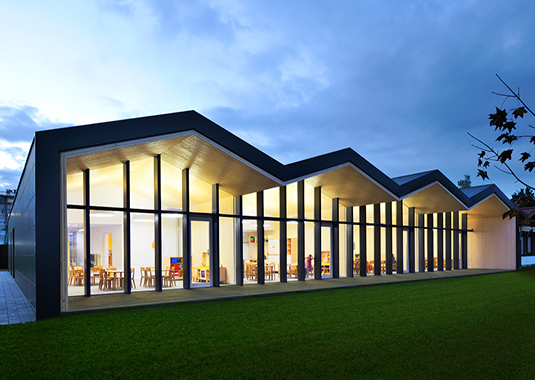 Mojca Gregorski – A Playful Architecture | Guest Speaker at SHARE Ljubljana 2019
Mojca Gregorski – leading architect at KONTRA Arhitekti – is interested in a contextual architecture that responds to environmental parameters as much as social influences. Her architecture is always in search of new functional and spatial solutions that could shape an adequate response for human needs. The results are based on continuous researches and investigations, in order to create an architecture that is part of the surroundings, and not one that tries to dominate them. She highlights the sincere use of materials and the honesty in details.
Her work includes projects of different scales – ranging from small designs and houses to more complex urban projects. Public buildings are Mojca Gregorski's special field, such as kindergartens, sport halls and complexes, home for elderly, castle renovations. 
Kindergartens are projects that need a special attention; the most important aspects in designing them are the adjustments of human scale to children scale in order to offer children a space of their own, without the tension of an oppressive and colossal architecture. The design should be an animated game of textures, colors, materials and details that would encourage playful activities for kids.
Kidričevo Kindergarten
The building fully integrates the topographic characteristics of the location and at the same time takes into consideration the impetuous needs of the neighboring community. The positioning of building's volumes creates several sequences of public and half-public spaces, visually interconnected through a range of transparent surfaces. As a result, it gives the possibility of interacting with new public places and activity areas to the settlement.

The architectural concept emerges from the idea of exchanging and interconnecting built and green spaces, creating various views and allowing permanent contact with nature. Large glass surfaces allow for exchange of views between the indoor rooms and outdoor spaces. The imaginative interior design has a stimulating effect on the children, guiding and encouraging them through playful activities. The interior of the kindergarten can be changed to increase the number of units from eight to ten. Two differently designed wings occupied by groups aged 1-3 (three units) and 3-6 (six units) are connected through transparent, multifunctional activity space. The third wing, consisting of administration, kitchen and school canteen geometrically and functionally refers to the existing school. 
KINDERGARTEN LOČE
The nearly zero energy kindergarten replaced the older building with a new compact wooden skeleton construction. Five playrooms, a gym and service facilities are distributed on two levels. All the playrooms communicate with each other; they have direct access to the exterior and feature views of the surrounding nature. A green landscape playground is located adjacent to the building.
About the architect
Mojca Gregorski (born 1975) graduated in 2000 from the Faculty of architecture at the University of Ljubljana in Slovenia. She attended PhD study in Ljubljana as well as at the Universidad Politecnica de Valencia and Jagellonian University in Krakow, Poland. She had been getting her work experience in architectural offices abroad and in Slovenia before she established her own office – MODULAR Arhitekti- in 2009. Currently she works as leading architect in KONTRA Arhitekti and as assistant professor at the Faculty of architecture at the University of Ljubljana.
Awards and recognition
Mojca Gregorski received several prestigious awards in Slovenia (3 Golden pencils from Chamber of architecture, 3 nominations for Plecnik award, nomination for Piranesi award, Slovene nomination for Mies van der Rohe award, many awards in public competitions,..) as well as abroad. In 2009 she was a finalist of World architecture festival (Education) and in 2013 winner of the WAF-World architecture news (Education-Future projects). In 2011 she received honorable recognition of her works awarded by University of Ljubljana. This recognition is presented to individuals who have achieved international outstanding visibility of their realised works and is equivalent to doctorates in the field of theoretical research. In 2014 Chicago Athenaeum has chosen her among "40 under 40" architects in Europe. 

Mojca Gregorski will be our guest speaker at SHARE Ljubljana on 14th March. International speakers from countries like Slovenia, Romania, Italy, France, Croatia, Turkey, The Netherlands and Finland confirmed their presence to SHARE Ljubljana 2019.
This edition of SHARE Ljubljana 2019 will have 3 panels: Ljubljana Tomorrow – Large Scale Projects, Facades, and Special Guest Presentation. Special Guest Rainer MAHLAMÄKI, Co-founder of Lahdelma & Mahlamäki will hold a special presentation and debate.