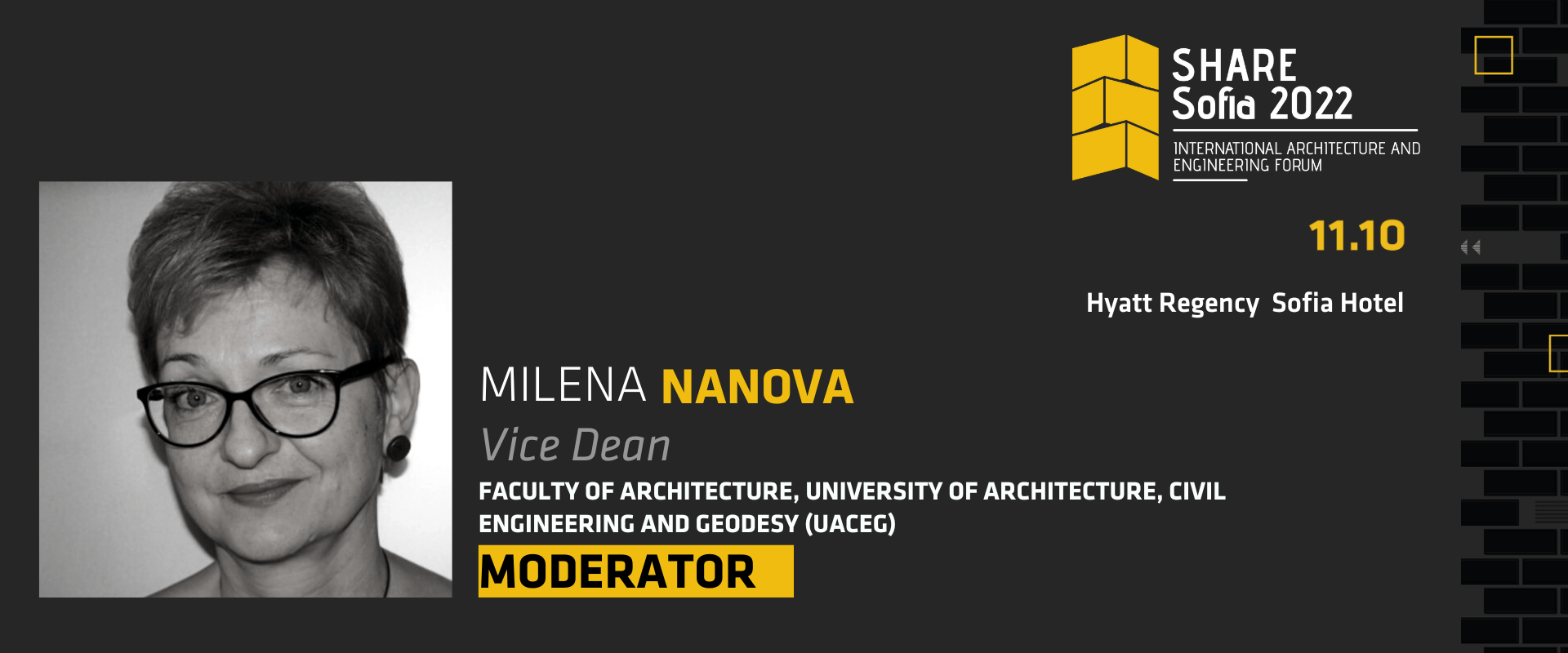 Milena Nanova, Vice Dean in the Faculty of Architecture, University of Architecture, Civil Engineering and Geodesy (UACEG), moderator at SHARE Sofia 2022 Forum
Milena Nanova is Associate Professor, Vice Dean and Head of the Housing Department in the University of Architecture, Civil Engineering and Geodesy, Sofia. She got a PhD with a dissertation paper on "Contemporary Approaches to Reconstruction and Modernization of the Prefabricated Panels Housing". Autor of the book "Less is more – Low-rise high-density housing structures".
Co-founder and manager of STUDIO 17.5-M for the last 20 years. Milena Nanova is Leading architect of numerous large-scale projects for shopping centers, office buildings, hotels, apartments and single-family houses.
Awards:
Awarded for the design of Infinity Tower – Building of the year 2013, Bulgaria Mall – Building of the year 2012, Bulgaria Mall – Architect of the year 2012, Mall Plovdiv – building of the year 2009, Mall of Sofia – building of the year 2006.
Milena Nanova is founder of  Studio 17.5.
Founded in 2001, Studio17.5 has now established its presence in Bulgaria as a respected and valued architecture firm. Known for its elegant and innovative style, professionalism and respect for the clients, the company has been preferred by local and international investors as a reliable partner. The proficiency of the partners enables them to provide full set of services to the client – from planning and investment opportunities investigation, to design development and tender documentation preparation, construction drawings, site supervision, design management and coordination between all engineering specialists. STUDIO 17,5-M has been involved in the design of various building types. The range of projects varies from shopping centers, office towers, residential and educational buildings, hotels and industrial buildings, and sports facilities.