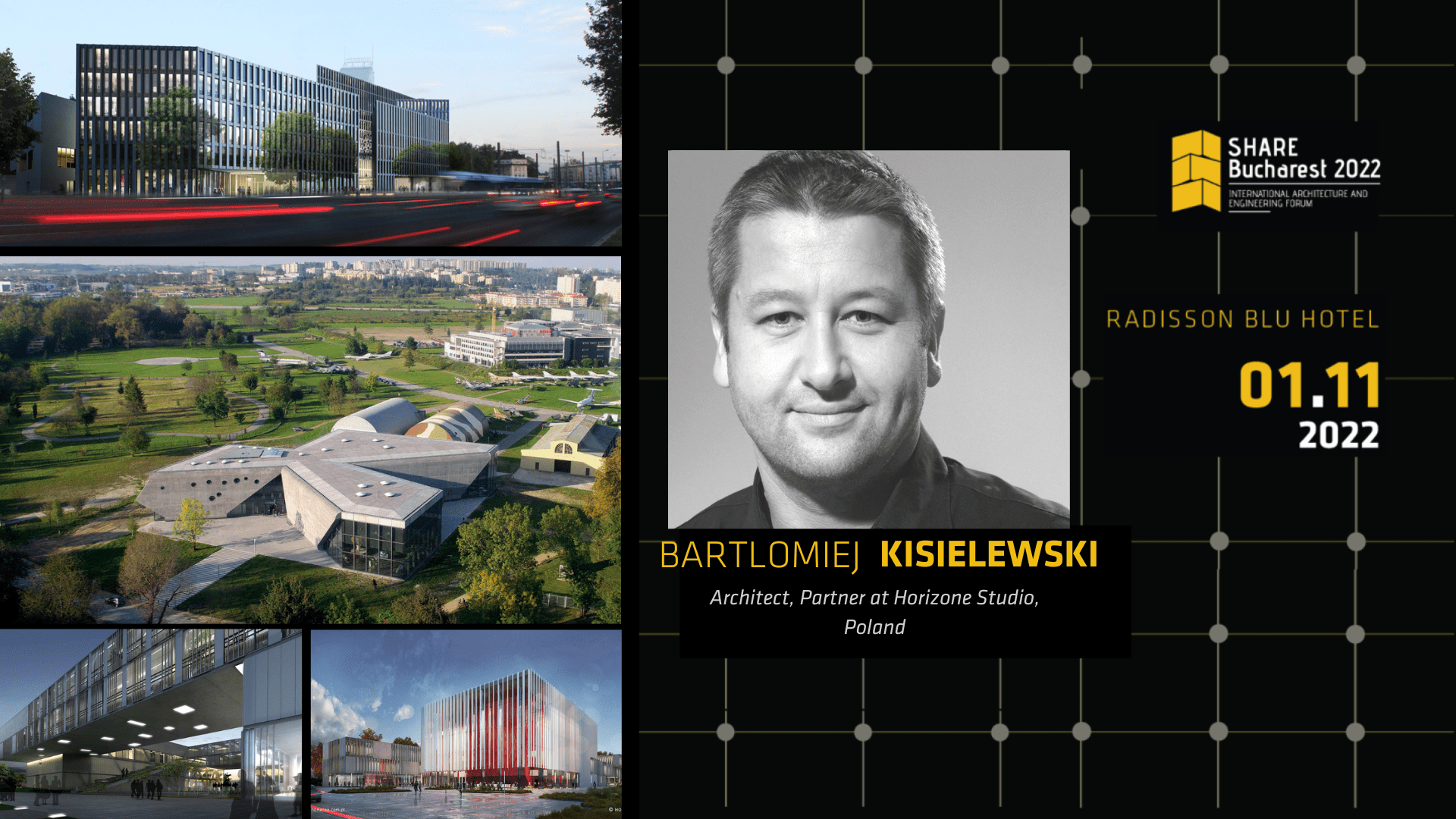 Bartlomiej Kisielewsk, Partner HORIZONE Studio, Poland, will lecture at SHARE Bucharest 2022 Forum
Architect with 25 years' experience, focused on public space as well as on green building design. Member of the Advisory Board of the PLGBC Polish Green Building Council. Between 1996-1997 and 2002-2009 he worked in Berlin. He is a co-author of the Polish Aviation Museum (together with Pysall Ruge Architekten). After return to Poland in 2009 he co-founded Horizone Studio in Krakow. Since 2021 he is also a tutor at the Architecture Faculty of the AFM Academy in Krakow.
Awards:
– Awards for the Polish Aviation Museum building (architect Pysall Ruge Architekten with Bartlomiej Kisielewski) including PLGBC Green Building Award, Bogdanowski Award for best building in Krakow or Cemex Building Award Grand Prix 2011
– Awards for Horizone Studio designs such as: SARP Association of Polish Architects Award for best office building in Poland 2015 (Ericpol Building), 1st prize in intertnational competition for Malopolska Regional Government Headquarters Building in Krakow.
Horizone Studio is an office based in Krakow, Poland. The practice was established by partners who share many years of innovative professional experience gained in design companies both in Poland as well as in Ireland, Germany and Sweden. Horizone Studio is one of the founding members of the PLGBC Polish Green Building Council, a member of South Poland Cleantech Cluster and Scandinavian-Polish Chamber of Commerce. The Ericpol office building designed by Horizone Studio received the Annual Award of the Association of Polish Architects for the best office building completed in Poland in 2015. Malopolska Regional Government Office buildings in Krakow, Textorial Park II offices in Lodz or SILO district in Jaworzno are some of recent designs.