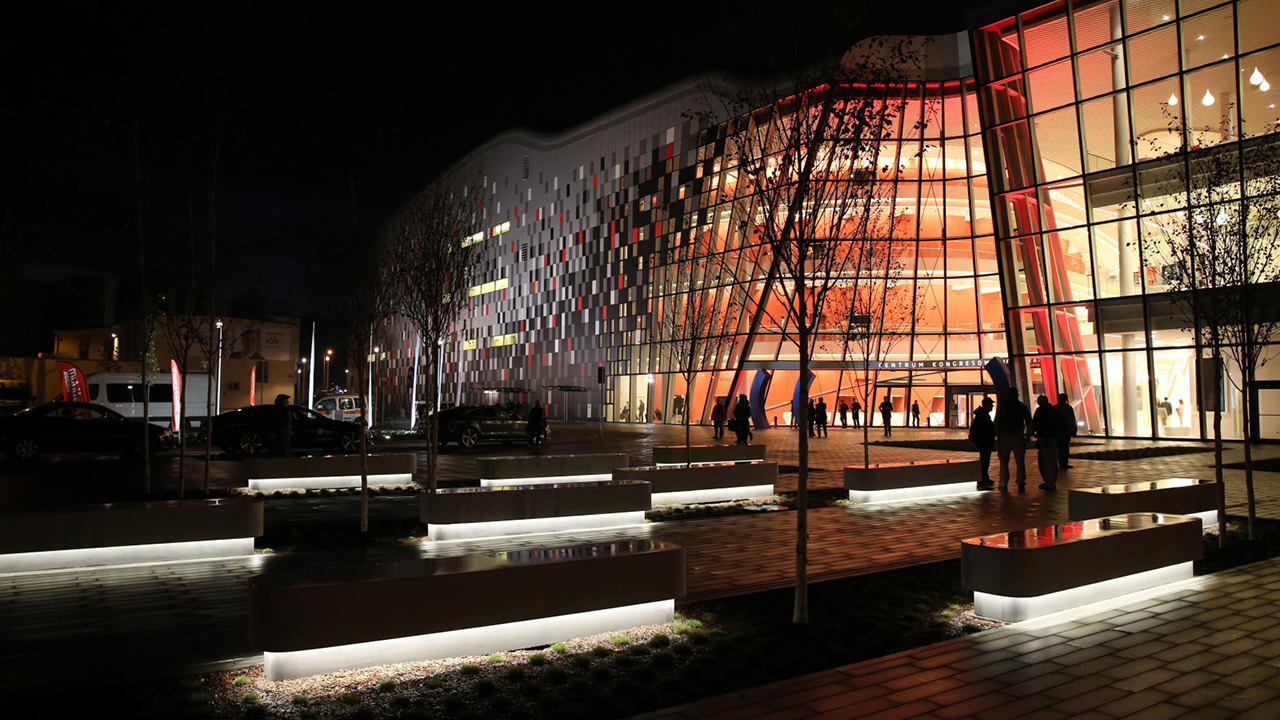 Krzysztof Ingarden talks about Ice Krakow Congress Center
Arch. Krzysztof Ingarden, President of Ingarden & Ewy Architects, the winner of A-Design Platinum Award in 2015 and 2014, will hold a lecture at GIS Budapest on his highly-awarded project "Ice Krakow Congress Center". The Polish architect will be present at the conference in Budapest.
Over 36.000 m² of conference space, an Auditorium ready to host 2000 people, a spacious and multifunctional foyer adapted for activities such as hosting of exhibitions and sponsor and exhibition stands; additionally, the building's excellent location in the centre of Krakow – these are only some of the assets of the multifunctional ICE Kraków Congress Centre erected in Krakow, an investment made by Krakow's municipal government.
The centre is a modern world class building, meeting the requirements of international congress organisations, as well as the highest acoustic and stage mechanics standards. The building has been designed in such a way as to host various types of congresses, conferences, concerts, theatrical shows, exhibitions and other prestigious cultural and social events. The high standard of the building place it among the most desired and exclusive congress centres in Europe.
ICE Kraków have three main halls at its disposition: an Auditorium, a Theatre Hall and Chamber Hall, accommodating
a maximum of 2100, 600 and 300 users respectively. Aside from the unique Auditorium Hall, the second biggest Theatre Hall is especially deserving of note: its folding seats will allow the floor area to be increased when being used for banquets or exhibitions. The centre, able to accommodate 3200 participants, offers also a complex ofconference halls with regulated moveable walls, a glazed three-floor foyer with a view of Wawel, a multifunctional exhibition hall and support areas. Around the Centre, a special complex for transportation has been erected encompassing ground level parking lots, a bus and minibus terminal and an area for mobile transmission units, as well as a two-level underground parking lot for 347 vehicles.
The cornerstone for the construction of the ICE Kraków Congress Centre was laid on 28 October 2010.
Krzysztof Ingarden, born in Wrocław in 1957, is educated in Poland and Japan and started his career in Tokyo (1984-5) and New York (1986). He is professor at the Faculty of Architecture and Fine Arts, AFM Krakow University. Since 2002 he is Honorary Consul General of Japan in Kraków.