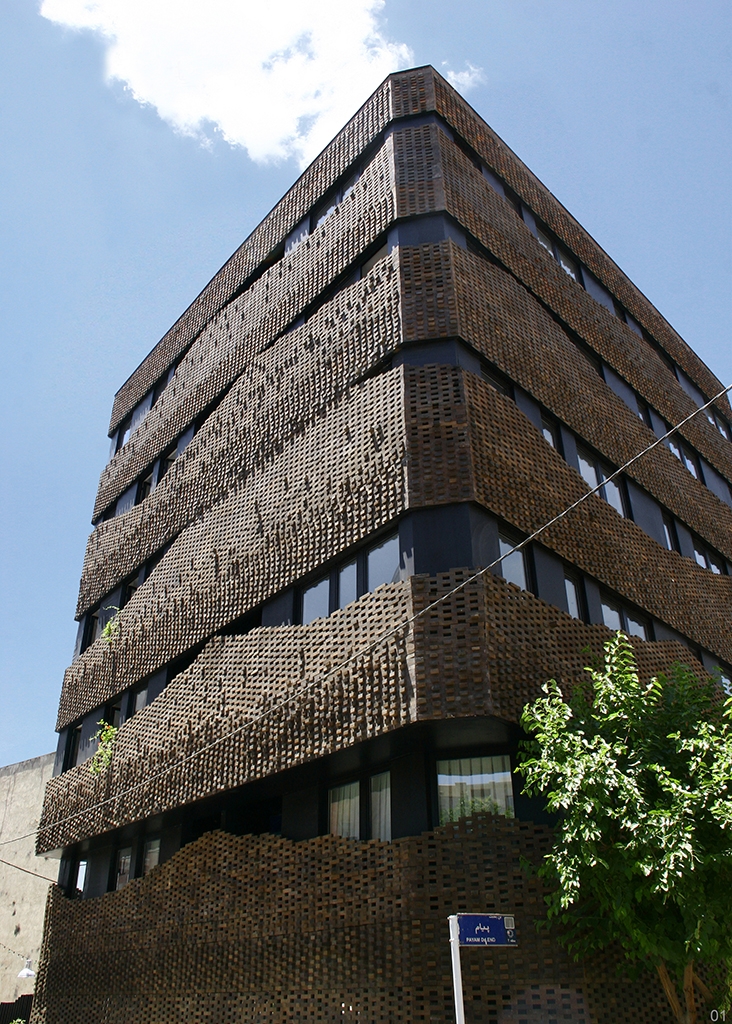 Habibeh Madjdabadi will hold a presentation on the topic "Building Skin in Iranian Architecture" at RIFF Bucharest
Arch. Habibeh Madjdabadi is the Principal Architect and the owner of Habibeh Madjdabadi Architecture Office, Iran. At RIFF BUCHAREST 2016 (October 31 – November 1) she will talk about 'Poetics of Shadow and Light' and the shortlisted project at Aga Khan Award 2016 – 40 Knots House.
About the project
The house of 40 knots designed by Habibeh Madjdabadi and Alireza Mashhadimirza has a contemporary façade made with innovative low-cost techniques that reinterpret traditional brick facades.
Persian carpets are world renowned, and bricks have a strong relationship with Iranian historical architecture. Here they are fused into a contemporary facade that appears as a collection of intricately interwoven modules. Creating a small and low budget apartment building in Tehran does not leave much space for creativity, yet an architect can try to do something with the material, textures, outer envelope and light. In light of that, a modern interpretation of the ancient mashrabiyya was conceived by using the bricks available on the local market. In order to reduce costs in the construction of this five-storey building, unskilled workers, unable to read technical drawings, were employed instead of master craftsmen.
All the construction data was transformed into simple instructions to be recited by the supervisor during every fixing, resulting in a protruding irregular geometry, designed brick by brick, a system invented by watching carpet weavers in traditional workshops. The building has been entirely covered with a mesh of bricks impaled on rod bars as contiguous pearl necklaces. The distances between the bricks have been adjusted to create an opaque effect, through which light does not pass, while when there is a window behind the mesh, it becomes a transparent grid.
About the speaker
Habibeh Madjdabadi, born in 1977, is one of the outstanding architects of younger generation in Iran with almost 15 years of professional experience. Her work has been recognized and awarded and has widely been reviewed by the local and international media. Her artistic exploration goes beyond architecture and she is making her mark in conceptual art and design. Her realizations reveal a meticulous and continuous research about the new possibilities of using contemporary artistic approach and techniques in a local context.  She established her design office in 2000 after winning first prize in a design competition for restoring historical buildings in Iran.
She is recently working on the design of Norwegian Embassy in Tehran Collaborating with the Italian engineering company Intertecno. Materials are an important means of expression in Madjdabadi's work and she considers them from a poetic point of view. Madjdabadi is also recognized by her articles of architecture and design appeared in Iranian architecture magazines and she is collaborating with Memar Magazine as a member of the editorial board.
Awards:
 Shortlisted –Aga Khan Award 2016 (for 40 Knots House )/ International
Shortlisted -World Wide Brick Award 2014 (for 40 Knots House )/International
Winner – Chicago Award 2014 (for Mellat Bank )/International
3rd Place – MEMAR Award 2014 / National