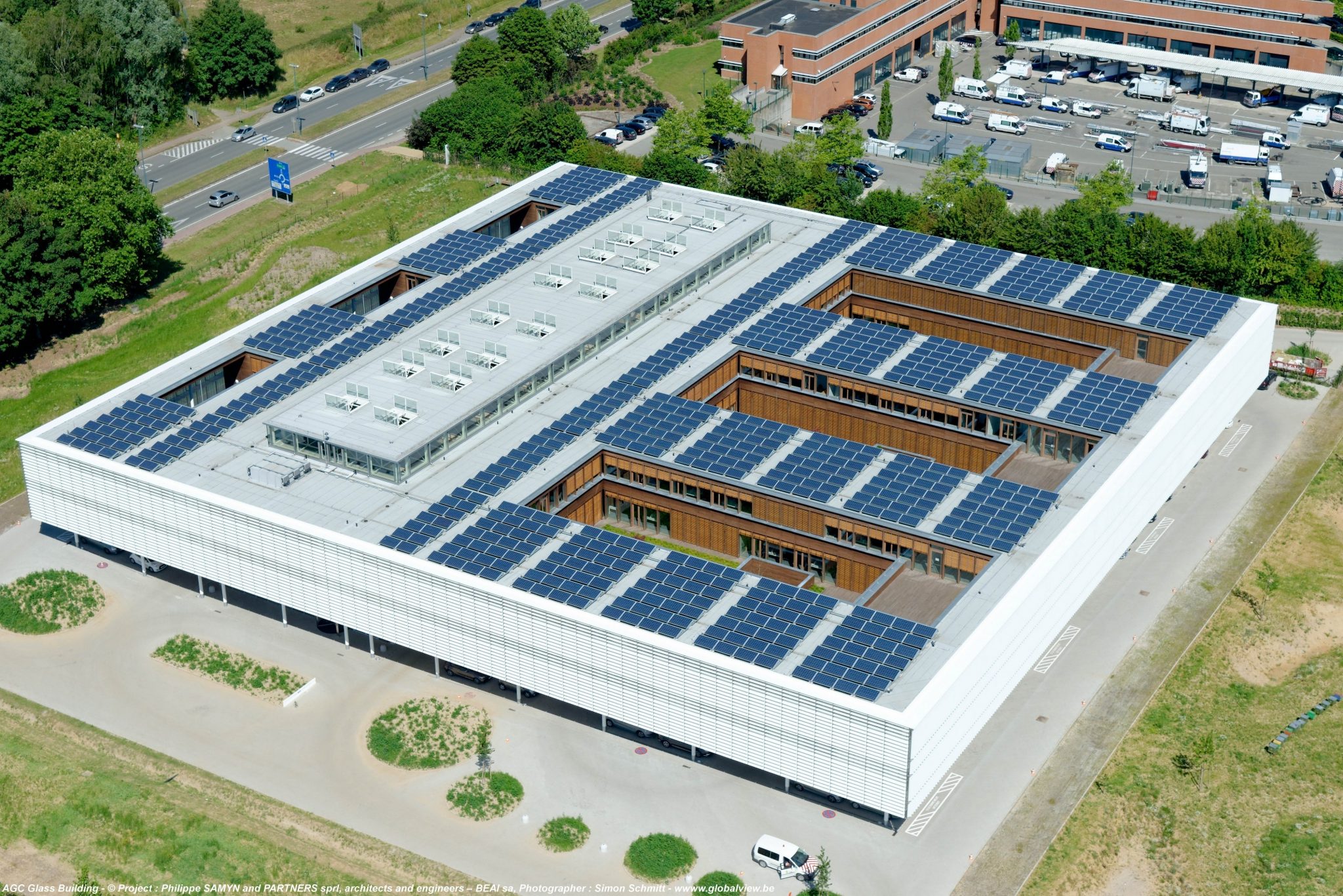 Foreign Building of the Year winners will attend INGLASS Budapest 2017
Arch. Philippe Samyn and arch. Åsa Decorte of Samyn and Partners Architects and Engineers will be INGLASS Budapest 2017 speakers. Their AGC GLASS Building is winner of the Foreign Building of the Year Award of the Czech Architecture and Building Foundation in Prague. This is the most prestigious architectural competition in the Czech Republic and has been held since 1992. Last year it attracted a record entry of 72 projects. The ceremony was held at the famous Bethlehem Chapel in Prague.
The AGC Glass Building obtained a BREEAM certification level of "excellent" in its design stage. Its energy consumption for heating, cooling and artificial lighting is met almost entirely by the 900 photovoltaic panels mounted on the roof together with ground heat pumps.
The building, which stands on stilts above the ground-floor car park, has a double outside skin of glass. The first skin (on the inside) consists of double glazing in extra-clear glass with superinsulating and solar control coatings. The second skin (on the outside) for its part is truly unique because it is dynamic, made up of movable louvres of screenprinted glass with alternating white stripes on either side.
The louvres automatically follow the movement of the sun to let in the maximum amount of natural light while protecting the people inside from glare and excess heat. Inside the building has offices, a conference centre, a dining area, patios and gardens spread over two floors. A majestic gallery that also incorporates an auditorium spreads across the width of the building.
Philippe SAMYN and PARTNERS was founded in 1980. Their architectural and engineering design approach is based on questioning, which can be summarised as a "why" methodology. The firm approaches projects openly to all sorts of possibilities whilst listening closely to its clients demands. Its projects are often published in the international specialised press. Among its projects as of 2013-04-10 the firm has built, and is currently building or studying over 6,013,968 m².
Philippe Samyn is a Registered Architect in the boards of Belgium (Brussels and Walloon Brabant), France (Ile-de-France), Grand Duchy of Luxemburg, United Kingdom (RIBA- Royal Institute of British Architects and ARB- Architects Registration Board). In November 2007 he has received the Commander in the Order of Leopold honour and on the 13th of July 2012 he was ennobled with the grant of hereditary nobility to Knighthood by HRH King ALBERT II.
Selected awards of the office:
• FOREIGN BUILDING OF THE YEAR, Czech Architecture and Building Fondation, Prague, for AGC GLASS Building (2015)
• European Union Prize for Contemporary Architecture – MIES VAN DER ROHE Award 2015. Nomination 2014-11-07 for AGC GLASS Building
• STAALBOUWWEDSTRIJD – CONCOURS CONSTRUCTION ACIER 2014, Bruxelles, Nomination pour AGC GLASS Building (2014)
• PRIX BELGE POUR L'ARCHITECTURE & L'ENERGIE (2013)
• PRIX BRUXELLES HORTA – BRUSSEL HORTA PRIJS (2012)
• INTERNATIONAL PRIZE for Sustainable Architecture, Fassa Bortolo, Universita di Ferrara, honorable mention for "Marnix" (2012)