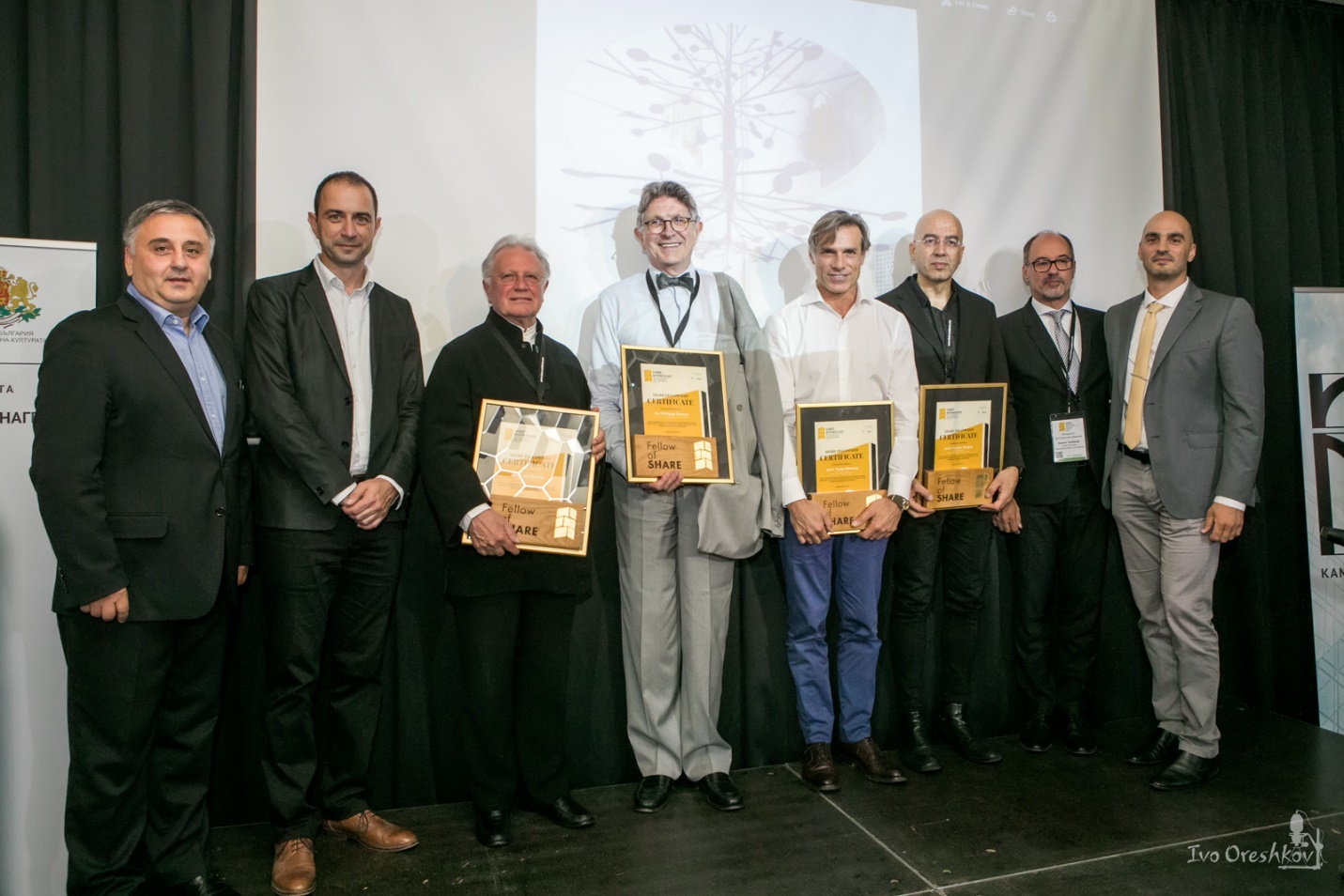 FIVE OUTSTANDING FIGURES IN WORLD ARCHITECTURE TO RECEIVE SHARE Fellowship Certificate within SHARE Society
***
This year comes bearing gifts for everybody interested in the share-architects.com platform! Hereby we launch the most important innitiative that joins together all our long time efforts and energy consumed for share-architects events.
We are keen on doing this in a manner that highlights everybody's contributions to the success of SHARE Forum – from our participants and attendees to our invited speakers who granted us with their trust and most precious time to the most outstanding figures renowned in the world-wide architectural community – our international special guests – by the means of two concentric projects developed by PRO events Association: SHARE Community and SHARE Society and Fellowship.
***
Everybody knows them already – it's a long time since they have joined us in reaching our goals – but we want to extend our appreciation and recognize their merits in front of you all! As such, we created the opportunity to celebrate outstanding figures in worldwide architecture for their efforts in sharing with us their experience and resources –  the membership and certification for SHARE Fellowship.
Excellency and active involvement count!
 "For exceptional work and contribution to architecture through advancing the standards of education, training, and practice in the building industry and in architecture" … is what we write on the SHARE Fellowship Certificates which are to be presented and handed during SHARE community events to their rightful owners. SHARE Fellows are the most recognized members of our community for their close participation. We go hand-in-hand with them in creating and shaping future projects… and they are the ones to thank when you hear of a new innitiative coming from our way!
We proudly introduce you to our first five SHARE Fellows:
Serban Tiganas, the President of the Order of Architects of Romania (OAR)
Serban Tiganas is one of the most well-known names from Cluj-Napoca and from the entire country in the field of architecture. He is currently the president of the Order of the Architects of Romania, institution inside which he has initiated the study of Architecture as a profession and of The Policy for Architecture in Romania.
A graduate of the "Ion Mincu" University of Architecture and Urbanism in Bucharest, he is also a trainer, preoccupied with the understanding and the evolution of Romanian architecture and especially with its growing impact on peoples lives.
He is founder of "Dico & Tiganas" office in Cluj, also being one of the founding partners of the urbanism office "Planwerk", with whom he has taken on development strategies for public space architecture in various cities such as Sibiu, Miercurea Ciuc, Cluj-Napoca, Targu Mures, Brașov, Timisoara or Oradea. He teaches to young students at the Faculty of Architecture and Urbanism at the Technical University of Cluj-Napoca.
He is currently the President of the Order of Architects of Romania (OAR) and Secretary General UIA. Among the awards of his practice we mention:
2016: Breeam Awards, shortlist / Architizer A+ Award
2013: European Union Award – Mies van der Rohe for Contemporary Architecture, Nomination
2013: Popular Choice Award, Architizer A+ Awards, New York, Winner
2013: ArchDaily Building of the Year Awards
2012: UAR President's Award at the National Architecture Biennale, Bucharest
2011: HunterDouglas – Project of the Year
Ian Ritchie, CBE RA RIBA Hon FRIAS Hon FAIA
Ian Ritchie is director of Ian Ritchie Architects, poet, artist, Fellow Society of Façade Engineering, Royal Academician and member of the Akademie der Künste. He is Special Visiting Professor at Liverpool University and advises The Ove Arup Foundation, Backstage Trust and is a Governor of the RSC. He has chaired international juries including the Stirling Prize, and has received two major innovation Awards – Robert Matthew Commonwealth Award and the Académie d'Architecture Grand Silver Medal. He has written several books, and several international museums hold his art.
"Ian Ritchie Architects is renowned for research and development, and for its innovations. We have more than 30 World Firsts in architectural geometry, engineering and material techniques.
Our practice seeks to achieve better social and environmental design solutions through genuine collaboration and intelligent design. Our aim is to achieve the very highest standards in design and in the manner in which we undertake our work, and that our actions reflect the highest level of ethical behaviour."
Ian Ritchie and his practice have received more than 70 major national and international awards. Work has been shortlisted for the RIBA Stirling Prize on four occasions, and for the European Mies van der Rohe Prize. His practice recently completed the £75m Sainsbury Wellcome Centre for Neuroscience Research at University College London, UK, which won the following awards in 2016:
– British Construction Industry Award – Major Building Project of the Year (over £50m)
– Leading European Architecture Forum (LEAF) Awards Overall Winner
– Leading European Architecture Forum (LEAF) Awards Best Façade Design & Engineering
Philippe Samyn, founder of SAMYN and PARTNERS architects & engineers, BE
Philippe Samyn, a doctor in Applied Sciences, architect, civil engineer and urbanist, was born in Ghent on 1 st September 1948.
He is a member of the Belgian Royal Academy of Science, Art and Literature since 1992, a member of the financial and advisory committees of SECO Belgium scrl, and a Commander of the Order of Léopold who was ennobled to Knighthood by HRH King Albert II on July 13 th 2012. His work is based on permanent questioning, widely fed by numerous missions abroad, lateral thinking and his scientific work. More particularly, his discovery in 1997 of the volume and displacement indicators has since experienced continuous scientific development, leading to a general and open theory about the conception and predimensioning of structures. With his team of architects and engineers, his architectural production develops in many sectors, in Europe and beyond: an opera house or a gas station, a hospital or a bridge, a research centre or an urban plan.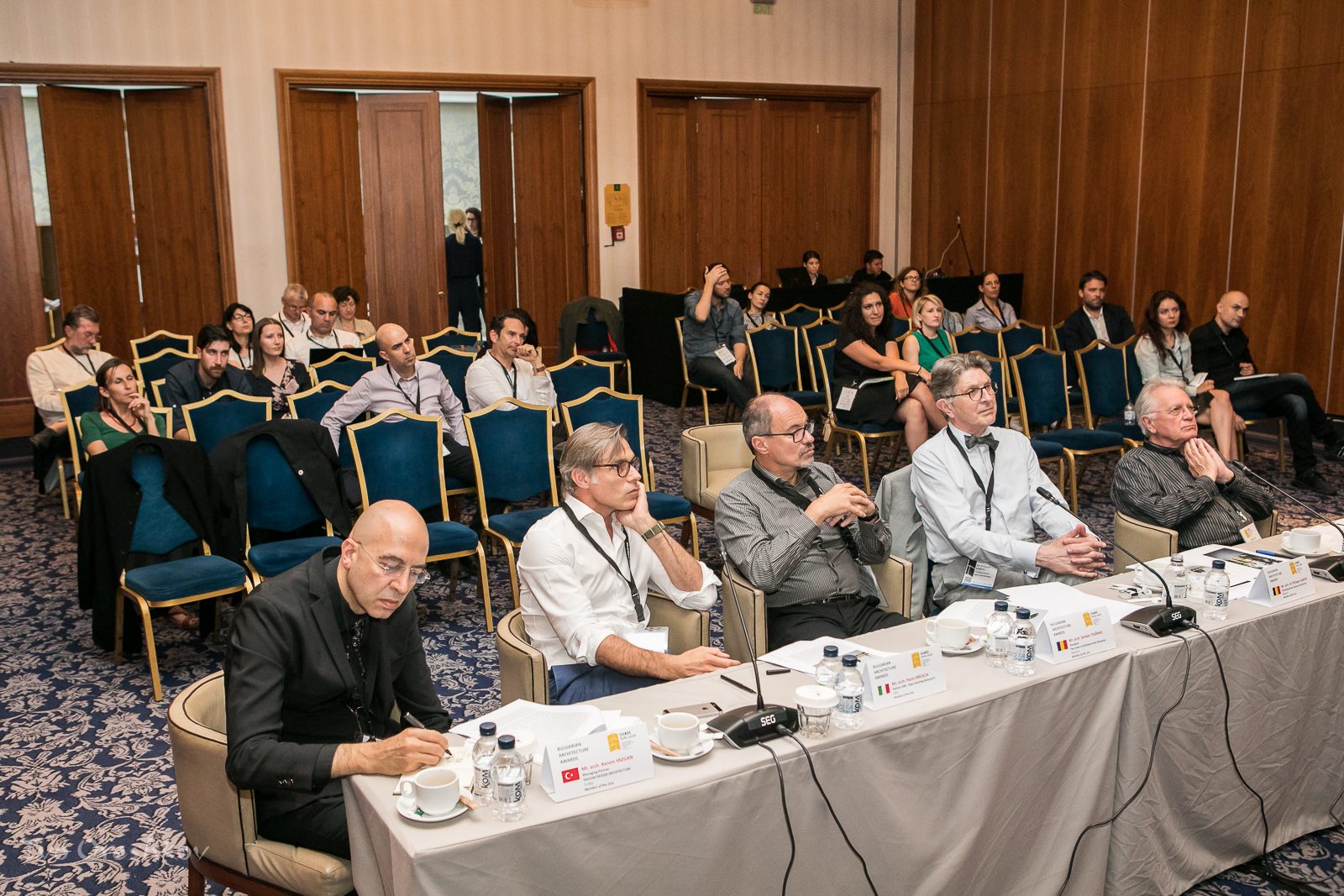 Paolo Brescia, founding partner at OBR Open Building Research, IT
Having an education in philosophy and in architecture, Paolo Brescia graduated in 1996 in Architecture  from Politecnico di Milano after spending one year at the Architectural Association in London. Starting his career along Renzo Piano Building Workshop, he founded his practice OBR Open Building Research in 2000 with Tommaso Principi. While innovating contemporary living, OBR creates a design network around Milan, London and Mumbai – three of the most important world architectural focus points today – and succeeds very well  in doing it given the long list of received awards! Among them, it is important to mention the 2007 AR Award for Emerging Architecture, the 2008 Plusform Award for Best realised architecture under 40, the 2010 European 40 Under 40 Award in Madrid, the 2010 Rome In/Arch Ance Award for Best building realised by a young architect, the 2011 London LEAF Award overall winner, the 2012 Medaglia d'Oro all'Architettura Italiana, the 2015 Milan Inarch International Award for Architecture and Design or the 2016 AAP American Architecture Prize for Architectural Design. Since 2003 he tought for 6 years at Università degli Studi di Genova, only to return there in 2013 as a professor after teaching for 2 years at Politecnico di Milano. Moreover, the practice is cooperating in the present with several universities, such as Accademia di Architettura di Mendrisio, Aalto University, Academy of Architecture of Mumbai and Mimar Sinan Fine Art University.
Among the best-known works by OBR are the Pythagoras Museum, the New Galleria Sabauda in Turin, the Milanofiori Residential Complex, the Children Hospital in Parma, the Galliera Hospital in Genoa, the Lido of Genoa, the Ex Cinema Roma, the Triennale di Milano Terrace. For an overview of these projects see obr.eu.  OBR's projects have been featured in Venice Biennale of Architecture, Royal Institute of British Architects in London, Bienal de Arquitetura of Brasilia, MAXXI in Rome and Triennale di Milano.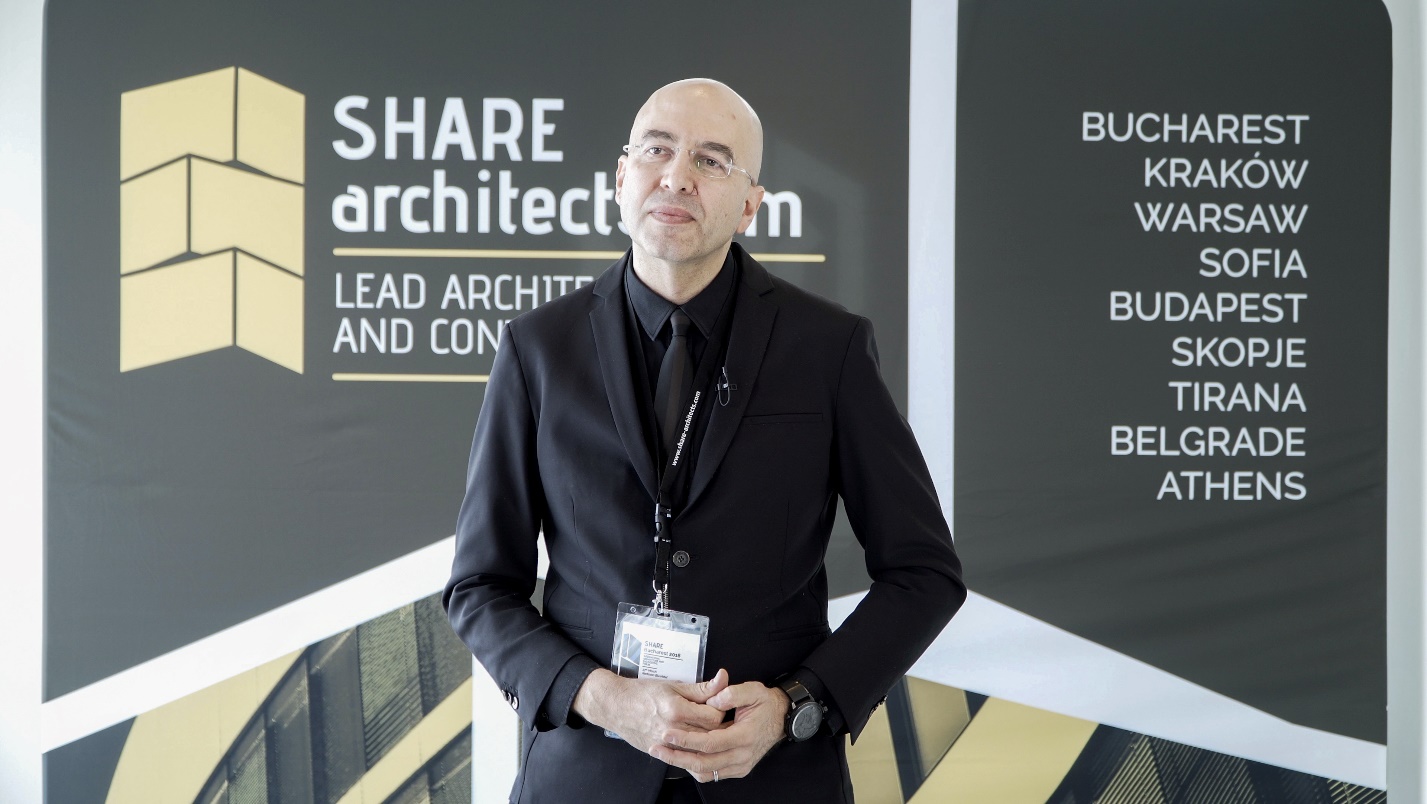 Kerem Yazgan, founder of Yazgan Design Architecture
Kerem Yazgan was born in Ankara in 1969. He obtained his B. Arch degree from the Middle East Technical University Department of Architecture in 1993. He worked in a diversity of architectural offices and participated in various architectural design competitions until 1996. He opened his first architectural office in 1996, after being awarded the first prize in a national architectural design competition. He received his M. Arch degree from the METU Department of Architecture in 1997. His master's dissertation received the "Parlar Foundation Academic Award" of METU in 1998. He received awards in various architectural design competitions. Alongside opening an office, Kerem Yazgan attended the Fourth Year Architectural Design Studio in the METU Department of Architecture as a part-time instructor from 1997 to 2007.
Kerem Yazgan opened his second architectural office with his wife Begüm Yazgan, PhD. Architect in 2003, the same year in which he received his PhD degree from METU Department of Architecture. His doctoral dissertation entitled "Designography in Architecture" is about his research on the 'systems and acts' in architectural design. His design approach is based on the direct association of theory and practice and the systematization of the design process. He has realized a diverse number of architectural projects with the idea that he defines as "the design of the design act", which is based on 'writing the program' of architectural design. In his practice, he continues to search and develop flexible, free, systematic and lucid relationships between architectural design approaches that clearly define the conceptual, production, and construction phases.
Paolo Brescia and Kerem Yazgan are both international figures with great professional accomplishments who joined us as keynote speakers at our SHARE events. They are constant presences at SHARE and moreover, this year they have been members of the Jury for Bulgaria Architecture Awards.
We hope that together we make a difference towards a better future of our built environment and for this our long-time efforts are set out to enabling the premises of this community over and over again at each SHARE Forum edition.
Thank you for joining us and helping us grow year by year!