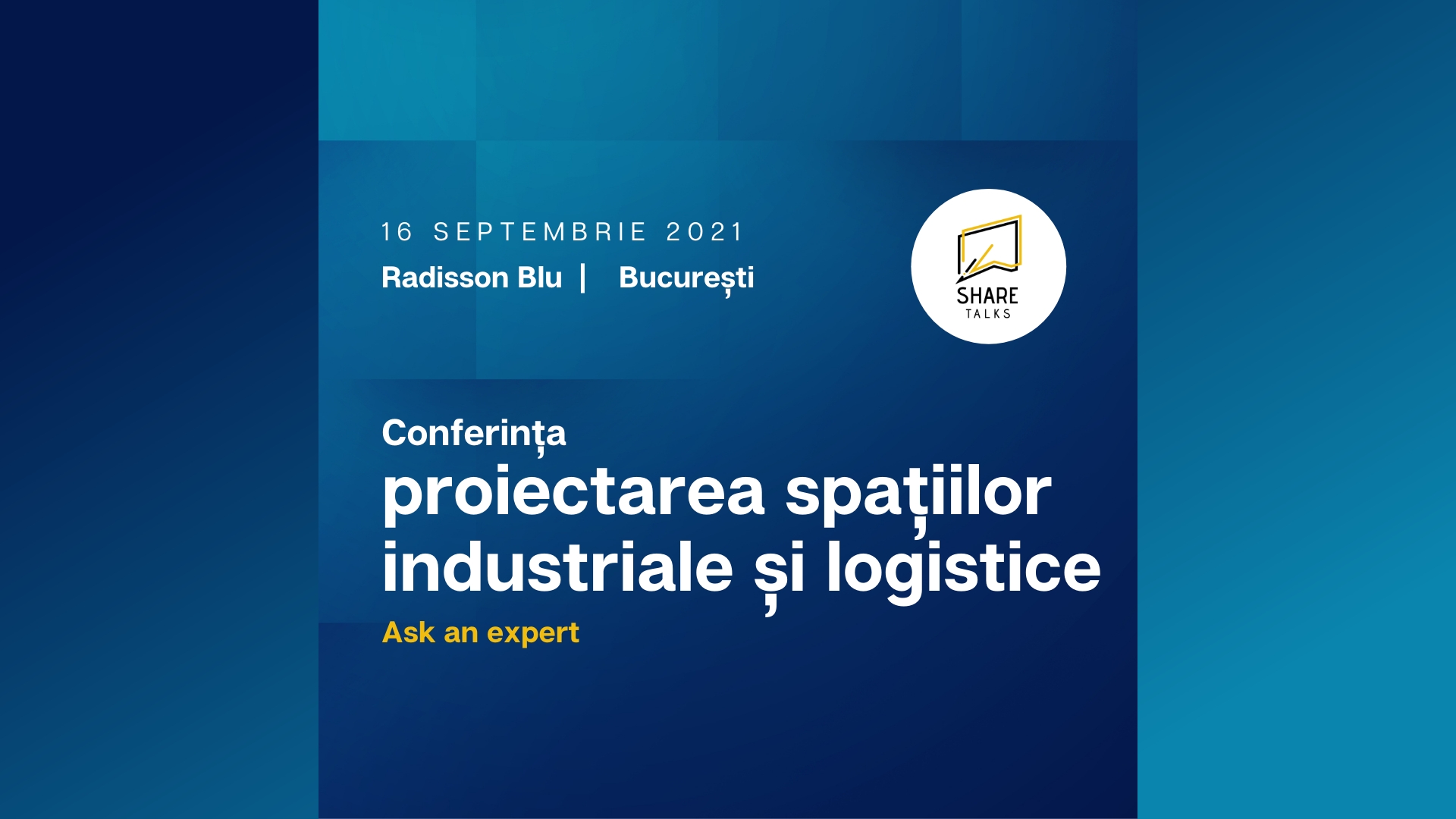 Conferința specialiștilor în proiectarea spațiilor industriale și logistice – reuniune în format fizic, în 16 septembrie, la București
Tehnologia redefinește cerințele tradiționale privind proiectarea, indiferent dacă ne referim la clădirile industriale care găzduiesc spații de producție, spații cu temperatură controlată, linii de producție automatizate sau depozite inteligente, ca facilități independente sau cu spații de birouri încorporate.
Conferința specialiștilor în proiectarea spațiilor industriale și logistice, care se va desfășura în format fizic, în data de 16 septembrie, la Radisson Blu Hotel București, va aborda aspectele specifice ale proiectării clădirilor cu destinație de producție și de logistică, în corelație cu rentabilitatea costurilor de construcție și de operare viitoare.
Evenimentul este organizat de SHARE Architects în parteneriat cu Ordinul architecților din România.
Conținutul conferinței este axat pe prezentarea de studii de caz privind dezvoltări industriale și logistice importante, din România. Fiecare panel de prezentări va fi urmat de o largă  sesiune "Intreabă un expert". Comunicarea publicului cu specialiștii invitați va fi facilitată de moderatorii evenimentului: Răzvan Dracea, Președinte al Ordinului Arhitecților din România, filiala Brașov, Covasna, Harghita, fondator Ari consult și Dragoș Marcu, partener Popp & Asociații, Președinte de onoare AICPS
In cadrul SHARE Talk vor fi prezentate proiecte dezvoltate de birouri cu portofoliu reprezentativ pentru segmentul industrial.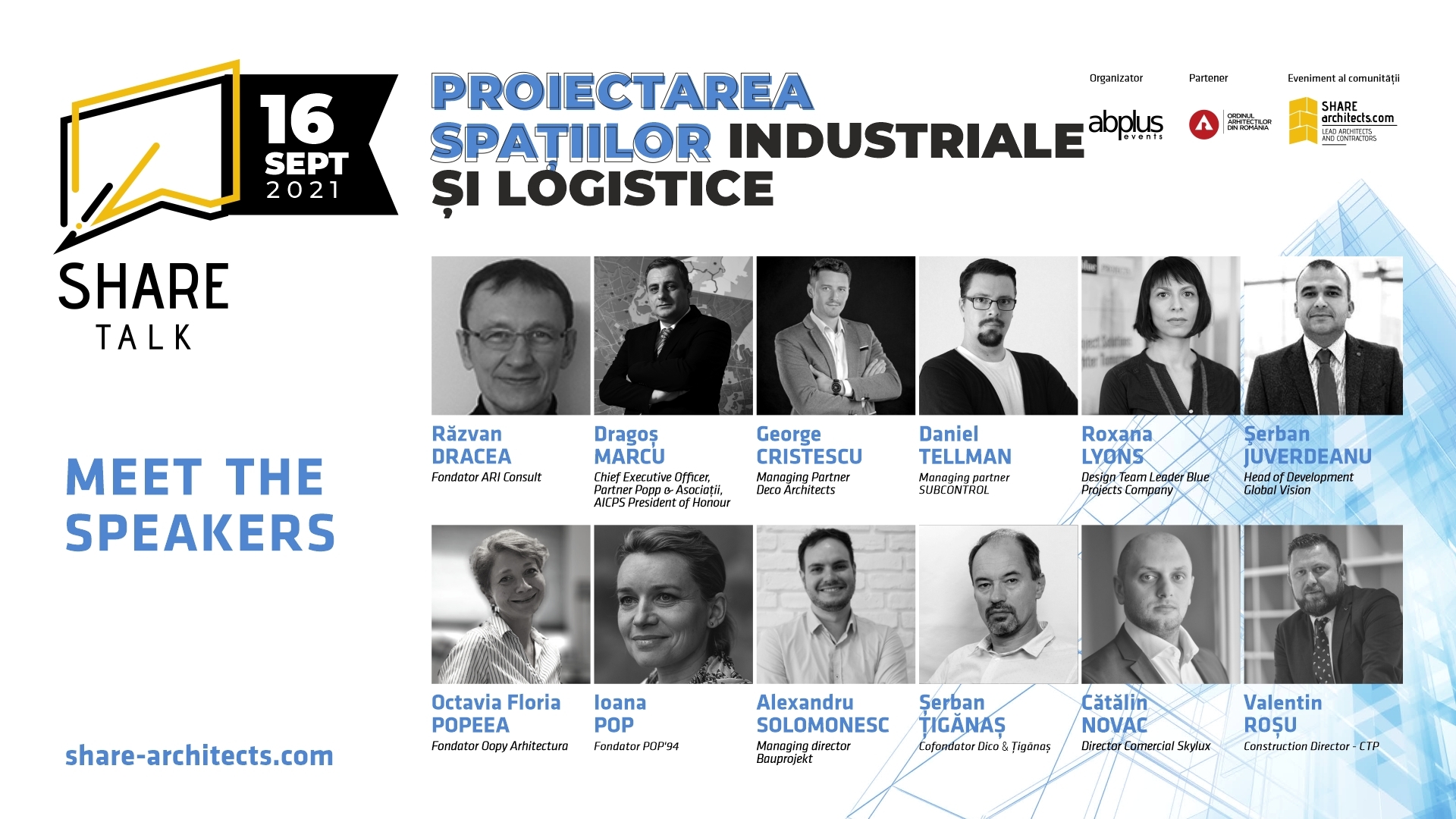 Alexandru Solomonesc – Managing director Bau projekt, Ploiești
Bauprojekt face parte din Grupul Baupartner, oferind împreună servicii integrate de design și construcții. Dintre proiectele de arhitectură industrială, amintim ansamblul Emag (Joita), ansamblul Decathlon Logistica (Stefanesti de Jos), Hubul logistic Sameday (Chitila), Fabrica Rockwool ( Ploiești West Park).
Octavia Floria Popeea – Fondator Oopy Arhitectura, București
OOPY Arhitectura este un birou de arhitectură și proiectare generală înființat 2003 cu
sediul central în București și filiala în Cluj Napoca. Cu peste 18 ani de experiență calificată în proiectare de arhitectură, inginerie (specialități precum: structuri, instalații, drumuri și platforme), OOPY Arhitectura s-a clasat 3 ani consecutiv în IBC Focus TOP 40 cele mai puternice firme de arhitectură din România. Printre proiectele arhitecturale industriale se numără și halele Danone, CTP, B.I.G. -Tessutica România ( Ploiești West Park ) și Schlumberger ( Ploiești West Park).
Daniel Tellman – Managing partner SUBCONTROL, Timișoara
SUBCONTROL dezvoltă proiecte complexe de arhitectură în sectorul industrial/logistică, asigurând servicii de la studii preliminare, la proiectare generală, de la coordonarea construcțiilor, la controlul derularii investitiilor. Clienți: Continental, Lidl, Penny, Ursus, Dietrich Honold Logistics, Linde.
Roxana Lyons – Design Team Leader Blue Projects Company, București
Blue Projects este o companie globală ce oferă servicii de project management, proiectare și consultanță în industria construcțiilor industriale și comerciale. În timp, compania s-a dezvoltat pe plan global și are birouri permanente în Polonia, Rusia, Belgia și Canada, pe lângă cel din România, unde se află sediul central, dar este activă și în alte 20 de țări precum Republica Cehă, Republica Moldova, Marea Britanie, SUA. Dintre proiectele companiei – Fabrica Rockwool România, Magazinul Ikea Pallady, Proiectul Kellogg Carolus, Beraria URSUS, Magazinul Kaufland Chișinău, Fabrica de cauciucuri Bridgestone Polonia.
Pop Ioana – Fondator POP'94, Brașov
Firma POP'94 prestează servicii de proiectare generală și pe specialități, acoperind totodată gama de coordonare interdisciplinară a acestora sub aspect tehnic și organizatoric. Centrul de greutate al domeniului de activitate este constituit de proiectarea de construcții industriale, birouri, precum și de locuințe colective, semicolective sau individuale. Proiecte de referință sunt Schaeffler România, ansamblul Hochland România, KÄRCHER – CER România.
Șerban Juverdeanu – Head of Development Global Vision, București
Cu experiență de mai bine de 20 de ani în real estate, Șerban Juverdeanu este Head of
Development la Global Vision – platformă de investment și dezvoltări imobiliare cu proiecte de peste 500 mln euro în derulare și cu un istoric de 16 ani în piață.
Printre proiectele majore pe care dl. Juverdeanu le administrează în acest moment
Menționăm: Constanța Business Park – un proiect ambițios de la malul mării, în proximitatea portului Constanța, dezvoltat pe un teren de 100 de Ha, în asociere cu Globalworth, Chitila Logistics Hub – dezvoltat tot în parteneriat cu Globalworth și alte 2 proiecte la Oradea și Arad, dezvoltate de către Global Vision pentru 2 investitori germani de renume. Ultimul proiect anunțat de Global Vision este Bucharest Airport Park – un centru majoritar logistic care să deservească operatorii din Aeroportul Otopeni.
 Șerban Țigănaș – co-fondator Dico & Tiganas, Cluj-Napoca
Dico și Țigănaș este specializat în crearea proiectelor de arhitectură, construcții și instalații pentru clădiri de apartamente, clădiri de birouri, clădiri administrative, stadioane și clădiri industriale. Clienți importanti sunt Bosch, CTPark, Emerson, DeLonghi, La Lorraine.
George Cristescu – fondator DECO Architects, Bucuresti
DECO Architects este un birou de arhitectura tânăr, fondat în 2006 de arh. George
Cristescu, având ca principii sustenabilitatea, designul bine făcut și utilizarea de materiale și tehnologii inovatoare.În general, Deco Architects se implica, în prezent,
doar în proiecte mari, pe care le coordonează de la începutul pană la sfârșitul execuției, din faza de autorizare până la ultimul detaliu de execuție.
Valentin Rosu – Construction Director CTP, Bucuresti
Manager de proiect senior cu experiență, cu o istorie demonstrată a activității în industria imobiliară, Valentin este acum directorul de construcții pentru CTP România și membru al consiliului de administrație al CTP Invest. Profesionist puternic în managementul de programe și proiecte, cu o diplomă de licență în inginerie economică, el administrează întregul portofoliu CTP din București, implicând până în prezent 1,2 milioane mp de depozite. Cu peste 20 de ani de experiență în dezvoltarea afacerilor în regiune, el a fost și continuă să fie un jucător cheie în promovarea succesului și creșterii CTP în România cu grija, viteza și atenția la detalii. Valentin face parte din operațiunile CTP și din expansiunile de succes în România de aproape patru ani.
Valentin Roșu va prezenta în cadrul SHARE Talk un studiu de caz alături de colegii săi:Rares Glod – Senior Project Manager – CTP
Gabriel Colobatiu – Lead Architect – Prodesign Engineering & Construction
Radu Constantin Heput – Technical Manager – Prodesign Engineering & Construction.
Inregistrare eveniment
Detalii despre eveniment și linkul de înregistrare la eveniment se găsesc pe pagina oficială a evenimentului  https://share-architects.com/share-talk-industrial-architecture/