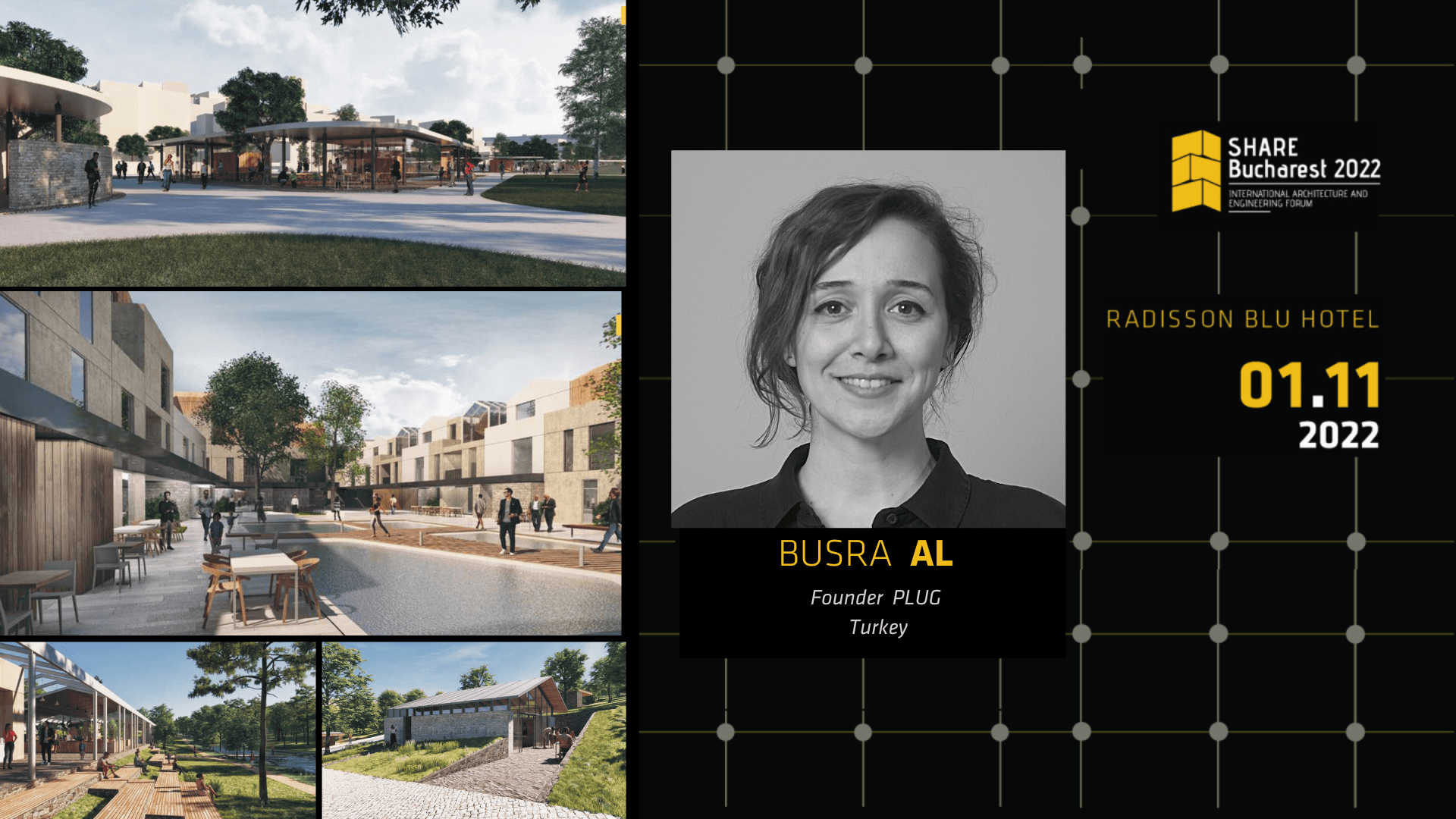 Busra Al, Founder of PLUG Office, Turkey, will lecture at SHARE Bucharest 2022 Forum
After her graduation from Yıldız Technical University, Faculty of Architecture in 2008 she continued her education at Istanbul Bilgi University – Master Programme of Architectural Design between 2008-2010. Following her post graduation in 2010, she worked in various offices.
In 2014 she founded PLUGOFIS.
During her education she attended several competitions including S.O.S. Akm (1st Prize) and Archprix Turkey (Honorable Mention)
Since 2014 she has continued her professional experience with national competitions like Haliç Coastal Regeneraion (1st Prize), Kadıköy Urban Square (1st Prize – Equivalent), ITU Faculty of Management (Honorable Mention), Gaziemir Aktepe Emrez Urban Design Project (1st Prize – Equivalent), Adana Sucuzade City Square Urban and Architectural Design Project (1st Prize), Antalya Muratpaşa Multi-Purpose Performing Center Project (2nd Prize) and Erbaa Çamlık Social Center Project (Honorable Mention)
She is still practicing architecture at PLUGOFIS.
PLUG is a collective formation based in Istanbul operating within the fields of architecture, urbanism, interior design, exhibition and research.
The Company was established in 2014 by the architect Buşra Al, and pursuing an interdiciplinary workflow with a critical approach throughout its various award winning projects and works.
Awards (selections):
Turkish Architecture Yearbook 2019/ Atacorner Lüleburgaz
GEMSS Young Architects Selection & Exhibition / The Circle / 2019
National Architecture Awards
IMSAD Urban Excellence Award / Gaziemir "Aktepe & Emrez" Urban Design / 2015
National Competition Awards
Honorable Mention / Karapınar Solar Power Plant Central Control Building / 2021
1st Prize (equivalent) / Kadıköy Urban Square / 2020
1st Prize / Haliç Coastal Regeneration "region 6″/ 2020
Honorable Mention ITU Faculty of Management / 2019
3rd Prize / Pamukkale Atatürk Street Transformation / 2019
Honorable Mention / Uzundere Cemevi / 2017
1st Prize / Adana Seyhan Sucuzade Urban Design Competition / 2016
2nd Prize / Antalya Muratpaşa Cultural Centre & Opera House / 2015
1st Prize (equivalent) / Gaziemir "Aktepe & Emrez" Urban Design Competition / 2015
Honorable Mention / "Yeni Erbaa" Social Habitat of Camlik / 2015
Honorable Mention / Çanakkale Housing Project / 2014
Invited Competition Awards
1st Prize / Meram Housing Competition / 2022