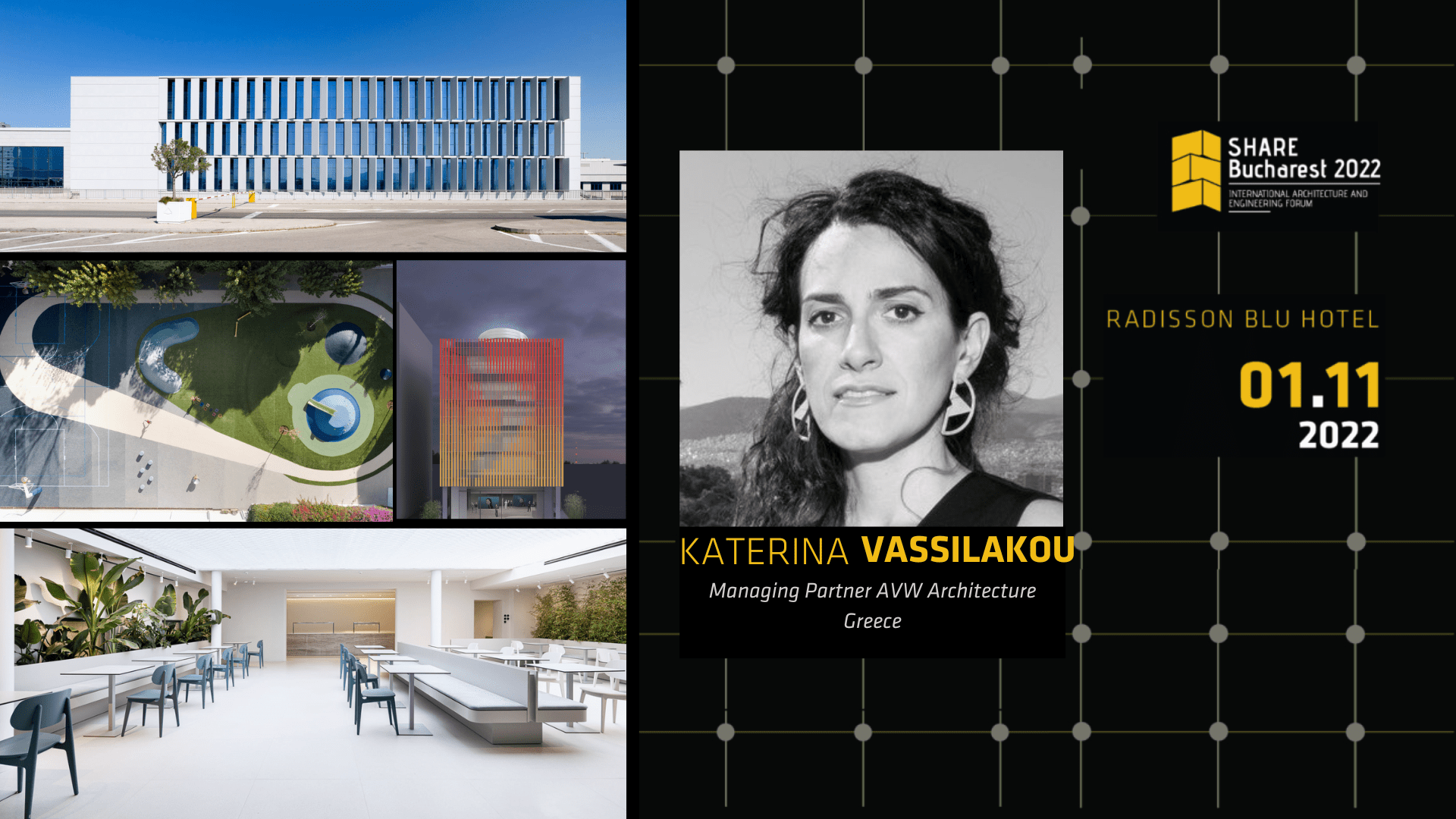 Katerina Vassilakou, Managing Partner AVW Architecture, Greece, will lecture at SHARE Bucharest 2022 Forum
Katerina Vassilakou is the co-founder of AVW Architecture. She was born in Athens in 1977; she has graduated from the School of Architecture of the National Technical University of Athens in 2003, and attained a Master's degree of Architecture in 2007. Her professional experience includes projects of various scale and nature, for local and international clients. She specializes in concept design development with a critical approach towards architectural thinking in terms of quality, originality, and vision. She has been repeatedly awarded for design excellence by the Hellenic Institute of Architecture, the Technical Chamber of Athens, DOMa Architectural Awards, German Design Awards, Architizer A+ Awards etc. and most notably she is a Mies Van Der Rohe 2022 Nominee for the project of the "South West Expansion of Athens International Airport".
Awards:
Nomination for the EU Prize Mies van der Rohe Award 2022 for Contemporary Architecture
Nominated Selected Finalist for the UNESCO – Prix Versailles Airports 2021
DOMES International Review of Architecture 2021 Awards
Architizer A+ Awards 2021
Big See Architecture Award 2021
Build Awards 2021
German Design Award 2018
Architecture A+ Awards 2017
Hellenic Institute of Architecture (HELIARCH) Awards 2016 &
Hellenic Institute of Architecture (HELIARCH) Awards – 2012
6th and 7th Architectural Biennale for young architects by HELIARCH
Technical Chamber of Greece 2nd Prize
AVW Architecture has been established in Athens in 2010, by Angeliki Athanasiadou and Katerina Vassilakou. From Schematic Design to Construction Supervision, AVW Architecture has encountered a range of projects varied by scale, location, and character. The firm has developed a reputation for excellence in adaptive re-use, creative design methodology and inventive solutions, attaining each project with a high level of ability from conception to construction detail. They have provided professional architectural services for commercial, residential, industrial, and state clients, realizing projects for local and international brands.
AVW Architecture has a broad experience in the field of airport and aviation related design. They have worked closely with the joint venture of Aktor Concessions – Vinci Airports for the international competition of the "Privatization of the 14 Regional Airports of Greece". AVW Architecture is also the leading architectural consultant of Fraport – Slentel Consortium for Cluster A airports; their work includes design, review, and implementation services for the technical, operational, and commercial departments of Fraport Greece, in an ongoing collaboration. In 2018, AVW Architecture along with Tombazis & Associates designed the expansion of the Athens International Airport and the Extra Schengen commercial corridor, a project nominated for the EU Prize – Mies Van Der Rohe Award 2022 and Prix Versailles Awards 2021.
With a multidisciplinary nature, AVW Architecture combines the practice from the fields of architecture, design, and arts, involved in projects also as theater designers, curators and art directors in the UK and Greece for several theatre performances, time-based media installations and cinematic events.