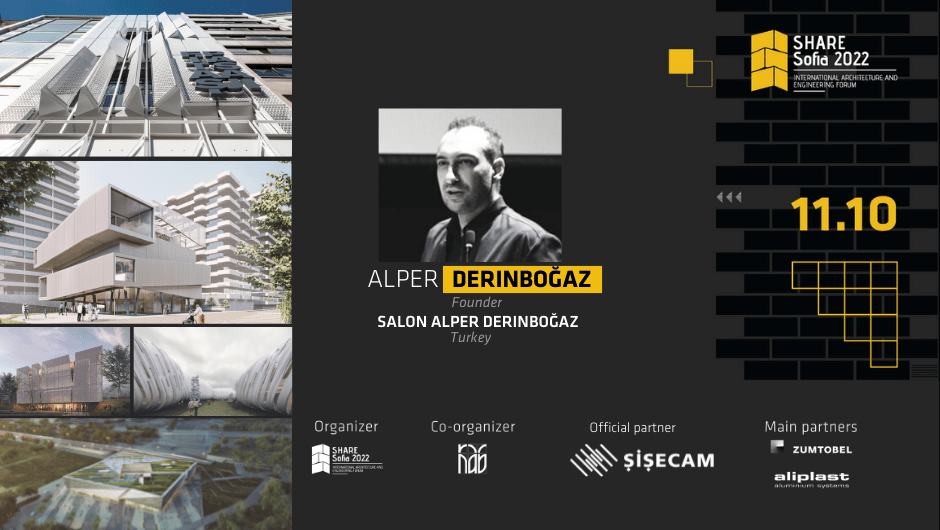 Alper Derinboğaz, Founder Salon Alper Derinboğaz – Turkey, will lecture at SHARE Sofia 2022 Forum
Alper Derinboğaz has been recognized as an emerging and influential architect in Turkey and in Europe. Founder of architecture practice Salon, selected as one of Archdaily's Best Young Practices of 2020, his work investigates the possibilities of the physical environment through the relationship between space and time. His designs vary from large scale cultural institutions to art installations, united by the desire to uncover and question the essential elements of site and concept.
Derinboğaz graduated from Istanbul Technical University in 2005 and received the Fulbright Scholarship to study at UCLA, where he won the Graduate Award for his master's studies. After working in Los Angeles until 2011, he founded Salon as an Istanbul-based, international architecture practice. His first built works were selected for the Best Architecture Collection of the year and he received the Arkitera Young Architect Award in 2011. Derinbogaz was shortlisted in the YAP Program of MOMA and Istanbul Modern, and won the Plan Award for Innovative Architecture in 2015. His recent project Antalya Green Hub was awarded the Green Good Design Award by the Chicago Athenaeum in 2018. His work has also won the German Design Award by the German Design Council. In 2019, he was selected as one of the 40 Under 40 architects of Europe by The European Center. He was awarded as Best Young Practices in 2020 by Archdaily. He is frequently invited to events as a speaker and his works are widely published and exhibited in global art and architectural publications. He also teaches architectural and urban design studios in several universities as an adjunct professor.
Derinboğaz represented Turkey in its debut year at the Venice Architecture Biennale in 2014 with his work Modalities of the Spontaneous, an in-depth study of the urban transformation of Istanbul. His book "Geospaces" was exhibited at the Royal Academy of Spain in Rome as part of the Reading Room Installatıon. His work in Istanbul frequently engages with layers of memory, such as the adaptive re-use project Fitas Passage which gives new life to a historic arcade on Istiklal Street. Derinbogaz's museum works are characterised by social dialogue and contextual understanding. The most significant of these will be the new Museum of Istanbul, under construction since 2016.
Recognitions
2022 The American Institute of Architects, International
2020 Archdaily Best Young Practices Award
2019 Europe 40 Under 40, The European Architecture Center
2011 Young Architect of The Year Award by Arkitera
2008 UCLA School of Architecture Graduate Award
2008 Fulbright Program
2005 Turkey Architecture Association Success Award
Salon, founded by Alper Derinbogaz, is an architecture practice focusing on continuities between humans, spaces, and the Earth. We produce designs and studies in the fields of architecture, art, interior design and urbanism.
By focusing on research processes as the catalyst for an evolving engagement with the constructed world, we speculate on critical solutions for architecture.
Collaboration and openness are crucial to our work. We value ideas and criticism. The collaborative character of our design and research methods results in developing contemporary solutions for architectural, interior and urban conditions. We value innovation, investigate contemporary programs, execute the latest fabrication technologies, and transform complex digital designs into buildings.