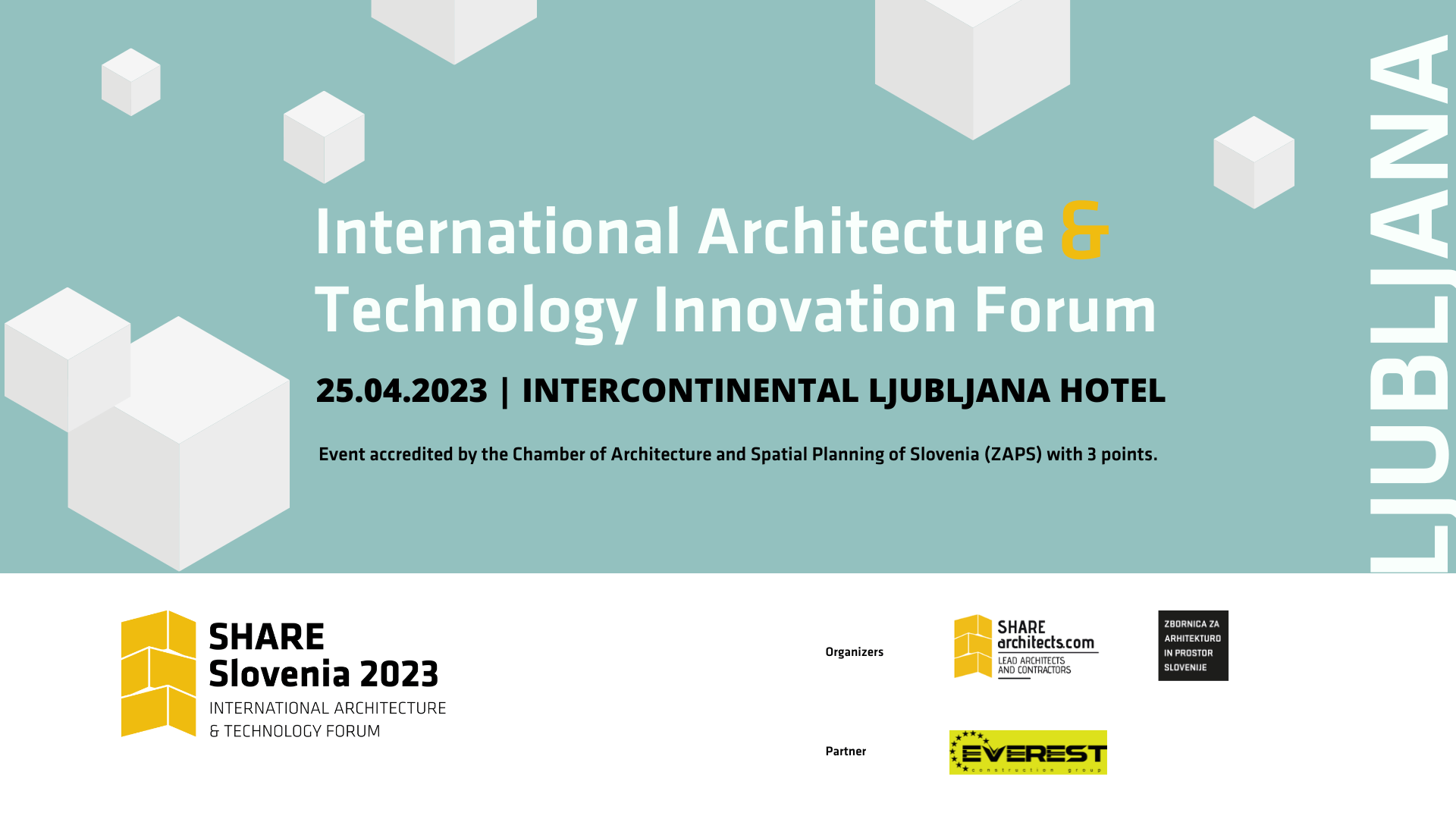 Zaha HADID Architects, UNStudio, Snøhetta and JKMM Architects and will gather on the stage of SHARE Slovenia 2023
The third edition of the SHARE Forum in Slovenia will take place on 25th of April 2023, at the Intercontinental Ljubljana Hotel.
"Sustainable facades: Design and technology," and "Large-scale development projects" are the main themes that will be explored during the program of the International Architecture and Technology Innovation Forum.
The Forum is organised by SHARE Architects, the leading networking platform for architects in Central and South Eastern Europe, in partnership with the Chamber of Architecture and Spatial Planning of Slovenia.
SHARE Slovenia 2023 will provide attendees with access to knowledge and new opportunities for collaboration. National and international renowned speakers, innovators in architecture and building technologies will provide the audience with insightful technical details of large-scale projects as well as inspirational visions.
Guest speakers
Peter Murray, Chairman New London Architecture;
Frans Van Vuure, Director UNstudio, The Netherlands;
Maurizio Meossi, Associate Director Zaha Hadid Architects, UK;
Patrick Lüth, Managing Director Snohetta, Norway;
Ernst Giselbrecht, Founder Ernst Giselbrecht + Partner, Austria;
Marko Dabrović, Founder 3LHD, Croatia;
Aljoša Dekleva, Co-founder Dekleva Gregorič Architects, Slovenia;
Majda Kregar, Founder Ambient, Slovenia;
Andraž Keršič, Co-Founder a2o2 arhitekti, Slovenia;
Gregor Turnšek, Parnter JKMM Architects, Finland;
Roland Bechmann, Director Werner Sobek, Germany;
Conference registration
SHARE Slovenia 2023 Forum is accredited by the Chamber of Architecture and Spatial Planning of Slovenia (ZAPS) with 3 points.
ZAPS members benefit from a reduced ticket price of €59. The regular price is €79.
Tickets for the event can be purchased online.
Contact event organiser
SHARE Architects Network – Connecting architects and contractors in Central and South Eastern Europe
Over the past 25 years, SHARE Architects forums have become a key networking platform for architects and constructors in Central and South Eastern Europe. SHARE provides a useful framework for knowledge and understanding of the diversity of modern architectural phenomena. Currently, SHARE Architects events are held in 16 countries and have developed a community of over 50,000 professionals around them.