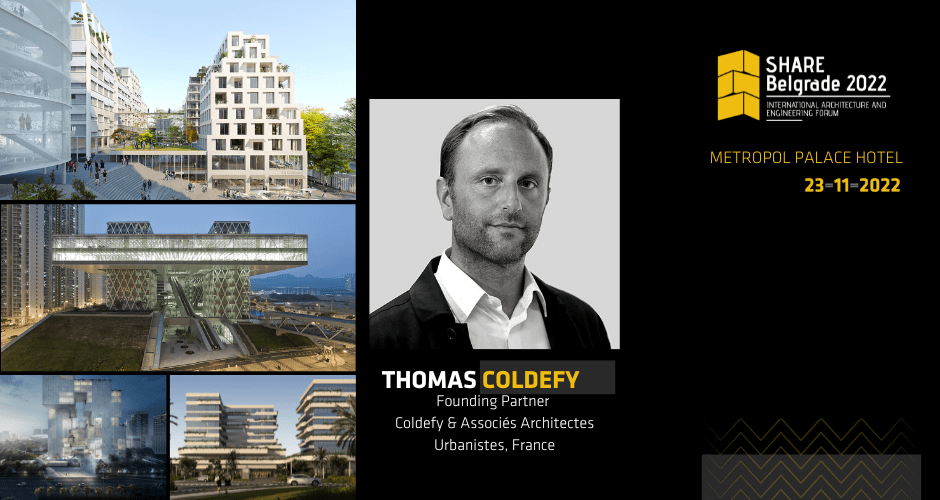 Thomas Coldefy, Founding Partner Coldefy & Associés Architectes Urbanistes, France, will lecture at SHARE Belgrade 2022 Forum
Thomas Coldefy earned a degree in architecture at the Ecole Spéciale d'Architecture in Paris in 2002.
He is a member of the American Institute of Architects (AIA). After holding positions in famous architecture offices in Paris, New York and London, he joins Coldefy in 2006 as Managing Director. He became Principal in 2010. He won the Asian "40 under 40" International design Awards 2011 organized by Perspective, as well as the European "40 under 40" prize organized by the European Center for Architecture Art design and Urban Studies and the Chicago Athenaeum. Thomas Coldefy gives numerous lectures, his achievements are the subject of publications and exhibitions in France and internationally. Since 2014, Thomas Coldefy has been visiting professor at the Jilin Institute of Architecture and Civil Engineering, China and since 2021, Teacher for a Master's degree program at ESA (Ecole Spéciale d'Architecture, Paris). Monumentality and delicacy, urban issues and attention to detail characterize the writing of its projects, in which the well-being of residents and users is always central.
Click here for details about SHARE Belgrade 2022 Forum
Register now! Book your place!