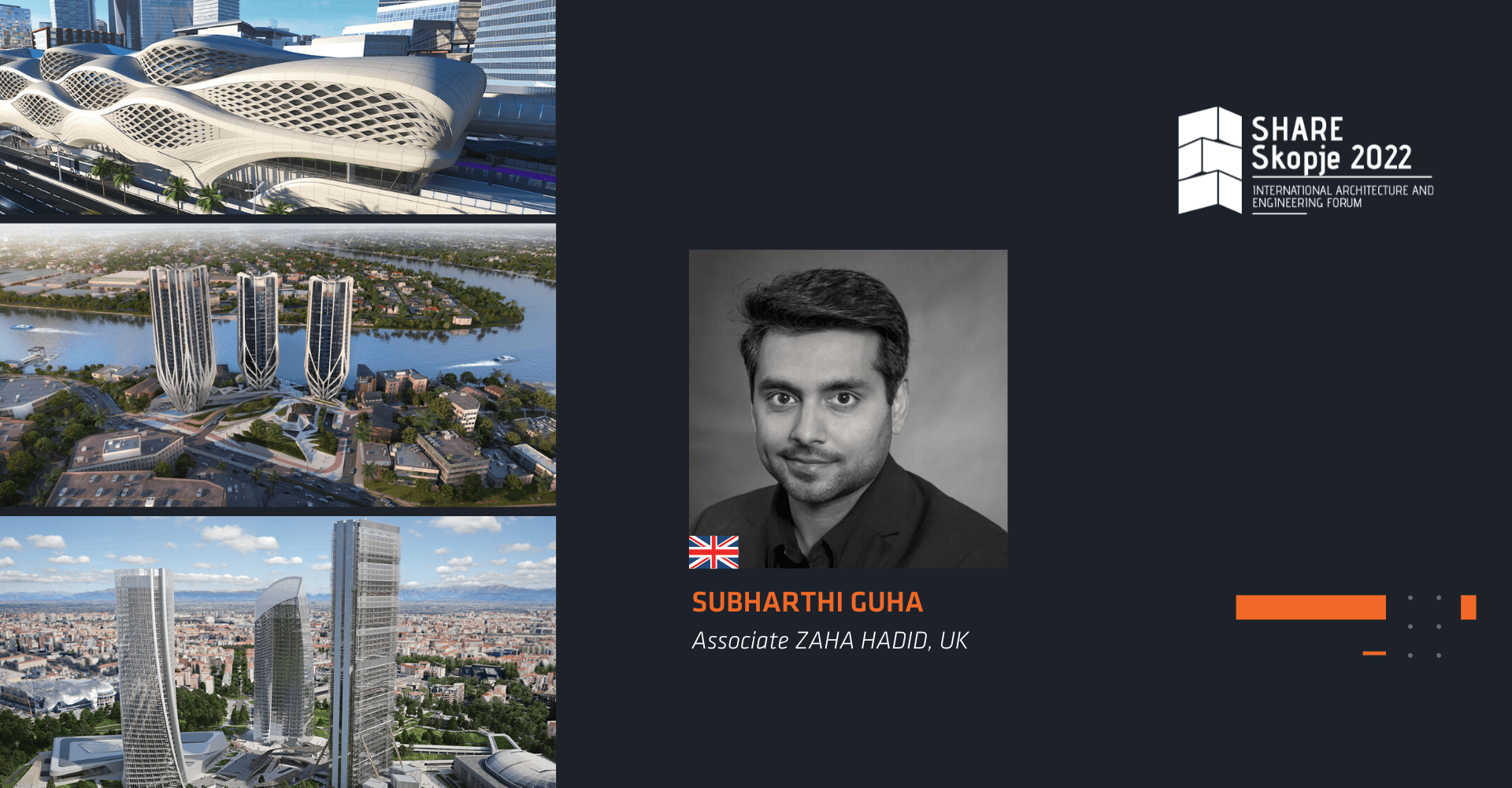 Subharthi Guha, Associate ZAHA HADID, UK, will lecture at SHARE Skopje 2022 Forum
Subharthi Guha is Architect and Urban Planner, with an experience of design across 30 countries and over 50 projects with a skillset of winning competitions, developing concepts and construction of highly creative work.
Having worked alongside architect Charles Correa on numerous international buildings, masterplan and rural re-development projects, he joined Zaha Hadid Architects, London in 2010, expanding his repertoire of built projects. Working at ZHA for the past 13 years, his experience ranges across all sectors including high end residential, commercial, infrastructure, housing and retail. Key Projects include the City life Tower Milan, KAFD Riyadh metro station, Studio City Phase 2, Aarhus Stadium Denmark and high end residential. He also founded the award winning studio conceptSG Ltd in 2006 which works on avant-garde buildings and new growth models of city planning across the globe.
All of the works on Architecture and City planning strategies have been awarded and widely published while some have been adopted as part of Urban advisory boards in India and the UK. He has lectured and taught in various institutes in UK, China, USA and India and is an Honorary Professor at XJLTU.
Awards:
Honorary Professor – XJLTU Suzhou
M. Arch and Urbanism – Architectural Association, London
B. Arch – SPA, New Delhi
AISSCE – Mayo College, Ajmer
Working with clients that have global reputations for excellence, Zaha Hadid Architects (ZHA) is developing transformational projects across the world for over 40 years.
Based in London and founded by Dame Zaha Hadid, the firm has redefined architecture for the 21st century with a repertoire of projects that have captured imaginations across the globe. Enticingly contextual, each project combines an unwavering optimism for the future.
Receiving the highest honors from civic, professional and academic institutions worldwide, ZHA is one of the world's most consistently inventive architectural studios—and has been for four decades.
In over 50 award-winning projects around the world including the Pitzger prize and the royal gold medal in architecture. ZHA's architecture becomes more spatially refined, structurally more efficient, materially more polished, technologically more advanced with each new design.
Check the event program
Register here