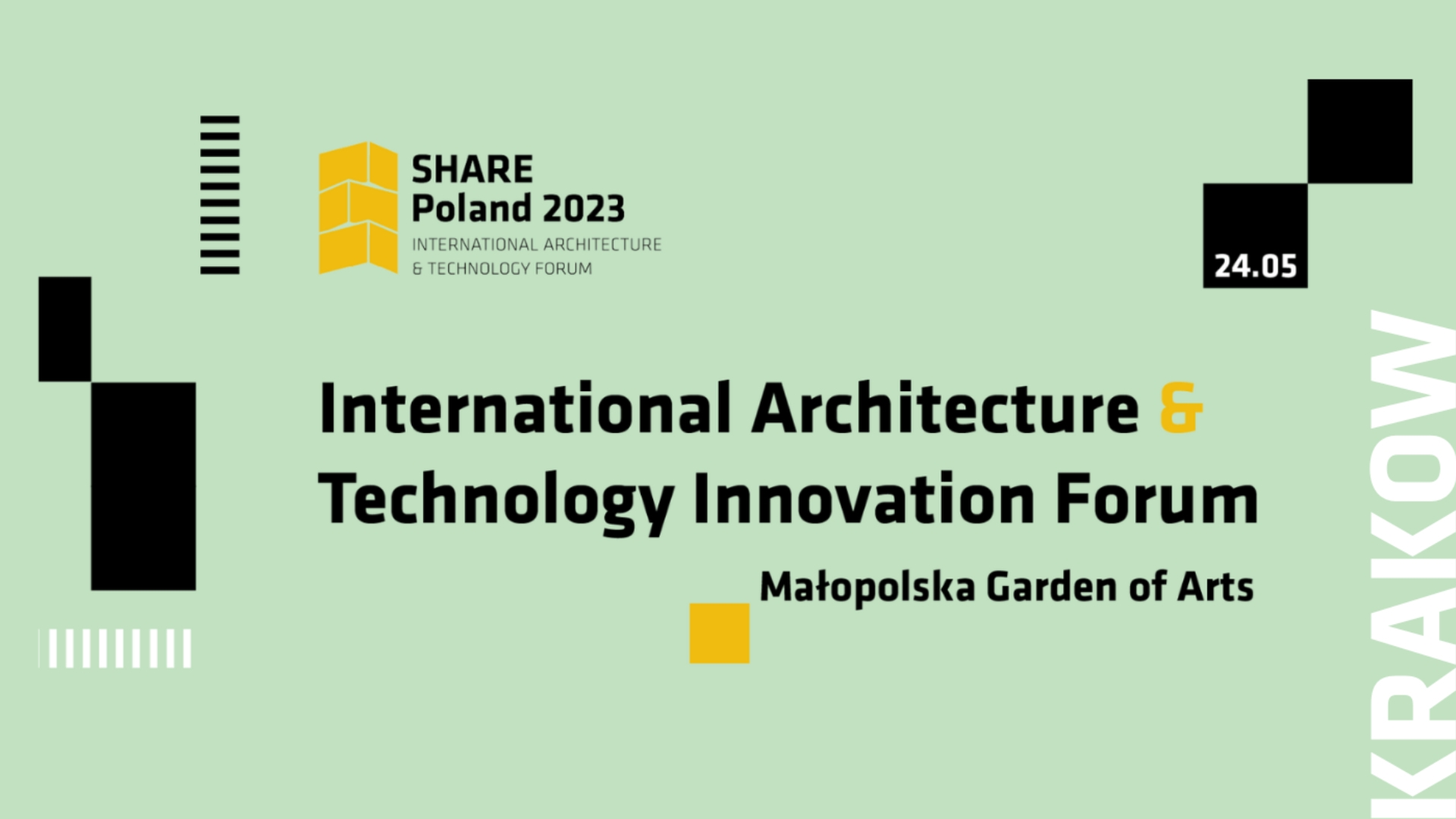 SHARE Poland 2023 Forum will gather international guests to explore the latest Design and Technology advancements for Sustainable Facades
The  International Architecture and Technology Innovation Forum – SHARE Poland 2023 will take place on 24th of May at Małopolska Garden of Arts in Krakow and will be chaired by Krzysztof Ingarden, Dean of Faculty of Architecture and Fine Arts, Andrzej Frycz Modrzewski Krakow University; President Ingarden & Ewý.
The event is organized by SHARE Architects, the leading network of conferences for architects in Central and South-Eastern Europe, in partnership with the co-organizer Małopolska Regional Chamber of Architects of the Republic of Poland, with the support of the Association of Polish Architects Cracow Branch and Andrzej Frycz Modrzewski Krakow University.
"Sustainable facades: Design and technology" and "Large-scale development projects" are the main themes that will be highlighted on 24th of May.  In their presentations, the guest speakers will emphasize innovative facade design and technologies, as well as large urban development projects, combining technical details of their projects with inspirational insights for the audience.
SHARE Poland 2023 will bring together national and international renowned architects, innovators in architecture and building technologies, great personalities in architecture and will offer access to information and new opportunities of cooperation.
The first international speakers announced are:
Gianluca Racana, Board Director ZAHA HADID, UK
Martha Thorne, American architectural academic, curator, editor, and author; Former Executive Director of the Pritzker Architecture Prize;
Andrew Tyley, Partner Rogers Stirk Harbour + Partners, UK;
Hiroki Matsuura, Founding partner MASA ARCHITECTS, The Netherlands;
Andreas Vardas, Founder VARDAS STUDIO architects + designers, Cyprus;
Adrian Untaru, Founding Partner ADNBA, Romania;
SHARE Poland 2023  is organized by with the support of the Main Partner Zumtobel and the Main Media Partner Architektura&Biznes.
More information can be found on the website as well as on Facebook, Instagram and LinkedIn.

Registration started
Tickets for the event are available for purchase online.
Students, architects, and engineers under the age of 25 benefit from a reduced ticket price of  €20. Also, Małopolska Okręgowa Izba Architektów members benefit from a reduced ticket price of €39. The regular price is €59. The ticket prices are valid until 25th April. After this date, the prices will increase with 25%.
Brief presentation of the international guests
Gianluca Racana, Board Director ZAHA HADID, UK
Since joining ZHA in 2000, Gianluca has directed a number of large-scale projects, including the MAXXI Contemporary Arts Centre in Rome (winner of the RIBA Stirling Prize in 2010). In Milan, he oversaw the entirety of the Citylife mixed-use development and the Generali headquarters tower, while in Riyadh, he oversaw the construction of the King Abdullah Financial District (KAFD) Metro Station. Saudi Arabia, a vital hub in the brand-new Riyadh Public Transportation system. Recently, he oversaw the ZHA team that won an international design competition for the Western Sydney International Airport, one of Australia's most anticipated infrastructure projects. Gianluca is currently overseeing a range of key projects including the Rail Baltica High-speed Train and multi-modal Station in Tallinn, Estonia, two new metro stations for the Fornebubanen Metro Line in Oslo, and the Zuglo City Centre masterplan and mixed use development in Budapest, Hungary.
Martha Thorne, American architectural academic, curator, editor, and author
For the past twelve years, Martha Thorne served as Dean of IE School of Architecture & Design, part of the innovative IE University in Madrid/Segovia, Spain. ​She will continue her affiliation with the IE School of Architecture and Design as Distinguished Professor. From 2005 to 2021, she served as Executive Director of the Pritzker Prize. Her main interests center on two broad themes: the contemporary city and how architecture, design, and urbanism can contribute to sustainability and resilience; and how architecture and design education can evolve in both content and pedagogy to be more relevant for today's challenges.
Martha Thorne has been entrusted with setting up OBEL AWARD teaching fellowships programme and advising the foundation in the development of new initiatives related to architectural education and the future of the built environment.
Andrew Tyley, Partner Rogers Stirk Harbour + Partners, UK.
His work has included design and masterplanning, presenting schemes to clients and working on transportation and airport infrastructure projects, as well as giving strategic advice on commercial developments for developer clients.
Andrew is currently leading Bao'an Airport Terminal 2 in Shenzhen, China and Taoyaun Airport T3. He was the project lead on the 7 million square foot Wood Wharf Masterplan in London gaining planning permission for one of the largest undeveloped sites in East London.
He was also responsible for two major schemes in New York: The masterplan for East River Waterfront that formed part of the redevelopment of downtown New York following 9/11, and a mixed-use development for Silvercup Studios.
He was project architect for the  BBVA México Tower in Mexico City during the schematic design phase and has worked on a number of UK and international schemes at competition stage, including Transbay Tower and Terminal in San Francisco, The Hong Kong-Zhuhai-Macao Bridge Hong Kong Port – Passenger Clearance Building and Beijing Airport.
Andrew participates in a number of school outreach programmes and has been instrumental in finding funding for architectural education programmes in schools such as Morehouse.
Hiroki Matsuura, Founding partner MASA ARCHITECTS, The Netherlands
Hiroki Matsuura's extensive track record and expertise range from large-scale urban design, and landscape design to architecture that is based on 21 years of professional practices across international fields at MAXWAN. He also teaches and lectures at the Academy of Architecture Amsterdam, The Rotterdam Academy of Architecture and Urban Design. On the stage of SHARE Poland 2023, Hiroki Matsuura will present "Regeneration: A house & A square", emphasizing two projects related to the sustainable regeneration of the urban environment: Villa West in Rotterdam,  a villa converted from an old sport gym (built in the 1940s) that has a specific "Sustainable façade" principle and a "Good living" environment and Unit.city Main Plaza in Kyiv,  a city square situated at the regeneration of the former industrial area into a new mix-use "Urban Development" as the main "Public space" of this new neighborhood.
Andreas Vardas, Founder VARDAS STUDIO architects + designers, Cyprus 
Andreas Vardas graduated from the Bartlett School of Architecture, UCL, in 1993 and gained his working experience in London. He is a member of the RIBA and The Cyprus Scientific and Technical  Chamber (ETEK). His studio has earned many awards in competitions as well as the Republic of Cyprus President's Award. It has also represented Cyprus in the European Mies Van Der Rohe Award.
Adrian Untaru, Founding Partner ADNBA, Romania
ADNBA, founded in 2003 by Andrei Șerbescu and Adrian Untaru in Bucharest, is known for its efforts to find the optimal balance between experimentation and experience in the intricate and challenging landscape of modern life. While ADNBA believes in architecture as a creative gesture with cultural and social value, the practice is also aware of the subjectivity and occasional hazards involved in distinguishing between these attributes in the rapidly changing environment of contemporary Romania and Eastern Europe.
SHARE Architects in Poland
Great Polish architects have joined the SHARE Architects network adding value to previous editions in Krakow or promoting Polish architecture in Europe. SHARE Architects Society, an exclusive group within SHARE Architects framework through which architects can confront ideas and conceptions, acting as a catalyst for debates and actions, include 32 leading Polish personalities: Romuald Loegler, Krzysztof Ingarden, Ewa Kuryłowicz, Stanislaw Denko, Bartlomiej Kisielewsk, Wojciech Kosinski, Andrezj Bulanda, Artur Jasinski,  Piotr Lewicki, Mateusz Adamczyk, Belina Brzozozwki, Jan Pawel, Urszula Brataniec, Marcin Goncikowski, Oskar Sergiusz Grabczewski, Tomasz Konior, Maciej Kowalczyk, Maciej Kurkowski, Piotr Labowicz, Maciej Lapkowski, Zbigniew Mackow, Piotr Michalewicz, Maciej Milobedzki, Ewa Porębska, Wlodzimierz Mucha, Dorota Rudawa, Marcin Brataniec, Jan Sukiennik, Dorota Szlachcic, Mariusz Tenczynski, Michal Tatjewski, Karolina Zielinska-Dabkowska, Tomasz Wojtkowiak, Piotr Welniak.
Among the key guests speakers of the last editions of SHARE Poland Forum are  Fokke Moerel, Partner MVRDV, The Netherlands; Jim HEVERIN, Board Director, ZAHA HADID Architects; Rainer Mahlamäki, Co-Founder Lahdelma & Mahlamäki architects, Finland; Gideon MAASLAND, Director of MVRDV, The Netherlands; Julian Weyer, Partner C.F. Møller Architects, Denmark;  Fuensanta NIETO, Co-Founder Nieto Sobejano Arquitectos, Spain;  Jana Crepon, Partner Inside Outside, The Netherlands; John McELGUNN, Partner Rogers Stirk Harbour + Partners; Xander Vermeulen Windsant, principal architect & director of XVW ARCHITECTUUR, The Netherlands; Dean LAH, Co-founder of Enota – Slovenia; Tina SAABY, Former city architect Copenhagen, City architect Gladsaxe – DENMARK, Brendan MACFARLANE, Partner Jakob+Macfarlane architects, France; Etan KIMMEL, Founder Kimmel-Eshkolot Architects, Israel; Davide MACULLO, Founder Davide Macullo Architects –Switzerland;
SHARE Architects Network – Connecting architects and contractors in Central and South Eastern Europe
Over the past 25 years, SHARE Architects forums have become a key networking platform for architects and constructors in Central and South Eastern Europe. SHARE provides a useful framework for knowledge and understanding of the diversity of modern architectural phenomena. Currently, SHARE Architects events are held in 16 countries and have developed a community of over 50,000 professionals around them.
CONTACT
Eusebia Mindirigiu
Head of Communication
M: +40 744621300
E: eusebia.mindirigiu@abplus.ro