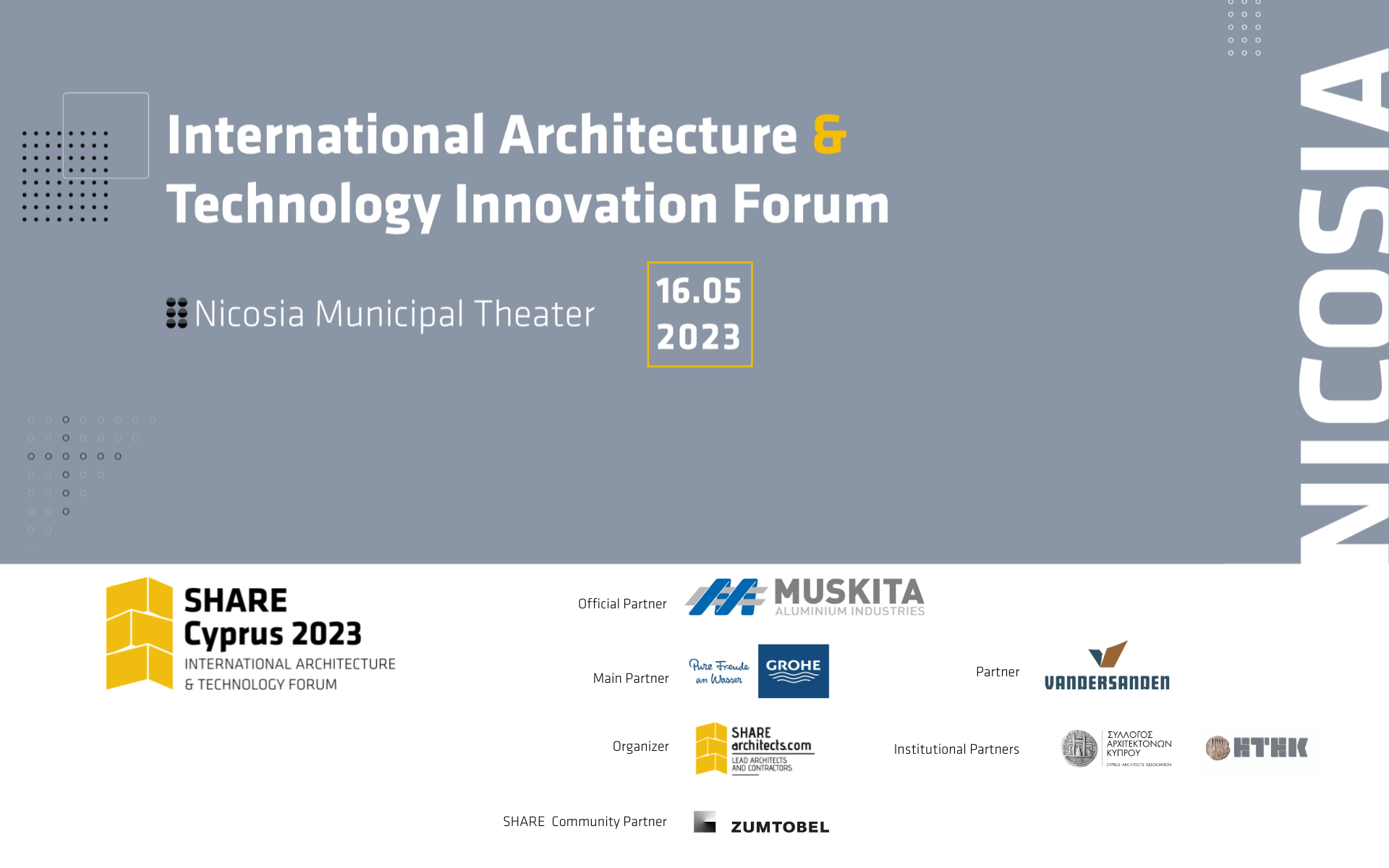 Leading experts in sustainable architecture and façade design will gather on the stage of SHARE Cyprus 2023 Forum
The International Architecture and Technology Innovation Forum – SHARE Cyprus 2023 will take place on 16th of May at Nicosia Municipal Theater and will be chaired by Alkis Dikaios, President of the Cyprus Architects Association.
The main themes of SHARE Cyprus 2023 are "Sustainable facades: Design and technology", "Living and Working Architecture" and "Large-scale development projects" emphasizing innovative facade designs and technologies, large urban development projects and approaches to improving living standards through architecture.
Guest speakers' dynamic lectures will combine technical details of their projects with inspirational insights for the audience providing a complex vision of the design, cutting-edge facade technologies, together with innovative ideas and inspiring large-scale projects.
SHARE Cyprus 2023 is organized by SHARE Architects, the leading network of events for architects in Central and South-Eastern Europe, in partnership with the Cyprus Architects Association and The Cyprus Scientific and Technical  Chamber (ΕΤΕΚ). 
The speakers announced are: 
Konstantinos Konstanti, President of The Cyprus Scientific And Technical Chamber (ETEK)
Peter Murray, Founder of New London Architecture, UK;
Aser Giménez Ortega, Associate Director MVRDV, The Netherlands;
Konstantinos Chrysos, Associate Director UNstudio, The Netherlands;
Maximiliano Arrocet, Director AL_A, UK;
Christos Pavlou, Founder Christos Pavlou Architecture, Cyprus;
Etan Kimmel, Co-founder Kimmel Eshkolot Architects, Israel;
Stavros Ioannou, Founder M.O.B. Design Studio, Cyprus;
Thomas Bailey, Director Room11, Australia;
Charis Christodoulou, Co-Founder NOA Architects, Cyprus
Habibeh Majdabadi, Founder Majdabadi Architects, Iran;
Christos Papastergiou, Co-founder Draftworks*architects, Cyprus;
Andrei Serbescu, Co-Founder ADNBA, Romania;
SHARE Cyprus 2023 will include a dynamic SHARE Society Debate on the main theme of  "Good living and working architecture". The debate's guest panel includes  Andreas Vardas, Founder Vardas Studio and  Michael Cosmas, Founder MCA LLC, Cyprus.
The moderators of the event are Chrystala Psathiti, Lecturer in Architectural Design & Theory at Neapolis University Paphos, Cyprus, Markella Menikou, Associate Professor, Head of the Department of Architecture University of Nicosia.
Registration Started
Tickets for the event are available for purchase online.
Students, architects, and engineers under the age of 25 benefit from a reduced ticket price of  €29.  Also, members of ETEK or the Cyprus Architects Association benefit from a special fee of 49 euros compared to the standard fee of 69 euros. Registration for the special fee will close on 15 April. After this date, the prices will increase with 25%.
More information can be found on the website as well as on Facebook, Instagram and LinkedIn.
Brief introduction to the international speakers
Maximiliano Arrocet, Director AL_A, UK
AL_A is the award-winning architecture studio founded in 2009 by the RIBA Stirling Prize-winning architect Amanda Levete.  At SHARE Cyprus 2023, he will present "Beyond the façade: a story of ceramics in architecture". The projects presented (MAAT, V&A Museum, Maggie's Southampton) invite us to reflect on the dialogue between public space and materiality. They also speak of the contextual, historical and evocative power of ceramics. The presentation will be an exploration of the innovative use of ceramics in the 21st century. Ceramics as a storytelling medium in architecture and engineering. The project of MAAT was awarded with Design Prize 2017, Shortlist EU Mies van der Rohe Prize 2017, Winner Architecture Best of Best Iconic Award 2017, Finalist World Architecture Festival 2017, ECCS Steel Design Award of Merit 2017, Highly Commended, Blueprint Awards 2017, finalist, Tiles of Spain Awards 2017,  Honorable Mention, Valmor Prize and Municipal Architecture 2017, Best Museum Architecture, Leading Cultural Destination Awards 2017, Supreme Winner and Public Building category Winner,
Surface Design Awards 2018. V&A Museum was honores as Cultural Project of the Year, AJ Awards 2017, Building of the Year, RIBA London Awards 2018, Judges' Inspiration Award, ICE London Civil Engineering Awards 2018, RIBA National Award 2018, Spaces, Places & Cities Award, Fast Co. Innovation by Design Awards 2018.
Etan Kimmel, Co-Founder Kimmel Eshkolot Architects, Israel
Kimmel Eshkolot Architects won the prestigious RIBA award for international excellence 2018 for The National Memorial in Mount Herzl and joined RIBA's list of the 20 best new international buildings of 2018. He is also the winner of the International Dedalo Minosse Award with the Mount Herzl National Memorial in Jerusalem. Etan Kimmel was appointed as a professor at the Faculty of Architecture and Urbanism of the Technion, Haifa, in 2021. In 2011, Kimmel Eshkolot Architects won the Rechter Prize for Architecture, considered to be the most prestigious award for architecture in Israel. It received the award for the design of a rehabilitation center for IDF disabled veterans, located in Be'er Sheva.
Peter Murray, Curator-in-Chief New London Architecture and the London Society, UK
Peter Murray trained as an architect but has spent most of his career writing about and commenting on architecture rather than practising it. He edited the weekly newspaper for architects, Building Design, before moving on to the Royal Institute of British Architects Journal. Peter curated a number of major exhibitions at the Royal Academy including the 1986 New Architecture: the work of Foster, Rogers, Stirling, and Living Bridges in 1996. Peter has written numerous books including "The Saga of Sydney Opera House", "London's Growing Up and Great Estates", "The Leadenhall Building by Rogers Stirk Harbour".
Aser Giménez-Ortega, Associate Director MVRDV, The Netherlands
Aser Giménez-Ortega has been part of MVRDV since 2007. He is part of the design team for two facades for the BVLGARI flagship stores in Kuala Lumpur, Malaysia, and Bangkok, the two projects being awarded the Prix Versailles – Asian regional winners for mall facades and Prix Versailles 2021 – Special prizes Exterior (South Asia and The Pacific). Aser's other works include the transformation of a former concrete factory into Roskilde Festival Folk High School,Oslo's DNB bank headquarters and Shanghai's Hongqiao CBD, and The Vertical Village research in collaboration with The Why Factory.
Konstantinos Chrysos, Associate Director UNstudio, The Netherlands
Konstantinos started his work at UNStudio in 2010 as part of the design team for the high-end residential development of the Scotts Tower, coordinating it to completion. Konstantinos is the façade design project leader for the FOUR Frankfurt project and is responsible for materializing the facades of the competition-winning design. He also worked on the Hanjie Wanda Square shopping mall in Wuhan, where he carried the façade design through to realization and was part of the winning team for the competition of the Doha Metro Network, the first phase of which was completed in 2019.
Thomas Bailey, Director Room11, Australia
Thomas Bailey is a founding member and Director of Room11, a Tasmanian-based architectural firm that has produced over 200 buildings since its establishment in 2002. The firm has gained national and international acclaim for its architecture and the way it responds to the rugged landscapes of Tasmania. Bailey will take the stage at SHARE Cyprus 2023 to present two projects: Triptych (Glass House, Main House, Pulmonum) and Wild House. Bailey will offer insights into Room11's unique design process, particularly with respect to making the first architectural moves in wild or rural landscapes. Material selection is essential to the delivery of these projects, and Room11 fosters close relationships with fabricators, manufacturers, and contractors to ensure that extraordinary architecture can be realized in remote locations. For Room11, the design process begins not only with the siting and brief, but also with an eye on the final product and the methods of procurement and materials that will make it possible to deliver exceptional architecture in even the most challenging environments.
Habibeh Majdabadi, Founder Majdabadi Architects, Iran
Habibeh Madjdabadi, a master's degree holder in Architecture from Azad University of Tehran, has gained international recognition for her unique approach to design. Madjdabadi has received numerous awards and recognitions, including shortlisting for the Aga Khan Award 2016 and Tamayouz Women in Architecture and Construction Award 2019, and winning the Chicago Award 2014, Worldwide Brick Award 2014, and MEMAR Award 2014. Madjdabadi's work focus on uncovering the poetic side of materials by highlighting their natural attitude and interaction with the human body through artisan modus operandi. She has held lectures around the world and her work has been exhibited in prestigious events such as the Venice Biennale, TU Vienne University, and Melbourne University.
Andrei Serbescu, Co-Founder ADNBA, Romania
Andrei Serbescu founded the architecture office ADNBA in 2003. The office's work has received numerous awards in national and international competitions, being several times nominated for the European Prize for Contemporary Architecture Mies van der Rohe Awards, for which it was also shortlisted within the top 40 projects in 2015 and 2019. It was also the winner of the Milan Zlokovic award for the best architectural achievement in the Balkan Region in 2015, a finalist at the World of Architecture Festival Awards in 2014 and several times the winner of the Bucharest Architecture Annual, the Romanian National Architecture Biennale and the East Centric Architecture Triennale Award.  Since 2002, Andrei Șerbescu has been teaching within the design studios of the Bucharest's University of Architecture and Urbanism Ion Mincu.
SHARE Cyprus 2023 is organized with the support of the companies  Muskita (Official Partner), Grohe (Main Partner), Vandersanden (Partner) and our Proud Partner of SHARE Community Zumtobel.
SHARE Architects in Cyprus
The SHARE Architects' network in Cyprus has been enriched by the inclusion of notable Cypriot architects, bringing a new dimension to the previous editions held in Nicosia and showcasing the excellence of Cypriot architecture in Europe. We are honored to have 10 Cypriot architects as members of SHARE Architects Society, an exclusive group that promotes debate and action within the architecture community: Constantinos Constanti, Solon Xenopoulos, Andreas Savvides, Markella Menikou, Gregoris Patsalosavvis, Michael Cosmas, Yiannis Armeftis, Eraclis Papachristou, Andreas Vardas, Christos Christodoulou. 
Internationally renowned architects have attended in previous SHARE editions in Cyprus, among them Martin Knuijt, Okra Landscape Architects, The Netherlands; Frederique Monjanel, CEO Atelier Jan Nouvel, France; Roman Delugan, Founder And Partner Delugan Meissl Associated Architects, Austria; Michael Setter, Founder Setter Architects, Israel; Farshad Mehdizadeh, Co-founder, FMZD, Iran; Jan Gehl, Founder Gehl Architects, Denmark; Bernard Khoury, Founder DW5, Lebanon; Jan Knikker, Partner | Director Strategy & Development at MVRDV, The Netherlands; Gregor Reichenberg, Partner Reichenberg Arhitektura, Slovenia; Alfonso Femia, Founder Alfonso Femia, Italy; Angeliki Athanasiadou, founding partner AVW Architecture- Greece; Tomazs Krištof, Founder Studio Kristof, Slovenia; Ilias Papageorgiou, Principal At Pila Studio, Greece.
SHARE Architects Network – Connecting architects and contractors in Central and South Eastern Europe
Over the past 25 years, SHARE Architects forums have become a key networking platform for architects and constructors in Central and South Eastern Europe. SHARE provides a useful framework for knowledge and understanding of the diversity of modern architectural phenomena. Currently, SHARE Architects events are held in 16 countries and have developed a community of over 50,000 professionals around them.
CONTACT
Eusebia Mindirigiu
Head of Communication
M: +40 744621300
E: eusebia.mindirigiu@abplus.ro