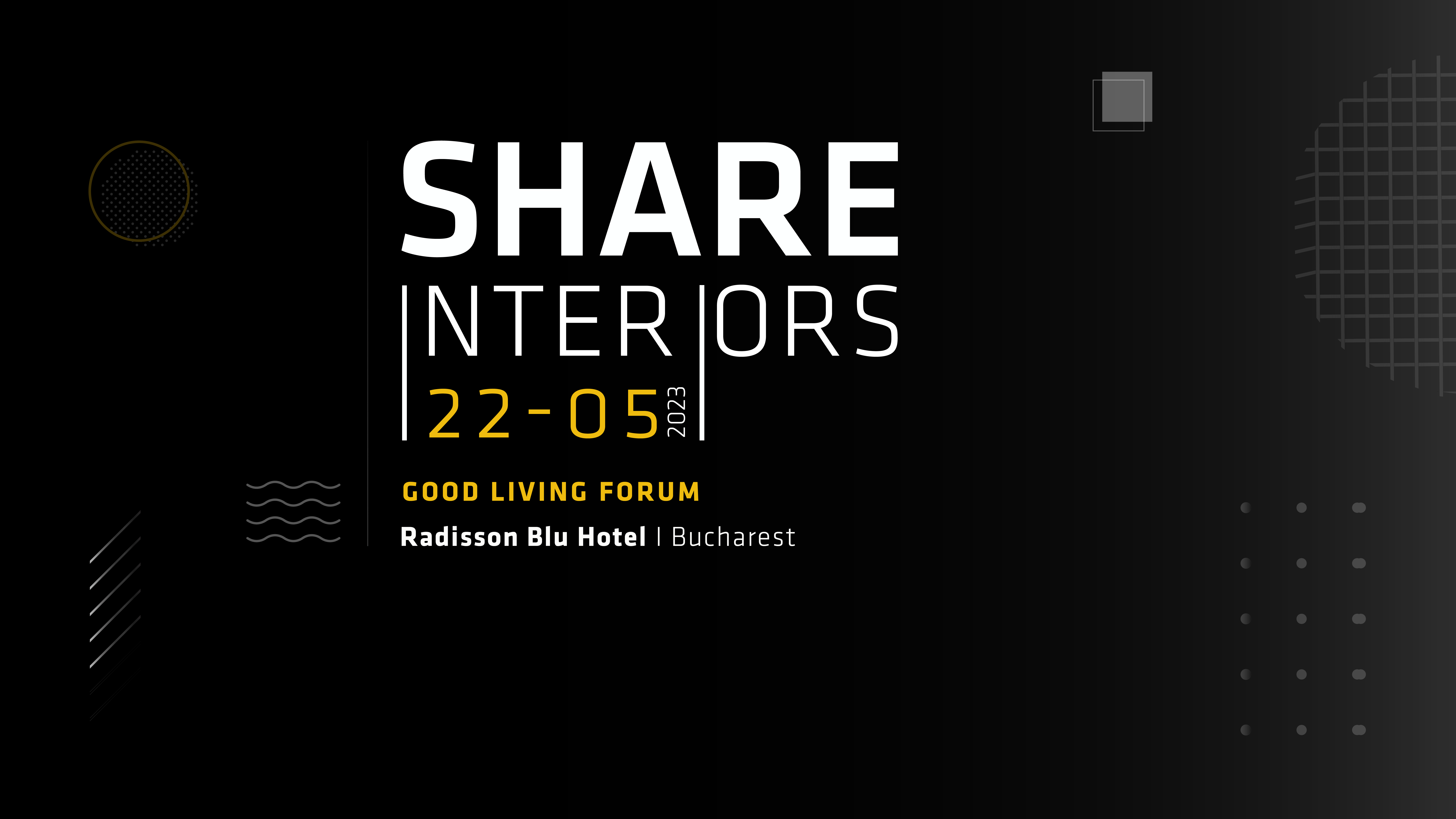 SHARE Interiors Forum | Eveniment dedicat celor mai noi tendințe în arhitectura de interior
Cel mai important forum internațional dedicat arhitecturii spațiilor în care locuim, trăim și muncim se va desfășura pe 22 mai la Radisson Blu Hotel București.
eveniment dedicat arhitecturii de interior și conceptului de  "good living architecture";
speakeri invitați din România, Republica Moldova, Bulgaria, Danemarca, Georgia, Grecia, Marea Britanie, Serbia, Olanda,Taiwan;
studii de caz privind proiecte premiate la nivel internațional;
dezbatere: Inteligența artificială în designul interior;
reuniune profesională adresată arhitecților, arhitecților de interior, designerilor de interior, deschisă dezvoltatorilor și investitorilor în arhitectura de calitate;
Interioarele clădirilor își lasă amprenta asupra orașelor, locurilor și spațiilor în care trăim și lucrăm. SHARE Architects dedică un eveniment personalizat programului de arhitectură de interior și conceptului de "good living architecture".
Cea de-a doua ediție a Forumului SHARE Interiors România  va avea loc pe 22 mai 2023, la Radisson Blu Hotel din București, cu scopul de a conecta arhitecții  și designerii cu branduri și experți de top în arhitectură, tehnologie și design interior.
Evenimentul se adresează investitorilor și dezvoltatorilor, antreprenorilor, arhitecților, arhitecților de interior, designerilor precum și companiilor cu soluții pentru proiecte de arhitectură.
Speakeri invitați:
Fokke Moerel, partener al multipremiatului birou internațional MVRDV;
Johnny Chiu, fondator J.C. Architecture, Taiwan – câștigător al 2022 WAF/INSIDE, Restaurant & Bar of the year award, 2019 INSIDE World Festival of Interiors, World Interior of the Year;
Simon Hamilton, designer de interior, profesor și mentor cu peste 30 de ani de experiență în industria designului, profesor asociat la Royal College of Art, director de design, The Surveyor's Collection, Marea Britanie;
Marc Jay, partener fondator WE Architecture, Danemarca – câștigător al WAN Awards 2019 – secțiunea "Wood in Architecture";
Milena Kordić, co-fondatoare SOBA, Serbia – în calitate de autor, cercetător și designer, ea explorează intersecția dintre teorie și practică în arhitectură și design;
Anda Manu, Founder AMA Design, România – Excellent Architecture la German Design AWARD 2020, premiată la categoria Design interior la BIG SEE 2020, cea mai bună firmă de arhitectură a anului în cadrul CIJ AWARDS România (în 2018 și în 2019);
Patricia Sturzoiu, partener Quadratum, România – birou cu proiecte pe 2 continente, 4 țări și 34 de orașe;
Vasilis Stroumpakos, fondator Archelab, Grecia – câștigător al European Design Awards, Feidad, Possible Futures (Miami Bienale) Plecnik Institution, Interactive Media Awards, AVA Digital Awards, Design Licks;
Militsa Petrova, fondator SPACEMODE studio, Bulgaria – birou cu numeroase nominalizări și distincții la concursuri naționale și internaționale de arhitectură, printre care: BigSEE Awards, German Design Award, ARCHINOVA Awards, Building of the Year, Bulgarian Architectural Awards, Dibla Design Awards;
David Nikuradze, fondator Spectrum, Georgia – în cariera sa de 25 de ani a colaborat la o varietate de proiecte internaționale, inclusiv Etihad Towers Abu Dhabi, Emiratele Arabe Unite, The Crescent, Baku, Azerbaidjan, Whitehall Ferry Terminal New York, New York și 610 Lexington Avenue, New York , Turnul Bloomberg din New York;
Andreea Marinescu, Fondator Andreea Marinescu Arhitectura, Absolventă a Universității de Arhitectură și Urbanism "Ion Mincu", Bucureşti 2006, doctor în arhitectură (2013), asistent universitar în Catedra "Bazele Proiectării de Arhitectură" a Universității de Arhitectură și Urbanism "Ion Mincu", București Proiecte premiate: Casa GG – Premiul Anualei de Arhitectură 2019, București, Apartament în Brașov – Premiul Bienalei De Arhitectură 2018, București;
Programul evenimentului se va încheia cu dezbaterea "Ne înlocuiesc "roboții"? Inteligența Artificială și Arhitectura de Interior" moderată de Victor Grosu, arhitect & designer de interior, fondator Grosu Art Studio, Hype Project, IDBS – Interior Design Business School.Invitații săi vor fi Radu Călin, Fondator PickTwo, România, Sebastian Mîndroiu, Founder and Managing Partner PickTwo, România, Serghei Mirza, CEO Architect LH47 ARCH, Republica Moldova, Andreea Robu-Movilă, Publisher SHARE Architects, Taisia Stîncă, arhitect Hype Project.
SHARE Interiors Forum România este organizat de SHARE Architects, principala platformă de networking pentru arhitecți din Europa Centrală și de Sud-Est, în parteneriat cu Ordinul Arhitecților din România (OAR), cu sprijinul companiilor Ceresit, Theta, Knauf Ceiling Solutions (Parteneri), Osea Interiors ( Sponsor) și partenerul SHARE Architects Community  Zumtobel.
---
Programul evenimentului este disponibil aici.
Program eveniment
Înregistrarea la eveniment
Biletele pentru eveniment sunt disponibile pe site-ul evenimentului.
Cumpără bilet
Membrii Ordinului Arhitecților din România beneficiază de un tarif redus de 60€. Studenții, arhitecții și designerii sub 25 de ani beneficiază, de asemenea, de reduceri.  Biletul standard pentru conferință este de 75€.
---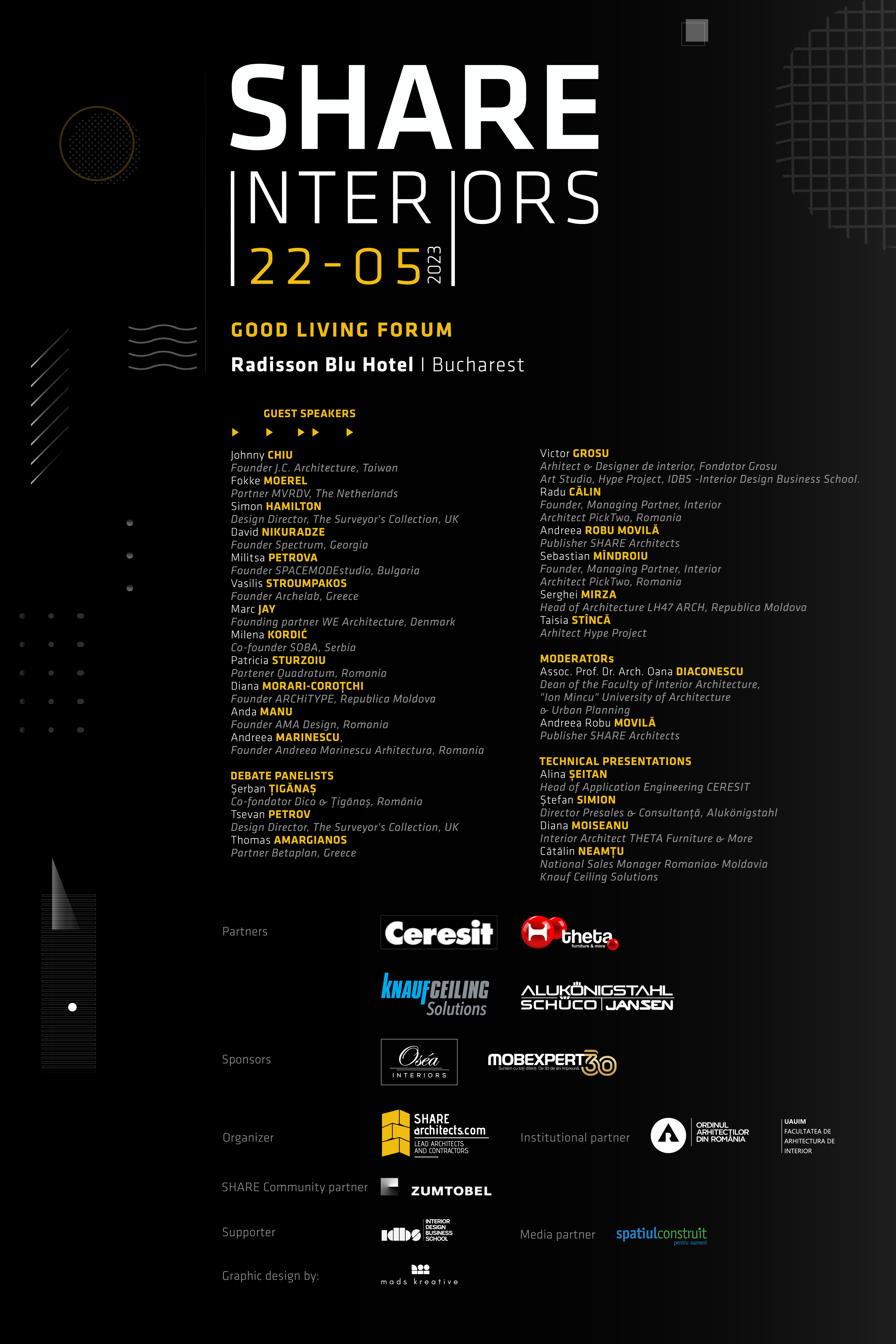 CONTACT
Eusebia Mindirigiu
Head of Communication
M: +40 744 621 300
E: eusebia.mindirigiu@abplus.ro