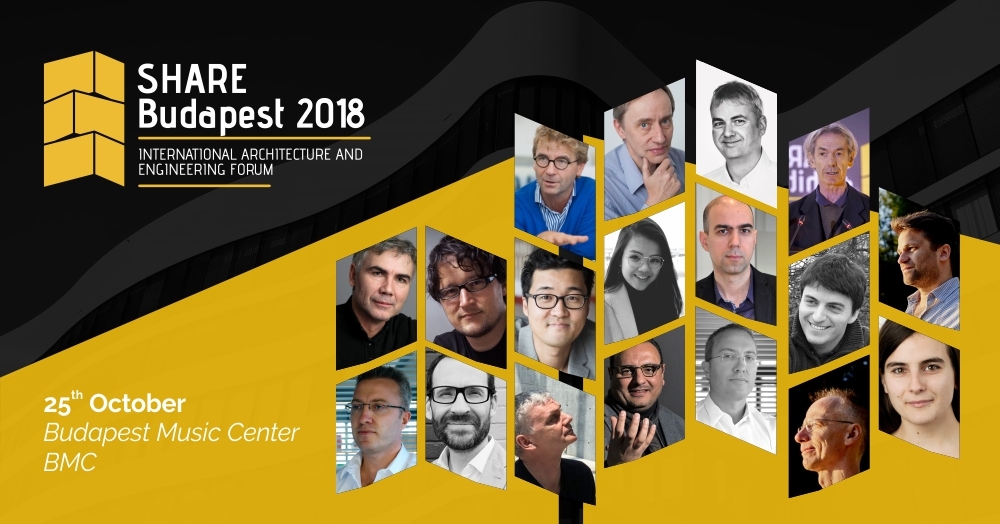 SHARE BUDAPEST 2018 International Architecture and Engineering Forum on October 25, 2018
Venue: Budapest Music Center BMC, Budapest, Hungary
Outstanding speakers from 12 countries will unveil innovative ways of urban planning, novelty solutions in engineering, sustainability, regional development, lighting design, smart interiors, via sharing knowledge on award winning cultural, housing, high-rise, hotel, spa and sport projects. The special guest of the event is Renato Rizzi, holder of the Gold Medal for Italian Architecture, guest lecturer of Harvard among others. On October 25th in Budapest the international SHARE Forum will be dedicated to the knowledge-transfer and networking for shaping the future
SHARE BUDAPEST 2018 International Architecture and Engineering Forum will be held on 25th October 2018 in Budapest. The venue of the event is the Budapest Music Center (BMC, H-1093 Budapest, Mátyás utca 8). Principal and senior architects from leading ateliers of 12 countries will give lectures on innovation in architecture, urban design and engineering, lighting design, technologies for the smart and sustainable built environment, regional high-rise trends, besides focusing on coastal engineering, sport centres, spas and hospitality tendencies of the future. Through a thorough debate the challenges and possibilities of 'River Fronts' will be discussed. The lecture of the special guest, Renato Rizzi will close the diverse program full of parallel speeches, discussions and networking moments. The event is co-organized with Budapest Architects Chamber (BEK) and the Chairman of the event is Mr. Balasz Csapo, BEK President. SHARE Budapest 2018 is an effective platform for gaining new contacts and inspiration, knowledge on professional business trends, and for exchange of ideas and transfer of know-how.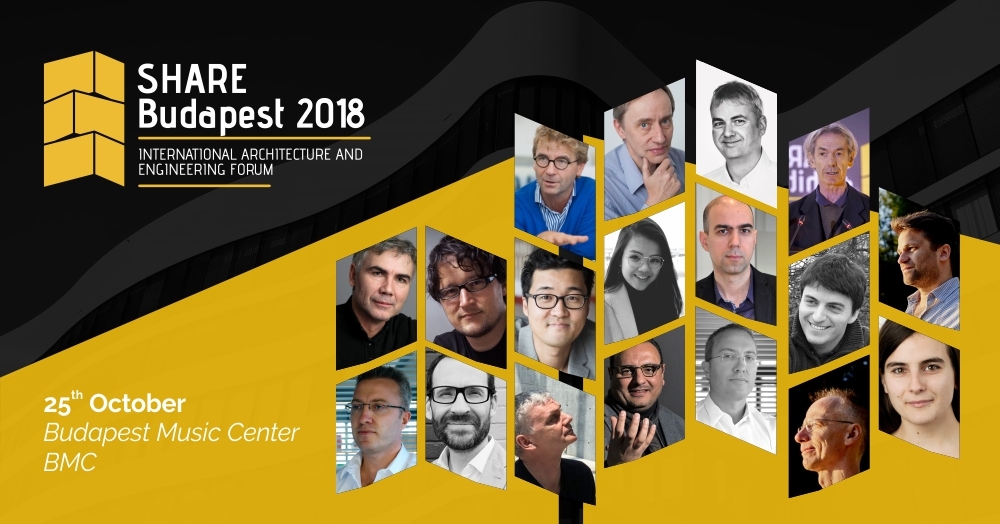 SHARE Budapest 2018 highlights
SHARE Budapest 2018 will gather exceptional speakers from 12 countries: Hungary, Romania, United Kingdom, Slovakia, France, Albania, Thailand, Sweden, Bulgaria, Malaysia, Denmark and Italy. Some of the lecturers and their focus for the event:
John Bulcock / Design Unit, MYS: 'Factory in the Forest'
John Bulcock is a UK registered architect. After starting his own London based practice, his work was selected for the 40 under Forty RIBA exhibition for young architects. Traveling to India in the early 1990's to both join Balkrishna Doshi in Ahmedabad and to study the work of, in particular, Le Corbusier, Khan and Bawa, he eventually settled in Kuala Lumpur where he remains to date opening his own design studio in 2001. Low energy and sustainable design are central to his philosophy and approach to architecture. He will present the awarded 'Factory in the Forest' project a manufacturing plant and office for an electronics company. The entire 20.000 m2 site is conceived as a forest that penetrates, surrounds and steps over the buildings maximising contact with nature.
Paul Bukeley / Snug Architects, UK: Inhabited Infrastructure – Insights into the award winning Milford-on-sea Beach Huts
Paul is the founding director of Snug Architects and catalyst behind the award-winning design studio. In 2017 the practice was either winner or shortlisted for no less than 11 awards and in 2018 won a coveted Civic Trust Award for the highly innovative Milford-on-Sea Beach Huts. The practice was also selected a Role Model Practice by the Royal Institute of British Architects. Paul is a teaching fellow at Southampton University School of Civil Engineering and the Environment. At SHARE Budapest he presents the Milford-on-Sea Beach Huts project which comprises 119 replacement beach huts and integral sea defences following damage arising from a significant storm event in 2014. The brief was for the project to resist 1 in 200 year storm conditions. The result is an innovative approach to coastal engineering that adds value through design and demonstrates the potential of inhabited infrastructure.
Tarek Hegazy / Living Design, SE: Hospitality Design – Operator's response to changing design trends. Artificial Intelligence (AI) & guest comfort
Tarek Hegazy has a portfolio containing more than 270 projects, most of them five-star hotels. He joined Living Design in 1999. Since 2006 he is the principal and creative director of the company delivering AI combined solutions and trend ahead interior concepts with a wide range of innovative and creative services. Living Design has achieved a large number of projects in all continents, and for the most prestigious hotel brands across Europe, Russia, the Middle East and the US. The studio is headquartered in Stockholm, Sweden with another office in Geneva, Switzerland. Tarek Hegazy is considered as one of the top executives in the hospitality business.
Dean Lah / Enota, SLO: ENOTA – Natural Systems
Termalija Family Wellness will be presented by the cofounder of the studio Enota, Dean Lah. The international award-winning project is a part of the fifteen-year-long spa development, the Terme Olimia of Enota. Their solutions are strongly influenced by research, reinterpretation and development of social, organizational and design algorithms that derive from nature. The result is always a strong binding of buildings with the environment that surrounds them. For his work in Enota, Dean Lah received many architectural awards, among which the 2018 Architizer A+ Awards in Health Care & Wellness (New York), 2017 Iconic Awards Best of the Best (München).
Heechan Park / Urban Agency, DK: On the Ground
Heechan Park, co-founder of Urban Agency, is responsible for idea development and design concepts of the studio and has been the driving force behind some of the agency's award-winning designs and commissions such as the MBC complex development in Seoul in 2017, the Pedestrian and Cycle Bridge in Copenhagen in 2014, Negok Micro-apartments in South Korea in 2016, and the Laayoune Training Center in Morocco in 2015. In his lecture he will present Kalvebod Waves at Copenhagen's harbour-front, a public space on the water giving the harbour a new dimension as a recreational space.
Cedric Ramiere / CoCo architecture, FR
CoCo architecture was founded by French-Austrian architects Claudia Staubmann and Cedric Ramiere. Their experience is mostly based on research on contemporary urban issues and the development of regional tourism during various prolonged stays abroad. The office today has experience in a variety of areas: teaching, housing, logistics and commerce, cultural and medical institutes, and operates in France as well as other regions around the world, most notably in many tropical areas. Ramiere recently works on the development of the Greater Vienna in Austria.
Renato Rizzi, IT: SPECIAL GUEST OF SHARE Budapest 2018
Renato Rizzi is a lecturer at the Instituto Universitario di Architettura in Venice. He worked for over 10 years with Peter Eisenman – a period which influenced his unique and powerful approach to the profession. From that collaboration originate La Villette in Paris, the new headquarters of Monte dei Paschi in Siena, the plans of the Opera House in Tokyo and the Torre della Ricerca in Padova. In 2003 he received the honourable mention for the Gold Medal of Italian Architecture, in 2009 he won the Gold Medal for Italian Architecture at the Triennale di Milano. In the past he held conferences in Harvard, Cairo, La Plata and Auckland. Renato Rizzi approaches research, architecture and teaching as a whole, trying to re-establish the ontological and metaphysical thought as intimately linked to the understanding of the contemporary condition of architecture.
Sirapa Supakalin / Hypothesis, TH:
Sirapa Supakalin is member of the youngest interior designer and architect generation with internationally recognized and awarded hotel and restaurant projects in Thailand. Her unique talent has been honoured by the World Architecture Festival (Leisure Led Development Future Projects Category, Krahm Restaurant 2017), the Inside World Festival of Interiors (winner, Hotels Category, Ir-On Hotel 2017), Thailand Interior Design Association (Designer of The Year 2017), Mipim Future Projects Awards (Architectural Design, Huahin Hotel 2017), Inside World Festival of Interiors (Bars and Restaurants Category, Vivarium Restaurant 2015). She will introduce projects of studio Hypothesis those representing Thainess with less common elements. Her lecture will give a deeper insight on the Ir-On Hotel, Bangkok and the Krahm Restaurant. Hypothesis is a multidisciplinary design agency, based in Bangkok with architecture, interior, furniture, product, exhibition, installation, graphics, as well as corporate branding projects.
Mark Sutton Vane / Sutton Vane Associates, UK: Hidden Lighting: York Minster, UK
Mark Sutton focuses on in his lecture how to hide lighting equipment so that the glory of the architecture is revealed. Besides other examples he will present the award-winning lighting scheme at York Minster, one the most important religious buildings in the United Kingdom. Mark Sutton wrote the lighting master plan and designed the lighting for the public areas of the London 2012 Olympic Park for which he was appointed a London Legacy Ambassador for lighting. He also lit the Crown Jewels in the Tower of London for The Queen, the Titanic building in Belfast and the National Museums of Oman, Ireland and Scotland. He designs lighting for retail, residential, commercial, historic, museum, hotel and leisure projects. Mark believes the future of good lighting design lies in marrying sustainability to the needs and perceptions of the people using the spaces.
Ervin Taçi / DEA Studio, ALB: Architecture and Sport in the Same Direction
Ervin Taçi, co-founder of DEA (Design Engineering Architecture Studio) incorporates sustainable development ideas and sociological concepts, besides balancing between playful and practical approach in his projects. DEA Studio is one of the most prestigious urban planning and architectural companies in Albania with a large portfolio of projects in Tirana, the Albanian territory and abroad. Ervin Taçi will present a large Albanian development, the Tirana Olympic Park. In the frame of the revitalization, DEA transforms 20.000 m2 urban area into a new training center for the national sports according to Olympic standards.
Angel Zahariev / A&A Architects, BG: High-rise projects in Sofia
A large number of high-rise projects are growing into the cities worldwide, but also in Europe. It is not a matter "if", but "how" they will transform the traditional urban skyline. The architecture of the high-rise building could be an opportunity, but also a threat for the city. Therefore, the architecture of these buildings, and respectfully their architects has great responsibility. Currently, there are several recent high-rise projects in Sofia, and a dozen of oncoming. As an architect of few of them, Angel Zahariev will present thoughts about the high-rise architecture through the view point of his works.
Program
The list of the speakers is incomplete, it introduces some of the highlights of the event. For the event schedule see the link: https://whova.com/web/budap_201810/
Tickets
For architects, designers, engineers and students the participation is FREE, but registration is required online: https://whova.com/web/budap_201810/ Business lunch and coffee breaks services are optional for 50 euro/person.
For company representatives the participation package costs 75 euro/person. Online registration: https://whova.com/web/budap_201810/ Business lunch and coffee breaks services are optional for additional 50 euro/person.
Venue
Budapest Music Center (BMC) H-1093 Budapest, Mátyás utca 8
—
More Information: https://whova.com/web/budap_201810/
Facebook: https://www.facebook.com/abplus/