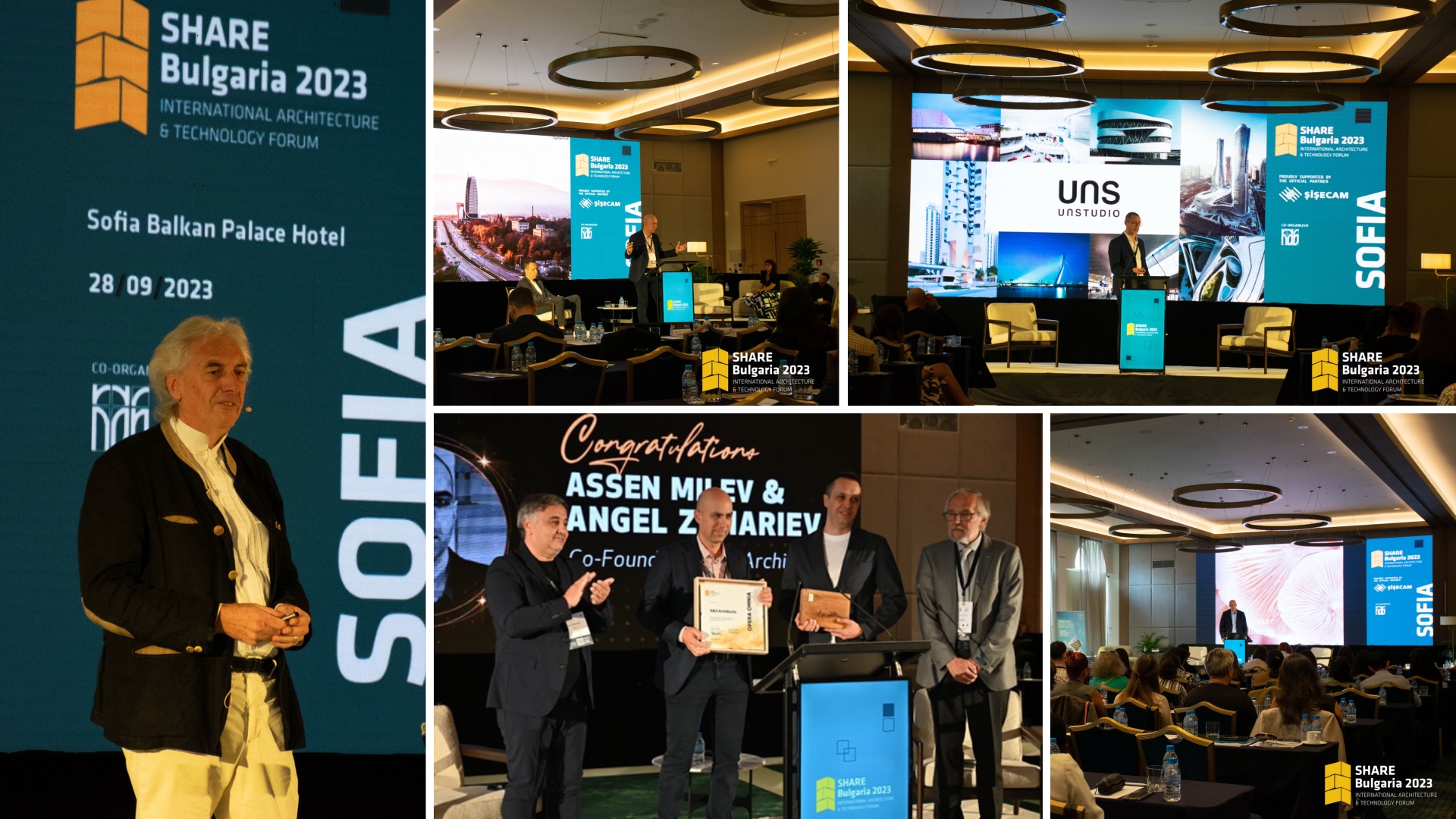 SEE HOW IT WAS // Unveiling the Highlights of SHARE Bulgaria Forum 2023
As we look ahead, the conference series promises to maintain its momentum with a lineup of exciting upcoming events.
Sofia Balkan Palace played host to the seventh edition of SHARE Sofia, a vibrant gathering that saw more than 250 participants come together in a common celebration of architectural progress.
The SHARE Sofia 2023 Forum was organized by SHARE Architects in partnership with the Chamber of Architects in Bulgaria, and with the support of Șișecam (Official Partner), Isopan (Main Partner), Etem (Partner), BOSE (Partner), City Design Development (Sponsor) and Zumtobel (Proud SHARE Community Partner).
Official Opening 
The welcome remarks were honored by Florin Mindirigiu, Founder of SHARE Architects, Vladimir Milkov, Chairman of the Board of the Chamber of Architects in Bulgaria, Her Excellency Brandusa Ioana Predescu, Ambassador Extraordinary and Plenipotentiary of România in the Republic of Bulgaria, Orna Angel, Chairperson of the Israeli Association of United Architects and Constantinos Constanti, President Of The Cyprus Scientific And Technical Chamber (ETEK).
Bilyana Asenova, Co-Founder UNAS STUDIO, Bulgaria-Bulgaria Architecture Awards 2022 Winner's Conference- "Exploring Public Architecture that Fosters a Sense of Community and Belonging"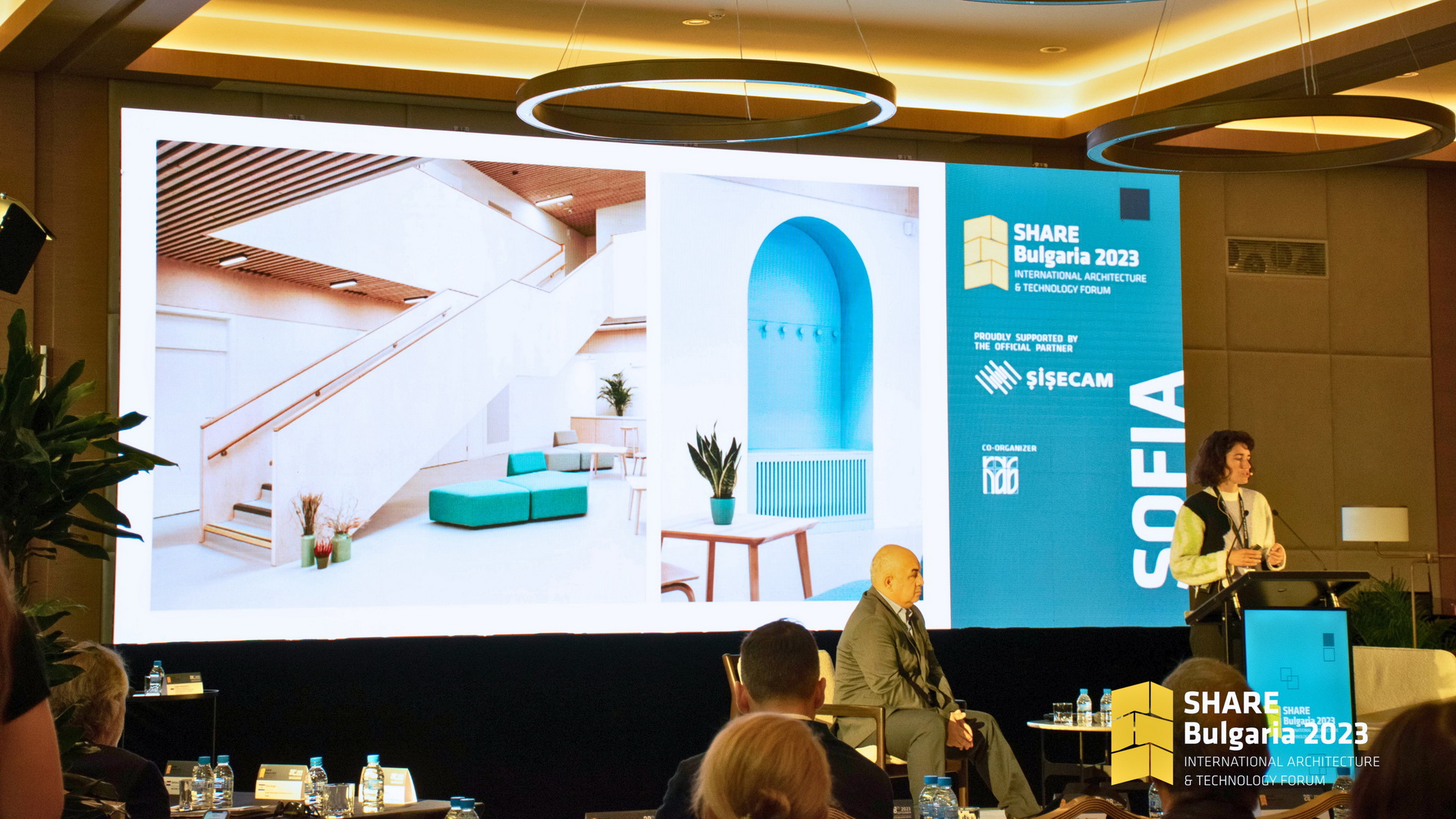 The three selected projects are based on the concept of creating spaces that enhance social interaction and a feeling of belonging. During the presentation, the audience will gain a practical understanding of how public architecture can impact communities and how space can prioritize inclusivity, and user engagement.
David Nikuradze, Founder SPECTRUM, Georgia-"Architecture & Natural Inspiration"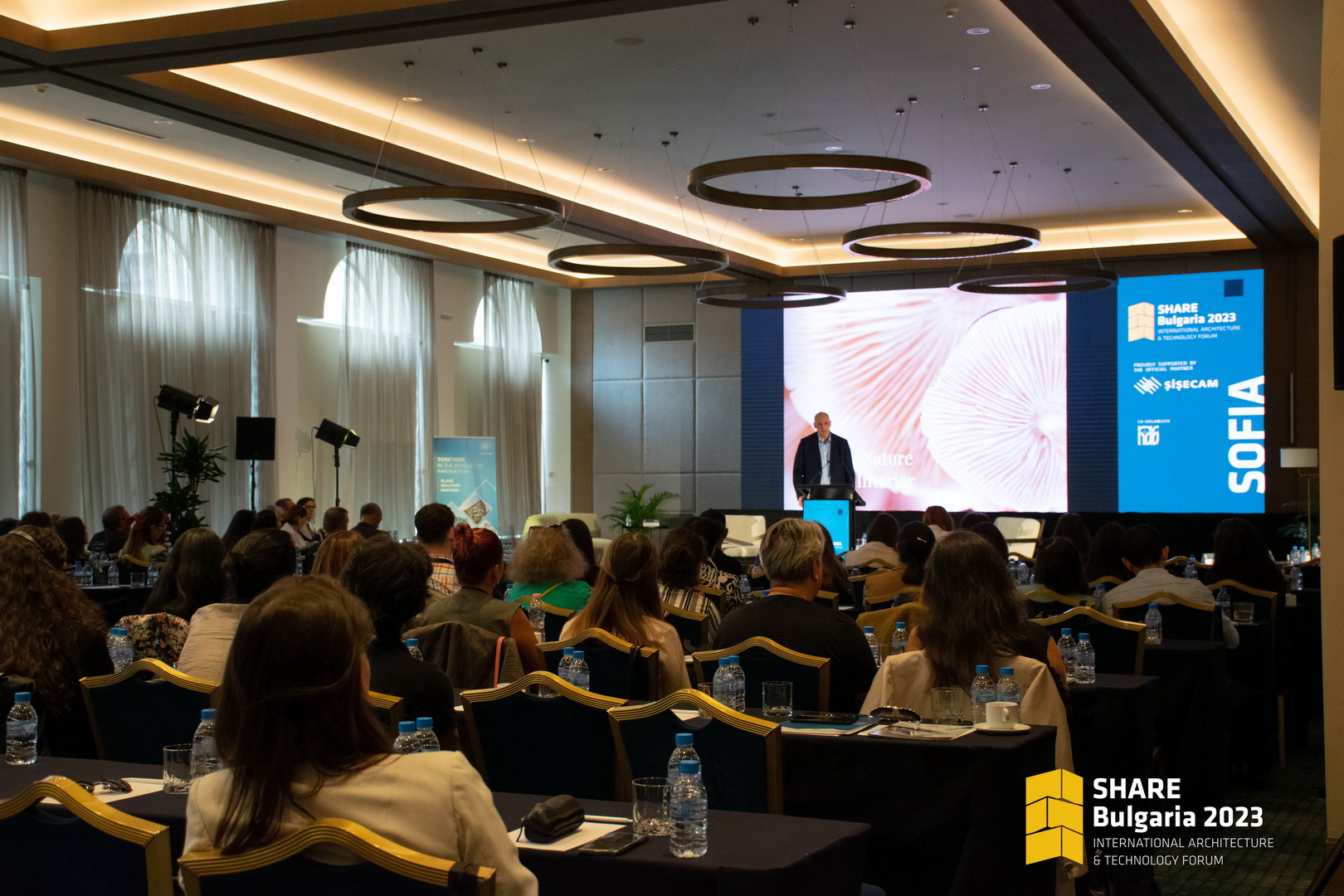 The goal of the projects was to create an organic, multi-functional complex that is binary with the environment. Its proportion and geometric forms naturally merge with the system terrain, repeating and emphasizing the contours of the local landscape. How nature's forms, patterns, and systems can inform architectural aesthetics. Extracting inspiration from landscapes, biomimicry, and organic materials. Addressing common challenges in realizing organic architectural visions. Embracing technology and innovation while staying true to natural inspiration.
Melike Altinişik, Founder Melike Altinisik Architects, Turkey case studies on Camlica Tower, Seoul Robot & AI Museum, TPAO Headquarters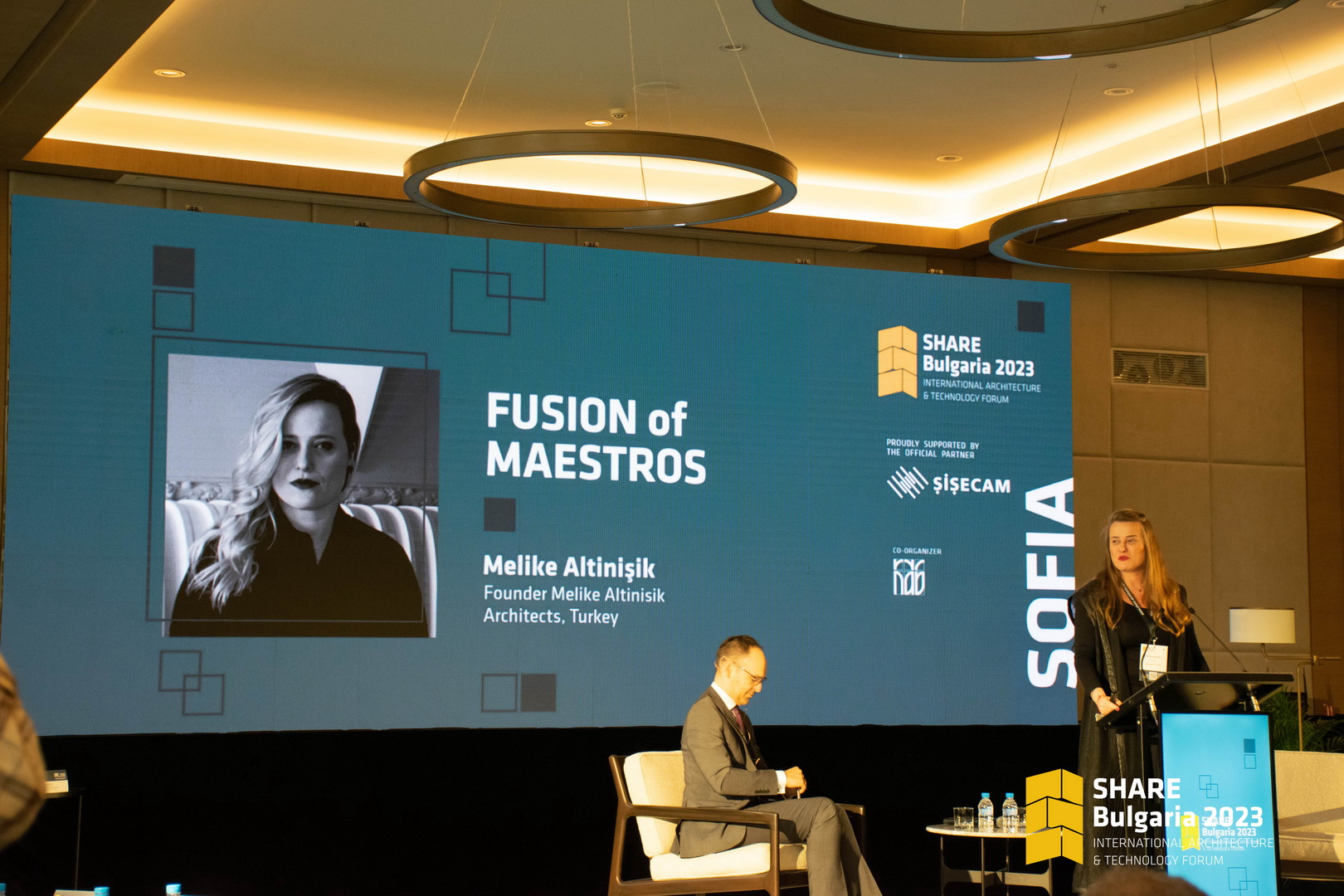 Through a showcase of distinctive achievements from MAA's diverse work, such as the futuristic 365-meter Çamlıca Tower in Istanbul, the unique TPAO Headquarters in Zonguldak, and the groundbreaking Robot and AI Museum in Seoul, Altınışık underscores how the fusion of natural inspiration and technological expertise results in spaces that seamlessly meld with their environment.
Matt Wilkinson, A Tale of Two Museums, case Studies on V&A, MAAT and Maggie's Southampton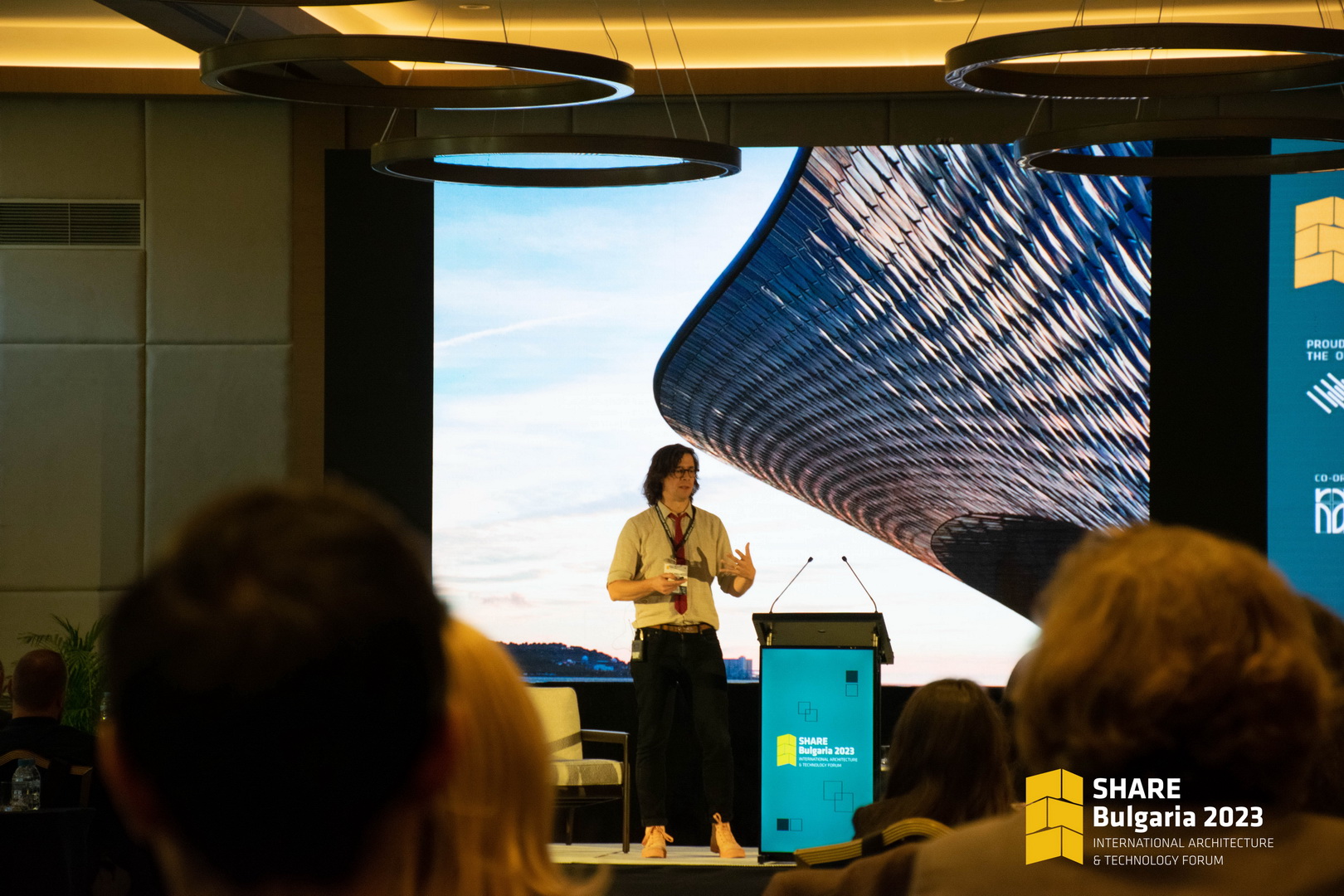 At SHARE Bulgaria 2023, Matt Wilkinson will be speaking about the parallel development of his projects at the V&A, MAAT and Maggie's Southampton. He will be telling the story of their complex and intertwined design processes. The lecture will be an exploration of museum architecture and ceramics in construction and will touch on our uses of porcelain and stoneware.
Atanas Nikolov, Co-Founder WE:R Architecture & Design Studio, Bulgaria-WE:R "Living Architecture"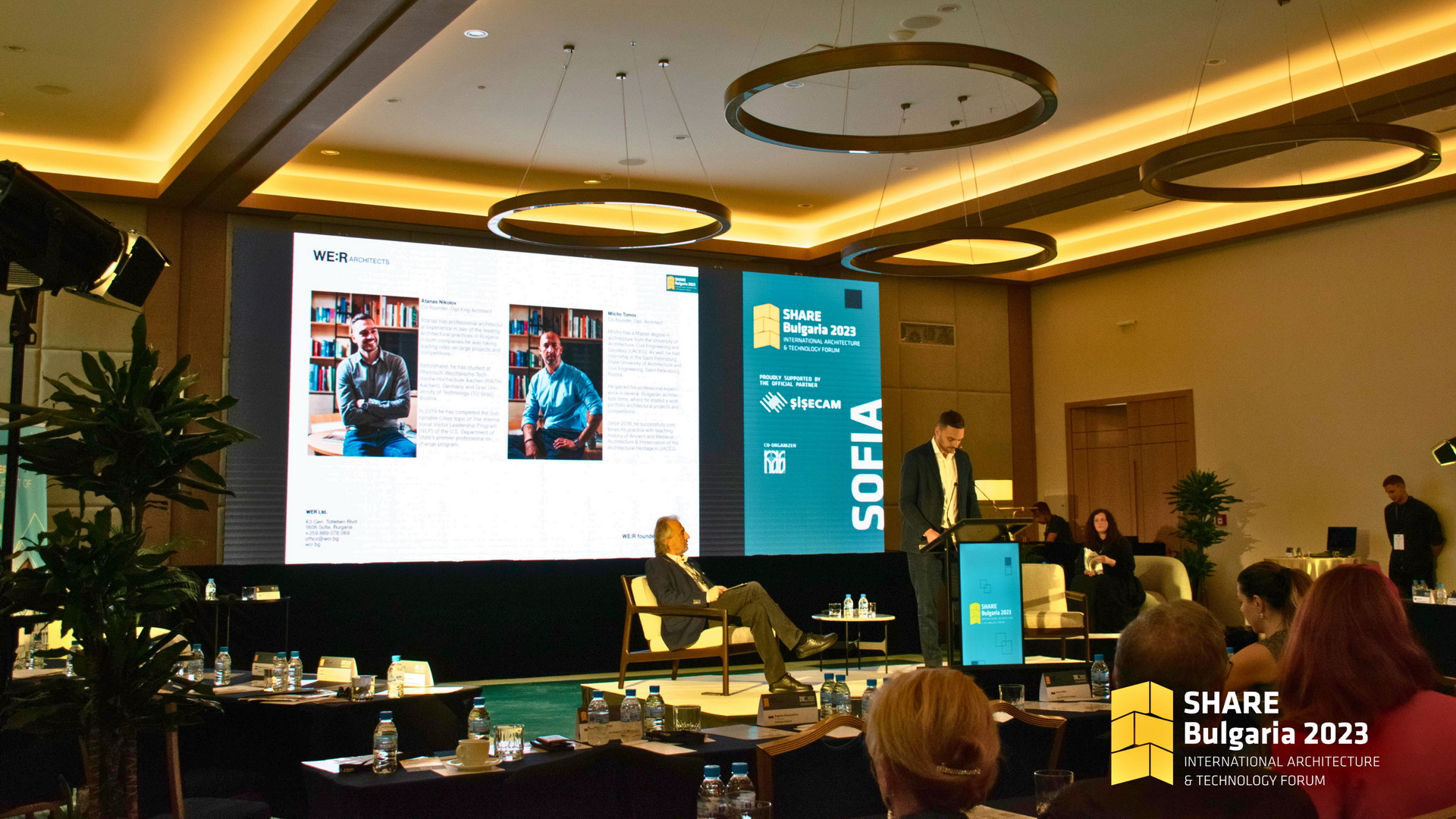 The co-founder of WE:R Architects, Atanas Nikolov, will present the company's involvement in designing and delivering projects in a diversity of scales and budgets – from secluded mountain shelters to luxurious private houses and elegant residential buildings. For the past 3 years since the founding of the company, their team has been creating exciting architecture, which impresses with its attention to detail, inspiring light – filled spaces and wide range of material palettes.
Constantinos Constanti, Founder Constanti Architects – Ena Pros Ekato, Cyprus-"From intention to implementation"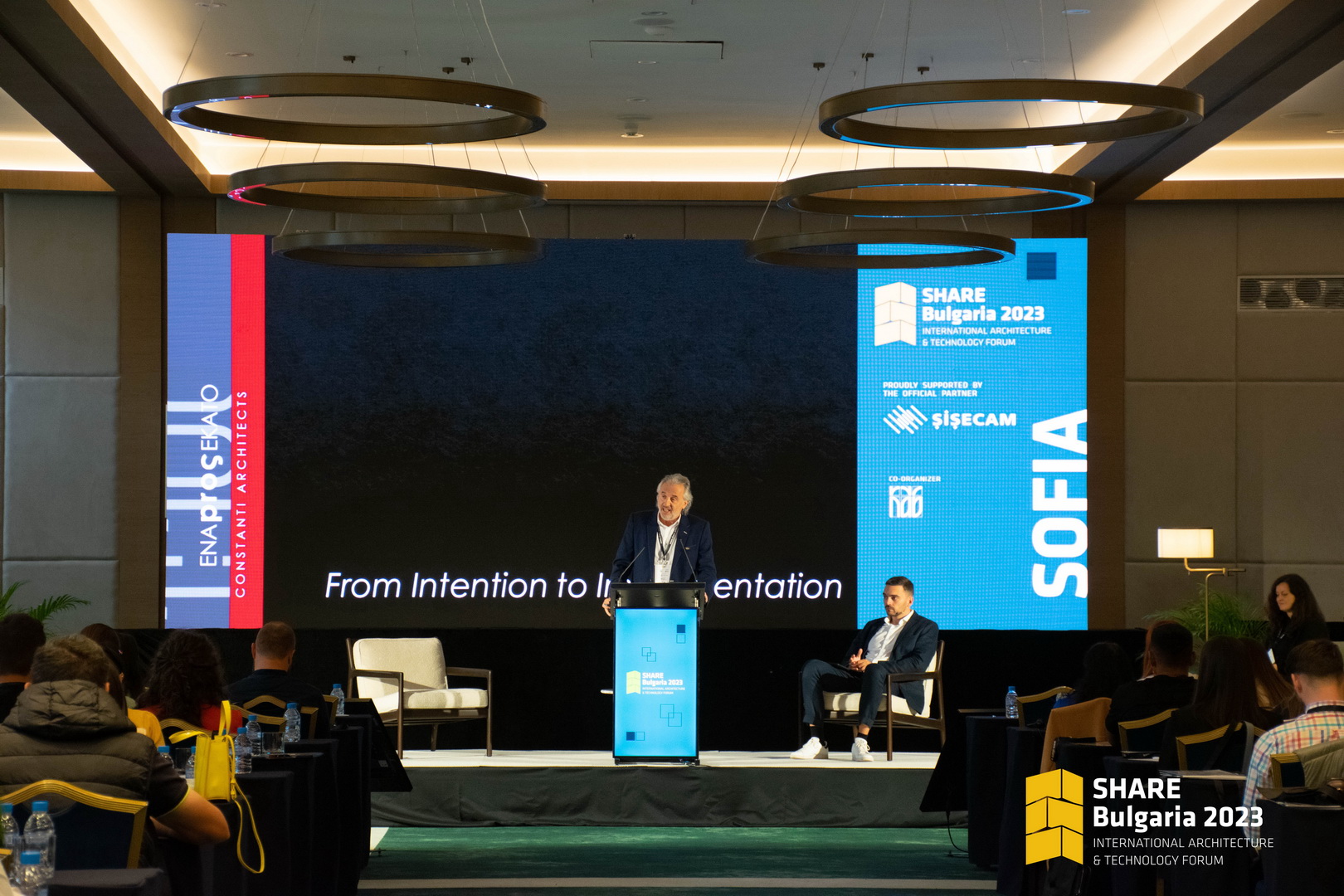 Through residential projects of different scales and programs, the audience found out how we manage to move from the intention of a particular concept into the implication of it, and what obstacles we need to overcome to achieve this.
Also, approaches regarding the scale and how the program informs the design. Innovation in order to achieve the initial intention. Enviromental benefits and their application in different projects. Design choices that benefit the surrounding areas and public spaces.
Mariana Turcu, General Manager X – Architecture & Engineering, Romania-"Bucharest's urban regeneration, present and future"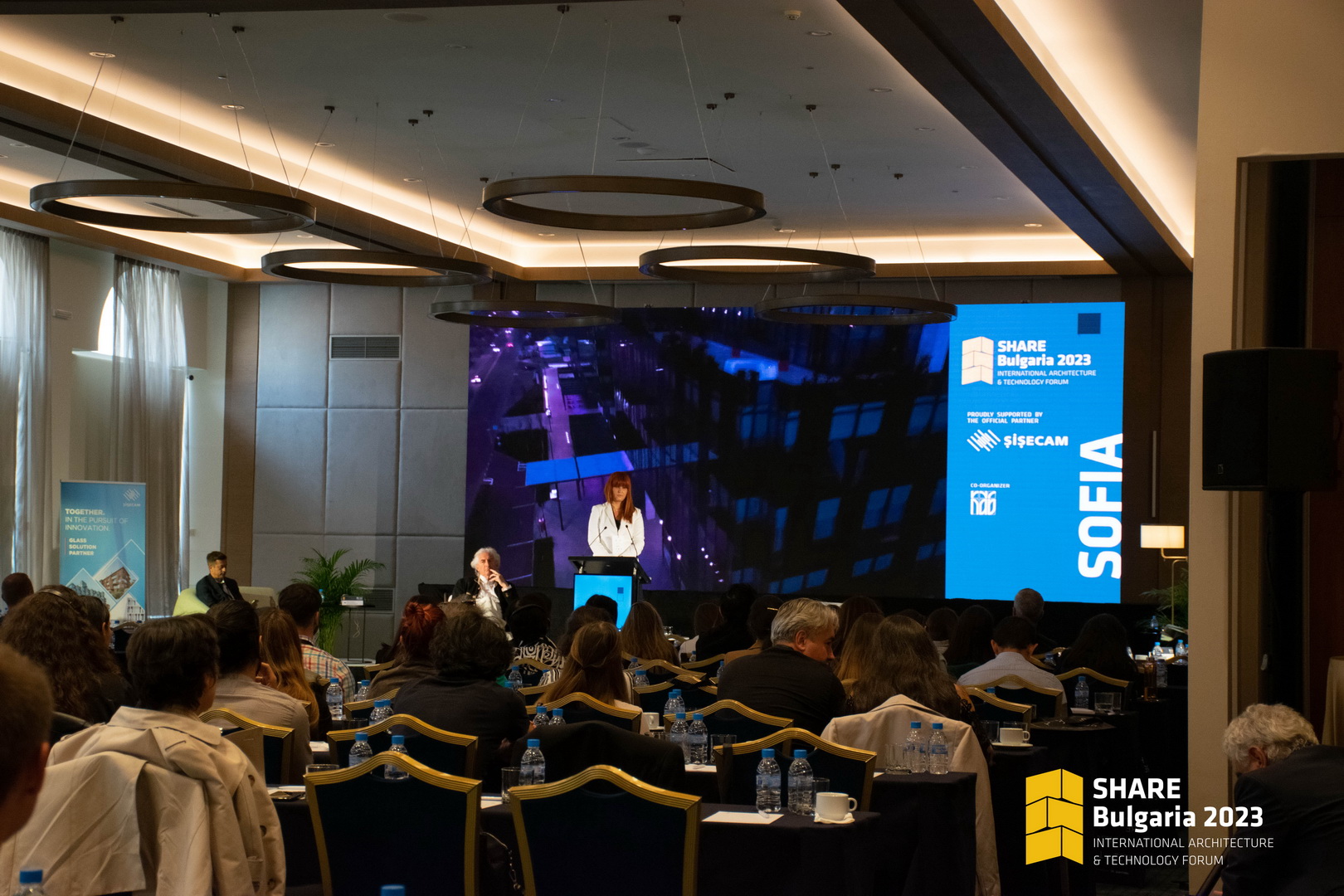 Developed on the site of a former industrial platform, on an impressive surface of 5.8 hectares, One Cotroceni Park is the most ambitious new urban regeneration project in Romania.Through innovative design, we see a significant opportunity to prevent urban sprawl and support conscious urban planning with integration of green areas and their development. Bucharest is already in the top 10 congested cities in the world and therefore we are committed to developing connected systems that offset the negative effect that car traffic has on local communities.
François Valentiny, Founder VALENTINY hvp architects, Luxembourg-"Planning and building in the spirit of the GENIUS LOCI"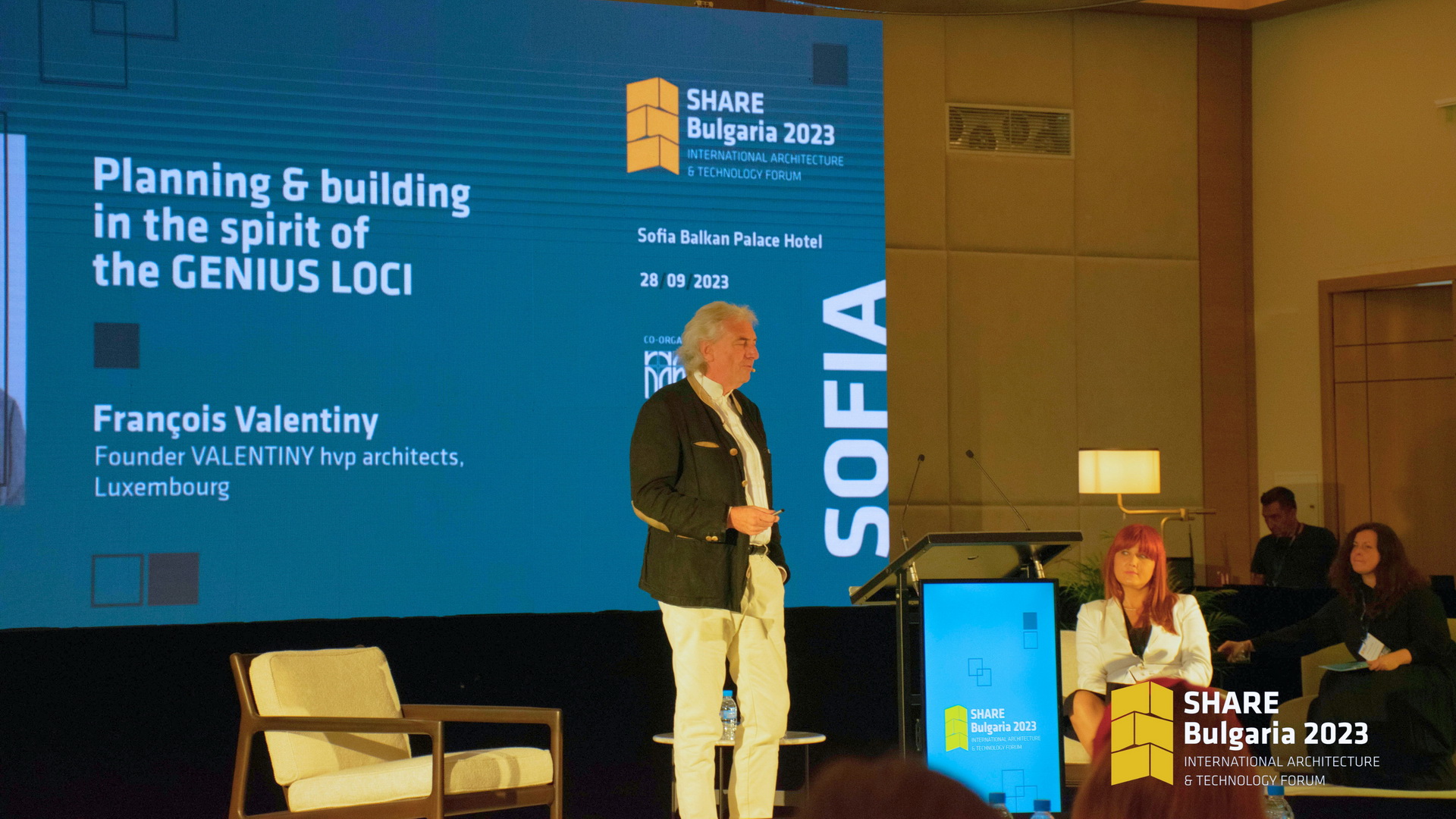 The global world blurs the distinctiveness of cultures and makes architecture more anonymous. François Valentiny counters this by tailoring his designs to emphasize the bold characteristics of each planning location. He will present a selection of projects from Europe, China, and Brazil, reflecting on how each one responds to the location's distinctive atmosphere or the 'spirit of the place.
Stefano Capranico, Senior Associate Design Architect UNStudio, The Netherlands-"From Sky to Ground: Designing Holistic Urban Ecosystems"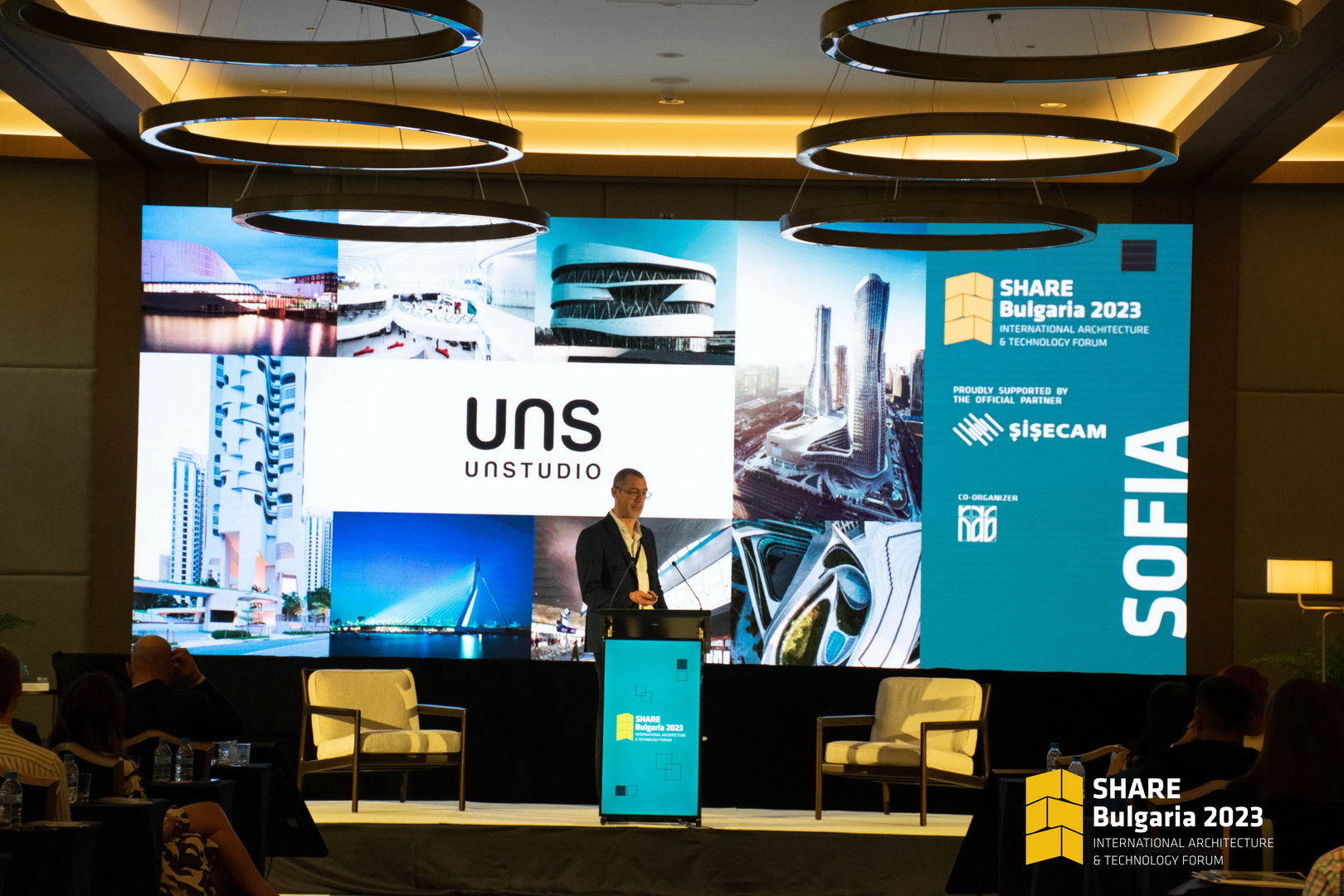 The chosen projects showcase a contemporary and innovative blend of high-rise architectures with ground-level communities, embodying dynamic urban ecosystems.
Attendees will explore pioneering urban developments that fuse residential, commercial, working and recreational spaces amongst others, promoting their communities and well-being in city centers.
Opera OMNIA Award Ceremony
SHARE Architects, in collaboration with Chamber of Architects Bulgaria is honored to announce the OPERA OMNIA Awards for outstanding contributions to Bulgarian architecture was awarded to the Co-Founders of A&A Architects, Angel Zahariev and Assen Milev.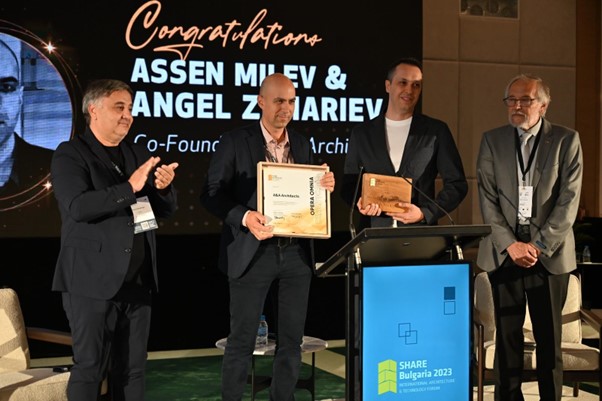 Technical presentation of our proud SHARE partners
Victor Kerchev, Project Lead Şişecam
Official Partner Lecture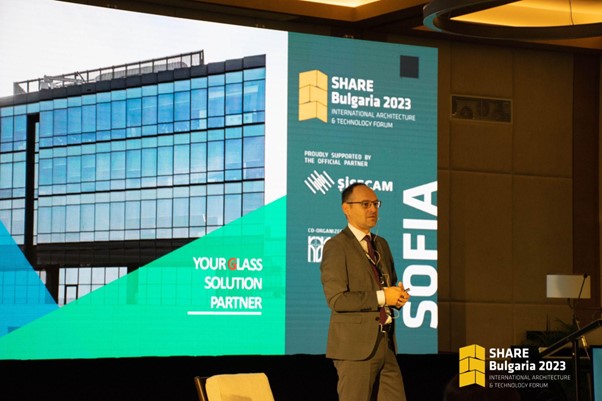 Alexandru Ciucă, Technical Director ISOPAN (Main partner)
Innovative insulated systems in contemporary architecture for large scale projects'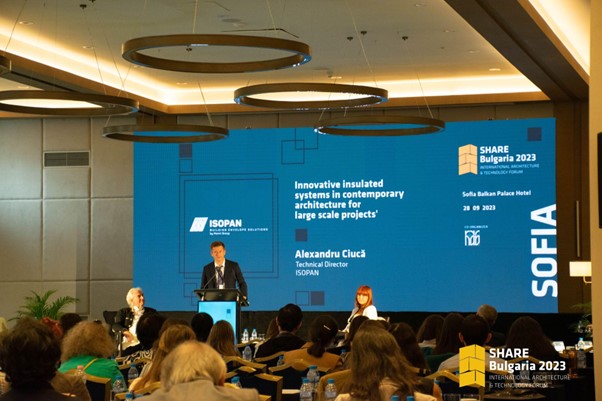 Shuaib Mehmedali, Senior R&D Design Engineer of ETEM Group
"Challenges in designing Façade solutions for seismic zones"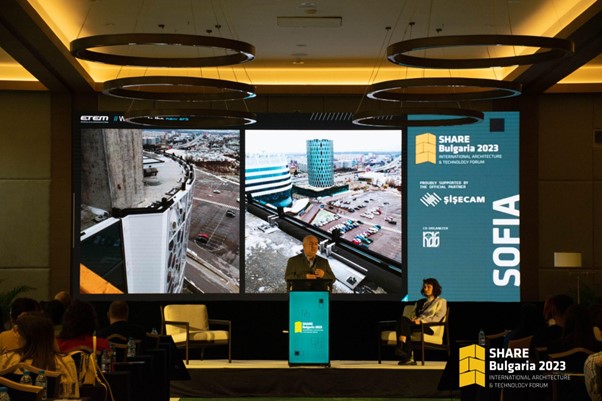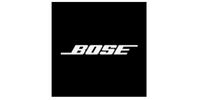 Florin Georgescu, Technical Director Bose in Romania (All Audio)
"Better Living and Working With Sound"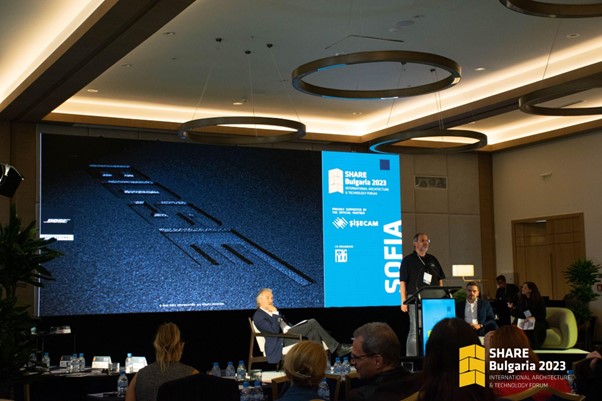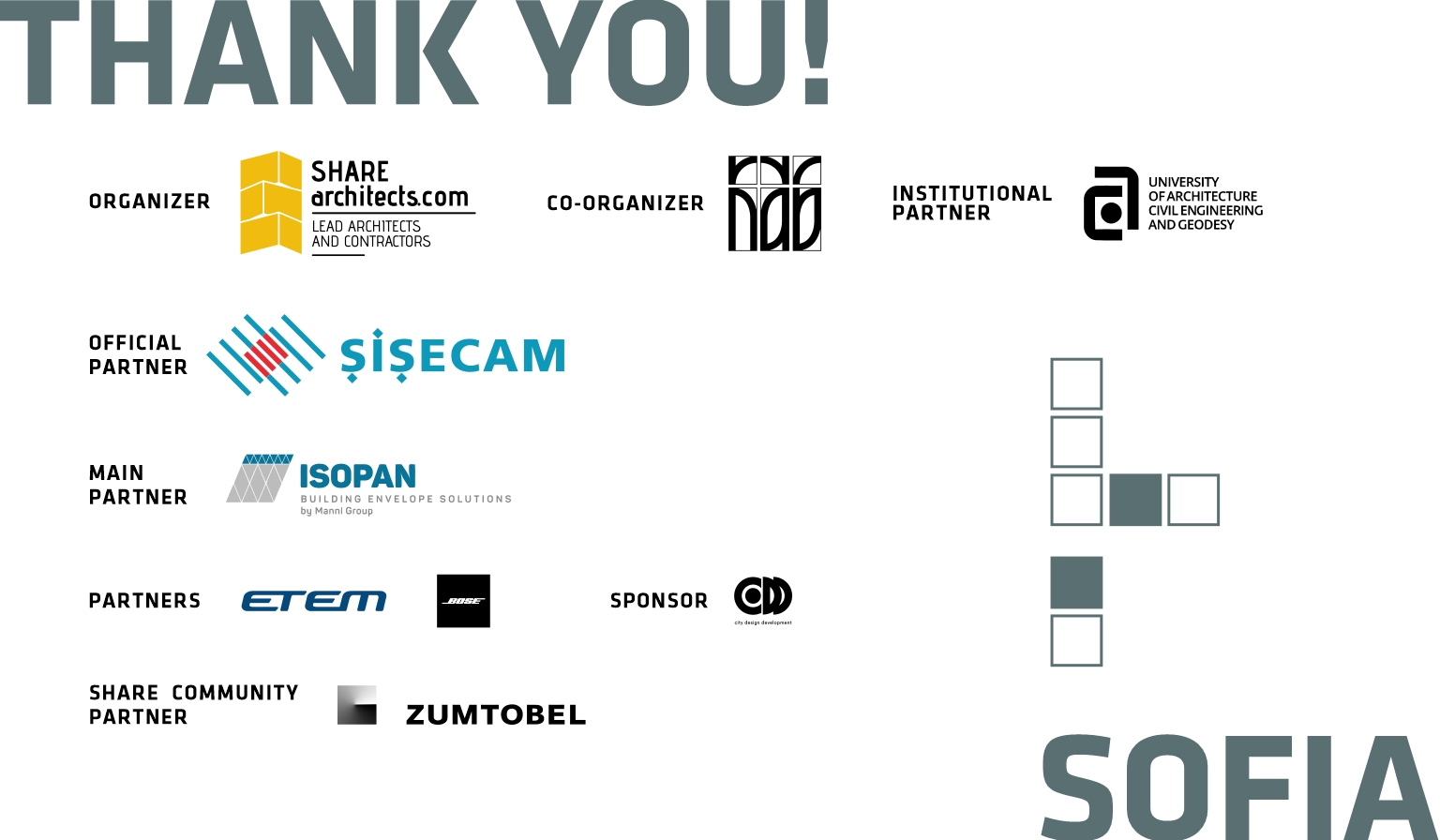 Our success would not have been possible without the support of our exceptional moderators.
We extend our heartfelt appreciation to these moderators, giving them a resounding round of applause masterfully orchestrating the words and the stage of SHARE Sofia Forum of 2023.
Evgenia Alexandrova, University of Architecture, Civil Engineering and Geodesy, Department of Residential Buildings, Co-founder JR Design, Bulgaria
Antonina Ilieva, University of Architecture, Civil Engineering and Geodesy, Department of Public Buildings, Managing Partner PONY Architects, Bulgaria
Milena Nanova, University of Architecture, Civil Engineering and Geodesy, Department of Residential Buildings, Co-Founder Studio 17,5-M, Bulgaria
SHARE Architects Network – Connecting architects and contractors in Central and South Eastern Europe
SHARE Architects Forums have become, over the past 25 years, an essential networking platform for architects and contractors in Central and South Eastern Europe. SHARE creates an effective platform for knowledge and understanding of the diversity of the architectural phenomenon of contemporary architecture. Currently, SHARE Architects events take place in 16 countries in Central and Eastern Europe, and the SHARE Architects community counts more than 50,000 members from all over the world.
For additional information, please contact us via:
share@share-architects.com
+40 740 117 599