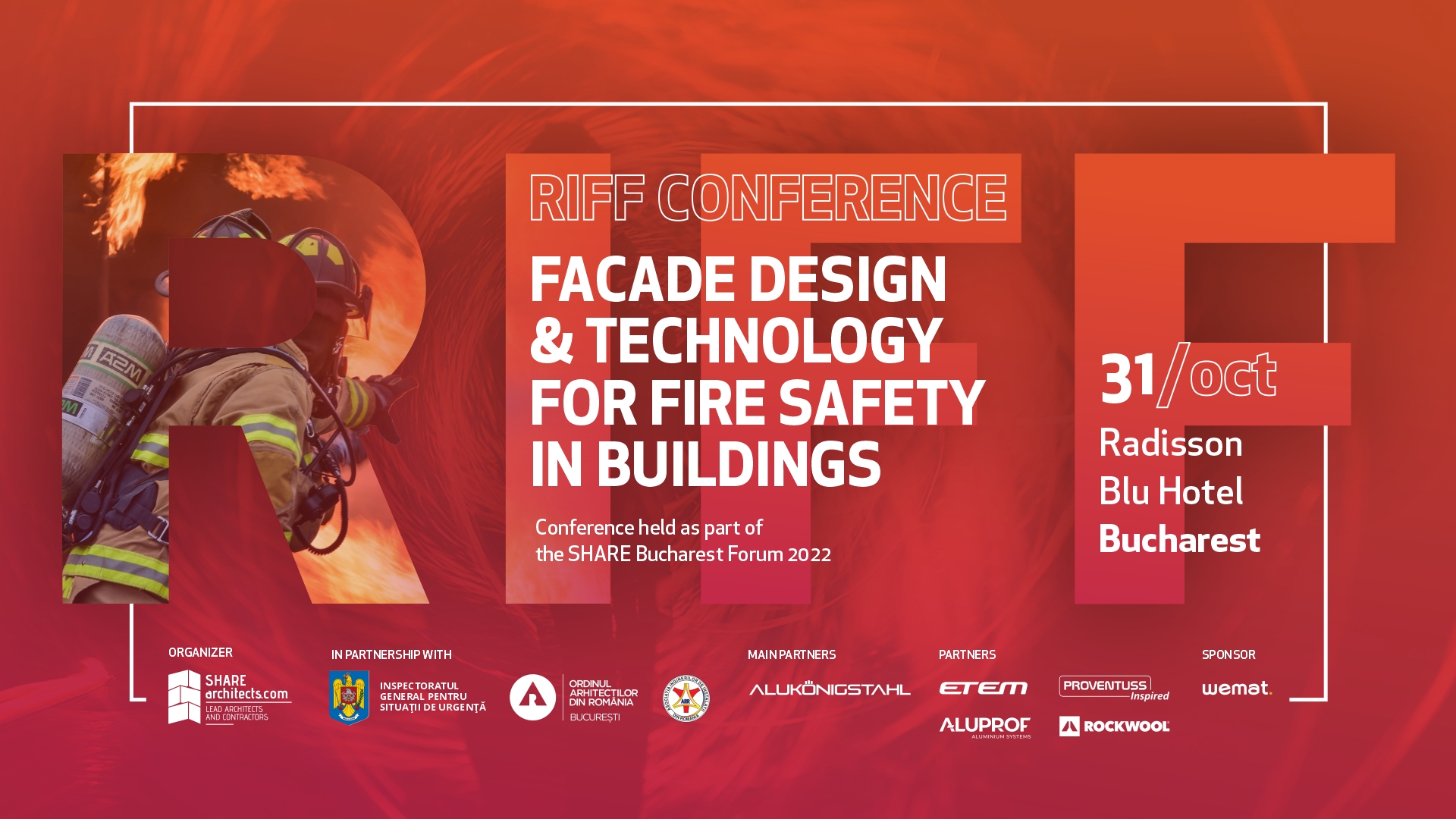 RIFF Conference – Facade Design & Technology for Fire Safety in Buildings
The event will feature case studies on fire performance assessment of facades, technical solutions presentations and a large panel discussion on fire safety.
The second edition of RIFF Conference – Facade Design & Technology for Fire Safety in Buildings will take place on October 31 at the Radisson Blu Hotel. The event will be organized in the preamble of the SHARE Bucharest 2022 International Architecture and Engineering Forum, which will take place on 1st of November.
SHARE Bucharest 2022 includes many topics of interest, in line with the preoccupations of society's current concerns to create urban spaces and buildings capable of addressing climate challenges,topics that will be presented in a dynamic format by speakers from Romania, Austria, Great Britain, Albania, Bulgaria, Iran, North Macedonia, Spain, Turkey, Greece and Luxembourg.
The RIFF Conference program includes case studies on the fire performance assessment of facades, presentations of technical solutions and an extensive debate session on fire safety. The event will bring together designers, architects, facade engineers, installation engineers, construction material manufacturers, technical experts, project verifiers, representatives of the General Inspectorate for Emergency Situations and the Ministry of Development , Public Works and Administration.
The first speakers announced are Emil IVĂNESCU, President of the Romanian Order of Architects – Bucharest Branch, IoanSilviu DOBOȘI, President of AIIR Romania, Director General of Dosetimpex, SerbanȚIGĂNAȘ, co-founder of Dico&Tigănaș, Dragoș MARCU, Chief Executive Officer, Partner Popp &Asociații, Honorary President of AICPS, Karoly Nemes, Principal Graphic Studio, Constantin CIUREA, Co-founder of the Architecture Service, Radu Vieru, CEO Proventuss Solutions, Daniela Badea, Product Manager at ALUKÖNIGSTAHL RO, Daniela Leonte, Project Manager of Aluprof, Răzvan POPA, CEO Alusystem, Col. Ing. Robert STRUGARIU, Head of Service Approval, Authorization and Regulations, IGSU, col. (r) eng. Cristina HOLBAN, Project verifier, Technical expert, Fire safety consultant in constructions and installations.
The complete list of guests and the program will be published in the first part of October here:
GUEST LIST & PROGRAM
Registration
ONE TICKET – TWO EVENTS
Campaign valid until the 15th of October
Access to all sessions, presentations, and conferences organized during the RIFF Conference: Facade Design & Technology for Fire Safety in Buildings (on the 31st of October) and the SHARE Bucharest 2022 Forum (on the 1st of November);
Networking with peers and architecture leaders;
Coffee breaks & light lunch buffet.
BOOK NOW