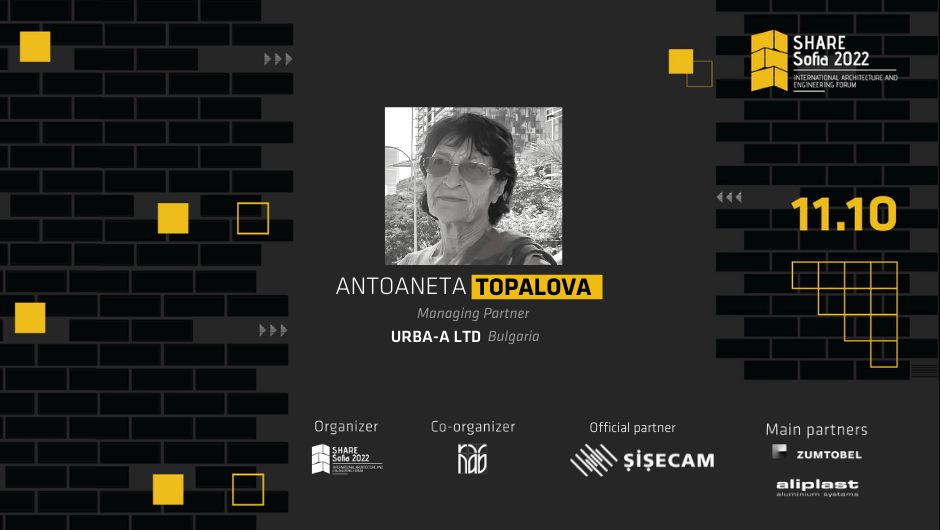 Antoaneta Topalova, managing partner URBA-A LTD, will lecture at SHARE Sofia 2022 Forum
Arch Antoaneta Topalova has graduated the Institute of Construction and Engineering in Sofia in 1961. She is a member of UAB, KAB, ICOMOS.
She is the head of the team behind the masterplans of cities like Plovdiv, Smolyan, Haskovo, Gabrovo, Sliven and Hisarya.
Arch. Topalova has numerous publications and interviews in professional and wide-ranging regional, national and foreign publications. She is a participant in numerous national, regional and international discussions, round tables, expert councils and others. Her expert activity includes membership in the Supreme Council for Territorial Urban Planning and Architecture – Sofia (1985 – 1989) and in the OESUT, for 10 years; Higher Expert Council on Territorial and Settlement Planning (1989 – 1993); Management Board of KAB – three mandates until 2007; Management Board of SAB – three mandates until 2010; Member of the Management Board of KAB – RK Plovdiv – 2015.
Awards of the speaker:
honorable member of KAB
Center – Plovdiv, 1968 – III prize (international competition, participation in a team)
Center – Smolyan, 1974 – II prize (international competition, participation in a team)
Master Plan and Schemes of the Capana Quarter (World Architecture Biennale) – 1985 – Silver Medal and Diploma from the Mayor of Madrid
Town centre – town of Karnobat, 1986 – 2nd prize
Town centre – city of Leipzig, 1989 (international competition), diploma
Masterplan of South Park – Sofia, 1992 – III prize
Residential area – city of Kazanlak, 1992 – II prize
Extension of "Paisiy Hilendarski" university (national competition), 1995 – 1st prize
Reconstruction of the Central Halls in the Archaeological Museum, Plovdiv, 1997.1st prize and Diploma from the third biennial of the UIA (International Union of Architects)
Pedestrian zone – city of Plovdiv, 2000 – II prize
Town centre of Peruštitsa, 2001 – II prize
Concept for OUP – city of Haskovo, 2007 – III prize.