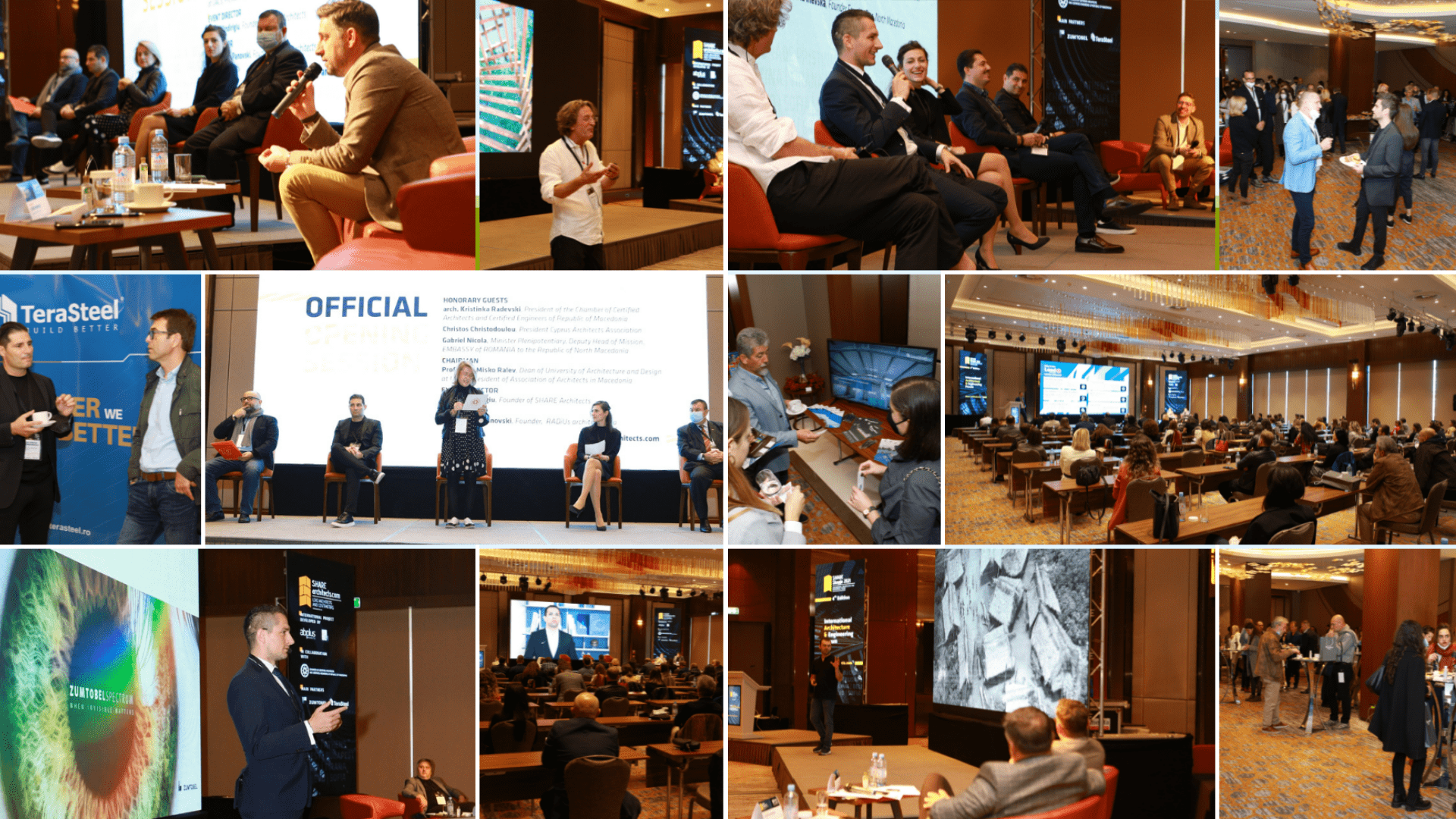 Remembering SHARE Skopje 2021 | Hilton Double Tree Hotel, 19th October
Not even the pandemic was able to stop the tradition of SHARE International Architecture and Engineering Forum in Skopje, which was organized on 19th October at Hilton Double Tree Hotel in Skopje!
Exciting lectures and new building technologies were presented in a 6 hours event program by international guest speakers: arch. MARIANO EFRON, partner Architecture-Studio, France, arch. FARSHAD MEHDIZADEH, co-founder FMZD, Iran, arch. DAVIDE MACULLO, founder Davide Macullo Architecture, Switzerland, arch. CHRISTOS CHRISTODOULOU, founder SIMPRAXIS, Cyprus, DENIS BIŠKUP, Brand Management & New Business Development CEE at Zumtobel Group, COSMIN PĂTROIU, CEO of TeraSteel.
We want to thank also to the Macedonian Speakers, which were present at this edition of SHARE Skopje Forum: arch. NIKOLA KUNGULOVSKI, Founder PROXY. STUDIO, arch. MARTA ILIEVSKA, Architect & Owner Formika Plus, arch. PAKO RADOVANOVIC, CEO Rado Engineering, arch. BESIAN MEHMETI, Founder of BMA Studio, arch. VLADIMIR DELOVSKI, Chamber of Certified Architects and Certified Engineers of Republic of Macedonia, BUJAR MUCHA, Partner Megaron Engineering Studio.
Special thanks for the messages addressed in the Official Opening by: arch. MISKO RALEV, Architect Professor, Dean of University of Architecture and Design at UACS, President of Association of Architects in Macedonia, arch. KRISTINKA RADEVSKI, President of the Chamber of Certified Architects and Certified Engineers of Republic of Macedonia, BLAGOJ BOCHVARSKI, Minister of Transport and Communications, Government of the Republic of North Macedonia, GABRIEL NICOLA, Minister Plenipotentiary, Deputy Head of Mission, EMBASSY of ROMANIA to the Republic of North Macedonia, BOJAN KARANAKOV, Vice Dean Faculty of Architecture Skopje – ss. Cyril and Methodius University.
The event was chaired by arch. MARTIN PANOVSKI, Founder, Chief Architect, RADiUs architects doo and FLORIN MINDIRIGIU, Founder of SHARE Architects.